It's back to school time, and that means you need to make school lunches again. If you're preparing to pack daily lunchboxes, you need to gather all the best back-to-school lunch supplies.
Packing lunches is a chore at times, but I love to make their lunches look as cute and healthy as possible. Getting all the necessary lunch supplies to keep everything organized in their lunchboxes makes packing their meals a lot easier.
Don't let your kids go back to school without having everything you need for lunch-making!
11 Back to School Lunch Supplies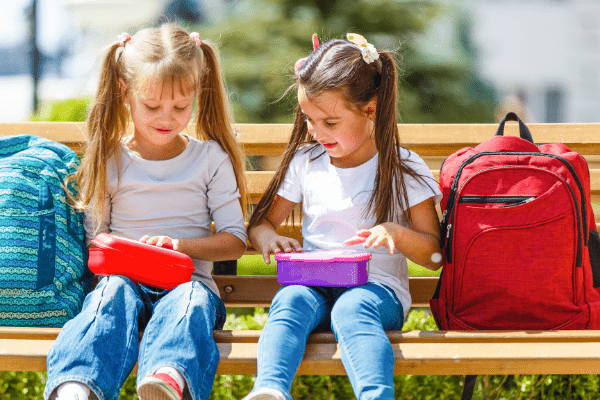 1. Lunchbox
The first thing you need to grab is a lunchbox for your child. The type of lunch bag you'll get will depend on the containers that you use. I prefer to use divided containers, so I like the Bentgo Kids Lunch Bag. It fits the containers perfectly with room for other food.
Bentgo sells their lunch bags in several different prints for your little boys and little girls. The straps are adjustable and work perfectly for storage or carrying the bag, and the mesh pockets on the side fit a water bottle or Thermos perfectly.
2. Lunch Containers
Next, you need containers to hold your child's food.
I'm a big fan of the Bentgo Kids Leak-Proof Lunch Containers. These have five containers for different food, and if you have a child like mine who hates when food touches, this is perfect for them. They're serious – nothing leaks out of these containers!
However, I know that these are a bit pricey if you have several kids who need back-to-school lunch supplies. I also like these SimpleHouseware Color Reusable Containers that have three compartments. These remind me of Lunchables; they would make the perfect size for homemade Lunchables! You get six in a pack for less than one Bentgo, but the Bentgo will seriously last for years.
3. Thermos Containers
Last year, I had this revelation that I don't have to only send cold food with my kids; sending warm foods is possible with a Thermos container. So, I grabbed these Thermos Funtainers that are perfect for soup, warmed hot dogs, or leftover pasta. They keep food warm for up to five hours, so it's the perfect amount of time!
Don't worry; the container won't burn your kids on the outside. It's made so that the outside won't feel hot and there is easy spoon storage inside if you want to send soup with your kids.
4. Reusable Snack Bags
You have to add reusable snack bags to your list of lunch supplies. I love these bags!
First, they save me money because I would use a ton of the plastic, disposable ones otherwise. Two, they're so durable. I'm using the same ones from TWO years ago.
Let's not forget that they look super cute in the lunch box as well. That matters to me! I like these Langsprit Premium Reusable Sandwich Bags. They're big enough for an actual sandwich, but also a great size for chips or crackers.
5. Reusable Utensils
If you have everything else reusable in the lunchbox, why not use reusable utensils as well? I like this set from Teivio Reusable Travel Utensils that come in a pack to keep them clean and stored well.
Each set comes with a fork, a spoon, and a butter knife, but I remove that for my kids.
6. Water Bottles
Let's talk reusable water bottles.
Last year, with Covid, many schools required reusable water bottles, and I guess that schools will do the same this year. Our kids use them at home as well, so I've tried tons of brands.
My absolute favorite reusable water bottle for kids is the Yeti Rambler Jr; it's the hands-down best choice. It keeps drinks cold or hot for hours, has a straw cap that won't leak, and it's 12-ounces. Yes, a Yeti Rambler is a bit expensive, but since they're made with stainless steel, expect these bottles to last for years.
7. Ice Packs
Ice packs are always something that I forget, so this year, I'm determined not to forget to grab a few. I like to have two or three per kid because, inevitably, they end up out of the freezer and thawed in the morning.
Who knows why – kids are crazy!
I use the Yumbox Ice Packs; they're slimmer than other ice packs so they fit nicely into my kids' lunchboxes without taking up too much space that I need for their food.
8. Lunchbox Notes
Here's another adorable lunchbox item that I found last year that I love – Lunchbox Note for Kids.
This set of lunchbox notes for kids comes with 60 cute, motivational notes to put into your kids' lunchboxes. They'll love these little surprises. All of the notes are made on high-quality cardstock with bright colors and cute pictures.
You seriously need to grab a set this year!
9. Sandwich Cutters
Sometimes, when I have extra time, I want to be that Pinterest mom that cuts her kids' sandwiches into cute little shapes.
You know what I'm talking about.
I found these sandwich cutters that come in ten different shapes, and the set includes shaped vegetable cutters if you want to be extra creative. The set has cute shapes like bears, cars, rockets, and more.
10. Sandwich Decrusters
Uncrustables are delicious, but they're expensive. A single sandwich is over $1 each, and let's be honest, PB&J is one of the cheapest sandwiches you can make your kids.
That's why I decided this year to use sandwich decrusters. Years ago, parents were trying hacks to make homemade Uncrustables, but now, they actually have cutters that cut and seal the bread for you.
So handy, right?
If you have a child who loves those frozen PB&Js or simply hates crust on the bread, you need to try these out!
11. Silicone Muffin Cups
Silicone muffin cups are something I always keep in my kitchen because, when I bake muffins, I prefer to have silicone cups. They're washable, so you never have to buy those paper cup wrappers again.
I use these silicone muffin cups in my kids' lunches to keep cookies, muffins, and other small food pieces in place. They fit well into the little compartments, and it's an easy way to make their lunchbox look cute when it's opened.
---
Shop My Recommendations