Do school mornings give you a headache and leave you feeling like you start every day on the wrong foot? I feel you; that's why you need some new back-to-school organization ideas to make mornings easier.
When my oldest started school, I felt like a madwoman every single morning. I couldn't stand it; it made me dread this time I have with my kids and I didn't want that. I wanted happy mornings for everyone because how you start your day often leads to how your day turns out as a whole.
I started trying some different back-to-school organization ideas like picking an area for backpacks and shoes. Gradually, I added different practices like prepping school outfits and lunches. I still feel crazy some mornings, but the more organized I make our days, the better they turn out.
Here are some ways to make school mornings easier for everyone.
This post may contain affiliate links for which I would receive a small commission on your purchase, at no additional cost to you.
12 Back to School Organization Ideas to Make Mornings Easier
1. Keep Backpacks in One Area
I hate searching for backpacks in the morning when you're already late. Keeping backpacks in one area, like your entryway or mudroom, makes back-to-school organization a lot easier. Hang a rack on your wall or get a stand for backpacks with racks underneath.
Teach your kids to hang their backpacks as soon as they come home and after homework time. Take it a step further and set up a bench with cubes for your kids to keep their shoes, hats, coats, and mittens. This makes getting out the door so much easier!
2. Have a Wall Calendar for Activities
Staying sane feels hard when you have a family with tons of activities, practices, and parents who work. One way to make everything more streamlined is to have a wall calendar where you write down everything that needs to be done and upcoming commitments.
We write down sports practices for our kids, dance class lessons, work deadlines, trips, and more on our family wall calendar. I tried a few models, and I prefer a dry-erase wall calendar that sticks to our refrigerator. I also have a personal planner where I write down everything on the wall calendar and things I need to remember like bills and tasks.
Being organized makes life so much easier!
3. Use a Corkboard for Papers You Need to Remember
Kids inevitably come home with tons of papers that require your attention like announcements for open-house evenings, school plays, and field trips that you need to remember. I use a corkboard on the wall to pin all of these papers so we don't miss something.
I also check my kids' backpacks nightly because they never remember to give things to me when I need to know.
Our school regularly has drives for different fundraisers and events that we want to attend. After trying a filing system, I discovered that a corkboard is truly the best solution.
4. Organize Clothes for the Week on Sunday
So, I have a confession.
I used to laugh about parents who laid all of their kids' clothes out for the week on Sunday. I thought that it was a waste of time and not necessary.
WRONG.
Organizing and planning clothes for the week is a big time saver, especially when you have a little fashionista who doesn't always pick outfits quickly. We take time on Sundays to pick out all the outfits for the week, including accessories, and I use a hanging closet organizer with slots to store their outfits. Each slot has a labeled day.
I'm sure this simple back-to-school organization hack saves me five minutes daily or more.
5. Prep PB&J's Ahead of Time and Freeze
Prepping helps to save time in the mornings, and one easy prep is to prepare peanut butter and jelly sandwiches at one time and freeze them. The night before, put the sandwich in the fridge, and it'll be thawed out.
Or, let your kids eat it frozen. Mine love that.
I prep as much as possible on Sunday for the school week. We buy prepackaged snacks, but I often save money and make them myself like buying big backs of trail mix and making individual portions. I do all of this on the weekends, so our mornings before school are so much easier.
6. Have School Lunch Snacks in One Place
Keep pantry organizers in your cabinets to store all of your school lunch snacks in one area. This makes packing easier because I grab what I want and put them directly into their lunch boxes without needing to search.
Take it one step further than I do and let your kids put in their lunch what they want from the options you include!
7. Keep Lunch Making Supplies in One Place
All it took was a few mornings of desperately searching for my son's reusable water bottle and ice packs for me to realize I needed a storage place for all their lunch-making supplies.
This back-to-school organization idea doesn't need to be complicated. It could be a bin inside of your pantry or one of your lower kitchen cabinets. Have a drawer or storage cube in your freezer to store your ice packs.
Keeping things in their place is one of the best ways to stay organized. You'll save time every time you pack lunches, and I find the process more enjoyable when it's easier to put together.
8. Pack Lunches The Night Before
Mornings are hectic for a lot of families, especially when you have two working parents who need to get ready for work at the same time that the kids need to get ready for school.
When the kids are taking a bath (monitored by my husband) or after they go to sleep, I take time to pack lunches. This is a perfect time because I know it's all completed and ready, and I have more time in the morning to put together yummy school breakfasts.
9. Keep Bathroom Supplies in an Organizer
Something else that seemed to trip up my kids in the morning is finding what they need in the bathroom to get ready. That might be hairbands, headbands, brushes, detangling spray, toothbrushes, etc.
Now, I make sure everything is in an organizing bin on the kids' bathroom sink. This makes it much easier for them to find, and when I have to put up my daughter's hair, I'm not searching for everything.
10. Have Morning Checklists for the Kids
When your child is able to read, have a morning checklist with everything they need to do to get ready. Teaching your kids responsibility and how to take ownership over their mornings is a great life skill that I'm sure we all wished we learned earlier in life. It will help them later in life, so don't be afraid to start them young.
That doesn't mean you get to sleep in during the mornings!
You have to be there to monitor and offer praise when your child completes things without being reminded. You also serve as the last reminder for anything that they might forget.
11. Prep Sports and Practice Bags for After-School Activities
If you work outside the home, you might not come back home before your son has to go to soccer or your daughter goes to dance class. That's why you should prep their supplies beforehand to make sure you have everything they need.
I often put the bags in my car when we leave for school so that I know everything is ready to go. I like using duffel bags, especially for sports gear, but my daughter is gradually adding to her collection of dance gear!
12. Set-Up A Homework Area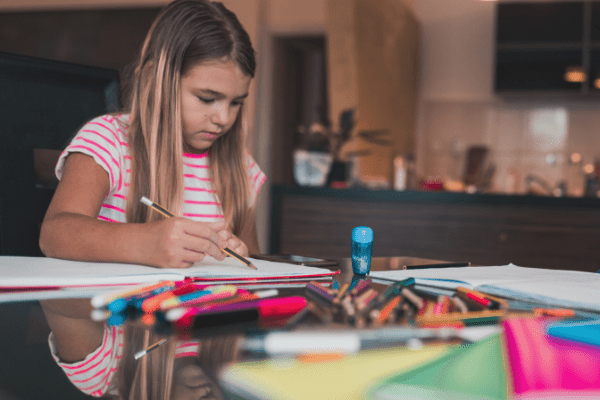 Homework shouldn't be a big problem. One of the best tricks is to set up an area in your home where your child completes their homework. I think the best time is after they've had an after-school snack and time to decompress.
I keep art supplies, pencils, and other school supplies in an organizer on our kitchen table. They never have to search for pencils; they're right there. This is a good time for you to sit down with a cup of coffee and tea, especially if you have dinner planned out and cooking in the slow cooker (that's one of my best friends) or ordered and waiting for your husband to pick up on his way home from work.
---
Make mornings happier and relaxed for your whole family with some of these simple back-to-school organization ideas. Trust me; you'll wonder why you didn't get started sooner with these hacks.
Shop My Recommendations