Traveling with babies is a serious endeavor, and as you prepare your packing list, you quickly realize you need more space than you realized. Not all diaper bags are the same. When you head out on a trip, you want a diaper bag for travel that has plenty of storage for your necessities.
I never considered how important the right diaper bag was until I flew for the first time with my oldest. It was a short flight, but I felt like I was digging in my bag half the time. I couldn't find his pacifier, and his favorite toys were missing.
Everything was a jumbled mess, and I felt so frustrated.
That week on vacation, I felt like I had no space for all the essentials. We were out of the house for over half of the day, and it didn't give me enough space for extra diapers and clothing – it was such a hassle.
As soon as I was home, I ditched that bag and found another that worked better as a traveling diaper bag. Now that we travel even more, I wanted to share with you some of my favorite picks and how I decide which diaper bag for travel I want to buy.
Pin this blog for later! ↓
Related: 14 Must-Have Items You Can't Forget to Pack When Traveling with Kids
The Best Diaper Bag for Travel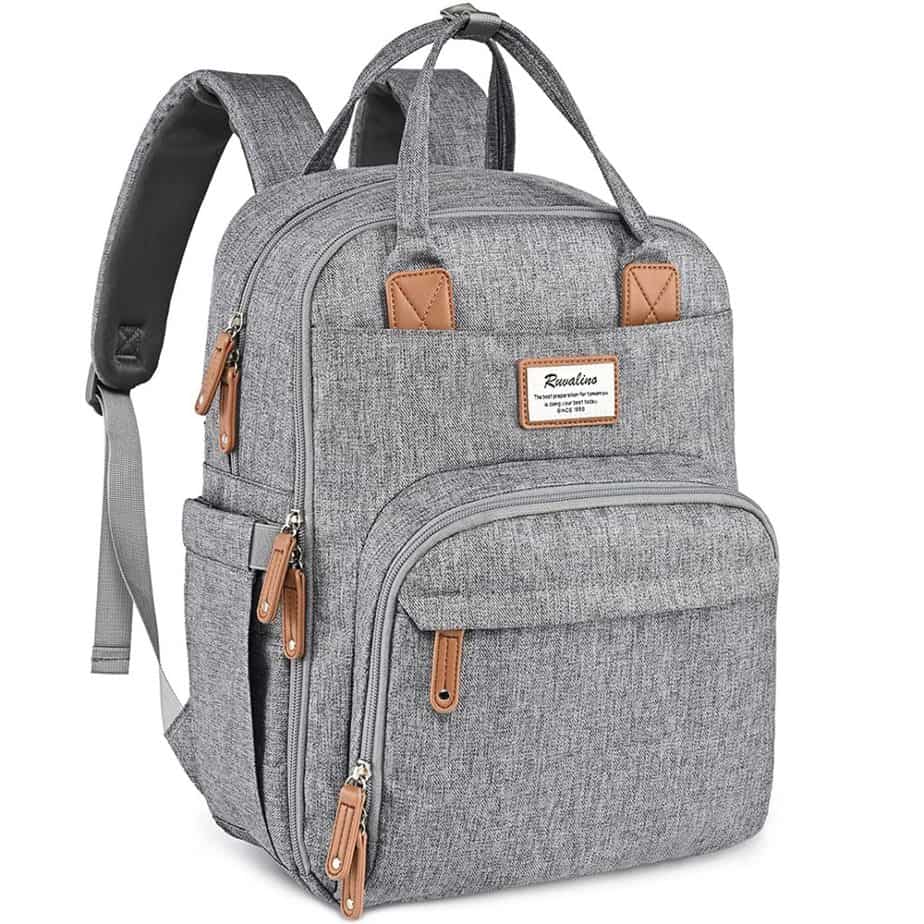 Let's start off by looking at the Ruvalino Travel Backpack Diaper Bag. This bag has travel in mind with a spacious main compartment and several pockets for organization and storage. It's made from lightweight, durable fabric that is strong.
This bag is built to last!
The pockets are where this bag truly shines. The two big compartments have a total of 16 – yes 16! – pockets for storage. You can store most baby essentials while keeping everything organized and compact. The insulate bottle pockets hold wide neck bottles and tall bottles.
This bag also has a padded laptop pocket and other organization essentials. You'll never lose your keys or wallet with the convenient mommy pocket.
Another great feature is the extra-wide openings that make finding all of your essentials so easy. The dual-zippers allow for ease access and closure, and the thick padded shoulder straps let you carry this bag comfortably. Then, you can hang it from the stroller.
Based on reviews, this bag doesn't have too many negatives – if any so – so it takes the first spot for my big for the best diaper bag for travel. Several remarked that the zipper ended up being faulty, but with a three-year warranty, their excellent customer service will cover it!
Another fantastic choice for a diaper bag for travel is the HaloVa Travel Diaper Bag. This is a functional choice because of its overall design, space, abundance of pockets, and bottom opening. It really makes traveling with your baby or toddler a breeze.
Let's start with how big it is – it's spacious enough to hold clothes, toys, diapers, and and snacks. One of my favorite things is how wide this bag opens; it makes it much easier to get what you need out of the bag.
This bag is made with waterproof and durable Oxford fabric that carries up to 40lbs of items with no issues. It's entirely machine washable, so if it gets dirty, simply toss it in the washing machine.
When you open the bag, you'll find streamlined pockets along the inside of the bag, perfect for putting diapers, wipes, pacifiers, and other items you need regularly. There is an outside pocket for things you need to access regularly and two insulated bottle pockets, along with a separate wet cloth pocket!
HaloVa doesn't have too many downsides, but one stands out to me – there is no stroller straps. I like to hang my diaper bags off my stroller. Also, the shoulder straps lack ample padding, so it might be uncomfortable carrying this bag for long periods.
Without a doubt, the Hafmal Diaper Bag is one of my favorite picks for the best diaper bag for travel. You can fit so much into this one bag. Plus, they included so many great features you are sure to love.
Hafmal included a wet/dry pocket, perfect for those wet clothing after a diaper leaks. There is an anti-theft pocket for those important items you don't want to lose, a pocket for wipes, and a utensil pocket.
If you are traveling and need plenty of organization and space to store items, this travel diaper bag has a lot of capacity. It even has bottle pockets inside and outside – they're insulated too!
Of course, no bag is totally perfect. My biggest gripe with this bag is that it needs better padding for the shoulder straps. Your shoulders might start to ache if you have to wear it for long periods, but stroller hooks are included.
Overall, this checks a lot of the boxes for travel bags for babies!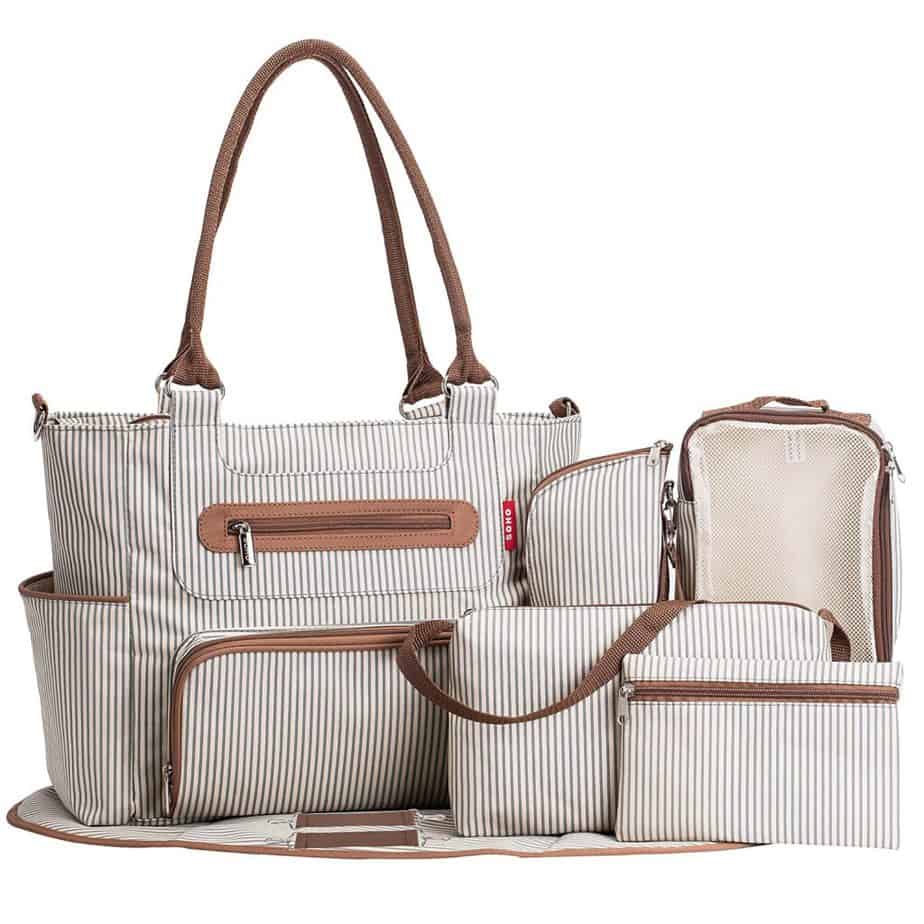 If you prefer a tote-style diaper bag, the SoHo Grand Central is an exceptional option. It comes with extra accessories for all the storage you need and want.
This set comes with seven pieces – a diaper bag, two personal purses, a changing pad, an accessories bag, an organizer bag with a mesh top, an insulated bottle bag, and stroller straps.
Talk about a great value!
The diaper bag itself is wide and has plenty of pockets for organization and storage. It comes with a 12-month warranty and a heavy-duty zipper that won't rip.
SoHo created this bag with multiple layers of fabric; it's waterproof and stain resistant. So, you can easily clean the exterior of the bag with a wipe. Then, if you have serious stains, toss it in the washing machine.
However, while the bag comes with stroller straps, the design is likely to tip over a stroller over. This bag is big, so if you're traveling for a short period, it might be too big for you. However, for a weekend trip or longer, you'll love the SoHo Grand Central Station Diaper Bag.
Skip Hop is a trustworthy baby brand, and their Weekender combines functionality with features that make it an excellent option if you're traveling by airplane.
For example, it has a sleeve at the back that slides over rolling luggage handles, so you'll always be hands-free. The main compartment is spacious with a wide opening for easy access. You'll find an insulated pocket on the side of the bag that has enough space for two bottles.
Skip Hop includes two multipurpose packing cubes to maximize the space properly and keep everything organized. Space management is essential.
Another nice feature is the large, front parent pocket that has a spot to put your cell phone with soft lining to protect the screen. The shoulder strap is adjustable and works as a crossbody or over your shoulder; you also can attach it to your stroller!
Two things to note about this bag. First, it is on the more expensive side; this isn't a budget-friendly bag. Second, it lacks extra pockets on the inside, so if you're looking for a well-organized bag, this won't fit that bill.
I know I like to have fashionable bag options, and the Cluci bag looks like a purse, but you can use it as a travel diaper bag.
It comes in several colors, but I love the brown leather. It really matches and looks good with nearly everything. Inside the bag, you'll find plenty of room for the items you need while traveling. The back opening gives you access to whatever you need, and there is a side pocket for wipes, bottles, or other quick essentials.
However, this bag isn't ideal for long travel. It's small when compared with other options, and it only has a few pockets for organizing. The thin shoulder straps also make this bag fairly uncomfortable for long-term storage.
If you want a lightweight travel diaper bag, then you will love the KeaBabies Diaper bag. It holds plenty of items without weighing you down.
KeaBabies offers plenty of features that parents want to see in a diaper bag. It is water-resistant and has a diaper-changing compartment with a changing mad. You'll love the cushion back support that keeps you comfortable for hours while wearing and carrying this backpack diaper bag.
That's not all!
This bag has plenty of space to hold multiple diapers, changes of clothing, diaper cream, and more. Don't forget the stroller hooks – I love those!
There aren't too many downsides, but it is wide, so if you are a smaller framed mom, you might find that it's uncomfortable to wear. There also are only a few color options – most are unisex.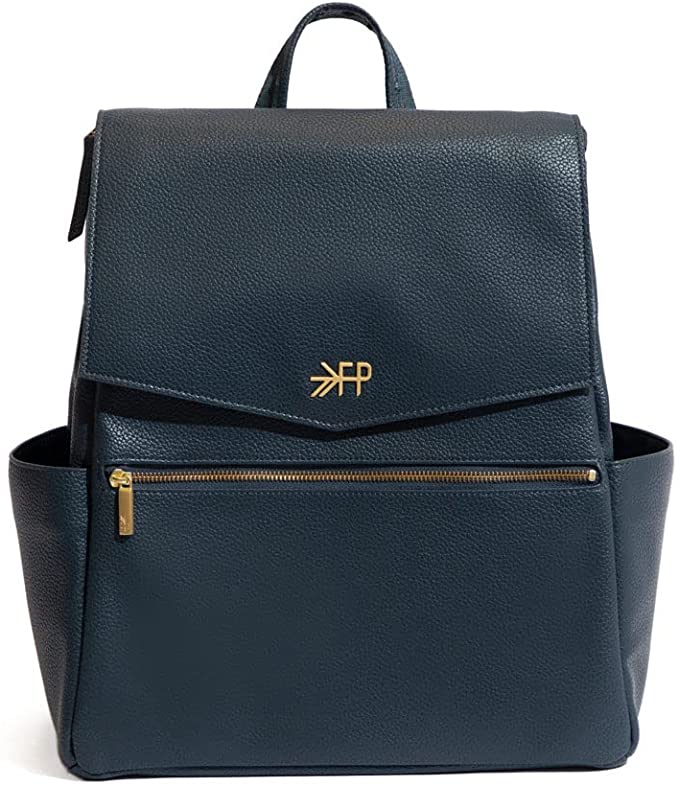 My last pick for the best traveling diaper bag is by Freshly Picked. This vegan leather backpack diaper bag combines style and functionality. You can look good while carrying this bag, keeping everything organized.
Something I like about the Freshly Picked bag is that you can wear it however you like. It works as a backpack, a cross-body bag, or a purse. Moms appreciate versatility!
The bag features ten pockets and a large, central compartment for bigger items. The easy-access magnetic front flap makes finding things a breeze.
Freshly Picked used premium vegan leather with a wipeable and stain-resistant nylon interior lining. They including a nylon changing pad as well. I love the matte gold hardware; it really adds an elegant touch.
The downsides to this convertible diaper bag is that it's quite expensive – the most expensive choice on my list. Also, it's not as large as other bags. While it stores a lot, you may find it's not enough for long trips.
How to Pick the Best Diaper Bag for Travel
Nearly any diaper bag can be used for traveling, so how do you pick the best diaper bag for travel?
You all know that our family travels a lot, so after trying several bags, I found a few factors that influence whether or not they were going to work for our family.
Storage Space
When you're traveling, storage space is a MUST. Chances are you aren't putting ALL of your baby's items for the trip in their diaper bag, but you'll be carrying more items than you normally would if you're going to the store or dance class with big brother.
The bag should be able to hold a minimum of six to eight diapers, two changes of clothing, and plenty of accessories.
Organization
I prefer an organized diaper bag; digging through the black hole when all I need is another pacifier or a hair band for my daughter drives me nuts. So, I prefer to have a diaper bag with plenty of pockets for organization.
Ideally, I want a diaper bag that has several – four or more – pockets inside, along with a wipes pocket and a pocket for my items.
Insulated Pockets
Insulated pockets are for more than bottles! Now that I have more toddlers than babies, I keep water bottles and sippy cups in these pockets. However, back when our kids were even younger, the insulated pockets were gold – they kept bottles cold or warm for several hours while out sightseeing.
Easy to Clean
I feel like it goes without saying that having a bag that is easy to clean is important. I've had so many things spill inside my diaper bag and on the outside; machine washable is a must-have feature. I also prefer waterproof and stain resistant materials on the exterior that I can wipe clean regularly.
Accessories
Accessories aren't a full deciding factor, but if you're debating two diaper bags for travel, then it might sway you one way or the other.
Stroller straps are an important accessory to me; I like to attach my bag to my stroller. That's especially true if we are shopping, and I need the stroller basket for bags!
Another accessory I appreciate is a changing pad. I always feel like changing tables in bathrooms are a bit sketchy, and if you don't have a changing table nearby, then a changing pad gives you a clean surface to change your baby while on the go.
Are Backpack Diaper Bags Better for Travel?
You may notice that most of the travel diaper bags on this list are backpacks – why?
In general, backpacks are more comfortable to wear for traveling, especially if you plan to do a lot of walking. Another one of the benefits of these bags is that they distribute the weight of the items across your entire torso instead of relying on one shoulder to do all the work.
If you're walking through the zoo or trekking to the beach, a backpack-style diaper bag is an excellent choice. I can't imagine going through the airport without a backpack bag for my kids! I need both hands available then.
Related: 12 Helpful Tips for Flying with Small Children
Does Your Diaper Bag Count as a Carry-On?
If you're flying with a baby, you may wonder if a diaper bag counts as a carry-on item. Before heading off, make sure you double check because each airline has different luggage polices for children.
However, some general guidelines exist.
Most airlines allow a carry-on per passenger, but some airlines – like United Airlines – also allow one diaper bag along with your carry-on bag.
Restrictions pertaining to liquids allowed on an airplane don't allow to formula, breastmilk, or other baby drinks.
Staff tends to be more lenient with these things when traveling with babies, but always ask ahead of time!
Travel Diaper Bag Checklist
If you're headed out and traveling with kids, you'll find that packing light is your friend. However, it's a lot harder to practice when you have a small baby.
Here are the top items you'll want to have with you in your diaper bag when traveling with a baby. I consider these essentials!
Diapers
Baby Wipes
Bottles & Formula/Breast Milk
Baby Blanket
2-3 Changes of Clothing
Burp Clots
Pacifiers
Small Toys
Changing Mat
Diaper Cream
Baby First Aid Kit
---
Traveling with babies and toddlers is hard enough, but one way to make your life a bit easier is to make sure you have the best diaper bag for travel. It should give you plenty of storage space and organization while traveling with all your baby's essentials. Don't leave home with the wrong bag!