So, you're preparing to fly with your baby, and you bought a seat for your baby. Now, you have to decide which one of the best car seats for airplane travel you want to get.
I never realized some car seats aren't ideal for airplane use, and when you're taking your baby on a trip that is fairly costly, you want all of these details to line up. The first time we flew with our baby, I used a car seat that was way too wide and left my husband and I uncomfortable for hours.
Plus, it was ridiculously heavy lugging it in and out of the airplane. I made the mistake of simply using the car seat we had in our vehicle – bad idea without ensuring it was a good pick!
So, before you grab the first car seat you see or the one out of your vehicle, make sure it's going to work for your travels and not be more of a hinder than anything.
Pin this blog for later! ↓
Related: 12 Helpful Tips for Flying with Small Children
Should I Bring a Car Seat for Airplane Travel?
The first time I flew with my baby, I wondered whether or not I should bring a car seat for airplane travel. When your baby is under two years old, airlines have policies that allow parents to hold their babies instead of using a car seat during take-off and landing. Those policies save money for families who don't want to spend hundreds for their baby to have a seat on an airplane.
However, is that the right choice?
The American FAA recommends that parents use approved car seats when traveling with infants under two years old. They also recommend car seats for toddlers over two years old as well.
While you aren't legally required to do so like when traveling by car, it's important to keep in mind the reasons why it's a good idea to pay for the extra car seat.
Here are some reasons why bringing a car seat for airplane travel is smart.
During turbulence, it's much safer for children to be contained in a car seat than in your arms.
Children are used to staying put in their car seat while traveling, but they might be tempted to try to get down while you're holding them.
It allows you to be hands-free.
Your child can take a nap in the car seat easier than your arms.
Do Car Seats Count as a Checked Bag?
No, most airlines let you bring a car seat and a stroller along with the rest of your luggage. You won't have to pay to bring a car seat onto an airplane, but you do have to pay for the actual airplane seat to use it.
You can actually bring a checked bag with a car seat inside! As long as the car seat meets FAA size requirements, the airlines will let check it at no additional charge.
Some parents opt to put their car seat in the cargo hold and use an FAA approved bag to transport it. You won't be charged for this either!
The FAA Requirements for Car Seats for Airplane Travel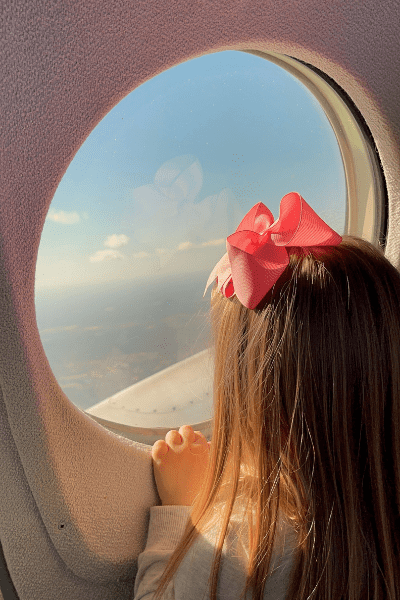 Not all car seats are allowed for airline travel, so it's important that you understand the FAA requirements for car seats.
In order to use car seats for airplane travel, they have to be FAA approved. You can check the sticker on the side of your current car seat to ensure it says "This restraint is certified for use in motor vehicles and aircraft."
If you live in countries other than the United States, make sure you check your requirements before flying.
The FAA has other requirements as well.
For Children Under 40lbs
If your child is under 40lbs, parents have the option to secure their child in an FAA approved car seat for the duration of the flight. It's best to rear face infants one year old and under, just as you would in motor vehicles.
For Children 22lbs to 40lbs
When your child is between 22lbs and 40lbs, you can use an approved car seat, typically forward facing, or secure them in the airplane seat with a CARES Child Safety Device.
For Children over 40lbs
Kids who weigh over 40lbs can safely use an airplane seat belt, but you should consider the maturity of your child. They need to be able to stay seated for the duration of the flight.
The CARES Child Safety Device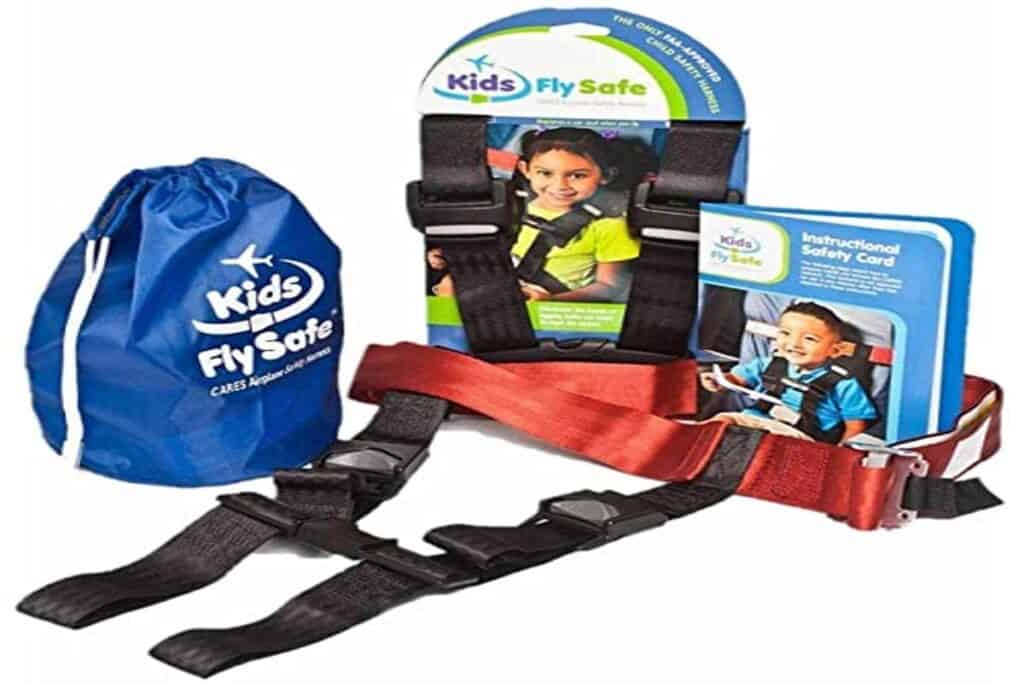 When you're researching car seats to use for airplane travel, you'll come across the CARES Child Safety Device. This is the only FAA approved harness restraint for children over one year old and between 22-44lbs.
Using the CARES device comes with some advantages. The biggest benefit is that it's small and portable; it will fit into a carry-on bag. So, you don't have to drag a heavy car seat through the airport.
The downside is that your child has to sit straight up while traveling, and it won't be comfortable to sleep. So, it might work for short flights, but if you expect your child to sleep, the CARES device may not work for your child.
The Best Car Seats for Airplane Travel
One of the best car seats for airplane travel is the Evenflo Tribute LX. This is a lightweight and compact option, weighing only 9lbs! Dragging this seat through the airport wouldn't be terrible at all.
This car seat fits well on most plane seats since it measures 18.5 inches wide. While you might have to lift the arm rests up, the Evenflo Tribute LX will still fit, and it works for infants up to 40lbs.
You'll get a lot of use out of this seat!
Safety 1st is known for producing well-made car seats at affordable price tags, and their Guide 65 Convertible Car Seat is no exception. Your child can use this car seat from birth up to 65lbs, and it comes in under $100.
That means if it gets banged up while traveling or super dirty, you don't have to feel like you loss out on too much money.
This car seat is lightweight, coming in at 14lbs, and measures 18 inches wide. It's on the upper end of both width and weight limit, but the removable cup-holder on the side help to save more space while flying.
However, if you are flying with a newborn, I would not suggest the Safety 1st Guide 65. It might be rated for infants starting at 5lbs, but the straps are hard to adjust for babies this small. Try an infant car seat when flying with a newborn.
When you research infant car seats for airplane travel, you'll undoubtedly see the Chicco KeyFit 30 recommended consistently. It's narrow, measuring 17 inches wide at the widest point. You can install it on an airplane with or without the base using the lap belt.
The reason the Chicco KeyFit 30 stands out is that it's one of the lightest car seats on the market, weighing only 9.5lbs!
You can use this infant car seat for infants from 4 to 30lbs. You can combine it with the Chicco Caddy Stroller Frame or Baby Trend Universal Car Seat Carrier for an easy travel system while moving in and out of the airport.
Here's another excellent option for airplane-safe car seats by Evenflo. The Songs is a lightweight, FAA approved seat that weighs only 11lbs with a width of 18 inches. That's not as lightweight as the Tribute LX, but it's still a great weight for carrying through the airports.
A width of 18 inches means it will fit on most car seats.
The benefit of this car seat is that it can be used from 5 to 65 pounds compared to only 40lbs for the Tribute LX. It's affordable, coming in at under $100, so overall, it's an excellent option.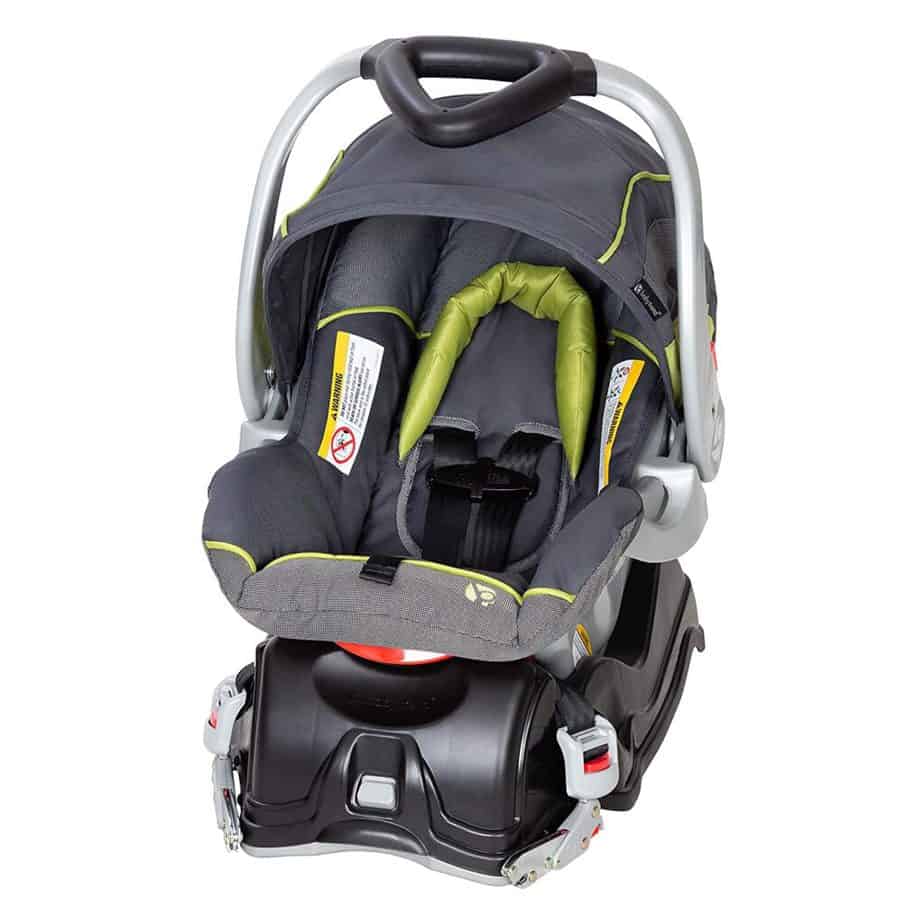 If you decide you want to use an infant car seat, the Baby Trend EZ Flex Loc is an excellent option. This car seat is exceptionally narrow, measuring only 16.5 inches wide, and the price point is great, coming in just above $100.
When traveling on an airplane or car, you can use this infant car seat without a base, but you have to use it forward facing in an airplane.
However, there are some downsides. The car seat itself is heavy, coming in at 18lbs, and the weight range isn't huge. You can use it for infants from 5 to 30lbs.
However, if you pair it with a stroller, then the weight wouldn't matter too much!
It's hard to find a better infant car seat for airplane travel. Doona is an FAA-approved car seat that is narrow enough for most airline seats.
However, the BEST thing about this car seat is that it's both a car seat and a stroller combined. So, you aren't lugging around two things when traveling, and you never have to carry the seat to the gate – just wheel it wherever you go.
There are some downsides to the Doona Infant Car Seat. First, the nearly $600 price tag is hefty even considering that it's a car seat and stroller combined.
The second downside is that it's heavier than other options out there because it's a stroller. You will have to carry it to your seat on the aircraft because it won't fit through the aisles.
Century Drive On created one of the nicest looking car seats on the market right ow, and it's a three-in-one, so it lasts for years. Use the rear facing for kids 5-40lbs, forward facing with a harness from 22-65lbs, and forward-facing booster from 40 to 100lbs.
Century Drive On features a no-rethread harness, something parents love. All you have to do is move the headrest up and down to find the perfect harness fit. That's so much easier!
This car seat has two cupholders, removable infant padding, and still only weighs 14lbs! That means when you won't struggle to lift it up while going in and out of the aircraft.
Something to note is that it is 19″ wide, so you may have to lift up the plane armrests to get it to fit well. I would find out the measurements of the seats for the airline you plan to travel.
How to Pick the Best Car Seats for Airplane Travel
Even though not all car seats work for airplane travel, many do, so you want to make sure you pick the right one for your baby while traveling. Here are some considerations.
Weight of the Seat
When you buy a car seat for your vehicle, the weight of the seat may not matter much, but when you have to carry it through the airport, the weight is one of the most important factors.
Ideally, you want a car seat that weighs 10lbs or less. Remember, you have to carry it from your car to the airplane, lift it in and out of the seat, and lift it over people's heads as you go down the aisle.
Lightweight is truly best.
Width of the Car Seat
Another important consideration is the width of the car seat. Even if the car seat has FAA approval, that doesn't mean it's going to fit the seat perfectly since all airlines are different.
Plane seats measure between 16 to 22 inches across with the majority measuring 17 or 18 inches across. Ideally, you want a car seat that is 18 inches Wie or less to ensure it fits. If the airplane seat is 16 inches, then it may be a tight fit.
Slim designs are simply easier to fit onto the plane and gives everyone room to move.
FAA Approval
I mentioned before but any car seat you bring on an airplane must be FAA Approved. Simply check the sticker on the side to guarantee it is!
---
Now that I've flown with the wrong and right car seats for airplane travel, I can tell you that having a lightweight, narrow car seat to contain your child makes a huge difference. It leads to a better and more enjoyable flight for all!