Journaling is not something new, but it is something that I am newly implementing. I am starting with one line a day, but if you already journal and love it, no need to stop at one line.
Below I am going to discuss why journaling is good for you, how to make it a priority and my favorite journaling books.
Why is Journaling Good for You?
Journaling can help you prioritize your fears, stressors, problems and concerns. It can allow an open avenue for positive self-talk and affirmations. You can track day to day symptoms to figure out any triggers. It can alleviate some of your stress and allow you to decompress. Expressive writing can strengthen your immunity! Say WHAT? (check out this post I found here). It can boost your memory and comprehension. Get more in tune with your inner needs and desires.
Pin this blog for later! ↓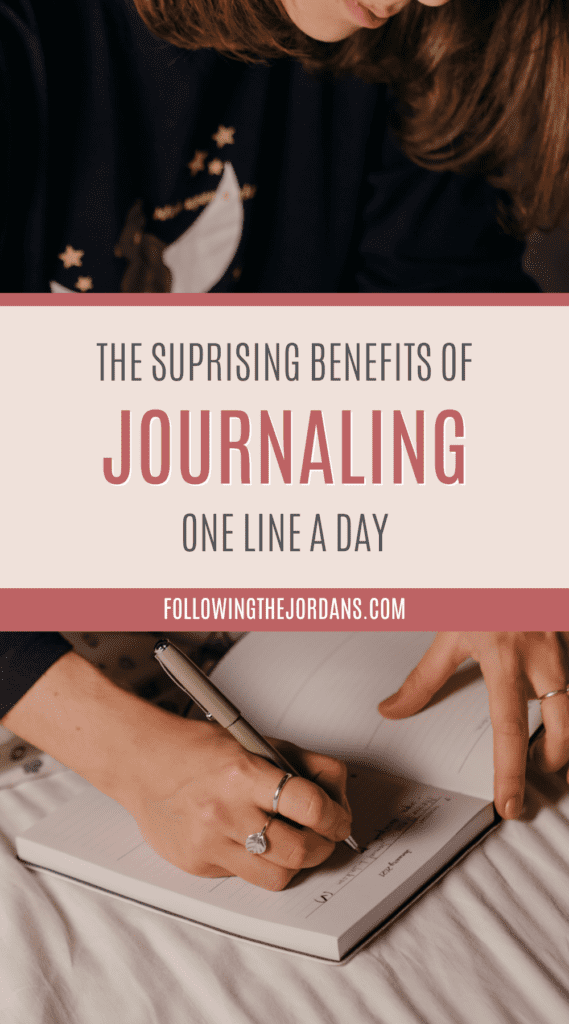 How Can You Make Journaling a Priority?
Okay so now we know why journaling is good for you, but how can we do it? Ditch the thoughts that it will take forever. Write down ONE line a day. If you do it at the beginning of the day, write down one sentence of what you are thankful for. If you do it at the end of the day, write down one sentence about something that brought you joy that day. THAT'S IT! Journaling is often done to bring happiness, but writing about sadness or worries is okay as well. Write whatever you need to write. Don't censor yourself. Don't worry about grammar or punctuation, just write. Write whatever comes to mind freely.
Don't think one sentence a day is enough to build a habit and bring your more happiness? Try it for 2 weeks and get back to me. I promise it does make a difference.
Related Post: 14 Easy Tips for How to Be a Happy Stay at Home Mom
What I am using on my Journey
As a total newbie , I am choosing to do one line a day. When I was looking for my first journal, I looked up Mom Journals and this one caught my eye. It has a spot for one line a day, other spaces with intriguing questions and relatable mom funnies. I know this sounds silly, but I love a good writing pen. These are my favorites! A good cup of coffee, or hot tea is always near by when I journal. I also wear my headphones to block out the noise of back ground noise.
If you are looking for more Motherhood Encouragement Books and Journals click here.