Now that your baby is here, you might find that dressing your body is even harder than before. Your body has changed once again. Some of your old clothes fit well, but you also might need some maternity clothes still. This is why a postpartum capsule wardrobe is a must-have to help you survive these months in style.
It takes months for your body to go back to normal, but it might never fully be the same again. So, while your body takes its time adjusting, you need clothes that work for your body.
Don't put those maternity clothes aside just yet! Some of those pieces will work for your postpartum months, and you'll need to add in some neutral pieces to complete your wardrobe. Keep reading to find out how to put together your wardrobe for your postpartum months.
Pin this blog for later! ↓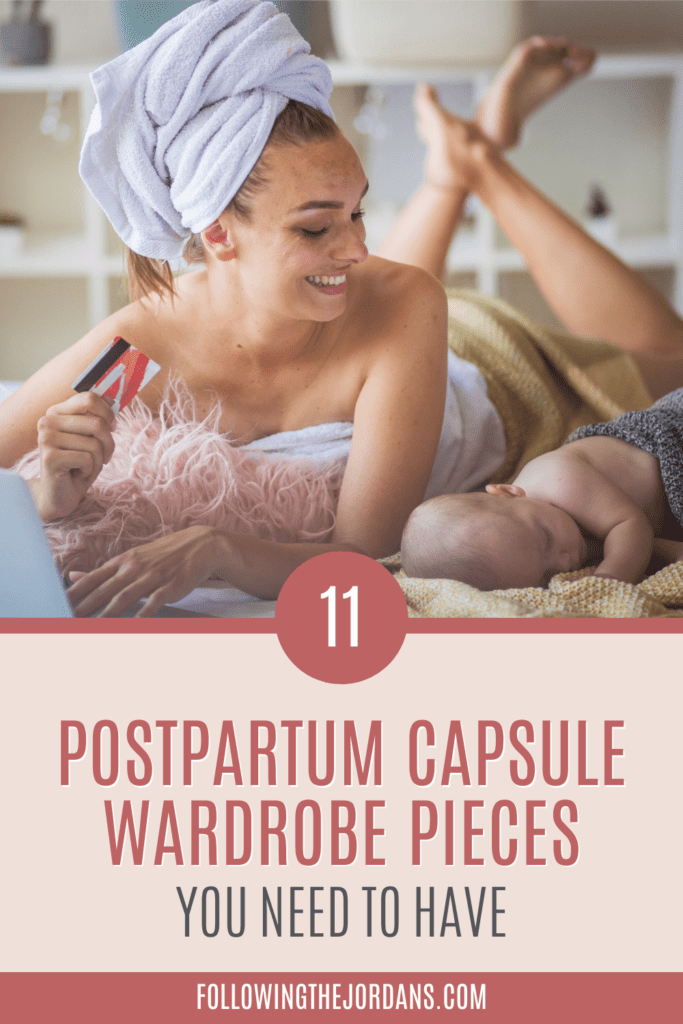 What is a Postpartum Capsule Wardrobe?
A capsule wardrobe is when the pieces you grab and buy fit together in multiple outfits. That tank top may work with a pair of shorts, under your favorite denim jacket, or under the cozy cardigan with leggings for chilling around the house.
Buying a maternity wardrobe is expensive, but pregnancy only lasts a few months. It feels senseless to buy an entirely new wardrobe for pregnancy, even if you plan to have another baby or two. Instead, buying versatile pieces is the best choice; you'll feel fashionable yet practical.
5 Tips about Putting Together a Postpartum Capsule Wardrobe
1. Only Size Up Certain Items
You might be tempted to size up on all of your wardrobe, but that's typically not needed. Some things, like jeans, definitely require either a size (or two) up or specific maternity clothes. Other items, like leggings, often stretch with your body as it grows.
Size up as you need with specific pieces. You don't want to end up with a bunch of clothes you can't wear later.
2. Go for Neutral, Easy to Match Colors
We all love a pop of color, but try to do that with your purse, jewelry, or adorable scarves. Try to stick to neutral, easy to match colors for your wardrobe. That way, you'll be able to pair each item with multiple clothing items. While you might love the idea of a bright violet sweater, if it only matches one other item in your closet, you won't get a lot of use out of it.
3. Pick Versatile Items
The name of the game with any capsule wardrobe is versatility. It needs to be able to work for different situations from taking your older kids to school, running errands, and heading out to dinner with friends.
Think about how you can dress each piece. That sweater might look great with a pair of leggings for running errands and also look great with some dark jeans and boots for a dinner date.
4. Easy to Care for
Skip anything that requires dry cleaning or special washing instructions. That's just a pain! You want to be able to toss everything into the washing machine, especially any maternity pieces.
5. Maternity isn't Just for Maternity
You might be tempted to think that maternity clothes go away after your pregnancy, but most moms will tell you that's not accurate. These clothes are loose and work with your body through all changes, including postpartum months when your body is changing sizes once again.
11 Postpartum Capsule Wardrobe Pieces You Need
1. Maternity Nursing Bras
Let's start with the basics – you need maternity bras. I know some women also grab maternity underwear, but my butt sure changed less than my breasts.
Our breasts go through a lot of changes during pregnancy and afterwards when you start to breastfeed. So, keeping a few maternity nursing bras on hand is just the support you need.
You can find all sorts of options, but the Stelle Body Seamless Maternity Nursing Bras are solid choices that come with pads and extenders. They're comfortable and will grow with your ever-changing body.
2. Maternity Tank Top
Next up, I think all moms need some maternity tank tops in their drawers in several colors. Tank tops are versatile pieces for your postpartum capsule wardrobe that work as a stand-alone top or a layering piece. I love to wear tank tops under cozy cardigans as I lounge around the house, and it looks good as an outfit when I picked up kids from school.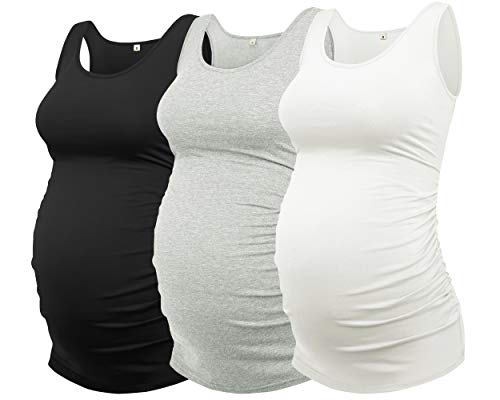 The AMPOSH Women's Maternity Tank Tops come in a pack of three and are available in many colors. Grab a few packs, especially if you have a summer pregnancy! You'll need all sorts of tank tops in the summer, but then, after your baby arrives, you can use tank tops to help double layer for breastfeeding.
Your body takes awhile to go back down to its normal size, so your postpartum wardrobe needs to adjust to this process and look good no matter where your body is at that time.
3. Lounge Shorts
You need some shorts that you can wear around the house, but bonus points for being able to pair them with a tank or a plain shirt and wear them out and about!
Grab a pair of yoga maternity lounge shorts. These help keep everything where it belongs and look great when paired with some maternity tank tops. I like these Hofish Maternity Yoga Capri Leggings. They work great for working out or going out shopping!
4. Cozy Cardigan
A cardigan is one of those versatile items that you don't need to buy a maternity version. Either grab an oversized one or size up, so you can wear it in the years following your pregnancy. Everyone loves a cozy cardigan.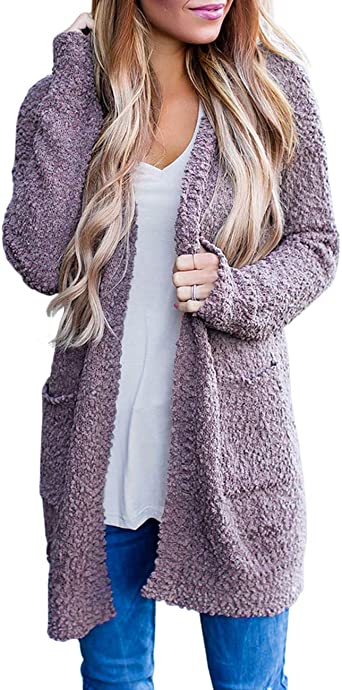 I love this Merokeety Soft Chunky Knit Sweater! It's adorable, super-soft, and comes in over a dozen different colors. I would own all of them! It does fit as expected, so if you want it to be a bit bigger, size up.
This is just one of those options. The great thing is you can find cardigans everywhere, so grab a few different ones and you'll have outfits for all occasions. I love items that you can wear throughout your pregnancy into your postpartum months.
5. Oversized Sweater
Here's another staple piece that you don't have to buy a maternity version of – an oversized sweater. These sweaters are meant to be oversized and baggy – the perfect comfy wardrobe piece for lounging around the house. It won't be so oversized with a huge pregnant belly, but you'll be able to wear it when your pregnancy is over.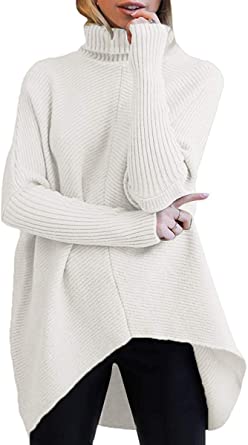 The Anrabess Women's Turtleneck Oversized Sweater is a great choice. It's bulky, oversized, and super-soft – those are my qualifications for a cozy sweater.
6. Basic Loose Tees
Basic loose tees are a staple in any wardrobe. Loose is essential; they hide anything that you might not want to show after your pregnancy but also looks great under a cardigan or with some leggings.
Go simple with these! Don't buy anything pricey. These Amazon Essential Short Sleeve Tees are perfect; you might want to buy a size up and see how it fits you until your body adjusts.
7. High Rise Leggings
Let's be honest; we got some things we want to hide a bit after pregnancy, so high-rise leggings are a must-have item. Grab a few pairs to keep on hand. I can nearly guarantee you'll live in them in the weeks after giving birth!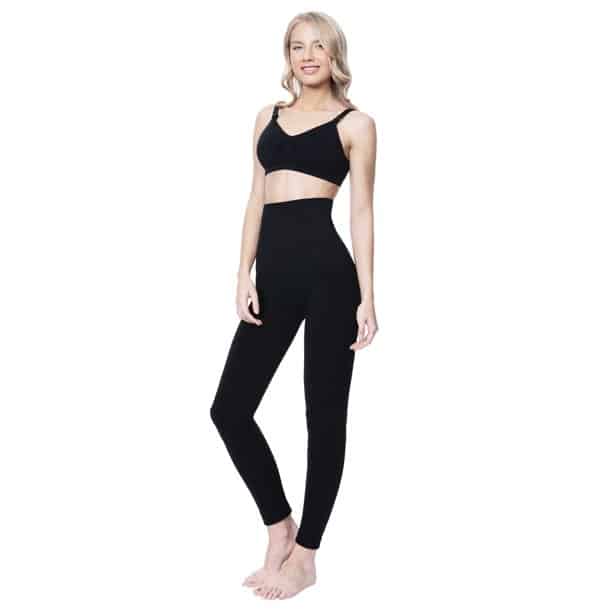 Here are two choices to consider.
8. Denim Shorts
One item that I do suggest you grab the maternity version of throughout your postpartum healing stage is denim shorts, especially if you have a c-section. You don't want to risk rubbing your incision. If you try to buy regular shorts, you might need several sizes until you find the one that works for you.
That's a waste of money! Just grab some maternity jean shorts until your body goes back to normal.
I love the Signature by Levi Strauss & Co. Maternity Shorts. Not only are they a great price, but they're top-quality, so you don't have to worry about them not lasting through multiple pregnancies. They will!
9. Linen Shorts
Another summer time essential for me is linen shorts. They're lightweight, comfortable, and the drawstring waistband means they'll adjust to your ever-changing body. I like getting a few pairs of these in different colors like natural linen and olive green.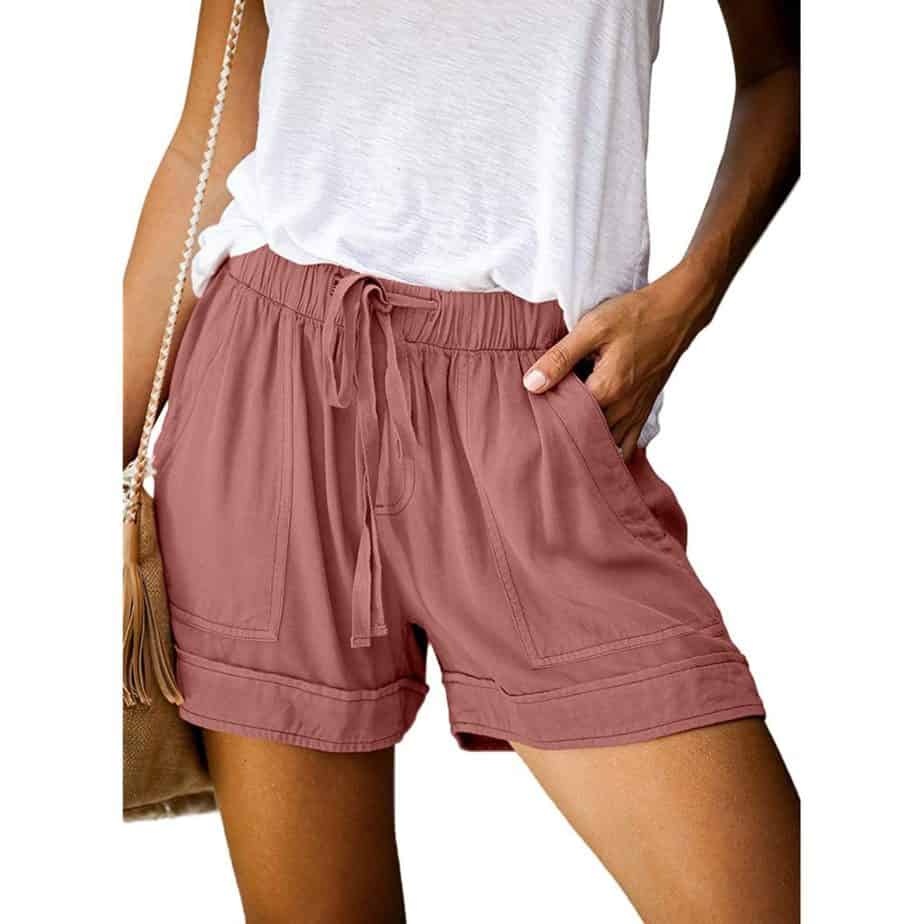 My favorite brand is the Acelitt Women's Linen Shorts. They're soft, comfortable, and come in a range of sizes and colors, all for an affordable price.
10. Maternity Jeans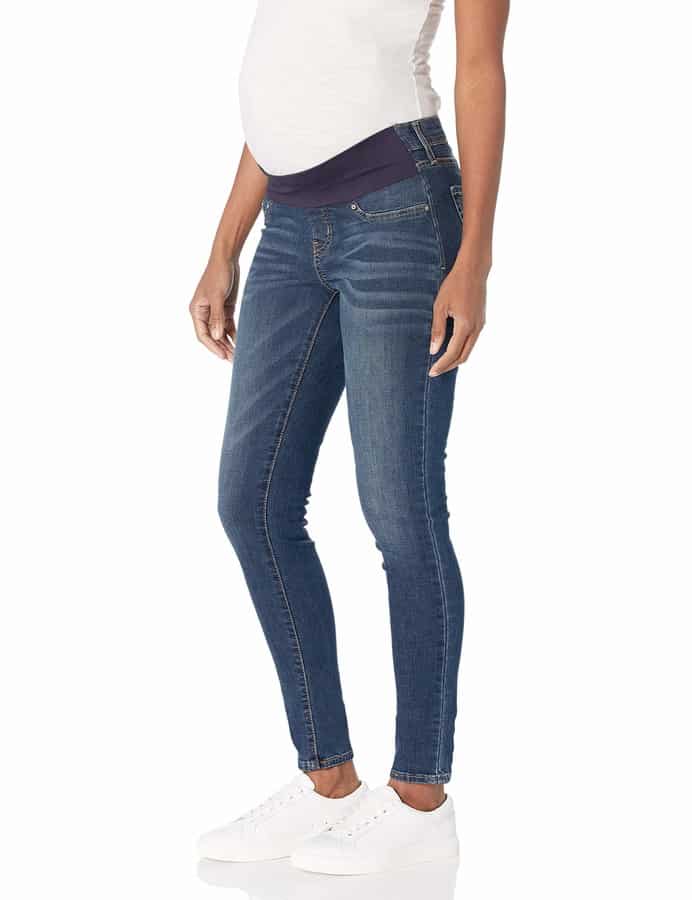 Here's something else that will carry over from your maternity wardrobe – maternity jeans. They'll work with your changing body and feel comfortable; you might never want to wear regular jeans ever again! These Signature by Levi Strauss & Co Maternity Jeans are my favorite; I need skinny jeans in my life!
11. Comfortable Sweatpants
Make sure you have a pair or two of comfortable sweatpants in your postpartum capsule wardrobe. Sweatpants have a drawstring waist, so they'll adjust to your body as it changes. You can wear them around the house or pair them with a cute loose tee for a comfy look for running errands.
---
You still want to look nice after your baby comes, so a postpartum capsule wardrobe helps you look good while taking care of your baby and waiting for your body to adjust. Give your body a break and picks clothes that work for your body; don't force yourself into your former clothes!