A baby registry is where you put all the things you would love to have for your new baby, but everything should fit into your family's lifestyle. If you're a travel loving family, it makes sense to add some baby registry items for traveling families.
Traveling with a baby is far from easy, but it requires planning ahead and knowing what items make your life easier. Prepping ahead of time makes a huge difference in your experience.
I've found that having convenient items on hand like portable changing pads, lightweight stroller, and travel potties – just to name a few – make life easier and cause less of a chance for a breakdown to happen. After traveling a lot with my kids, I put together a list of things that I think makes traveling with kids easier that you should put on your baby registry.
Pin this blog for later! ↓
Related: 51 Baby Registry Must-Haves You Need to Include
12 Baby Registry Items for Traveling Families
The Doona Car Seat is an amazing invention that makes traveling with your infant a lot easier. it comes with the base attached, perfect for traveling in Ubers, taxis, or rental cars. Then, it opens to a stroller, so it's everything all in one.
Take about ease and simplicity!
You combine two of the biggest travel gear items into one thing that you can roll through the airport or close and put into your rental car.
However, let's talk about the two negatives. First, the Doona Infant Car Seat is a splurge; it's expensive. Also, it's only designed to be used for rear-facing infants up to 35 pounds. So, you might not get a lot of use out of it.
If you want a lightweight travel stroller, the GB Pockit stroller is the world's smallest folding stroller. It's amazing!
It weighs less than 10lbs, and it folds so compactly that you can put it in the overhead bins on an airplane. It's very compact, so tossing into your car is no big deal.
The Pockit Stroller is ideal for babies six months old and above until they reach 55lbs. That's a high weight limit compared to other brands!
Typically, I prefer to buy an airplane ticket for my baby, but if you have a lap infant, a car seat travel bag lets you gate check your seat.
You'll find all sorts of different car seat travel bags, but I like the J.L. Childress because it's a backpack that you can carry through the airport. It also is well-padded, protecting your car seat from being tossed around and potentially being damaged.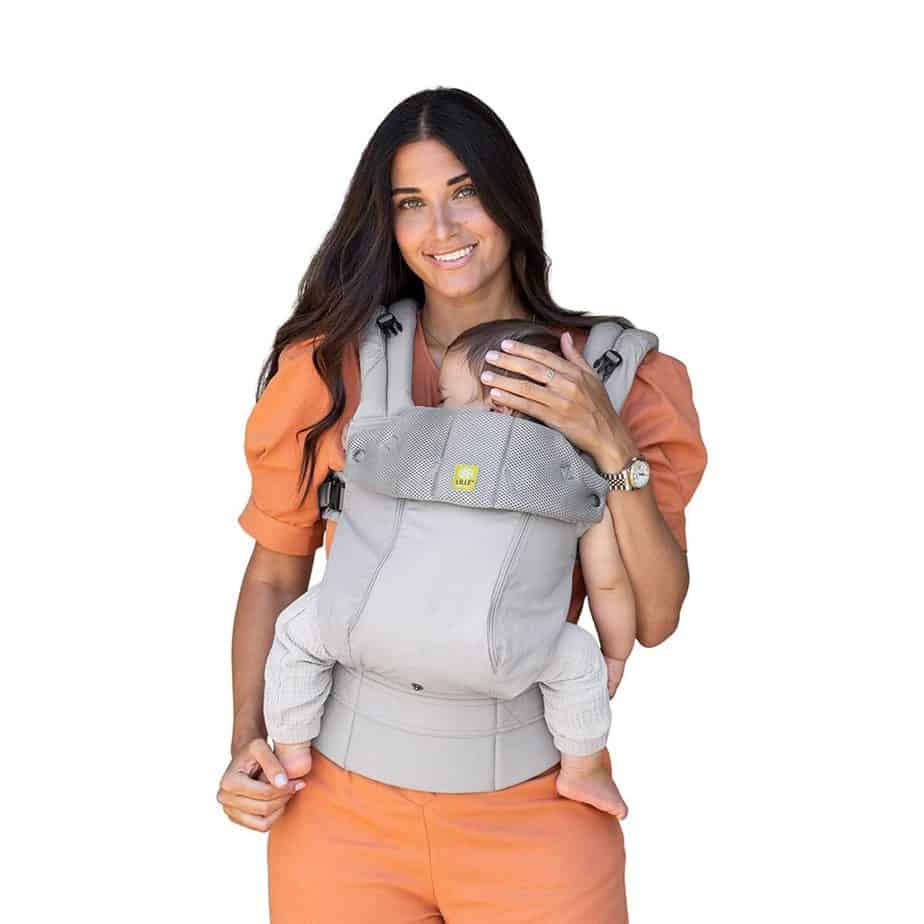 In my opinion, a baby carrier is a must-have baby registry item for traveling families. It allows you to go places without a stroller, breastfeed on the go, and have hands-free time while close to your baby.
My babies always slept so well while in a baby carrier. I've tried several brands, and I think the Lillebaby Complete All Season is a fantastic option. It has a mesh panel that allows you to baby wear in hot water and lumbar support to prevent back aches.
I know I've stayed in hotels where it was just too bright for my babies to sleep well. They're used to pitch black bedrooms at home, so sleeping in room that isn't dark at home feels weird to them.
Then, I found these portable blackout curtains. They use suction cups to stick to the window and come with an easy traveling bag to take them with you wherever you may go. The curtains are quite dark and block out 95-100% of the light that may come into your hotel room.
Not all hotels or rental homes have a travel crib available for your infant. In some places, those are available on a first come, first served basis, and you won't be able to reserve them ahead of time.
Talk about frustrating!
To avoid this problem, get a travel crib to bring on your trips with you. I love the Baby Bjorn Travel Crib; it's lightweight, folds down flat, and fits into an extra-large suitcase with plenty of room leftover. The setup is so easy, anyone – including my husband – can figure it out quickly.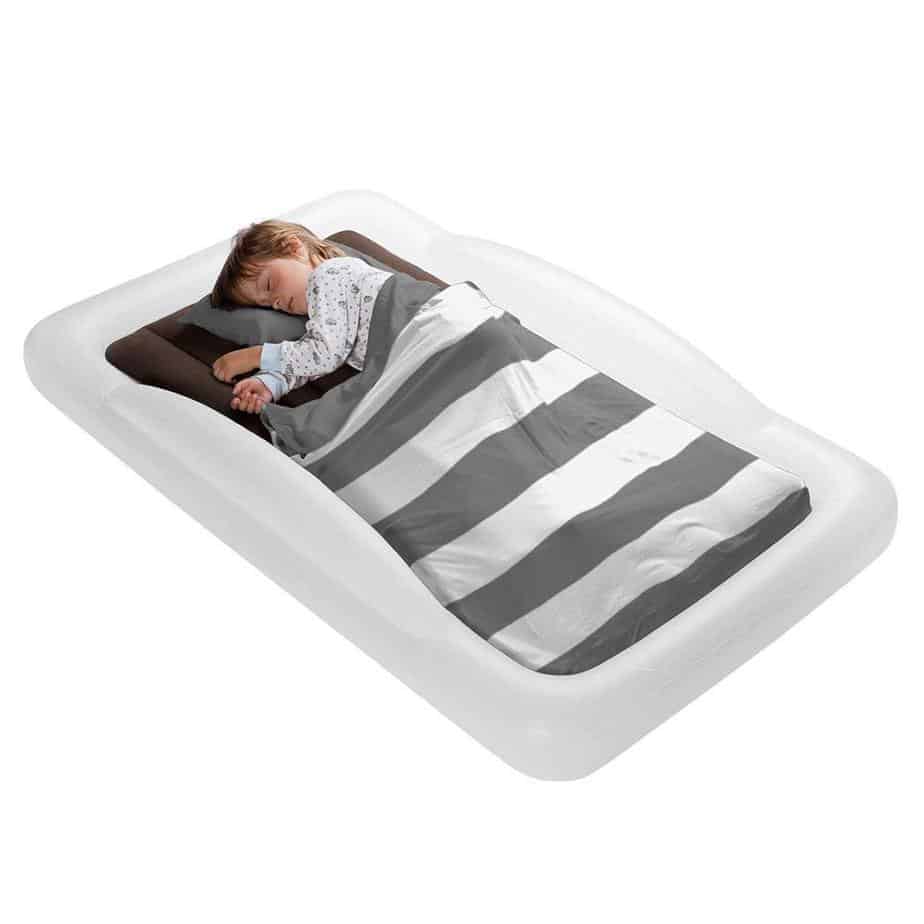 Whether you love camping or simply want some place for your toddler, this Shrunks Toddler Inflatable Air Mattress is a great purchase. You can use it when visiting grandma's house, camping in a tent, or in a hotel room to give everyone the space they need.
Sometimes, those sofa beds just aren't comfortable for anyone!
The nicest thing about the Shrunks Mattress is that it's durable; you never have to worry about it popping or leaking. Also, it comes with a small, portable pump to fill it up quickly.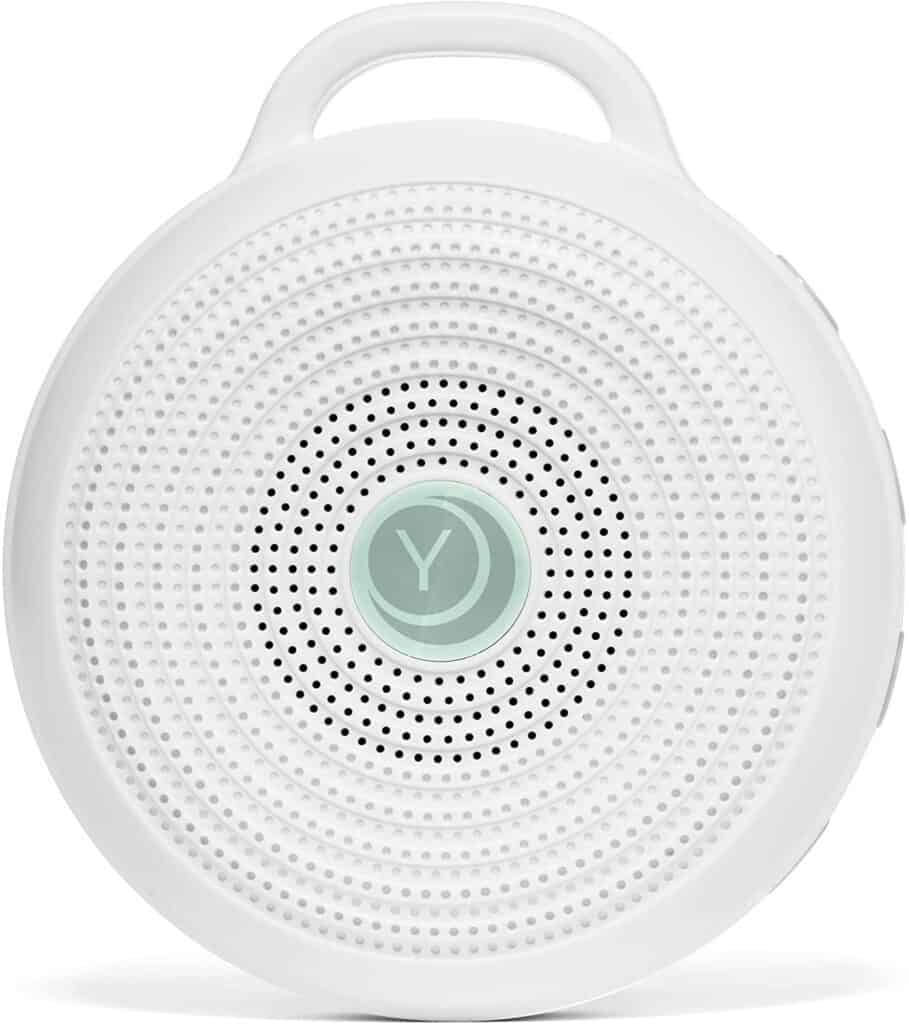 My kids have always preferred to have a white noise machine when going to sleep, but I don't want to pack a big machine when we travel. White noise helps babies feel comfortable and relaxed when falling asleep; it gives them a sense of familiarity.
The Rohm Portable Sound Machine is small enough to put into your diaper bag, but it'll block out the sounds well.
I was pretty surprised by this little sound machine. It has a great battery life that lasts for days, and the volume goes up higher than I expected. Honestly, it's louder than the one I have at home.
A breastfeeding pillow helps women nursing comfortably, but they're quite large, so traveling with one seems quite difficult. No one wants to lug that through the airport.
Enter the Brest Friend, an inflatable travel nursing pillow!
This pillow packs flat, so it fits into your diaper bag or suitcase. Then, you blow it up when you need to feed your baby. It's perfect for airplane travel, a beach vacation, or wherever else you want to go.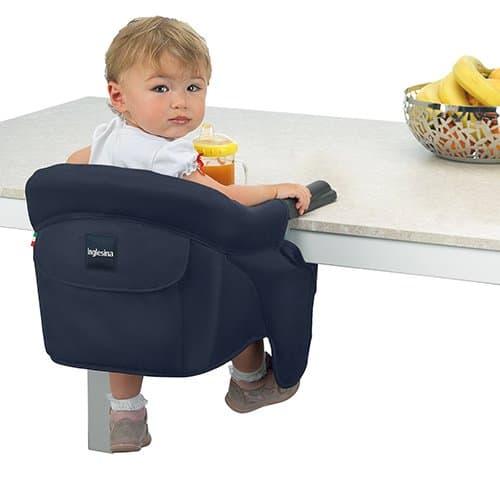 Another one of the top baby registry items for traveling families is a hook-on high chair. These are great for visiting restaurants, camping, and traveling in general.
The Inglesina's Table Chair works for tables up to 3.3″ thick, and it's easy to set up with twist-tight coupling. It comes with an integrated travel-friendly carry bag. You can use this clip-on his chair when your baby is six months up to 36 months and up to 37 pounds. Inglesina even added a storage pocket for wipes toys, and other items you need to keep handy.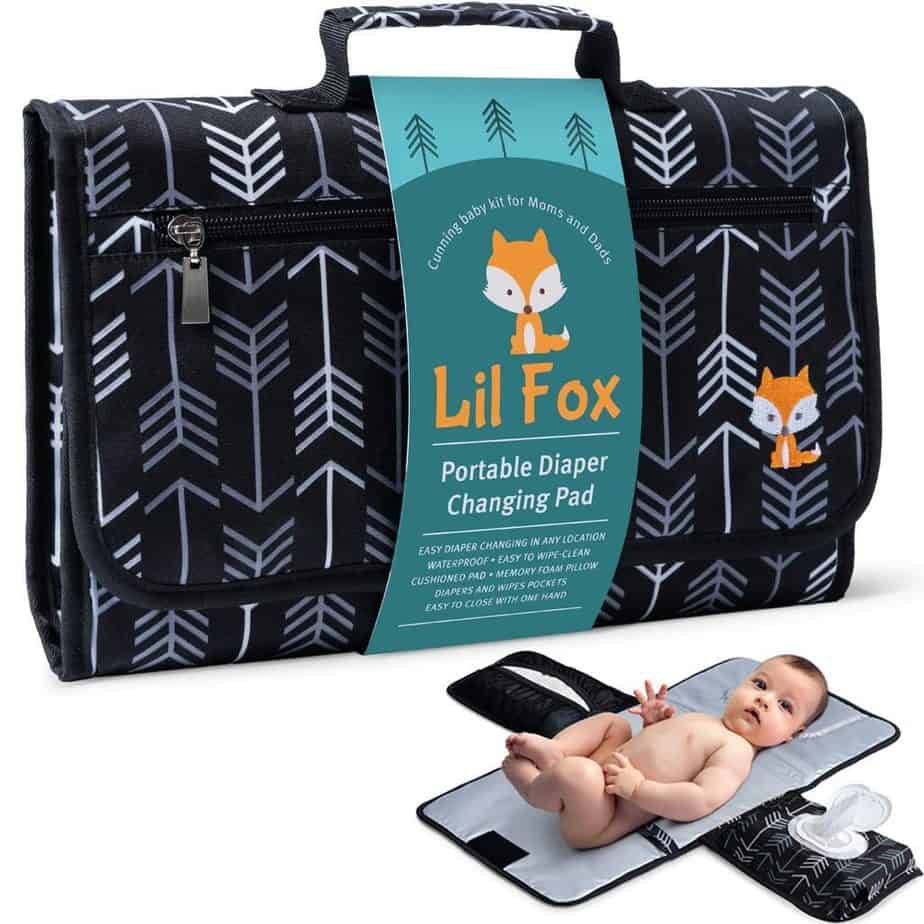 We use our portable changing pad all the time. You can keep it with your diaper bag and use it whenever you're out and about. When you're traveling, you never know when you'll find a clean changing table, so having a portable pad gives you a clean place to change your baby's diaper.
You also can even use carry this changing pad instead of a diaper bag!
Once your baby isn't in diapers anymore, having a travel potty for road trips is definitely one of the must-have items! You can use it as a stand-alone potty chair, but it also work as a toilet seat cover for most toilets – like a public restroom.
It has a three-point fixing structure with rubber non-slip foot pads and legs secure in place. This potty seat comes with a splash guard design, so it can be used for boys and girls. It fits into a travel bag so you take it everywhere with you.
This seat works for kids from 15 months up to 50lbs!
---
When you register for items for your baby shower, make sure you include some baby registry items for traveling families. These items make traveling with your kids much easier.