Are you planning your baby registry and want to make sure you don't forget anything? I felt the same way as a first time mom, so I put together a list of my baby registry must-haves.
Honestly, you'll see a lot of things out there that are a good idea but aren't really needed. For example, a wipes warmer is cool, but if I had to pick between a wipes warmer or more swaddling blankets, I'm going to pick the swaddling blankets since they're more versatile.
You want your loved ones to buy things that you truly need rather than things that simply sound like a good idea, so I made sure my list only has the things you truly want and need to have.
Keep reading to see my baby registry must-haves!
Pin this blog for later! ↓
Related: What You Need for Your New Baby: A Mom of 3 Tells All
Where Should I Make My Baby Registry?
You can have more than one baby registry! I suggest having a registry on Amazon; a lot of people shop on Amazon, and if you have friends out of town, that makes it super easy to ship you gifts for the baby. You also might want to pick a shop you have in town like Target or Wal-Mart.
Signing up for a baby registry with Amazon offers benefits; they typically send new mothers a box of goodies to celebrate their new baby.
When Should I Make a Baby Registry?
Your baby registry needs to be completed four to six weeks before your baby shower or even eight weeks beforehand. It needs to be completed by the time you send out your baby shower invites because people often start to shop as soon as they get the invitation. You will have to include your registry information on your invitations as well!
51 Baby Registry Must-Haves
Top Baby Registry Must-Haves
1. Boppy Pillow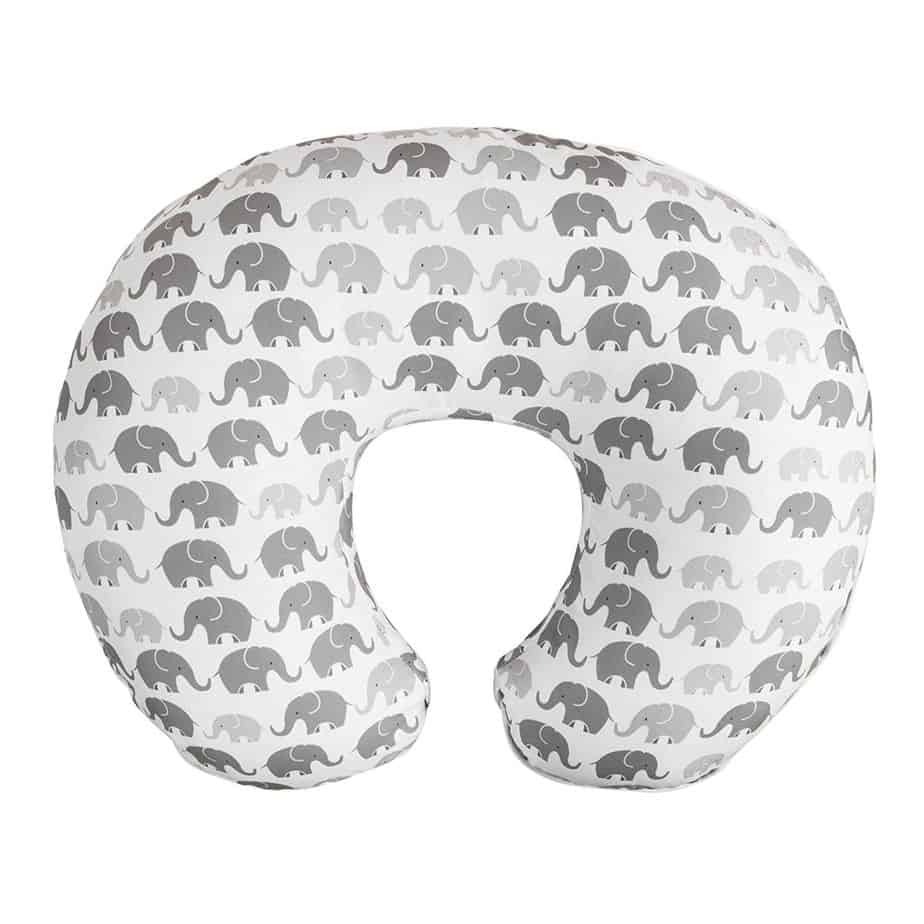 A Boppy Pillow is more than a breastfeeding pillow; it also can be used for bottle feeding, tummy time, and sitting independently. You'll find tons of ways to use a Boppy Pillow throughout the first six to eight months of your baby's life.
Make sure you include two Boppy Pillow covers on your registry as well. They need to be washed regularly, especially if your baby spits up or has a diaper explosion.
2. 4moms MamaRoo Baby Swing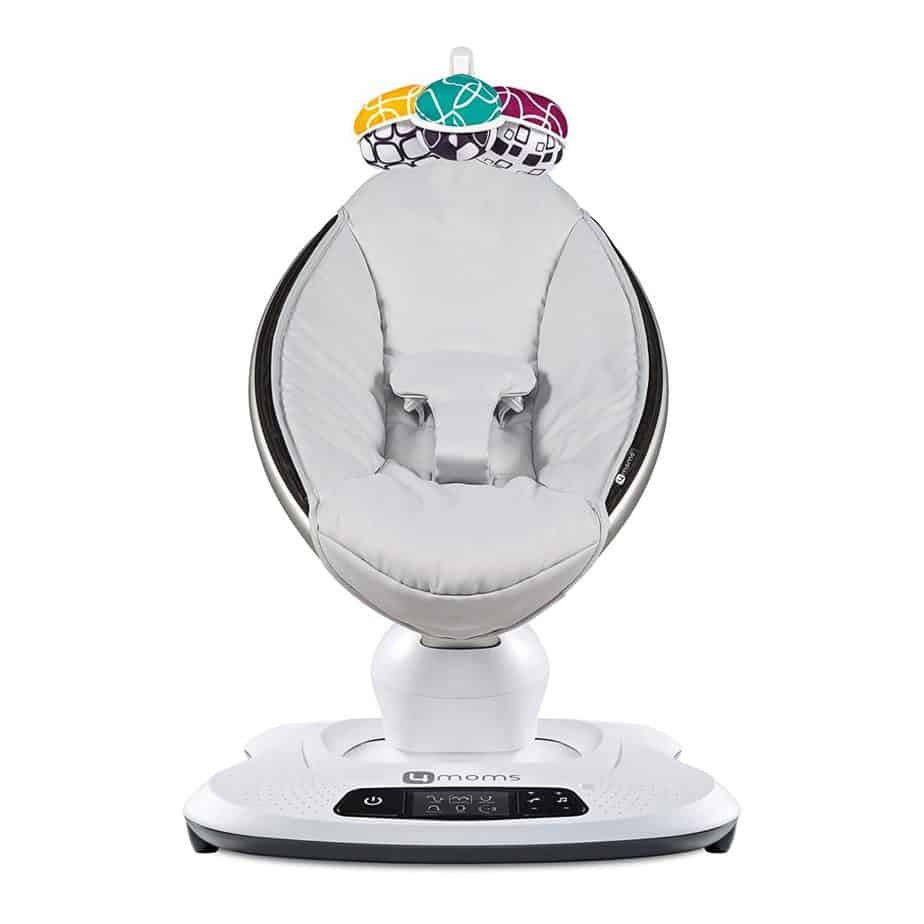 The 4moms MamaRoo is like the future of baby swings, so it's all the rage right now. This swing has five unique motions and speeds. It has built-in Bluetooth, so you can play your baby's favorite music through it as well. Perhaps best of all, it runs on an AC adapter rather than batteries.
3. Diaper Genie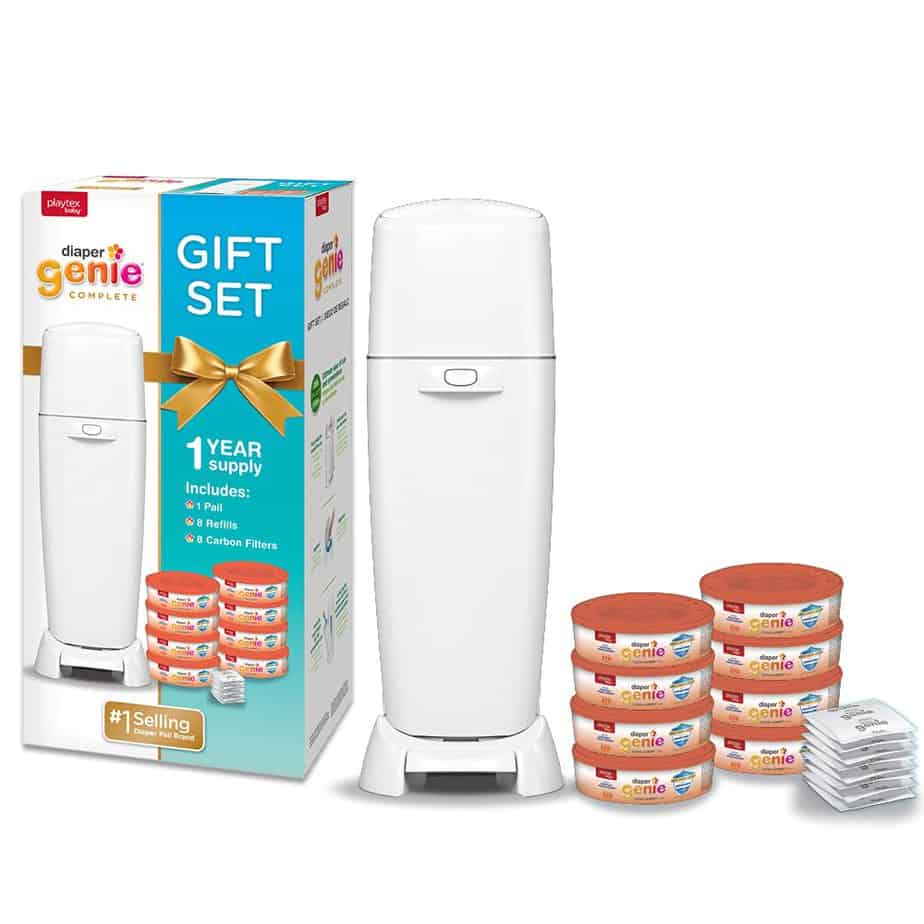 A diaper genie is one of my top baby registry must-haves – they really help keep the smell of diapers down in the nursery. Register for the Playtex Diaper Genie Baby Registry Set that includes the Diaper Genie along with eight refills. Those will last you quite awhile!
4. Lillebaby All Seasons Complete Baby Carrier
Babywearing is one of my favorite tricks to getting things done with a baby, and the Lillebaby All Seasons Complete is a fantastic choice. It works for babies from 7 to 45lbs, and you don't need a separate infant insert for little babies. It has a mesh panel in the front that you can uncover in the summer for more airflow or cover for extra warmth in the winter.
It's really one of the best baby carriers on the market!
5. Infant Car Seat
When you leave the hospital with your new baby, you need to have a car seat. Many parents prefer to start with an infant car seat, often referred to as bucket seats. These car seats have a detachable seat that you can bring in and out of your house, and it hooks to a base that stays in your car.
One of the top-rated choices is the Graco SnugRide SnugLock Infant Car Seat. It works from 7 to 35lbs, and it has some of the best features on the market right now!
6. Convertible Car Seat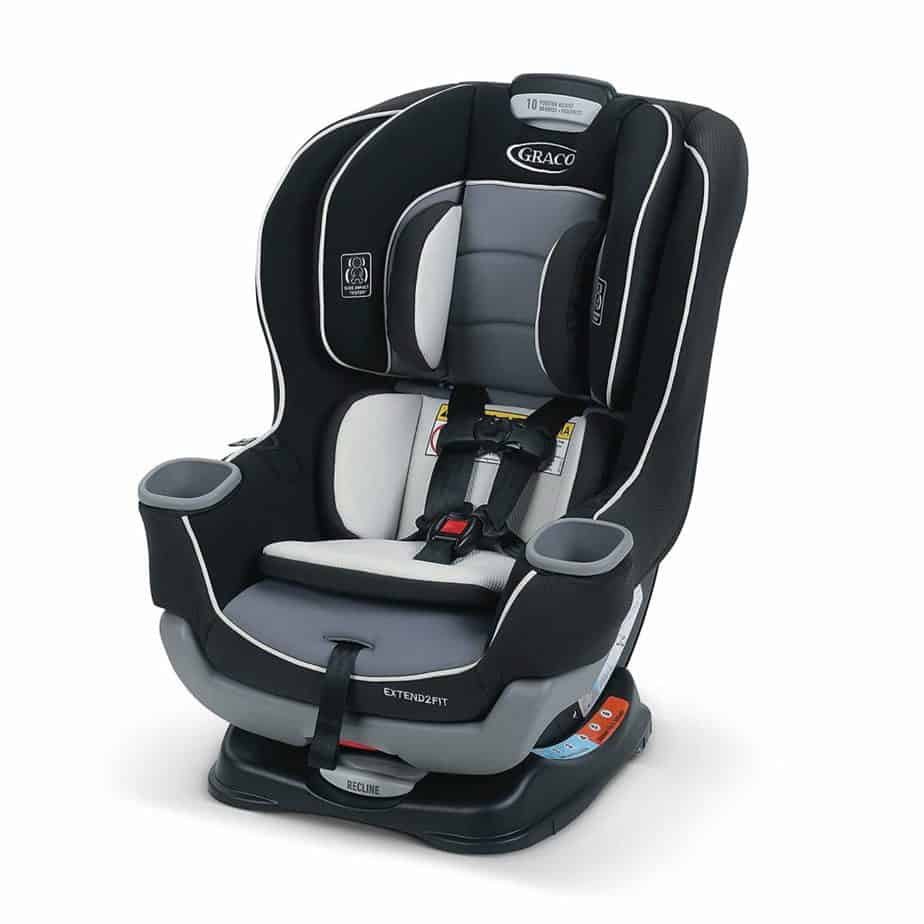 Even if you start with an infant car seat, you'll eventually need to transition to a convertible car seat. These car seats rear face and forward face, lasting several years for most children.
Nowadays, we know that rear facing for a minimum of two years (preferably longer) is the safest choice for babies. The Graco Extend2Fit Convertible Car Seat has a platform that lets parents extended rear face with their child. It's a great choice for your baby registry!
7. Baby Trend EZ Stroller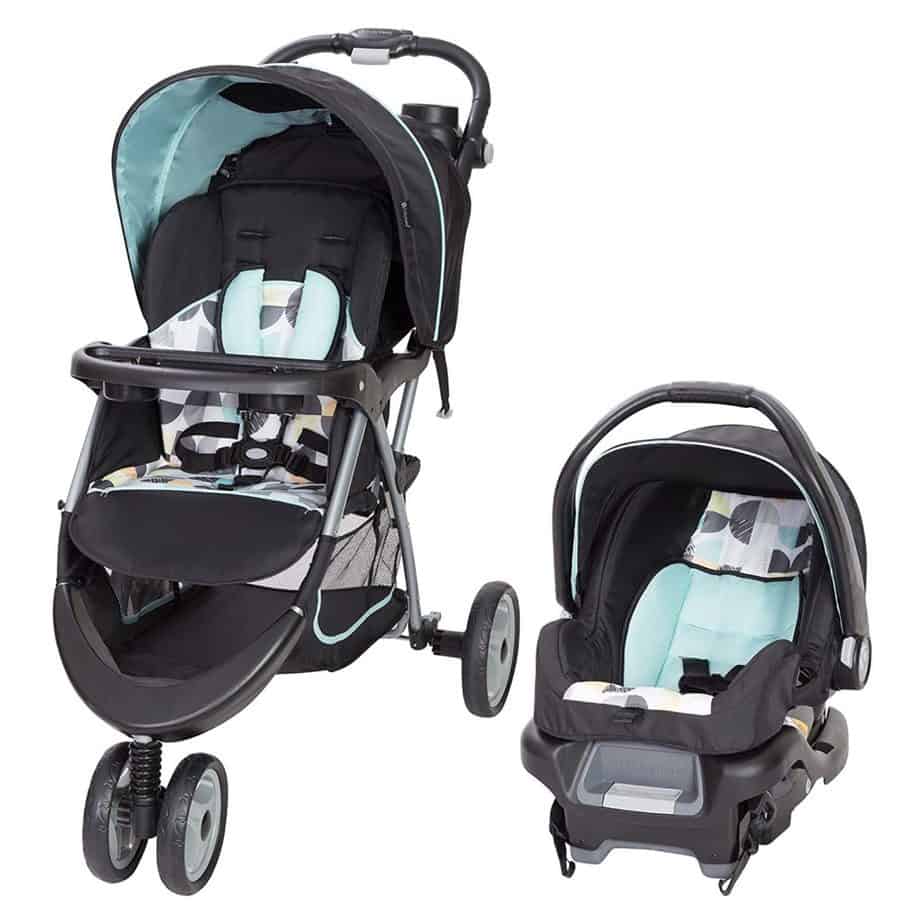 Many strollers come with an infant car seat, called a travel system. One of the most popular choices is the Baby Trend EZ Travel System; it comes with a car seat and jogging stroller. It's the easiest way to use a stroller with a newborn unless you grab a bassinet-style stroller, like the Baby Joy Stroller.
8. Bouncer Seat
People confuse bouncer seats with swings. A bouncer seat are low to the ground and sit on legs that eventually allow babies to kick and bounce themselves. Most of these seats have overhead mobiles and multiple vibration settings.
I love the Fisher-Price Sweet Snugapuppy Deluxe Bouncer. Not only is it covered in soft, adorable fabric, but it also has multiple vibration settings and plays music for your baby.
9. Changing Table or Dresser
You need somewhere to change your baby's diapers and clothing. You have two options – use a changing table or a dresser with a changing pad on top. This is going to depend on how big your nursery space is!
If you have plenty of space, grab the Delta Children Changing Table. It has two shelves under the changing table, so you have plenty of space for all the diapering supplies and a few fabric bins for odds and ends that you collect with your baby.
If you're limited on space, go with the Storkcraft Avalon 6 Dresser and Changing Table. This combination looks great in a nursery and saves you space, but you might need to put a few shelves on the wall above the dresser to hold all the diapering supplies.
10. Nursery Rocker or Glider
Another baby registry must have item is a nursery rocker or glider. These are perfect for those middle of the night feedings. The Storkcraft Premium Hoop Glider and Ottoman is my favorite option, and it comes in several colors and patterns.
The arm rests are padded with storage pockets on the side. All of the chair has padding, making it super comfortable, as well as the ottoman. Storkcraft added enclosed ball bearings for a smooth, gliding motion.
Sleeping Baby Registry Must-Haves
11. Halo Bassinet
The American Academy of Pediatrics recommends parents room share for the first six months or older, and the Halo Bassinet Swivel Sleeper allows you do so easily. It sits beside your bed and features a patented side that lowers for easy access to your baby in the middle of the night. Breastfeeding and c-section mothers in particular love this feature!
Another nice feature of the Halo Bassinet is that it rises and lowers to help parents find the perfect height to fit next to your bed. It's well-made and durable; it will last for multiple years.
12. Crib
Eventually, your baby will outgrow the bassinet, and you'll want to have a crib for your baby to sleep. There are tons of options that you can put on your baby registry, but the Graco Benton 4-in-1 Convertible Crib is an affordable, well-rated baby crib.
A 4-in-1 crib means that it transitions from a crib to a toddler bed, then to a daybed and a full size bed. Graco offers this crib in four different colors, so you can find the one that matches your nursery decor and theme.
13. Crib Mattress
Cribs aren't sold with the included crib mattress. You want to make sure you pick a firm, safe mattress, and the Graco Premium Foam Crib & Toddler Mattress is highly rated. Seriously, it has over 30,000 positive reviews!
This Graco mattress is certified as Greenguard Gold and CertiPur-US certified, meaning that it's made with safe, environmentally-friendly materials.
14. White Noise Machine
A white noise machine helps babies sleep better; the noise blocks out background noise while also giving them comforting noise that might remind them of the womb. My favorite white noise machine is the Hatch Baby Rest Machine. This combines a sound machine with a nightlight.
Later, the Hatch Baby can be used as a time-to-rise alarm for preschoolers and older kids who need to get ready to leave for school. It's multi-functional and versatile!
15. Video Baby Monitor
You'll want to add a video baby monitor on your baby registry list. These allow you to sleep separately from your baby with comfort; you can take a peek anytime you need.
I love the HelloBaby Baby Monitor that features a remote pan-tilt-zoom camera and a large LCD screen. HelloBaby also has infrared night vision that makes it easy to see your baby at night.
16. Blackout Curtains
You'll definitely want to have a set of blackout curtains for your baby's nursery. Blackout curtains block out up to 100% of the sunlight, especially if you buy curtains that use triple weaved fabric. A dark environment helps infants sleep better, and good quality curtains insulate rooms and reduce background noises.
17. SwaddleMe Pod
Swaddling is one of the techniques that help your baby sleep better in the first few weeks of life. I like the SwaddleMe Pods because they don't have any weird Velcro closures that might be hard to use in the middle of the night. Instead, they are thin, and you place your baby into the sack, zipping it up.
18. Graco Pack 'N Play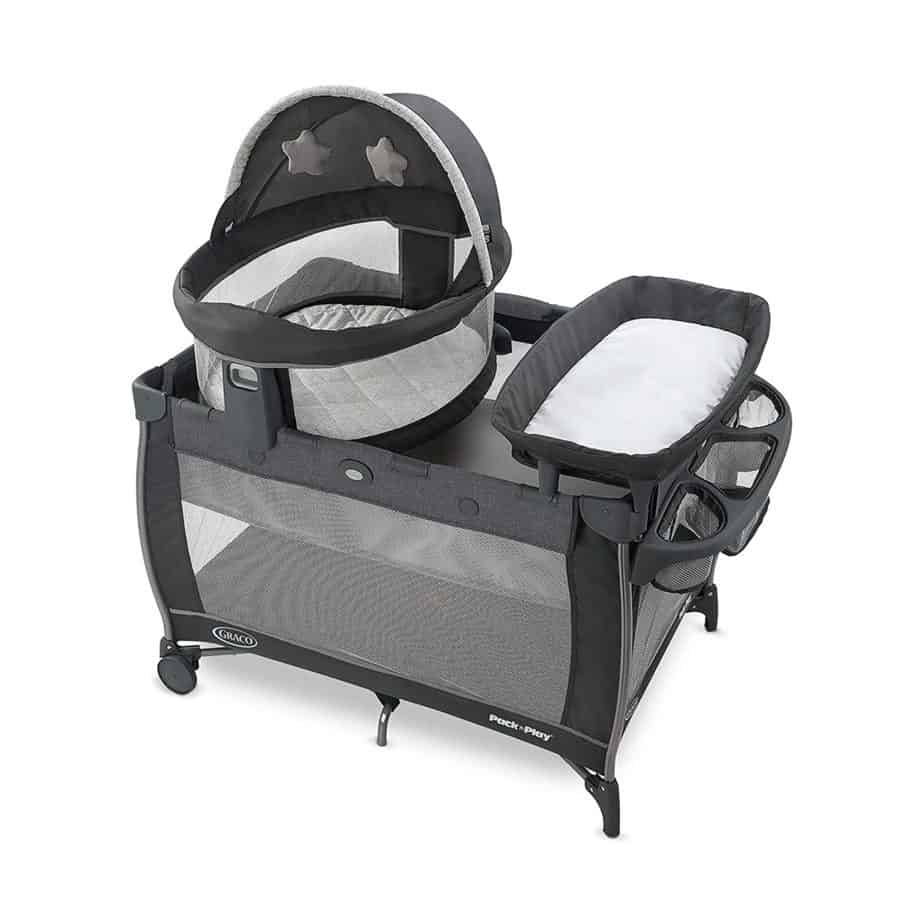 You definitely want to have a Graco Pack 'N Play! The Graco Pack 'N Play Dome LX-Playard is one of the best options. It has a raised dome bassinet that sits on top for your newborn babies to sleep, along with a changing table on the side. The dome can be removed and used separately outside; it has a UV ray shield over the top!
19. Aden & Anais Swaddle Blankets
Swaddle blankets are another one of the baby registry must-haves you need on your list. Aden & Anais Swaddle Blankets are silky soft, made with 100% bamboo viscose. These are large blankets, measuring 47″ x 47″, perfect for swaddling your baby. A&A sells their swaddle blankets in dozens of different prints, so you can find swaddle blankets that match your decor or theme of your nursery.
20. Bassinet Sheets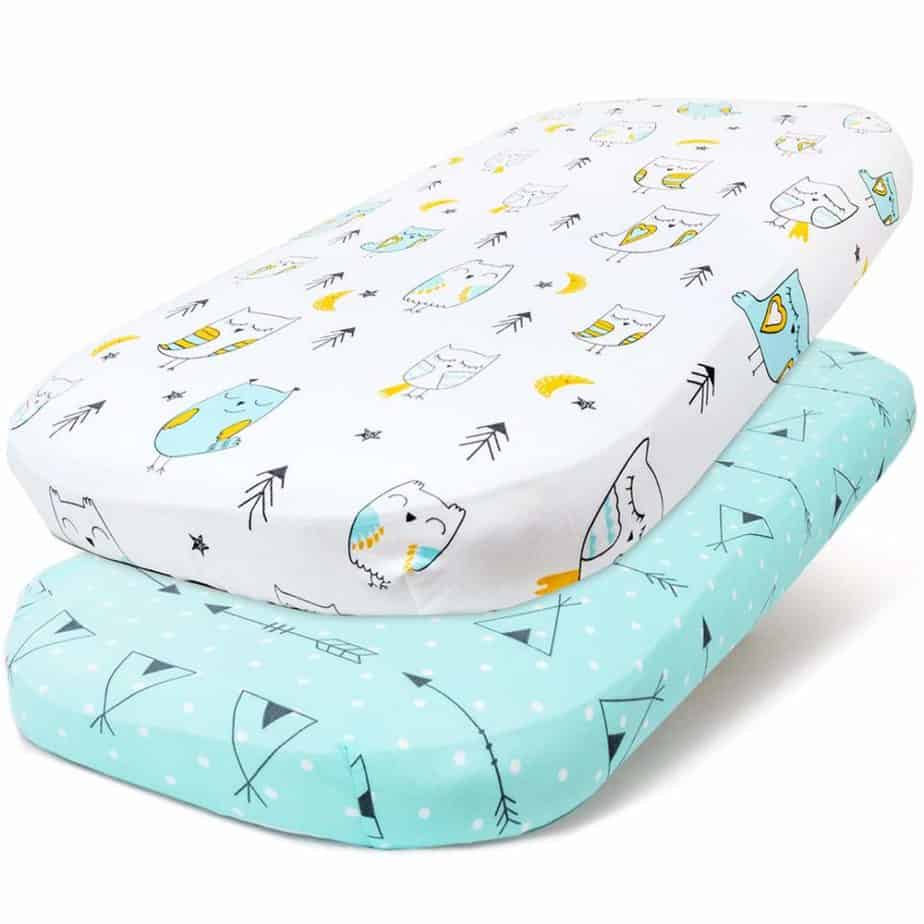 If you use a bassinet, you need to make sure you have at least two sets of bassinet sheets available. Don't use crib sheets on a bassinet; they will be too large and pose a suffocation hazard for your baby. Check to see if the brand of bassinet you use offers sheets to put on your baby registry.
21. Crib Sheets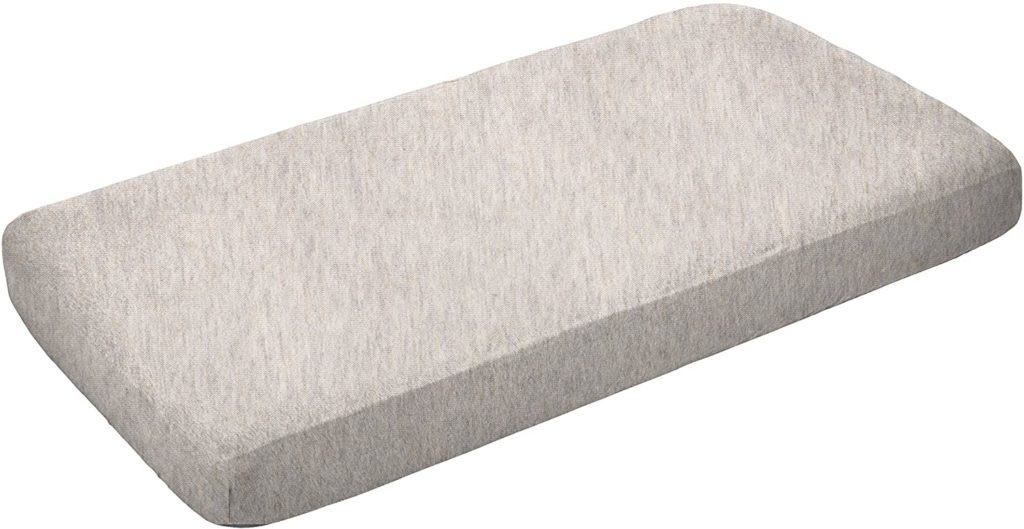 You also want to have two to three sets of crib sheets on your baby registry. I always suggest three sets – one on the crib, one in the washer, and one in the linen closet. Trust me, you'll need them!
22. Crib Mattress Protector
Something else you want to make sure you put on your baby registry is a crib mattress protector. I like the Sealy Baby Waterproof Fitted Crib Mattress Cover – it is affordable and protects the mattress against moisture. If your baby's diaper explodes or a bottle spills, the protector will ensure the mattress isn't ruined.
Feeding Must-Have Items
23. Nursing Covers
If you plan to breastfeed, you might want to add a nursing cover to your baby registry. Not all mothers want to use a nursing cover – this depends on your comfort levels – but if this is your first baby, you might not be sure if you'll use it or not. I suggest putting it on your registry and see if you need it or not!
24. Lots of Burp Cloths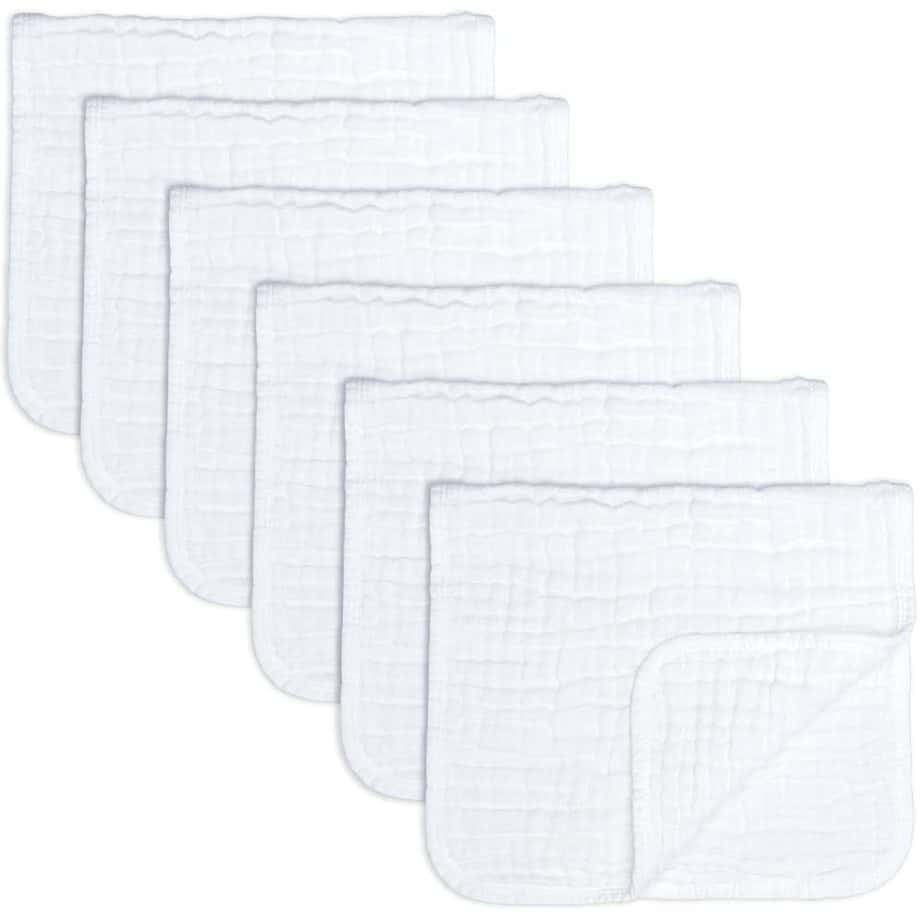 Another must-have for parents, no matter if you breastfeed or bottle feed, is several burp cloths. You'll want to have at least a dozen on hand.
My favorite burp cloths are the muslin burp cloths made with 100% cotton. They are absorbent, soft, and last for years – seriously. I used the same ones for three of my kids; they really last and they also can be used as hand washcloths. Best of all, these are affordable, so don't feel bad about asking for several of these packs – you'll need them!
25. Boon Grass Bottle Drying Rack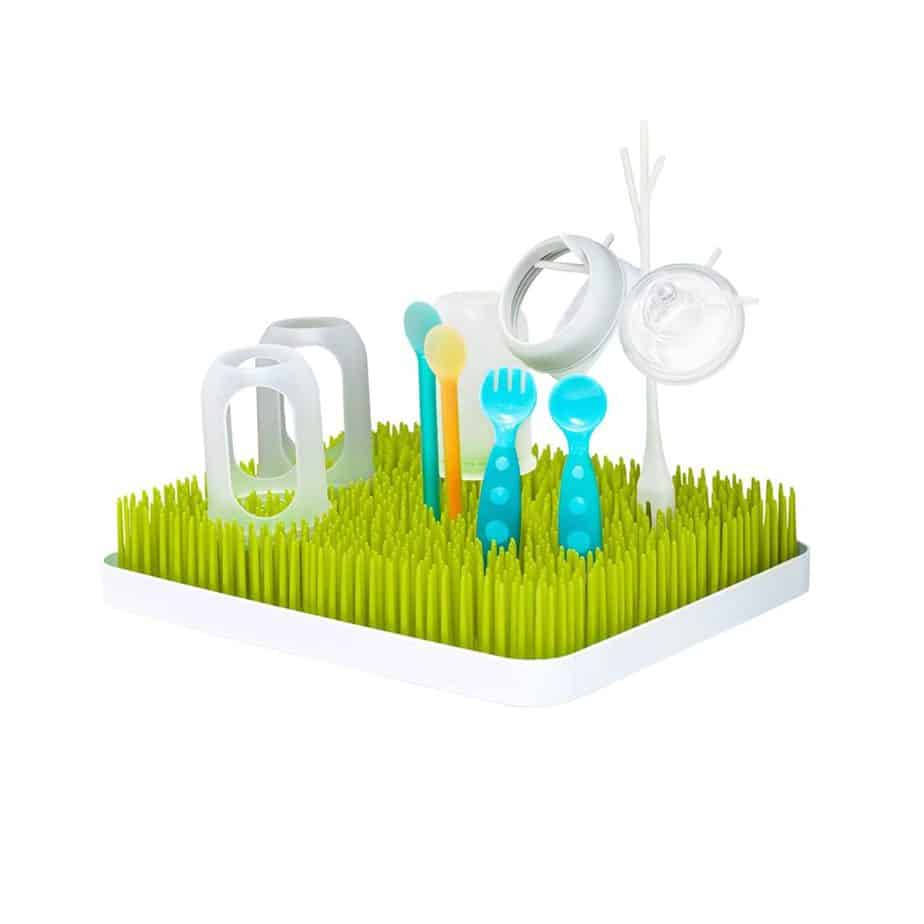 If you use bottles at all, you'll want to make sure you have a bottle drying rack. The Boon Drying Rack is my favorite – it's not only adorable, but it works so well. The design holds any sized bottles, along with sippy cups, bottle parts, and pacifiers.
26. Haaka Silicone Breast Pump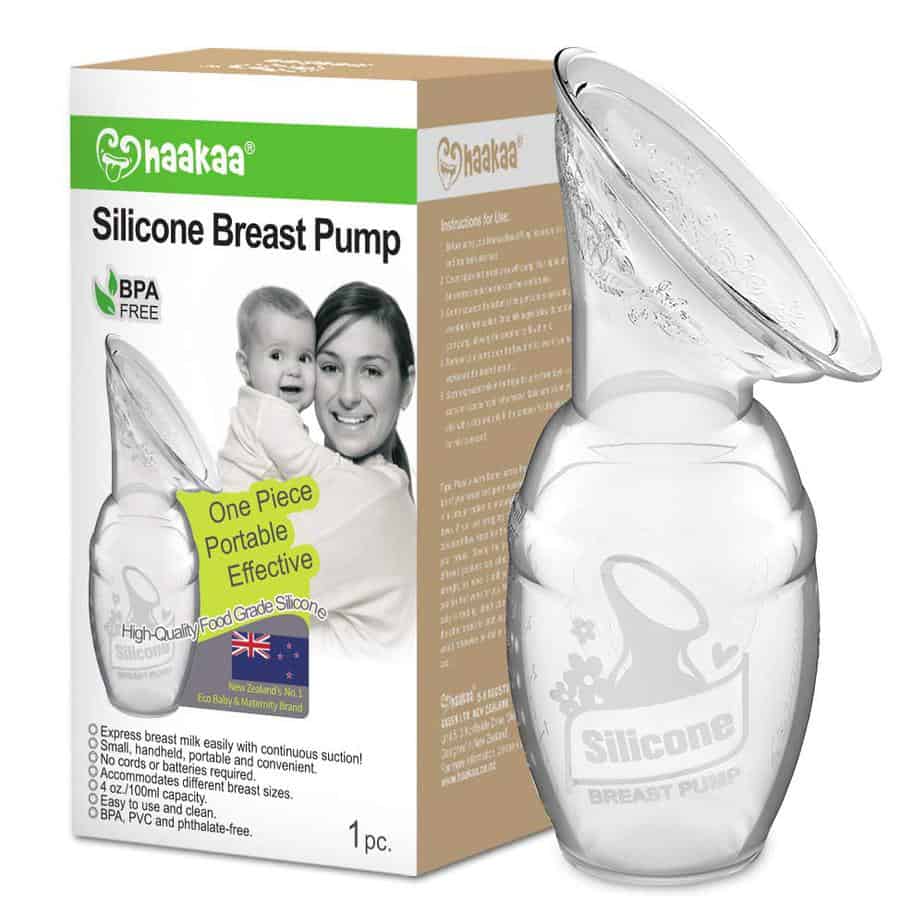 A Haaka Breast Pump is a must-have for breastfeeding mothers. It's not a true breast pump in the traditional sense, but it uses suction to attach to your breast. The suction catches leaks that you might experience and gently pulls out milk while you breastfeed your baby on the other side.
Needless to say, I think this is one of the best things for breastfeeding mothers.
27. Medela Manual Breast Pump
Most insurance companies cover electric breast pumps nowadays, but I still think that all breastfeeding mothers need to have a manual breast pump. Not only are they useful if the power goes out, but sometimes, it's much easier to bring a manual breast pump with you rather than a large electric pump.
Honestly, my breasts respond better to manual pumps, and I'm able to pull out more milk with this style. I love the Medela Manual Breast Pump – it's the best quality and works with the bottles from other medela pumps.
28. Graco Blossom 6-in-1 Convertible High Chair
The Graco Blossom High Chair is an innovative, versatile high chair that parents love. It allows you to seat two kids at the same time – seriously – and features multiple seat heights and ways to use it. You can use it with your infant because this high chair has three reclining settings. Later, the toddler booster can be used up to 60lbs!
You'll get easily two to three years of use out of this one high chair, making it one of the top baby registry must-haves.
29. Bibs – Lots of Them!
You need tons of bibs, even before you baby starts eating solids. Once they start to drool, you'll want some bibs to protect your baby's clothing. I like this four pack from Burt's Bees Baby – they're soft and perfect for spit up, drool, and eating solid foods.
If you want bibs that are easy to keep clean, try these silicone baby bibs. You get two silicone bibs in each pack, and they're perfect for when your baby eats solids or finger foods since they have a little tray to catch the food that might drop.
Bathing Must-Haves
30. Fisher-Price 4-in-1 Infant Bath Tub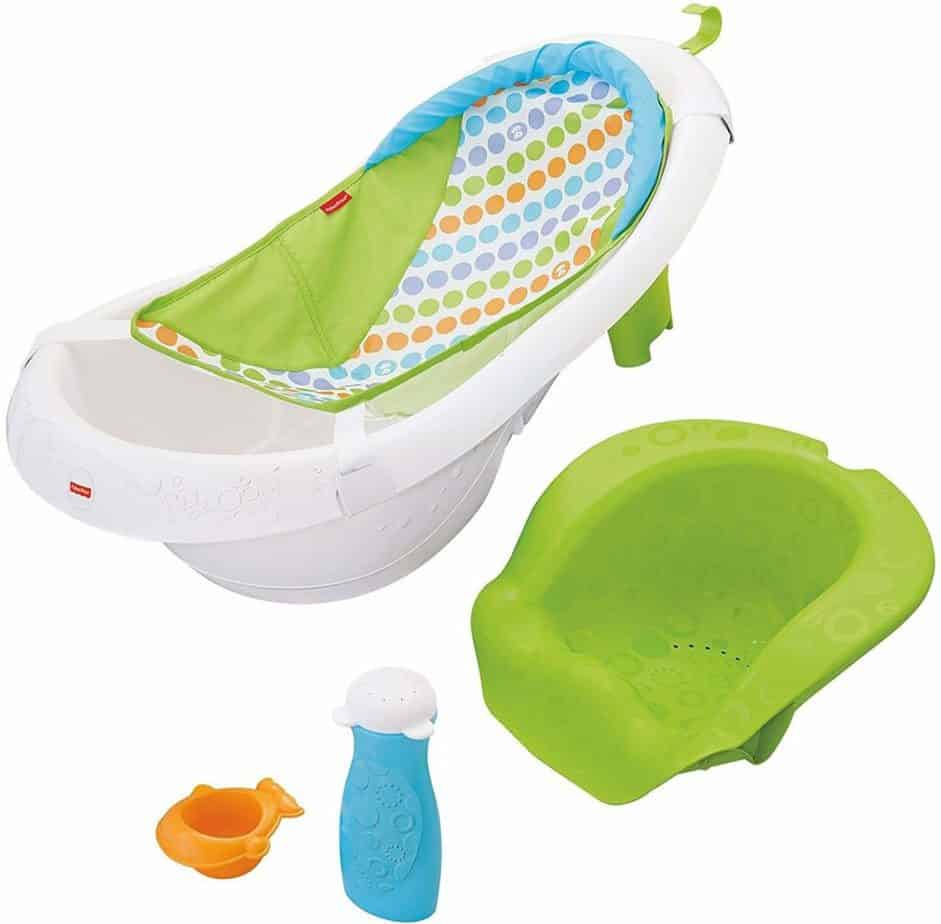 An infant bath tub is needed for keeping your baby clean. This Fisher-Price 4-in-1 Tub is versatile and multi-functional, so it comes with a sling for newborns and small infants. Then, this tub can be used from infant hood until toddlerhood. It even comes with a seat for toddlers to use in the bath.
31. Blooming Bath Lotus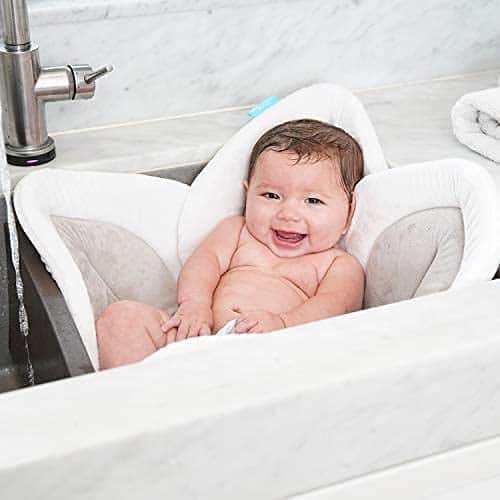 Blooming Bath Lotus is perfect for newborns and small infants. You set the lotus in the sink, and it gives your baby a small, comfortable place to sit while giving them a bath. This is only for newborns and small infants, so it won't be used for long. However, I found it helpful when giving my new babies a bath!
32. Hooded Bath Towels
I love hooded bath towels for infants. They cover their head, so it keeps them warmer after they get out of the bath tub, which means less crying. These Burt's Bees Baby Hooded Towels are made with 100% organic cotton, and they're so ridiculously soft yet absorbent. They'll last for years.
33. Baby Washcloths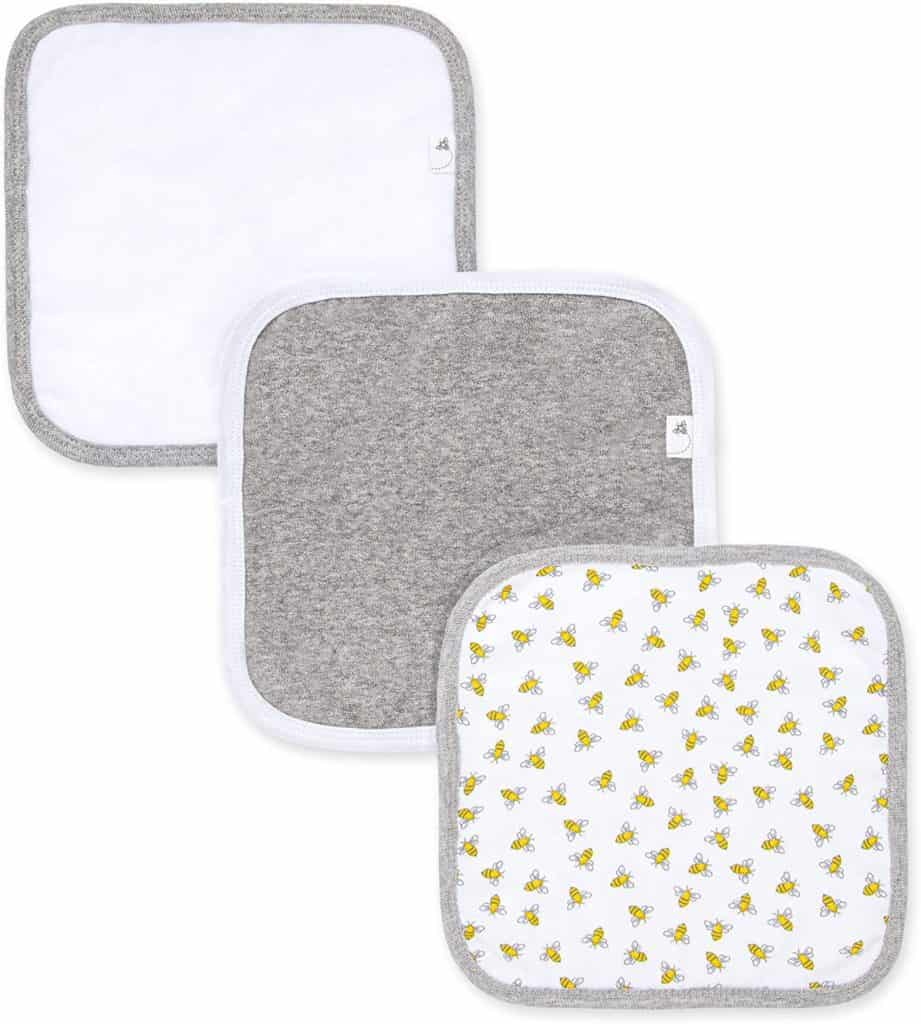 You also need to have some washcloths for your baby. I prefer not to use adult washcloths with babies because I feel as if they are too tough for their delicate skin. These Burt's Bees Baby washcloths are absorbent, made with 100% organic cotton, and silky soft.
34. Baby Wash and Lotions
It's best to use baby soap and lotions designed for infants. You can find all sorts of brands to add to your baby registry; the Aveeno Baby Set is my all-time favorite.
35. Water Thermometer
Babies have delicate skin, so you want a water thermometer to make sure you never put your baby in water that's too hot. This B&H Baby Thermometer looks like a little duck, and you place it in the water to see the temp in both Fahrenheit and Celsius!
36. Changing Pad
Don't forget to put a changing pad on your registry, especially if you have a changing table on there. One of the most popular choices is the Summer Contour Changing Pad; the shape makes it harder for your baby to roll over while changing. That's important once they start to wiggle and move more!
Also, add two to three changing pad covers to your registry as well. Babies will get the pad covers dirty, and they need to be washed on a regular basis.
Clothes for Your Baby Registry
37. Baby Hangers
Hangers are easy to forget to add to your baby registry must-haves, but they're essential. Avoid the cheap, plastic ones. Not only does all the clothing fall right off the clothing, but they break easily. I prefer these Amazon Basics Kids Velvet hangers. Clothes won't fall off them, and they last for quite awhile.
38. Basic Onesies
Make sure you add some packs of onesies to your baby registry. Add long sleeve onesies and short sleeve bodysuits to your list.
39. Mittens
Another must have for your baby registry are packs of baby mittens. These keep your baby's hands warm, but they also prevent your baby from accidentally scratching his face. Those baby nails are so sharp!
40. Plenty of Socks
Register for more baby socks packs than you think you'll need – they're so tiny; it's easy to lose them everywhere!
41. Footed Sleepers
My babies lived in footed sleepers for the first several months of their lives. They're affordable, adorable, and keep babies cozy and warm. If you're having a winter baby, register for some fleece sleepers as well. Since blankets are a no-go in a crib, these add an extra bit of warmth for your baby.
42. Baby Gowns
Baby gowns at night are so convenient. They mean you don't have to worry about zippers or buttons; the gown is open at the end of easy diaper changing. Register for a few of these; you'll use them frequently at night.
43. Booties
In the summer, having booties isn't a necessity, but if you have a baby in the colder months, register for a pair of Hudson Baby Cozy Fleece Booties. They're unisex and keep your baby's toes cozy and warm.
44. Clothing Hamper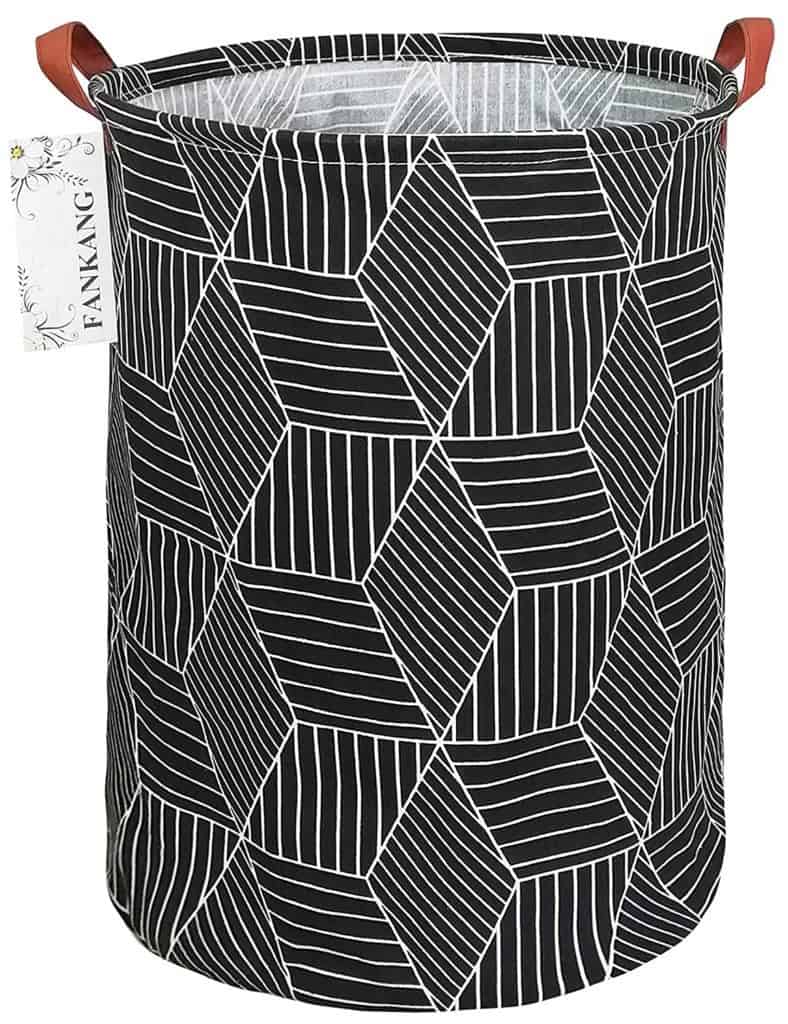 Babies clothes need to be washed separately from adults because you need to use a laundry detergent safe for baby's delicate skin, like Dreft. The easiest way to do that is to put a clothing hamper in your baby's nursery. Babies go through a lot of clothing fast, so all you have to do is remember to grab the hamper once or twice a week.
Toys for a Baby Registry
45. Sophie the Giraffe Teether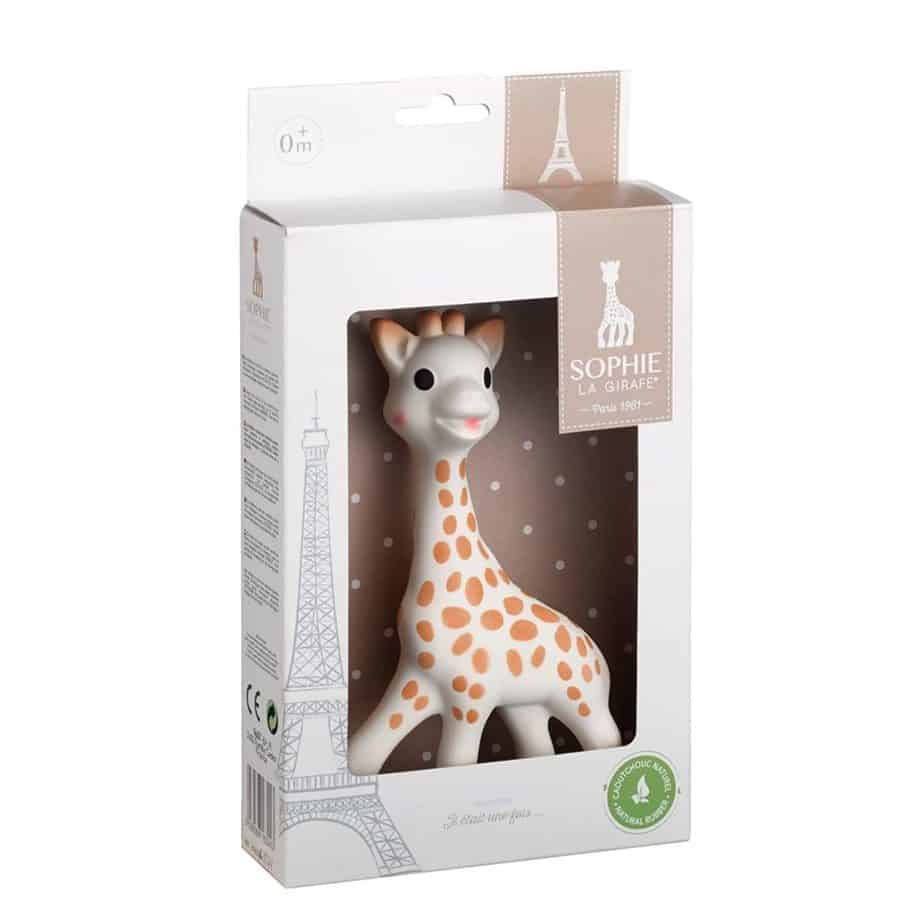 All babies need some toys, and the Sophie the Giraffe is a top-rated teether for babies. The silicone and shape make it incredibly easy for little babies to hold – it's so soft. Also, the material feels great on their sore gums. You'll end up taking Sophie with you everywhere!
46. The Play Gym by Lovevery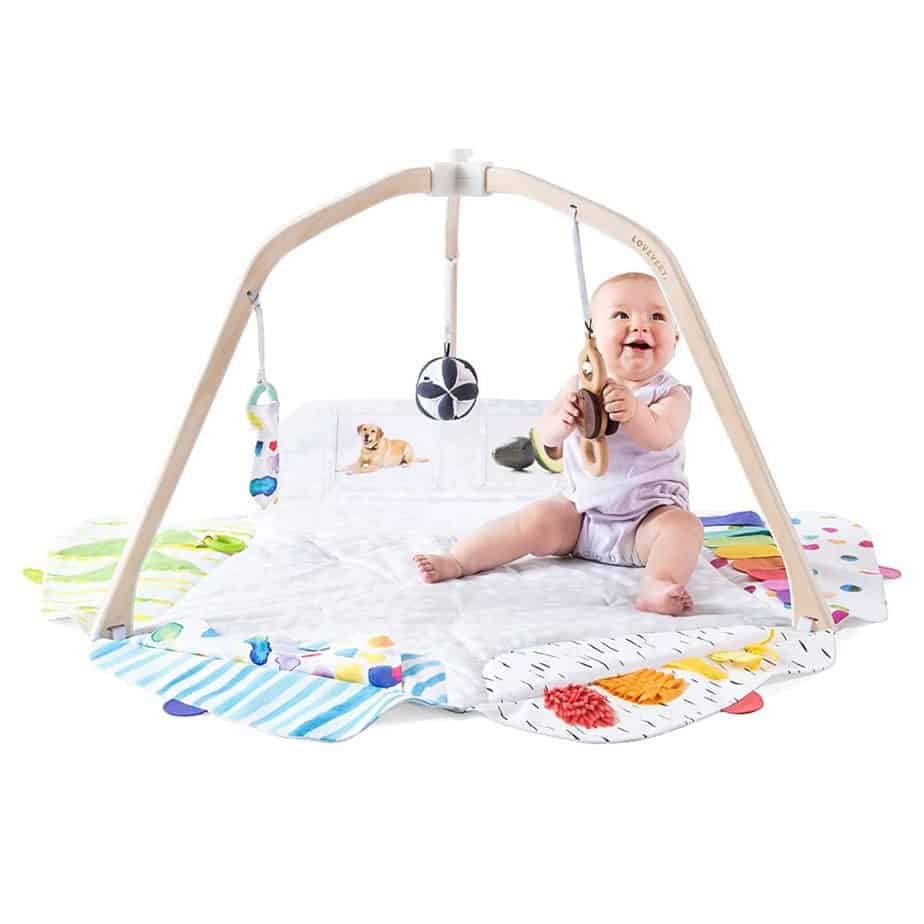 No play gym on the market compares to the Play Gym by Lovevery. It has different areas, all planned to meet the developmental needs of your baby. In fact, Lovevery includes a guide with every purchase to tell you how to use this guide as your baby grows and gets older. It's one of the only stage-based developmental activity gyms on the market!
47. Skip Hop Baby Activity Center
Once your baby is three to four months old, they may be able to use an activity center. The Skip Hop Baby Activity Center has three stages that grow with your baby and keeps them entertained for months. It has toys everywhere with a seat that spins completely in a circle.
48. Teething Rings
Babies always need some teething rings, so toss a few different ones on your baby registry – you're going to need them. The classic water teethers are cheap and work well; they go into the freezer. Another option is these Bonbino Teether Rings – they come in a four pack, and babies love these silicone sensory teether.
49. Rattles
Rattles are a classic toy for babies. They help them learn cause and effect – they shake the toy, and it rattles. It's basic but educational and helps babies meet different milestones. Grab some classic rattle and shake toys and little rattle maracas.
Other Baby Registry Must-Haves
50. Diaper Bag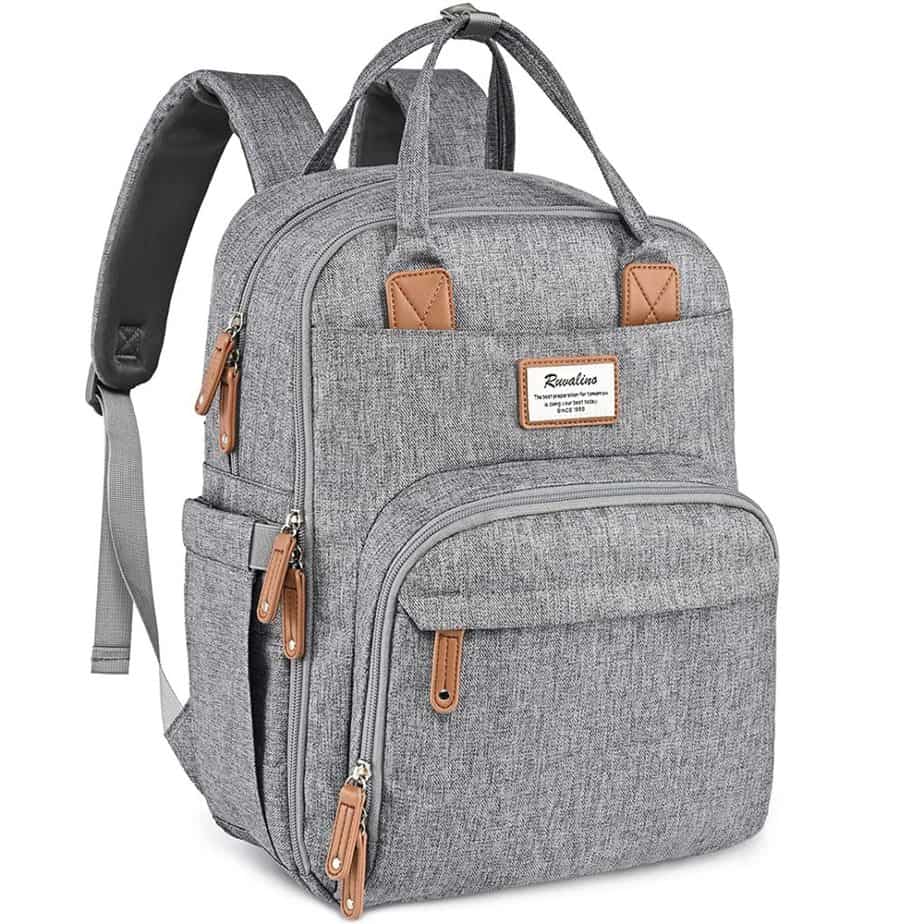 Everyone has a different style, so picking out a diaper bag is an individual thing. However, I can tell you that having a backpack diaper bag is a great idea; these let you chase toddlers and babies hands-free. I suggest this affordable diaper bag backpack by Ruvalino.
51. Health & Grooming Kit
These kits include all the necessities for health and grooming nasal suction bulbs, combs, brushes, nail clippers, and more. This is definitely one of the top baby registry must-haves – you need all of these things all the time with a baby!
The best and most affordable is the Safety 1st Deluxe Kit with 25 pieces included.
51. Baby First Aid Kit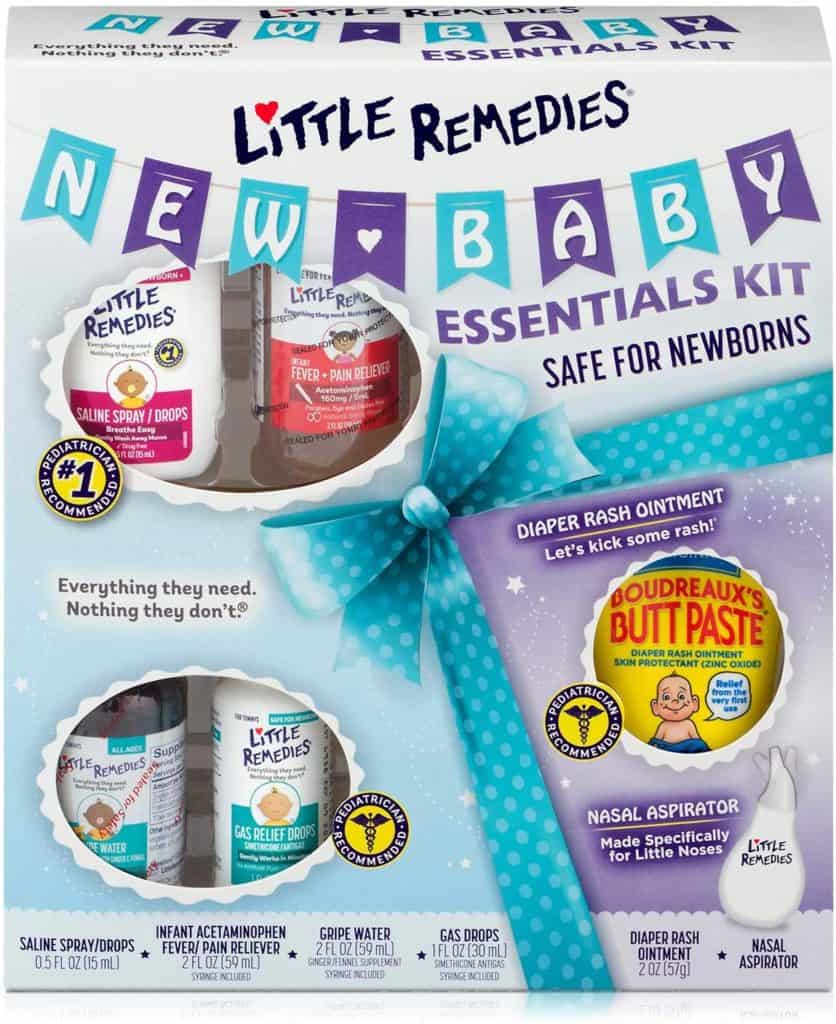 Something else parents need to have is a baby first aid kit, like the Little Remedies New Baby Essentials Kit. It includes six things, including saline drops, gripe water, pain reliever, and more. You definitely want to have this on hand because you never know what's going to happen!
---
Make sure you include these baby registry must-haves when you create your list for your baby shower! These are things your baby will need for quite some time, and they're worth having available whenever your baby is little.