Are you getting ready to have your baby and wonder what you really need for your new baby?
I felt the same way, and I spent hours reading all the guides trying to figure out what I really needed to buy. Some lists were so long, and I felt like there was no way a little human would need ALL those things.
Did I really need a formula maker? Couldn't I make baby food in the blender?
Some things are givens. We know babies need clothes, diapers, and wipes – those are things we KNOW all babies need, but what about everything else?
I know how it feels, and after three kids, I know exactly what you need for your baby. Here are the things that I always tell moms to include on their registry list.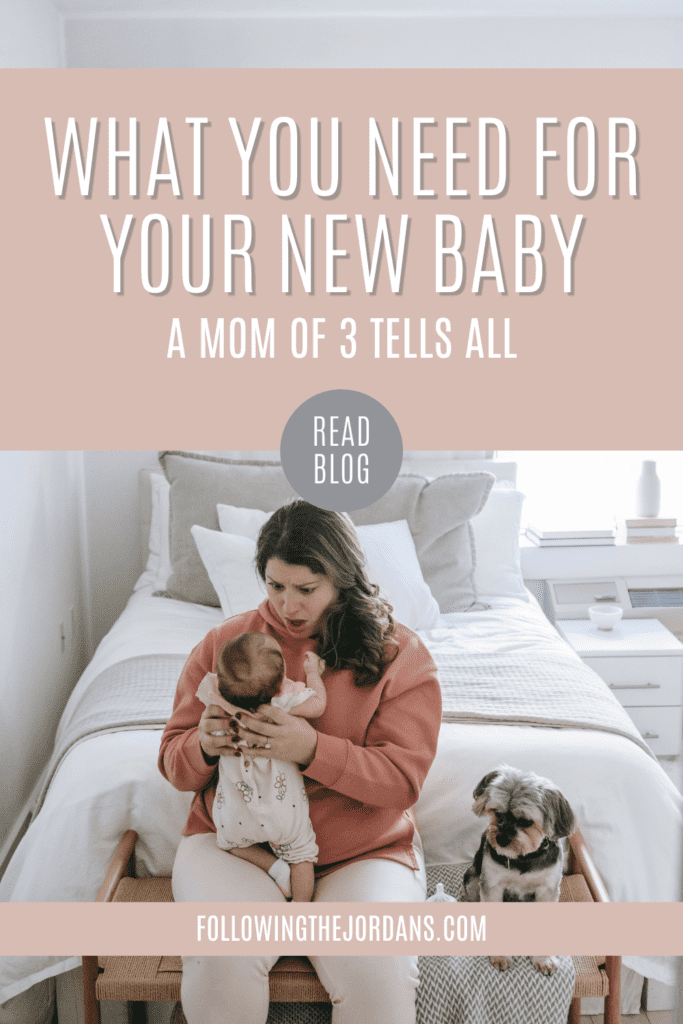 What You Need for Your New Baby
1. Car Seat
A car seat is something you need for your new baby. In fact, you can't leave the hospital without one. The nurses check to make sure you have a car seat installed and ready to go for your baby.
You have a lot of options for car seats, and you have to decide if you want to use an infant car seat or a convertible car seat. Typically, I pick an infant car seat because I can take the seat in and out of the car in the cold weather or when it's raining.
Some of my friends go straight for the convertible car seat; it's totally a personally choice.
My Pick for Car Seats
The Graco SnugRide SnugLock Extend2Fit Car Seat is my pick for the best infant car seat. I love Graco, and I've used their products for years. They're trustworthy, and the SnugLock works for infants from 4-35lbs and 35″ tall.
2. Stroller
Another thing that you need for a new baby is a stroller, and if you want to save a bit of money, you might consider buying a travel system. These include the stroller and infant car seat together, typically at a budget.
My Pick for the Best Stroller
If you're looking for a travel system with an infant seat, consider the Evenflo Pivot Modular Travel System. It's a highly rated option with a modular frame with six modes, and the reversible mode lets your baby face in or out.
3. A Bedside Sleeper
One thing I learned after having a baby is that it takes some time for your baby to sleep in their crib for any length of time, and since I breastfed my babies, I want them close to me at night.
A Great Bedside Sleeper
I've tried several bedside sleepers, and while many of them have great attributes, my favorite is the Mika Micky Bedside Sleeper. It is the easiest to attach or remove from the parents' bed, and it has seven height positions to fit your bed.
4. Extra Sheets
No matter whether you use a bedside sleeper, crib, or bassinet, you need to have at least two extra sheets available. I can't tell you how many times I've had to change sheets in the middle of the night after a diaper leaked or my baby spit up in the middle of the night.
5. Baby Carrier
A baby carrier is a must-have item for me, especially since I'm a mom of three now and need to be able to chase my other kids. Babywearing helps you parent hands-free while keeping your baby happy.
It's one way I'm able to clean my house or chase my kids at soccer. Put your baby into a carrier and off you go!
My Picks for Best Baby Carriers
I can't pick just one best baby carrier to buy. Each type of baby carrier offers different benefits, so you have to decide what baby carrier works best for your needs.
Or, buy more than one.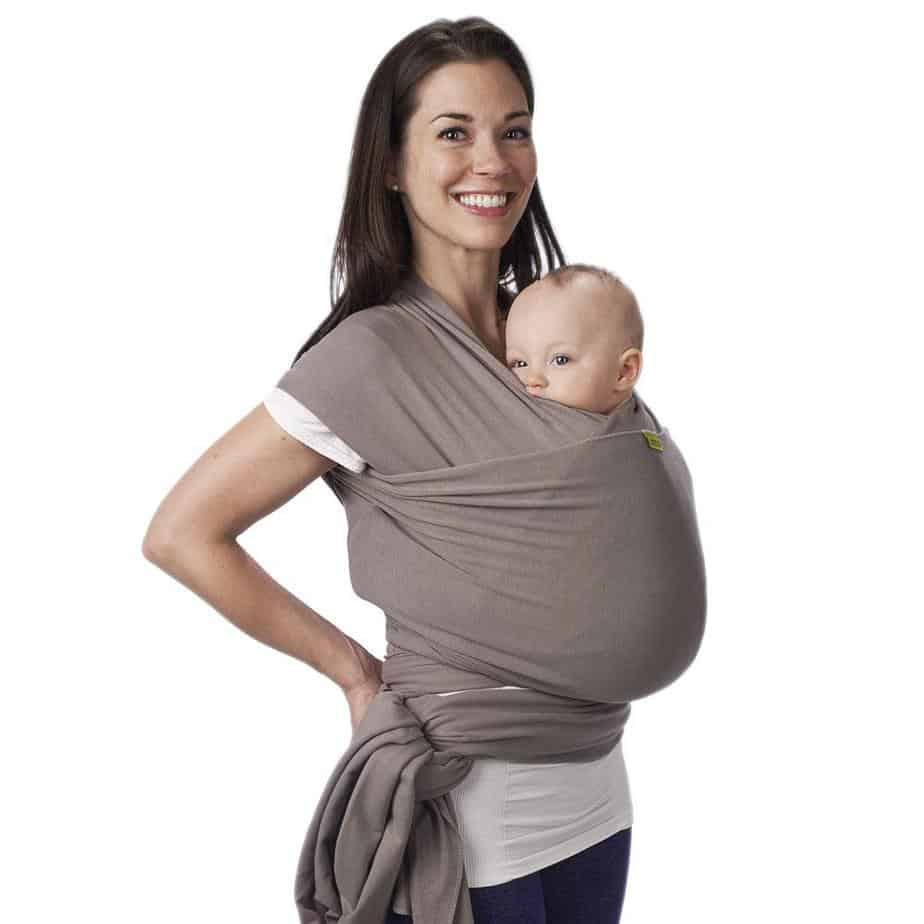 I like the Boba Baby Wrap Carrier for around the house needs for an infant. It's comfortable, lightweight, and doesn't have any buckles that might get in your way while vacuuming and washing dishes.
If I want to go out with my babies in a carrier, I love the Lillebaby Complete All Seasons. It's a soft-structured baby carrier that works for infants from 7-45 pounds. The Lillebaby offers the ultimate comfort with lumbar support and padded shoulder straps.
6. Baby Swing
Even if your baby wants to be held all day long, that's not practical, so you need somewhere to place your child. A baby swing is a great option; you never know if your baby will like a swing until you try.
Don't waste your money on fancy baby swings that cost a small fortune. All you need is a basic swing that works, and I prefer one that plugs into the wall. If you try to operate your swing on batteries only, you'll buy new batteries every two weeks.
My Baby Swing Pick
My pick for a baby swing is the Graco Simple Sway Swing. It's budget-friendly, has six swing speeds, and two vibration options. The frame is small and fits anywhere in your home.
7. A Baby Monitor
A baby monitor is definitely another thing you need for your new baby. Having a monitor gives you the opportunity to take a step outside or want to sit on the porch for a bit in the silence.
We all need some time to ourselves!
A Great Baby Monitor
You'll love this GoodBaby Baby Monitor. It comes with a 3.5 inch large display and a wireless digital transmission in high-definition. You can use the baby monitor to get real-time video and audio of your baby.
This baby monitor offers long distance transmission with a maximum of 960 feet away from your baby. You can even use this monitor to talk back to your baby or play lullabies.
8. Muslin Swaddling Blanket
Muslin swaddling blankets are another must-have need for your new baby. These are versatile blankets that you can use for swaddling your baby, stroller blankets, or a nursing cover.
I use my muslin swaddling blankets for well over a year, and they fit well in my diaper bag. These are thin, breathable, and safe, and one of the best things I like about them is that they work great in the summer and winter.
My Favorite Muslin Blankets
My favorite muslin blankets are the Aden & Anais Essentials Swaddle Blanket. These come in a pack of four, and they're excellent baby shower gifts. You can pick from several different patterns, measuring 44″ x 44″, the perfect size for swaddling your baby.
9. Diaper Bag
Every mom needs a good diaper bag to fit all the things your baby needs while on the go, and if you have more than one child, you need to make sure they're large enough to fit all you need.
You have several things to consider when picking a diaper bag.
I like a backpack because, when I need to chase my toddler, I don't have a bag bouncing over my shoulder. However, there are several other choices to consider.
Make sure you pick one that has large capacity and plenty of pockets to organize all the things you need for your new baby.
My Pick for a Diaper Bag
I've tried tons of different diaper bags; I went through a time when I tried dozens because I couldn't find the perfect bag for me.
The HaloVa Diaper Bag is a great option. It's budget-friendly, waterproof, large, and stylish. Plus, it's a backpack that also has handles to carry it over your shoulder.
10. Burp Cloths
You HAVE to have burp cloths on hand, but I've tried a few that weren't absorbent at all. Microfiber is a no-no; I never found it to absorb spit-up.
Even if your baby doesn't spit-up as often, burp cloths come in handy. Bottles leak, or your baby might lose control of the milk that comes from your breast. I can't tell you how many times that happened, and my stomach ended up covered!
My Burp Cloth Pick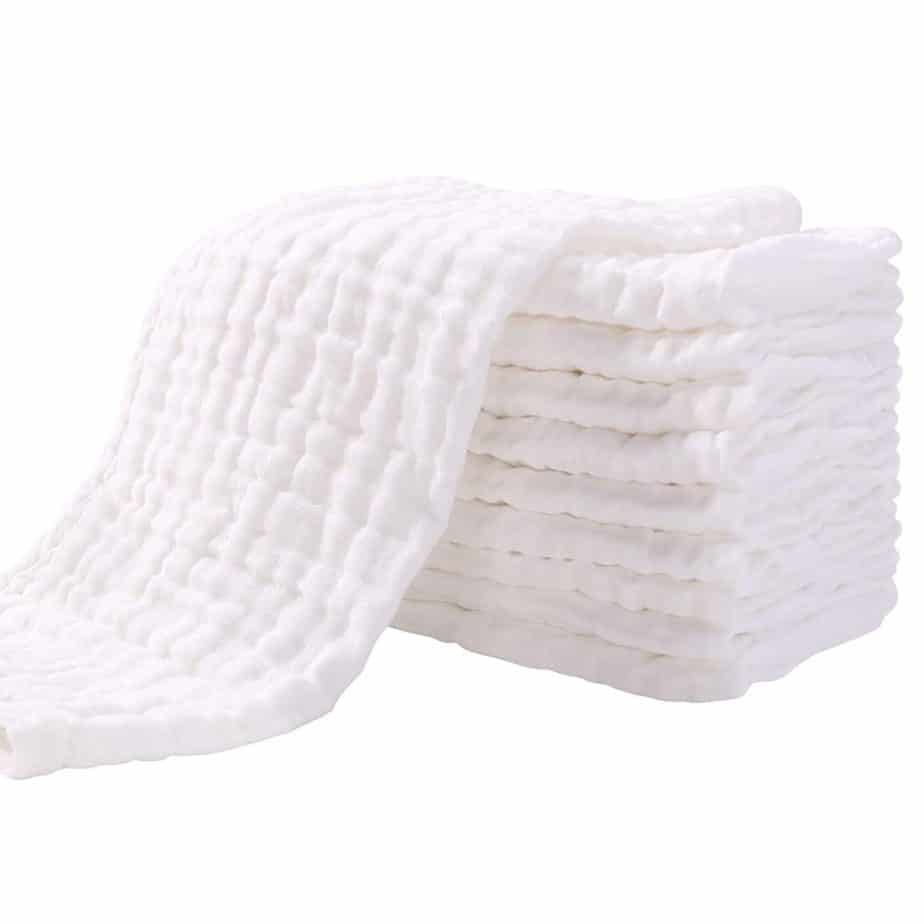 Since I said that microfiber is a no-no, I suggest using muslin burp cloths instead. Each set includes ten cloths, and you can opt different colors like white, apricot white, or brown.
11. Haaka for Nursing Mothers
If you're breastfeeding, you need to have the Haaka Silicone Breast Pump. it's a must-have item that helps you express milk with the power of natural suction.
All you have to do is use suction to attach the Haaka to your breast and let it get to work. I use this to catch milk that I might otherwise leak and right into my breast pad. I would rather that be in my freezer for a date night and a babysitter!
Related: Breastfeeding: What To Expect The First 2 Weeks
12. Manual Breast Pump
An electric breast pump is great to have if you work out of the home or plan to pump regular. However, having a manual breast pump is a great thing to include in your pumping essentials.
If you need to pump on the go in the car or only need to pump from time to time.
There is really only one great manual breast pump on the market – the New Medela Harmony Manual Breast Pump.
Plastic bath tubs aren't easy to use for newborns or little babies, so when I found the Blooming Bath Lotus, I knew I found the solution to my frustration. It's perfect for newborns up to six months old. It works the best in your sink rather than a bath tub, which really helps your back.
You need to give this one a try!
14. Bath Products
Bath products are a must-have item that you need for a new baby. I like Aveeno; these products have worked well for my sensitive skinned babies.
Grab this Aveeno Baby Daily Bathtime Gift Set – it has baby body wash, baby shampoo, lotion, and bubble bath.
---
If you want to buy all the extras for your new baby, that's up to you, but what you actually need for your new baby isn't a huge list. Babies are simple, and if you want to stick to a budget, these items are the most versatile and will be useful for several months of your baby's life.