I believe escaping and getting away with your friends is a must for all mothers; we're more than mothers after all! I'm always down for a girls' weekend to help refuel and recharge.
I love escaping with my friends for a few days, and you should never feel ashamed for traveling without your kids. Your kids receive the best of you all day, every day, so giving yourself a few days per year to enjoy time alone isn't selfish or wrong, no matter what anyone tells you.
My friends and I try to escape on a regular basis. If you need some inspiration for your next girls' getaway, here are some locations you need on your list.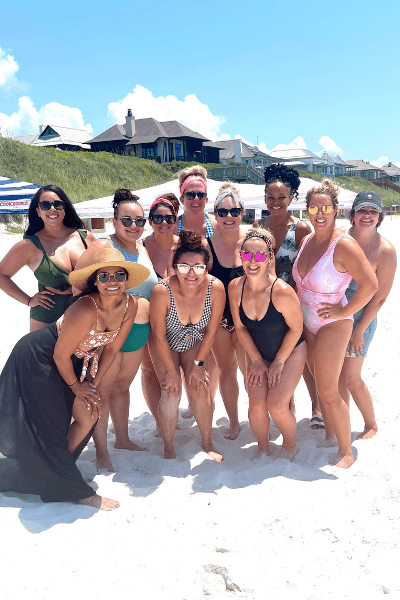 15 Best Getaways for a Girls' Weekend
1. Savannah, Georgia
I love Savannah, Georgia, and if you haven't been there yet, put it on your must-visit list immediately.
This Southern city is perfect for a girls' weekend with all kinds of adorable rooftop bars, pools, and areas steeped in history. Try riding bikes around the city; this is an easy to bicycle city that will give you a close-up look at all the awesome sights.
2. Sonoma, California
If you and your girls are wine lovers, head to Sonoma, California. Sonoma is located in California's famous wine country, and there are over 400 wineries.
Think of how many wine tastings you could visit on a weekend!
Aside from glorious wineries, Sonoma offers beautiful weather all year round and some of the best views. You'll find luxury hotels with five-star restaurants.
3. Wilmington, North Carolina
You guys know I'm from North Carolina, so I love any girls' weekend located in my favorite state. I feel like Wilmington is overlooked by the far-more-famous Myrtle Beach, but that's a shame.
Wilmington is about an hour north of my beloved Holden Beach, but it's a beach town as well with a vibrant city attached. The downtown area is walkable and full of waterfront dining, popping bars, and live music. Not to mention, the beach isn't far.
Spend the mornings and afternoon in the surf and sand, then swing over the waterfront restaurants and bars to close out the night during your girls' getaway.
4. Nashville, Tennessee
Nashville has become a hot spot for bachelorette parties lately; I've seen several of my friends head there over the last few years.
Why though?
Nashville is FUN! It's a city full of restaurants, bars, and tons of entertainment, plus it's a budget-friendly place to visit. Other cities, like NYC, cost a small fortune to spend a weekend, but not Nashville. The food is inexpensive yet delicious.
5. St. Thomas, USVI
Did you know that St. Thomas is technically part of the United States, so you don't need a passport?
It's true!
I visited St. Thomas with one of my best friends, and it was an amazing experience. You're in the middle of the Caribbeans with breathtaking beaches and vibrant nightlife.
St. John and St. Croix are nearby as well and a boat ride away, so take advantage of these U.S. territories. Take this time to learn about the history of the island as well!
6. Key West, Florida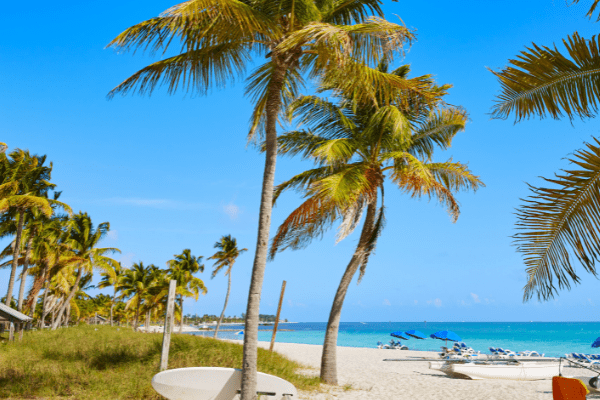 If St. Thomas is a little too far for your comfort level, check out Key West, Florida.
Key West is a chain of islands connected by a huge highway, and it's an amazing destination if you want to lay on the beach and soak up the sun.
The islands are known for their world-class snorkeling, ghost tours, and luxurious resorts. Some of the only all-inclusive United States resorts are located in Key West. It's also an amazing romantic getaway for couples!
7. New Orleans, Louisiana
New Orleans is famous for Mardi Gras, but visiting NOLA any time of the year is an awesome girls' weekend. You'll find a never-ending amount of things to do in New Orleans.
New Orleans is an awesome historic vacation; the city is rich in history and has a vibrant (and dark) past that makes it a great trip for history buffs. It's full of music, delicious food, and fun nightlife.
8. San Diego, California
San Diego is another beach town that deserves a spot on the list of best girls' getaways. This city has something for everyone to enjoy.
Spend your days soaking up the sun and surfing in the Pacific Ocean. The nearby mountains offer easy hiking trails, and the city has many microbreweries for beer tastings.
It's not an expensive place to visit, despite what people think. San Diego is full of inexpensive AirBNBs that will hold all of your friends on a budget.
9. Las Vegas, Nevada
Every list of girls' getaways has to include Las Vegas. Sin City is more than just gambling, although you can do tons of that while there.
You'll find high-end, luxury hotels, amazing pools, rollercoasters, live shows, and delicious restaurants. Some of the world's best all-you-can-eat buffets are in Las Vegas.
Start your day at your hotel's luxury pool and end the evening at a nightclub or watching a live show with entertainers.
10. Boulder, Colorado
If clubbing and watching shows aren't your idea of a good time, Boulder, Colorado might fit your friends better. Boulder is known for being an amazing destination for those who love the outdoors. The city is only a few hours away from Denver Airport, so it's located in an easy location.
Boulder offers over 150 public trails to explore and tons of outdoor activities. The nearby Eldorado Canyon State Park is a local favorite and offers great climbing spots and massive cliff walls for climbers.
The city also has several beer breweries that offer seasonal flavors and different beer tastings.
11. Charleston, South Carolina
One of my favorite southern cities is Charleston, South Carolina. When you walk the streets, you feel like you're stepping into history, and it's always voted one of the best beach towns to visit.
Take a horse-drawn ride through the city or a trolley ride. Check out the marketplace to find local-made wares, or check out some of the four and five-star restaurants throughout the city.
Then, hop over to the beach and soak up the sun.
12. Portland, Maine
Maine is a gorgeous state that deserves more hype than it receives. Portland is a fun city that gives you the vibrant arts, a cultural scene, and amazing restaurants.
Do you love seafood? Many restaurants serve seafood caught by local fishermen that day.
Who doesn't love that?
At the same time, Maine offers tons of outdoor areas to visit with hiking trails, beach areas, and mountains to climb. You'll find the best of all worlds there.
13. New York City, NY
If you've never taken a girls' weekend to NYC, put it on your to-do list. Yes, the city is pricey, but splitting the cost of the hotel room will help cut down on expenses.
New York City has things for everyone to enjoy.
Check out world-renown restaurants, search flea markets for deals and one-of-a-kind goods, visit the Statue of Liberty, and spend time in Chinatown. It would take several visits to check out all the must-do things in NYC, so don't worry – you'll find things to do that everyone loves.
14. Buffalo, New York
Buffalo, New York experienced a revival in recent years, and you'll find newly redeveloped waterfront areas and new neighborhoods. Recent investments in Buffalo topped $1 billion!
If you want a historical getaway, Buffalo is rich in history from its original Senecan natives, role in the Underground Railroad, and more.
Believe it or not, Buffalo is slowly becoming a city known as a foodie destination. You'll find many must-eat foods and restaurants.
15. Cincinnati, Ohio
Known as The Queen City, Cincinnati is one of the best places for a girls' getaway. It's located on the Ohio River, and the city offers plenty of things for visitors to enjoy.
You'll find entertainment, an eclectic food scene, and historic neighborhoods. One of the most popular neighborhoods is called Over-The-Rhine, full of boutiques, cocktail bars, craft breweries, and delicious food.
---
Don't let the year pass by without a girls' weekend. Check out one or more of these awesome getaways for friends!