The fact is kids will get hurt or sick no matter where they are; they don't care that you planned this vacation for six months. That's why you need to have a family travel first aid kit ready to go because you will need it if you don't have one on hand!
We have a first aid kit at home, so it makes sense to make sure we have those supplies while on-the-go as well.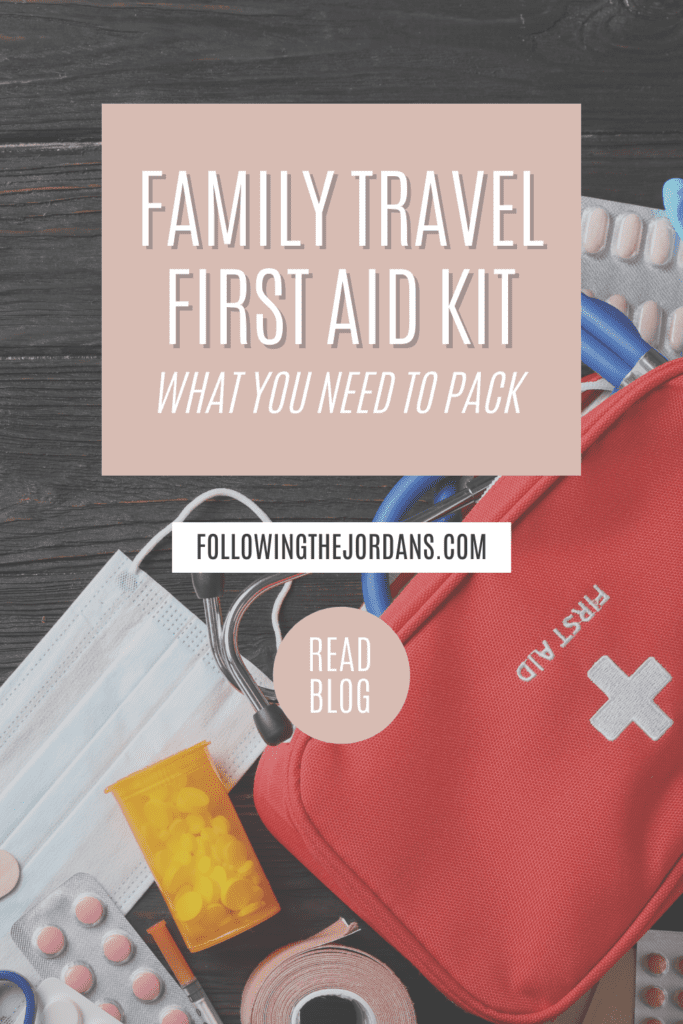 It's impossible to give you the perfect list for a family travel first aid kit. Everyone has different families, and if any of your kids have different needs, you'll need to adjust this list. However, I wanted to tell you the items that always belong in a family travel first aid kit that I think you need to bring too.
This post may contain affiliate links for which I would receive a small commission on your purchase, at no additional cost to you.
What Do You Need in a Family Travel First Aid Kit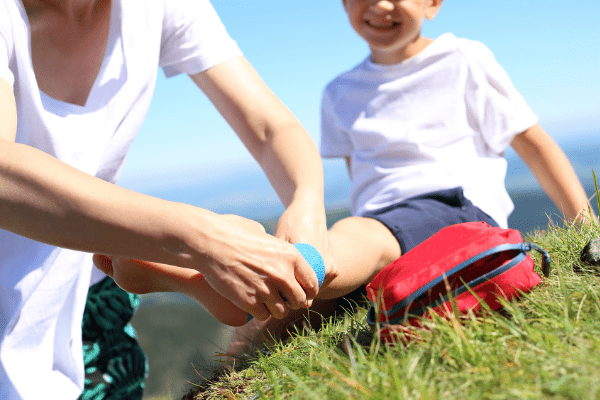 Unless you're traveling to the Arctic or some remote area while camping, chances are you'll be close to most stores, a medical clinic, or a hospital. My goal is to have the first aid kit materials to take care of minor problems and to have supplies to help us get to the hospital if an extreme issue happens.
If you are traveling to a remove area, then you'll want to make your travel first aid kit more extensive. Here are some of the items I think belong in all family travel first aid kits.
1. Bandaids and Gauze
The first thing you want to put into your first aid kit is bandaids and gauze, along with some medical tape. It's a good idea to have different sized bandages because you never know how large an injury will be when you have kids.
Gauze has many uses from applying pressure to a wound to cleaning an injury and stopping bleeding. It also works as a dressing for small wounds. I include several things of gauze in my kit.
If you're walking a lot, having corn pads or moleskins will help with blisters. Nothing ruins a trip faster than a blister on the back of your heel!
2. Saline Spray
Saline spray cleans out wounds, and this is an important step. Covering a wound with a bandage or gauze without cleaning it is a surefire way for the wound to turn into an infection.
Always clean cuts and wounds!
3. Antibiotic Cream
After cleaning out the wound, spreading a thin layer of antibiotic cream over the top helps start the healing process and keeps germs out of the cut.
4. Elastic Bandages
I can't tell you how many times a child has twisted an ankle – elastic bandages that offer support and compression are ideal. I prefer the bandage that sticks to itself; it makes it much easier with little kids.
You might know these as crepe bandages, but no matter what you call them, they're useful. An elastic bandage also keeps smaller dressings in place.
5. Pain Relievers – Kid Friendly and Adult
You need to have kid-friendly OTC pain medication, such as acetaminophen and ibuprofen. Both of these work for fevers, headaches, fevers, teething, and other problems. You need to make sure to have an oral syringe or measuring cup with you.
It's always a good idea to bring this with you. We went to the beach with friends, and my friend's daughter started teething and wouldn't sleep – I came to the rescue!
6. After Bite Cream
After Bite Cream is for stings, and it's different than anti-itch cream, even though they both help the itchiness. This cream will take out the sting and discomfort associated with a bee sting.
7. Antihistamines
Always have oral antihistamines for adults and kids in your first aid kit. I typically bring Benadryl, but Claritin works as well. You need to have this on hand for general allergies or an allergic reaction.
My son stepped on a bee recently – I was glad I had Benadryl on hand!
8. Hydrocortisone Cream
If your child has a bug bite or ends up touching a plant they shouldn't have touched, hydrocortisone cream reduces the itchiness and helps your child feel better.
9. Instant Ice Packs
Bringing ice packs with you is a bit difficult, but you can grab instant ice packs that snap and become cold after a few minutes. These are a one-time use item, but I've been happy several times that they were in my family travel first aid kit.
10. Prescription Medication
It's always best to bring prescription medication with you, even if you don't think you will need it. Some medications aren't regular use, but I suggest bringing everything with you, including inhalers and ADHD medication.
11. Thermometer
You might not think you need a thermometer on vacation, but you truly never know what is going to happen. Your child might act strange, and you need to decide if they're tired from traveling or coming down with an illness.
I leave my expensive thermometer at home and bring a basic forehead thermometer in my first aid kit. Don't spend too much on this one!
12. Anti-Diarrhea Medication
This is available under many different brand names, but Imodium is the most common. It stops diarrhea for short periods.
13. Small Scissors and Tweezers
These are absolutely essential in a first aid kit. Small scissors cut tape and gauze, and tweezers pull out splinters!
Other Essentials to Consider Including
Of course, these are the only items you could put in a family travel first aid kit. Sometimes, I think or find little items that I think might be beneficial to have on hand.
Here are some examples.
Lip balm
Safety pins
Hand sanitizer
Bug spray
Nail clippers
Calamine Lotion
The Best Bags for a Family Travel First Aid Kit
The only time that a bag truly matters is if you're traveling on an airplane and need to take liquid medicine; you'll need to use a TSA-approved bag for toiletries.
Otherwise, I use a lightweight bag for our family travel first aid kit.
I like this option for a bag; it's the Souarts First Aid Bag. It comes empty, and it's large enough to fit most of the items you'll need in a family travel first aid kit without being too big. I also think it's a bit cuter than some of the other ones on the market!
When traveling on an airplane, you'll want to consider a different bag for your first aid kit. If you don't take any medication with you, any bag will work, but you'll need to leave behind the scissors.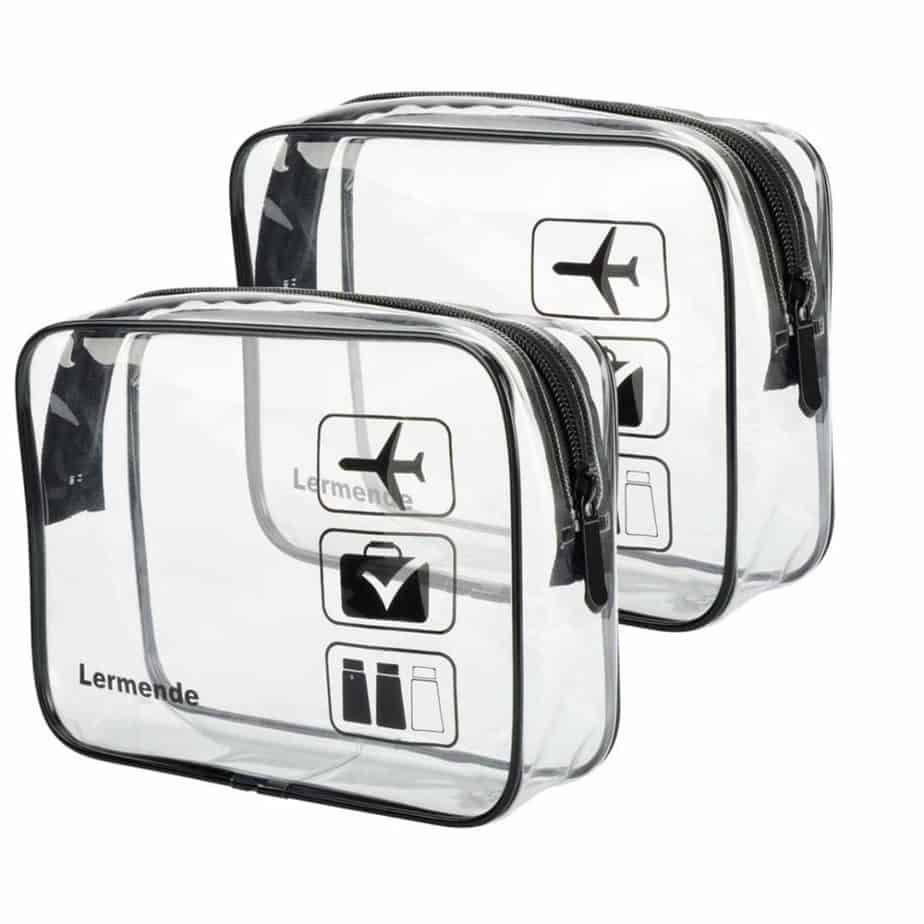 If you want to bring things like Benadryl or Tylenol, you can do so in an approved, clear bag and appropriate liquid limits. TSA allows liquids under three ounces; I typically bring unopened, small bottles to make it easier for the agents. These Lermende Clear Toiletry Bags are TSA approved.
Ready to Go First Aid Kits
If you don't want to put together a family travel first aid kit, many ready to go kits are available on the market. These might not be the perfect fit for your family, but they'll get you started, and you can add missing items if needed.
Here are a few options you might consider.
This kit is perfect if you don't want to spend too much but want a variety of items. There are 299 essential supplies for treating minor aches and injuries including medication, cold packs, gauze, burn cream packets, and more.
Be Smart gives you a small first aid kit that includes 100 pieces of supplies for less than $10. The kit comes with a rugged, high-density plastic and includes first aid supplies like adhesive bandages, butterfly closures, gauze pads, and more.
M2 Basics created a first aid kit with 300 pieces; it's a complete first aid kit for home, camping, and traveling. The kit also includes bonus items like an emergency blanket and compass. It's a comprehensive kit with bandages, trauma pads, elastic bandages, cold compresses, metal scissors, and more.
---
Being prepared is something I think is so important when you travel with kids, and one way I ensure we are prepared is by creating a family travel first aid kit to take with us. I've used it several times, and I'm always glad I always have a first aid kit while traveling.
Do you take a first aid kit with you while traveling? Let me know in the comments!