When I share our getaways on social media, I'm regularly asked how we afford family travel. People assume that we are rich, or we must have hit the lottery.
Trust me, none of that is true. My husband might have a good job, but we are far from rich. I think we are an average family, similar to yours, but our priorities are different. We prioritize family travel because it matters to us; you might prioritize something else. That's okay too!
I've been told several times that you spend your money on what you value the most. So if you look at someone's bank, their spending should show you what they value.
They would find out I value Starbucks a whole lot.
We also value family travel. We love to wake up at a new destination, and I love to be present in the moments when my kids are having a great time at our new destination. The excitement in their eyes is something I love to see.
If you want to afford family travel and need some tips, here is how we afford to travel as a family regularly.
How to Afford Family Travel: 15 Tips to Avoid Breaking the Bank
1. Have a Vacation Savings Fund
Having a separate vacation savings fund that you put money into every payday is a great way to afford family travel. Arrange automatic transfers into your savings that come right out of the paychecks.
If you don't see it, you won't miss it, but you'll be happy when you see the final amount in your savings account.
This needs to be a separate account from your main savings account. A vacation fund isn't meant for emergencies.
One of the benefits of having a set amount that you save each pay period is that you know what you can practically afford and base your travel around that.
2. Stick to a Regular Budget
Sticking to a regular budget is an essential part of having a vacation fund. However, if you aren't used to sticking to a budget, it might be hard at first, and you might feel like you have to make sacrifices.
The reality is you might have to sacrifice certain things if you want to afford family travel regularly. If traveling isn't a priority to your family, then you might think it's wild to sacrifice for a vacation fund, but for our family, it's worth it.
3. Experiences Over Material Items
Instead of buying more material items, focus on experiences. That can be experiences near or far.
My kids love to travel somewhere for their birthdays instead of having a party with tons of gifts. We often stick to small parties with close friends and family rather than throwing huge ones instead of going to a water park for the weekend.
What kid wouldn't want an indoor water park for their birthday?
Instead of spending a lot of money on Christmas presents, plan a getaway for your family.
4. Earn Flight Miles on Credit Cards
If you know that your family will fly regularly, it's wise to use credit cards to book your flights. Many credit cards offer frequent flyer miles, and if you fly frequently, you can cover entire trips by earning miles.
Being smart with credit cards is another topic, but make sure you keep in mind that your goal with these credit cards is to get free miles to take your family on vacation. Don't buy things you cannot otherwise afford if you didn't have a credit card.
5. Drive if You Can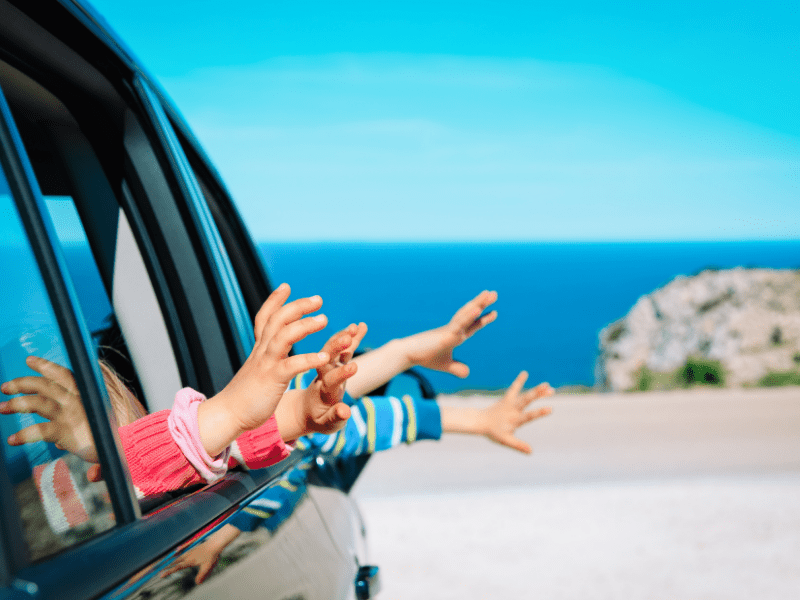 Opting to drive to your destination rather than flying saves hundreds – or thousands – of dollars, making it easier to afford family travel. This is particularly true if you have multiple kids.
If a flight costs $300 per person and you have a family of five as I do, that's $1,500. Plus, you need to rent a car because taking taxis everywhere will be a fortune, which will cost easily $500-700.
Driving costs the price of gasoline. I think the most we have spent on gasoline is $400, but that's a little more than one plane ticket.
Now, if you're only visiting a destination for two or three days, flying makes more sense, but if you have the time, road trips are a great way to see more sights and save money!
6. Split Costs with Family or Friends
When we go to Holden Beach, we split the cost of a family beach house with our family. That makes traveling more affordable, especially since oceanfront beach homes aren't cheap.
When we go with friends, we often split a hotel room or suite. Splitting costs is a great way to make traveling affordable for your family.
7. Check Groupon for Travel Deals
Groupon has amazing deals, and if you aren't taking advantage of those deals, you're missing out on money saved.
I regularly find deals on places like Great Wolf Lodge or other indoor water parks. We found a great deal for a hotel in Myrtle Beach two years ago, and my best friend paid for a Niagara Falls vacation with Groupon deals.
8. Have Flexible Dates and Destinations
One thing I learned is that prices on flights and hotels aren't the same every day. Some days are more expensive than others.
If possible, be flexible with the dates and destinations. For example, you might know that you want to travel in May. You could pick a destination and look for the cheapest days to travel, or you might know you want to travel in May at a certain time but feel flexible with the destination.
This is a great way to save money on family travel. For example, when we flew to Belize several years ago, the prices varied by over $200 each by just changing the dates slightly.
That's more money back in your pocket!
9. Skip Weekend Travel
Take a close look at those flight prices. For example, traveling on a Friday through Sunday will often double the price of your plane tickets.
Yes, really – DOUBLE!
If you have to buy five tickets like our family, that's a big chunk of money we shouldn't have to spend.
The cheapest days to fly are Tuesdays and Wednesdays. You'll find the best deals on these days.
10. Travel in the Off Season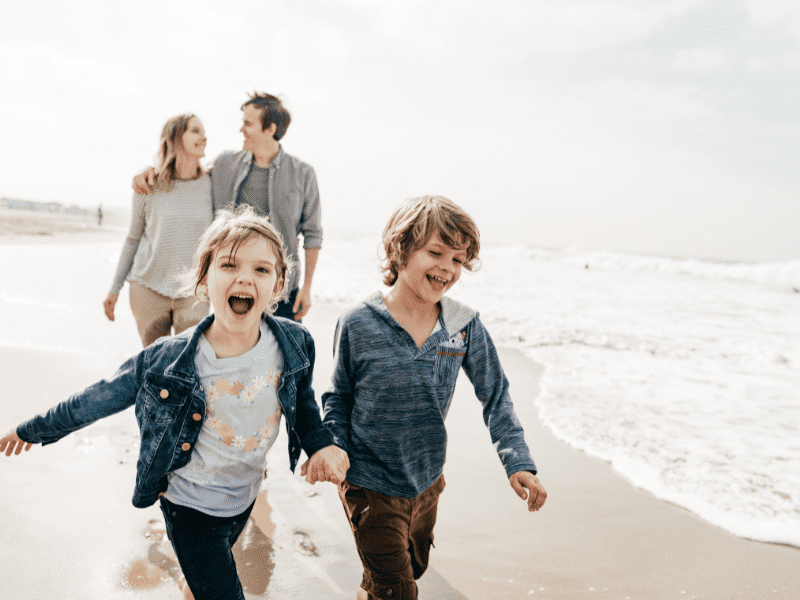 If you're traveling or visiting a destination when everyone else is going, you're going to pay more money. Most families travel in the summer because kids are out of school, and most people take their vacations at this time.
Summer is also the most expensive time to travel. Everyone else is ready to travel, and it's going to make a bigger dent in your wallet.
I get it; sometimes, you have to travel in the peak season. If that's the case, go for alternatives with fewer tourists and a lower price tag. That often means picking smaller vacation destinations.
For example, we go to Holden Beach instead of Myrtle Beach. That saves us money because a condo at Myrtle Beach costs more than we pay for the beach house we split with our family!
11. Always Book Hotels with Free Breakfasts or a Kitchen
We often use our points to book hotels instead of flights, but I always look for free breakfast or a kitchen even if we don't have points to use.
Breakfast might be a cheap meal when eating out, but if you spend $30 for five days, that's $150 that could be spent elsewhere. We regularly spend more than that on breakfast unless we run through McDonald's.
If the hotel doesn't offer breakfast but has a kitchen, that's a great way to reduce costs to afford family travel. Kitchens allow you to cook meals in your hotel. Depending on where you travel, dinners easily cost $100 or more for our family.
Cooking at the hotel sounds boring, but it's worth the money saved.
12. Book During Kids Go Free Promotions
Check to see if your destination offers kids go free promotion at any point throughout the year.
For example, cruises regularly offer promotions like "kids sail free" or "third and/or fourth guest sail free." These are great ways to save money, especially if the destination is an inclusive trip. Cruising offers all the food included with the price.
Like the Hard Rock, some all-inclusive resorts offer kids travel free deals as well with an adult. So, in our family, that means we would only need to pay for one of our three kids. That's a fantastic deal!
13. Always Check Out AirBNB to Help Afford Family Travel
Hotels have their place, but always check out the AirBNB offerings at your destination. An AirBNB is typically cheaper than a hotel and gives your kids more space to run around.
Some hotel rooms are so small; it's easy to feel cramped.
Another huge bonus of an AirBNB is that you'll have access to a full kitchen. Cooking meals instead of eating out is another great way to afford family travel.
If you love a particular AirBNB, but it doesn't fit your price, ask the host if they offer any discounts. Don't be insulting and ask for a huge discount, but if the price isn't far off your budget, consider sending them a message and asking if there is any wiggle room in the cost.
14. Book a Return Visit Before Leaving
Visiting a resort? Many give you a significant discount if you book a return visit before leaving the resort.
How steep of a discount?
We paid half the price for a return visit when we rebooked at a popular all-inclusive resort. These resorts are supposed to offer before you check out, so be prepared to pay immediately.
15. Don't Try to See It All
Traveling is an adventure, and there is a never-ending list of things that we could do as a family.
Don't fall prey to the idea that you have to do everything when you visit a location. Oftentimes, my family is content playing in the sand and boogie boarding in the waves.
Be selective with any activities and attractions that you want to visit when traveling. Each activity is a splurge, so make sure you only pay for things that you would seriously regret not doing.
Make Family Travel a Priority
The most important thing to remember is that it has to be a priority for your family if you want to afford family travel. Make it a goal to save money for traveling and remind everyone in the family that your goal is to travel to stay focused.