Taking little kids on an airplane is intimidating enough, but flying alone with small children and no other adult to help you seems even scarier. You might feel like you're embarking on a mission bound to fail, but all sorts of parents do this all the time.
You can too!
The key to flying solo with little kids is being prepared and planning ahead. That starts with booking a flight at the best time for your children to ensure they're as happy as possible, and bringing all sorts of snacks and toys for them to enjoy.
Let's be honest; flying by yourself with your kids isn't ideal, but if it's your reality, I put together some tips that will make this even easier for you!
Pin this blog for later! ↓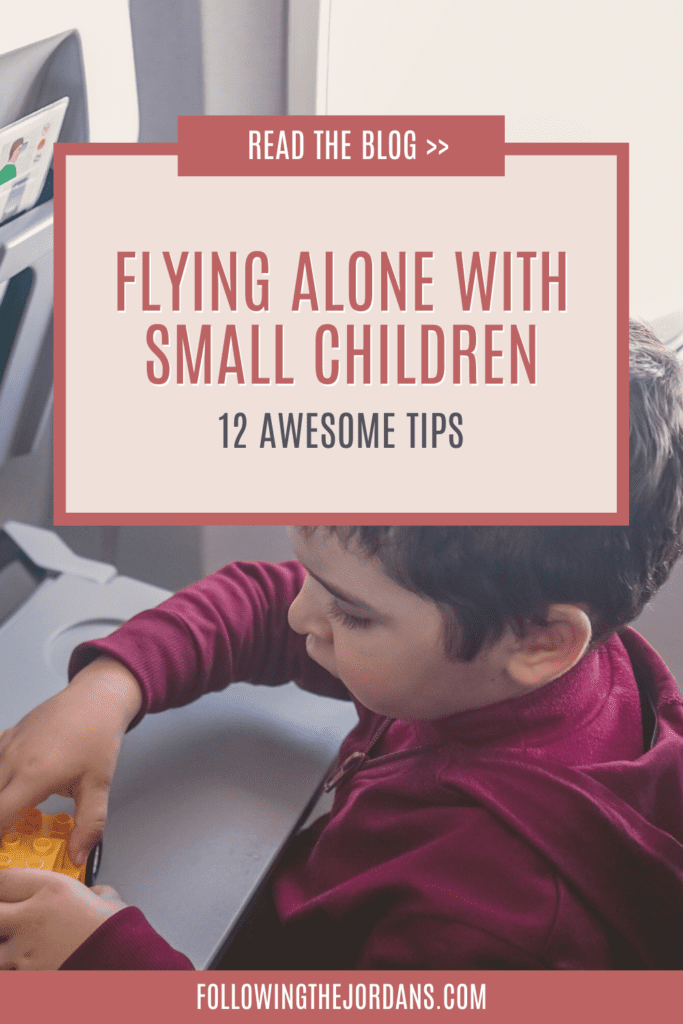 12 Tips for Flying Alone with Small Children
1. Avoid Layovers and Connecting Flights When Booking
If at all possible, try to avoid having a layover or connecting flight when flying with small children. It adds extra steps, and it's much easier to stay in the flight and seated for one flight rather than getting off and boarding another flight, especially if there is a big wait.
Sometimes, you can't avoid it, but if it's possible, I suggest direct flights to make flying solo even easier.
2. Book an Early Flight
When flying with small children, it's best to book the earliest flight possible, ideally with no layovers!
I found that the best times to fly with little kids are right before their bedtime or early in the morning. Most kids will snooze on a flight if it's late, especially since most flights turn down the lights for the passengers. Flying early is when kids are often the happiest, but if it runs into their nap time, then be prepared with extra snacks or snuggles.
Once you arrive at your destination, take some time to get fresh air with the kids before doing anything else.
3. Use Curbside Check-in for Your Luggage
When flying solo with little kids, use curbside check-in if possible and let the airline staff take your bags for you. This way, you do not have to worry about getting everyone through the security line or making it to your departure gate with kids and baggage in tow. It will also make checking your luggage much faster as there is no waiting in line at the baggage claim.
I suggest bringing at least one or two carry-on bags. You'll want to have extra clothes for your baby, diapers, any snacks, and toys. If your luggage would get lost, you also want to have some items for you as well, like a comfy pair of clothes.
4. Bring a Stroller or Wagon
If flying alone with small children is unavoidable for you, one of the best things to do is bring a stroller or foldable wagon along. This gives you a place to keep your child contained while you make it through security and relax at the gate before boarding.
Strollers and foldable wagons can be gated checked before boarding, and they'll be available for you whenever you get off the plane. If you bring a car seat with you, having a stroller or wagon makes it so much easier to lug it through the whole airport, especially if you're flying alone.
5. Change Diapers and Potty Before Getting on the Flight
It is better if you change diapers and potty before getting on the flight. Take your baby to the bathroom and change them right before boarding, and have your toddler go to the bathroom as well. If possible, make sure you also give them a snack beforehand. Taking off always seems to take a lot of time, and you want your child as comfortable and happy during this time.
6. Don't Board the Plane Too Early
If you are flying alone with small children, do not board the plane too early. It is better to wait until it is almost time for takeoff and then get on the plane. This way your child can pick his or her own seat and enjoy some of that last bit of freedom before the plane takes off.
However, the exception to this is if you have to install a car seat and have carry-on baggages. Many airlines allow families to board first, so this could be a good idea. If you have more than one parent with you, you could board separately!
7. Be Patient With Your Child
There are going to be times when your children need your attention, but you're busy doing something else, such as checking in, bag loading or boarding. Be patient with your children in these times.
Give them a few toys to play with and let them know you'll be able to give them more attention soon. Your child also will have big emotions while flying. He could be nervous, bored, tired, or scared; you have to be patient and remember that it's all going to be okay. The flight ends eventually!
8. Keep Your Child Occupied During Take Off and Landing
Flying with toddlers and babies can be even more difficult during takeoff and landing. I
If they are old enough to understand, let them know that it is important they keep their seat belt on at this time because the plane might be a bit bumpy while taking off or landing. You should also keep your child occupied during these times by having books or other toys ready for him or her to play with while the plane taxis to and from the airport.
Giving your baby a pacifier helps with their ears popping and getting clogged during taking off. Chewing gum or eating a snack also helps with this.
9. Pack Plenty of Snacks and Toys
One of the easiest tips when flying alone with small children is to ensure they're well fed. Pack plenty of snacks and toys before you board the airplane, so that your little one will have something to keep themselves occupied until it's time for them to eat their meal. Keep in mind that the snacks and toys you pack for your child should be of the small variety to avoid them spilling everywhere.
You should definitely keep in mind that not all foods are ideal for flying, and TSA has rules when it comes to liquids. I like non-perishable items or fruit.
We bring goldfish crackers, bags of fruit, fruit snacks, granola bars, and some other goodies to keep them contained. Flights used to offers snacks, but Covid has changed the rules, so your flight may or may not offer snacks.
Related: 24 Best Snacks for Kids When Flying That Will Keep Everyone Happy
10. Use a Baby Carrier for Infants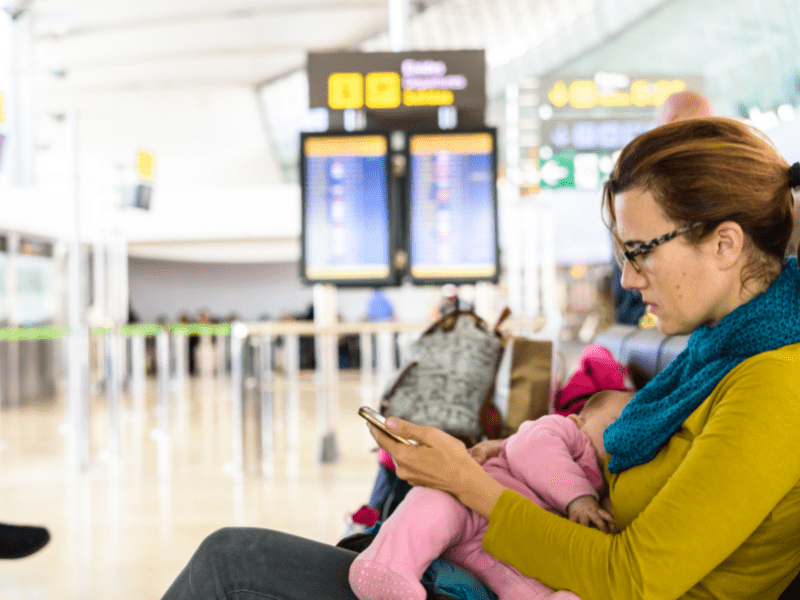 When flying with babies and toddlers, consider wearing your infant in a baby carrier and putting the toddler in the stroller or wagon.
A baby carrier works by distributing the child's weight across your back and shoulders rather than just on your hands and arms. Not only will this make it easier to carry your baby throughout the airport, but you'll also be able to move around more easily in the airplane aisle. Plus, I love breastfeeding in baby carriers; it's so discreet!
11. Seat Your Child Next to the Window
If possible, try and put your child next to the window on the airplane instead of by the aisle. My kids love to look out the window and see the clouds or whatever we are flying back. It's a great way to keep toddlers and kids entertained during the flight.
Plus, you don't have to worry about them taking off and running down the aisle or accidentally smacking a flight attendant.
12. Don't Be Afraid to Breastfeed While Flying
If you are flying with small children and need to feed your baby, do not be afraid to breastfeed while on the airplane. The person in front of you will likely not care, and if they do, don't worry about them! Most airlines are supportive of breastfeeding mothers and encourage moms to feed their babies as needed.
A baby has to eat when a baby has to eat!
Related: 8 Tips for Breastfeeding on a Plane and Important Policies to Know
---
Before you know it, you'll reach your destination, and the memories of flying alone with your kids will be in the past. These tips will help make the experience a little easier – trust me!