Planning a vacation to Walt Disney World takes a lot of work, but despite being advertised as the greatest place in the world for kids, toddlers may not enjoy all places. So, you want to plan your itinerary around the best Disney World parks for toddlers.
Disney World is magical for everyone, and toddlers are no exception. Our little ones love the parks and all the different characters, but still need naps and some down time to truly enjoy their trip.
If you have a short trip and need to pick a single Disney World park for toddlers, go for Magic Kingdom. This park is the most well-known and has tons of things for toddlers to do and enjoy.
No one in your family will be disappointed.
However, if you have several days at Disney World with your toddlers, you'll want some diversity and to try other parks.
So, let's take a look at the best Disney World parks for toddlers.
Pin this blog for later! ↓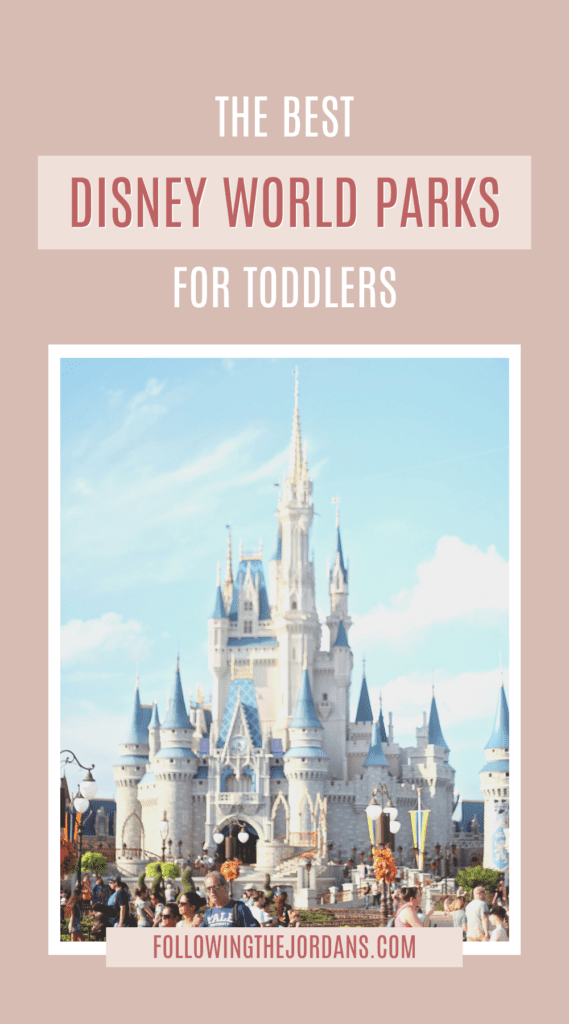 Related: 10 Best Resorts in Disney World for Toddlers
The Best Disney World Parks for Toddlers
1. Magic Kingdom with Toddlers
When you plan a vacation to the magical Disney World, Magic Kingdom is more than likely what you picture in your mind. It's the most popular park, and you'll find tons of rides and things for your toddlers to do.
The biggest reason to visit Magic Kingdom is that it has so many different rides available. If the one line is too long, you'll be able to find another ride.
Many rides located in Magic Kingdom have no height restrictions, allowing toddlers to join their parents. In most cases, parents need to visit this Disney park at least twice to cover all the rides without wearing your toddlers to the bone.
My kids love the Dumbo Ride and Jungle Cruise, but there are so many different rides. You'll find several playgrounds located at Magic Kingdom. For example, Big Top has two play spaces including a splash pad.
Here are a few other places you'll want to check out when visiting Magic Kingdom with toddlers.
Tom Sawyer Island
Casey Jr. Splash 'N Soak Station
Enchanted Tiki Room
Country Beer Jamboree
Let's not forget the parades and shows in Magic Kingdom for toddlers. Disney's Festival of Fantasy Parade is perhaps the most popular. It features floats, characters, music, costumes, and more.
2. Epcot with Toddlers
Most people associated Epcot with their international displays and Drinking Around the World festival, so they assume Epcot is for adults only. However, that's a bad assumption because this Disney world park offers rides, characters, and plenty of other activities for toddlers.
When it comes to rides, Epcot has the second highest amount of rides for toddlers. Unlike Magic Kingdom, the rides at Epcot are closer together, so you have less walking to do to cover the park.
When you have toddlers in tow, that's a big convenience.
However, toddlers want to play and play some more, and that's where Epcot truly shines. Magic Kingdom has some hidden areas, but Epcot has tons of play spaces for little kids.
You'll find playgrounds in Future World, The Seas Pavilion, and splash pad areas at Mission Space. Epcot also features many different festivals, and they add popup play areas, making each visit unique.
Another one of my kids' favorite things to do at Epcot is to visit the aquarium, and the Land and Sea Pavilion is another huge hit.
3. Animal Kingdom at Disney World with Toddlers
One of my kids' favorite parts of a Disney World trip is seeing all the different characters, but we have had the most success at Animal Kingdom.
Animal Kingdom is most known for seeing all sorts of animals; it's like the best zoo you'll ever visit. However, it has plenty of characters for your kids to see. For example, Mickey and Minnie are here together, which is the only place you can see them and get a photo with both at the same time!
While here, your children can check out Chip, Daisy, and Dale, along with the Fab 5. They're all at DinoLand USA. The lines here are rarely long, and a Starbucks is nearby – heck yes!
One of my favorite parts of Animal Kingdom is the rainforest and cultures area. The vibe is entirely different here; it's much more laid back, and kids have space to run and explore.
Not to mention a giant play area at DinoLand called The Boneyard.
4. Hollywood Studios with Toddlers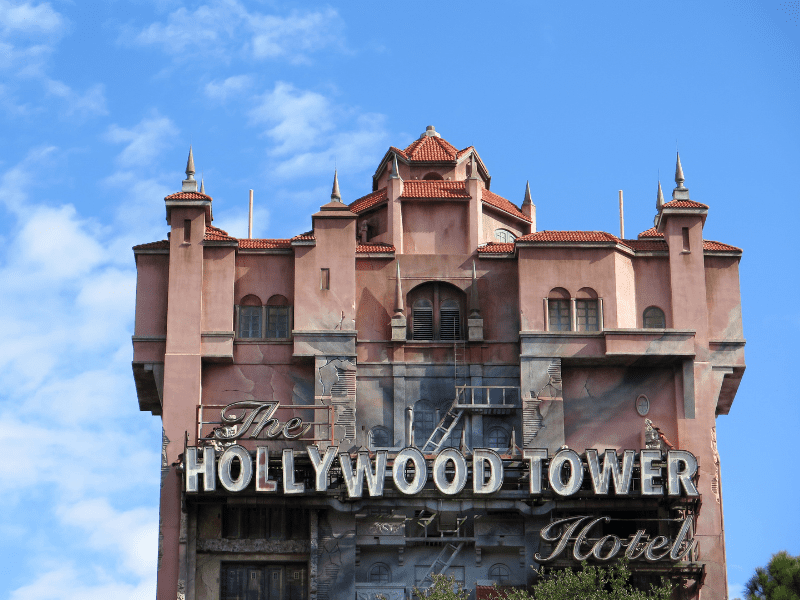 Toddler parents often skip Hollywood Studios, but this is a great place to bring your toddlers to meet characters. Hollywood Studios is home to Star Wars, Olaf, Mickey, and the entire gang.
Another reason that Hollywood Studios is one of the best Disney World parks for toddlers is they're the only place you find some of the favorite Disney Junior characters. You can get their signature.
Toddlers love the Disney Jr. Dance Party show that is made for this age range. The show includes Mickey, Vampirina, Doc McStuffins, Roadster Racers, and more.
Toddlers can enjoy the special Disney Junior area with multiple characters in a row. If you need to give your toddler an indoor space to calm down, this is an excellent option.
Let's not forget Toy Story Land in Hollywood Studios!
This new location is a huge hit, and kids are loving Toy Story Mania. It's a new ride that features popping up 3D targets. However, there aren't too many other rides for toddlers; this park is better for older kids and adults.
What is the Best Disney World Park for Toddlers?
In the showdown of all the Disney World parks, it can be hard to decide which park is the best one for your toddlers.
Let's put the parks in order.
Coming at number one, Magic Kingdom is the best Disney World park for toddlers. It has all the rides that your toddler could want to enjoy and characters to visit with your children.
I put Animal Kingdom as number two on the list of Disney World parks. This park has a totally different vibe compared to Magic Kingdom; it's far more laid back and offers plenty of space for your toddlers to run around. Plus, it has fun opportunities for your toddler to see characters.
Epcot comes in as number three at Disney World. This park has plenty of rides for kids to encourage, playgrounds to enjoy, and unique festivals and opportunities for your toddler to have fun.
Finally, Hollywood Studios gains the final spot. While it does have some amazing shows and displays with Disney Jr characters, it doesn't have any rides for your toddlers to enjoy but one. I suggest giving some time for Hollywood Studios, but don't block off a whole day.
---
You want to make the most of your Disney World vacation and give the most time to the best Disney World parks for toddlers. Start with giving the most time to Magic Kingdom and go from there when creating your itinerary. Remember not to overrun your toddlers when visiting Walt Disney World and leave space for relaxing and napping.