Keeping kids happy on an airplane is essential; no one wants to hear a screaming child while flying, including you. When we fly with our kids, I pack tons of snacks for kids when flying to keep everyone happy because when kids are eating, they aren't crying.
My kids love to snack, and we typically limit the snacks but flying is the exception. It's the perfect time to give your kids their favorite snacks, unlimited screen time, and pray that all goes the way that you want.
If you're wondering what snacks for kids when flying are a good idea, I put together a list of TSA-approved snacks that you can bring with you without any problems.
Related: 12 Helpful Tips for Flying with Small Children
TSA Rules for Food and Drinks While Flying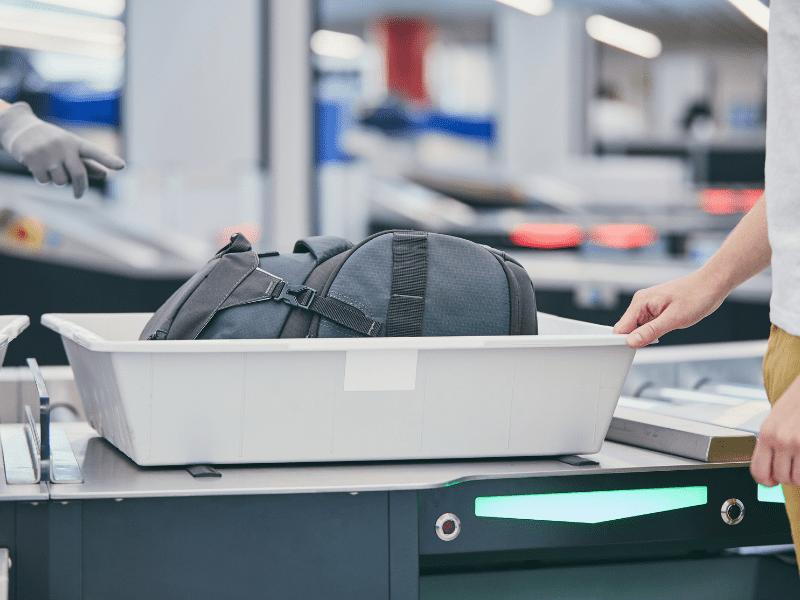 If you've flown in the last several years, you know that TSA strictly enforces the rules for what is permitted on an airplane. They make few exceptions, so it's always a good idea to refresh your memory and double-check the Transportation Security Administration website for details about what to expect.
Here's a few things that parents need to know about bringing food on an airplane.
Formula, breast milk, and juice are permitted on carry-on bags in reasonable amounts. These items need to be screened separately, so make sure you can easily access them in your baggage.
Baby food is permitted on carry-on bags; make sure to take these items out so they can be screened.
Solid food items are allowed in carry-on bags and checked bags, but liquid or gel items cannot be larger than 3.4 ounces in a carry-on bag.
24 Snacks for Kids When Flying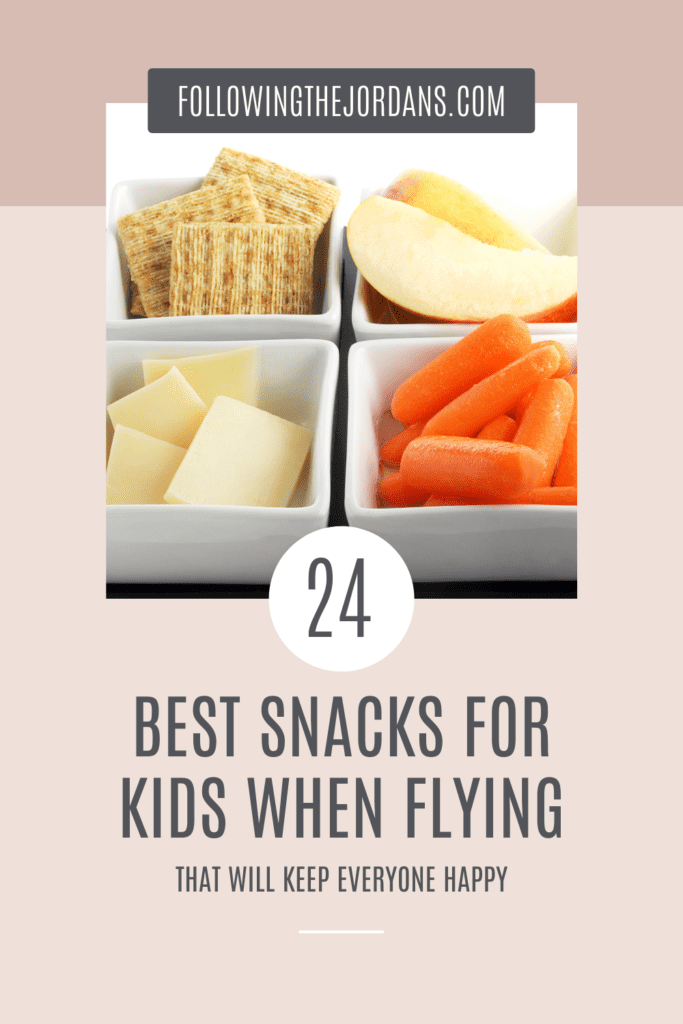 1. Homemade Muffins
Kids love muffins, and if you make the muffins at home, you control the ingredients. Muffins are easy to eat while on the go, and it's easy to pack them full of healthy ingredients without your kids having any idea.
2. Cookies
What kid doesn't love cookies? Grab some pre-packaged cookies, or fill up a small zip-loc baggie with your child's favorite cookies.
3. Animal Crackers
Another one of my kids' favorites snacks for kids when flying are animal crackers. I typically grab the large container at Costco, but individual bags of animal crackers are cheap.
4. Granola Bars
Most kids love granola bars, and you can grab healthy ones made with whole grains, nuts, and seeds.
5. Fruit Pouches
Even though fruit pouches are "liquid," TSA allows them on airplanes because they're listed as "baby food." So, that means you can pack your kids some applesauce pouches for a healthy treat while flying.
6. Fruit Snacks
Kids will do anything for fruit snacks, including be quiet and happy on an airplane. I always toss a few snacks into my kids' backpack for flying or traveling in general.
7. Dried Cereal or Granola
Bringing milk on the plane is a no-go unless you find it at store inside of the airport. My kids eat dried cereal without milk all the time, or toss a few handfuls of granola into a baggie.
8. Pop Tarts
Pop tarts come two in a package, and a box is cheap. Give each child one pack, especially if you're flying in the morning.
9. Rice Crispy Treats
My kids love rice crispy treats, especially homemade ones. Both are acceptable snacks for kids when flying; TSA doesn't mind homemade foods!
10. Crackers and Goldfish
All crackers work well as snacks for flying, such as saltines, Ritz crackers, or graham crackers. Don't forget Goldfish crackers – those are always one of my kids' favorite snacks.
11 Trail Mix
Another easy snack for kids when flying is individual bags of travel mix. My kids like the ones with M&M's in the mix; who can blame them? Adults and kids alike both like trail mix, so this is a great choice.
We grab trail mix packs in bulk!
12. Protein Bars
Most protein bars aren't kid friendly and have a texture that your kids will not like, but the Clif Kid ZBar are a fantastic choice.
13. Dried Fruit
Kids love dried fruits like apples, apricots, raisins, and cranberries. Include a few options in your kids' snack packs!
14. Popcorn
Making a big bag of popcorn for the plane ride might not be an option, but you can buy prepackaged popcorn to take with you.
15. Chips
Grab some chips from your local store and portion them out in plastic bags for your kids. You also can buy individual chip bags if you don't want to portion them out.
16. Pretzels
My kids love pretzels, especially cheddar pretzels or the super-salty ones.
17. Cheese Sticks
If you bring a cooler with you (permitted by the TSA), consider tossing some cheese sticks or pepperoni sticks into the cooler.
18. Rice Cakes
Another yummy snack for kids when flying is rice cakes. These are a healthier version of chips but still flavorful and filling. I love the cheddar cheese rice cakes and the ranch rice crisps.
19. Hard Boiled Eggs
You'll need a cooler to bring hard boiled eggs with you, but this is a protein-filled snack for kids and adults.
20. Whole or Cut Up Fruit
All fruit is welcome on an airplane, so toss in some bananas, apples, grapes, or whatever fruits your kids love.
21. Hummus and Crackers
Individual, small cups of hummus with crackers is another snack option for you or your kids!
22. Raw Veggies
Vegetables are permitted as well, so bring some carrots, celery with peanut butter, or whatever veggies your kids love to eat.
23. Sandwiches
Sandwiches are fine to bring on an airplane. Make sure you put them in a plastic bag so that the TSA agents easily see your homemade goodies.
24. Candy!
I don't suggest bringing too many sugary goods with you, but sometimes, you need to bribe your kids to be good and chill out during a flight. Grab some M&Ms, Skittles, or whatever candy your kids love.
Bribery is okay sometimes!
5 Tips for Packing Snacks for Kids When Flying
When we flew with all of our kids recently, I came prepared to make getting through TSA with all of our snacks as easy as possible. I researched the best way to make this happen.
All of my research paid off because it was a BREEZE!
Here is what you need to do when bringing snacks for kids when flying.
1. Get Each Child a Backpack
When we fly with kids, each of our kids have their own backpack to carry through the airport. This contains a few books, some toys or activities, their snacks, and a cup.
I like these Caran-Y store backpacks for airplane trips. They aren't too large, and they're easy enough for my toddler to wear on his back.
2. All Snacks Must Fit in a Plastic Bag
The TSA agent that helps you through the process needs to be able to see all the food items easily. They should fit into a quart-sized plastic bag.
I put all of the snacks in this bag and placed it in each child's backpack. Then, when we finally reached the TSA area, I took out the snacks and put them into the awaiting bins. It made the process much easier and smoother.
If you have older kids, they could do that themselves!
3. Bring an Empty Cup for Each Child
You can't bring drinks through the security agency when you arrive at the airport, but most airports have areas to buy drinks and snacks.
Bring an empty cup for each child and buy them a drink when you make it through security. If you arrive at the right time, you'll have enough time to grab your kids a drink before you make it to your gate.
My kids all love the Contigo Kids' Water Bottle!
4. Bring Napkins or Baby Wipes
Hopefully, your kid doesn't make a mess while snacking on the airplane, but the chances are they will a bit. So, bring some napkins or baby wipes with you to clean off their tray.
5. Bring Gum for Taking Off
If your kids are old enough to eat gum, then bring some gum for them to chew on during take off and landing. It helps with their ears popping from air pressure.
---
You have tons of options for snacks for kids when flying; it's not as hard as you might think. Make sure to keep all the snacks in a plastic bag so the TSA agent sees them easily. Snacks are the key to keeping kids happy while flying!