We spend so much time focusing on the things we need to get for our baby that we forget how important it is to grab all the postpartum essentials mom needs as well.
Giving birth takes a lot out of a woman, and your body has a lot of healing to do as you adjust to having a new baby. You need plenty of rest, but you also need some pampering and TLC to your body. That means you should grab some of these postpartum essentials that will help you heal easier and reduce discomfort and pain.
After three kids, I put together a list of what I think are the most important postpartum essentials for mom. While you might have some things you want for your baby right after birth, these are things that mom needs to have on hand at home.
Keep reading!
Pin this blog for later! ↓
16 Postpartum Essentials for Mom You Need to Have
1. Heavy Pads
Women experience weeks of bleeding and discharge after giving birth called lochia, and you'll need maxi pads to handle the bleeding appropriately. It's not safe to use tampons during the postpartum periods because lochia contains bacteria, and tampons increase the risk of developing an infection.
Any heavy, overnight pad is sufficient for postpartum pads. Always Discreet Extra Heavy pads work great for the postpartum period. Some women love Depends Underwear as well during the first week or two after giving birth.
2. Disposable Undies
One of my favorite postpartum essentials is the disposable undies you receive at the hospital. I wish all underwear was as comfortable as these mesh panties; it feels like you're wearing nothing but yet they give the support you need.
Typically, you receive extra when you leave the hospital, but if you want to make sure you have enough disposable underwear to last you the first week or two after giving birth, grab some packs for at home.
My favorite are the FridaBaby Mom Disposable Postpartum Underwear. They're so soft, breathable, and stretchy; eight pairs come in the pack.
3. Granny Panties
After you stop using the disposable undies, chances are you will still want to use larger panties, especially if you had a c-section. Grab a pack or two of some granny panties.
Go for basic, high-waisted underwear with a thicker band at the top that wouldn't rub your incision area.
4. Witch Hazel Pads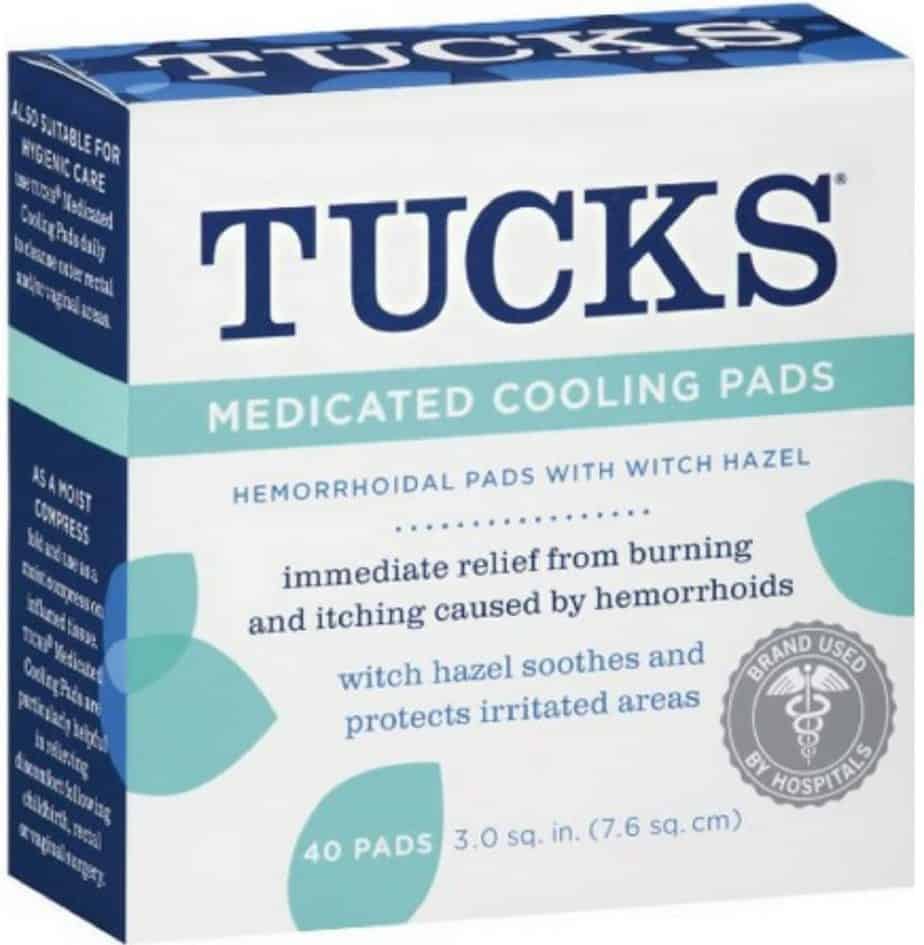 Another uncomfortable side effect after giving birth is hemorrhoids, and witch hazel pads cause the blood vessels to shrink.
Tuck's Medicated Cooling Pads are great for this problem, and you also can fold these little pads and use them on your perineum if you tore during birth. Witch hazel is soothing and healing, exactly what you need after giving birth.
5. Ice Pads
Your vagina may swell after giving birth, which is to be expected since this area received a lot of trauma and increased blood flow. One of the best ways to decrease this discomfort is to apply ice to the region.
The Frida Mom 2-in-1 Postpartum Perineal Ice Maxi Pads are perfect for this. They're instant ice pads that last for 20 minutes without any freezer needed. It's soft and comfortable to place in your perineal area.
6. Heating Pad
Another one of my favorite postpartum essentials is a heating pad. Not only does it make your bottom feel better, but it also will help soothe your aching back and pelvis after delivery.
Chances are you already have a heating pad sitting in your cabinet; now it's going to come in handy!
A heating pad also comes in handy during those painful uterine cramps you have during the first days and weeks after delivery. This happens when your uterus is shrinking back to its original size, and those cramps hurt.
I like the big plug-in heating pads that last for as long as you need, but some women prefer microwaveable heating pads.
7. Ibuprofen
You're going to ache, and if you had a c-section, you need all the pain medication possible.
C-section mothers are prescribed pain medication to take home. You typically receive something like Percocet and ibuprofen.
However, if you had a vaginal birth, you still have soreness in your bottom region, so try taking some ibuprofen. Keep some on hand to help ease the soreness and swelling.
8. Peri Bottle
A peri rinse bottle is definitely on the list of postpartum essentials. Many hospitals give them out, but you may want to have an extra on hand at your home.
These little spray bottles make cleaning your bottom easier and more comfortable after birth. It ensures the area stays clean, decreasing the risk of an infection. Wiping with toilet paper is not on your list of things you want to do after giving birth.
That's where a peri bottle comes in handy.
One of the best options is the Frida Mom Upside Down Peri Bottle. The design reduces the awkwardness of trying to use a peri bottle while sitting on the toilet. Bring it to the hospital with you!
9. Perineal Spray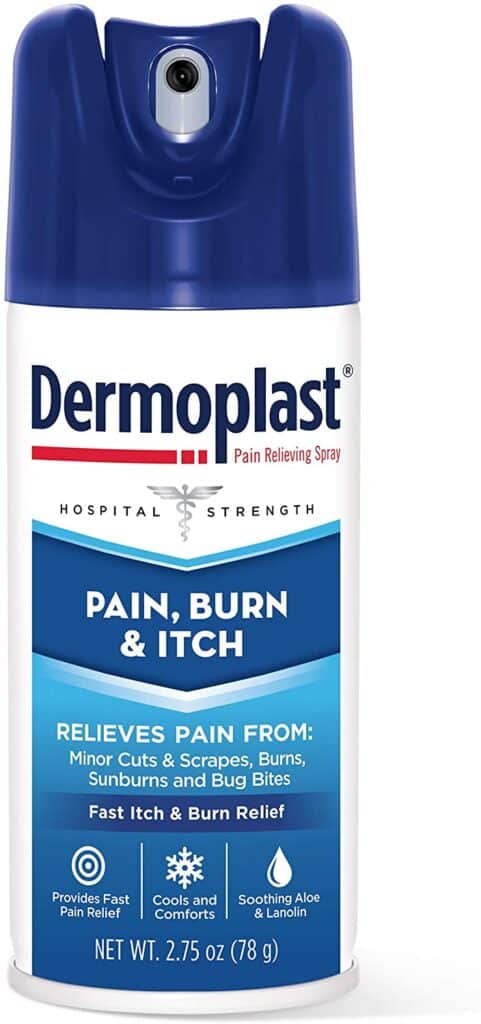 Your perineum takes a beating after giving birth, and if you have stitches, the area is even more uncomfortable afterward. You might even notice that it's a bit itchy down there. Perineal spray helps to relieve pain and discomfort.
You have two great options to consider.
Many mothers swear by Dermoplast. This is the traditional go-to choice that cools and numbs the perineum area. Dermoplast uses benzocaine to reduce pain rapidly.
However, if you want something more natural, you can try the Earth Mama Herbal Perineal Spray. This is benzocaine and butane-free, designed with postpartum care in mind.
10. Sitz Bath
A sitz bath helps your pelvic area after delivery. It helps to ease any discomfort from tearing or hemorrhoids while reducing swelling and keeping your bottom clean.
Grab a sitz bath for a toilet seat that sets in your toilet and makes it easy to soothe your bottom. Make sure you grab some herbal sitz bath salt to help your body heal after giving birth.
11. Epsom Salts
Another one of the top postpartum essentials is Epsom salts. It helps to soothe all the aches and pains you may have after childbirth.
If you use a sitz bath (recommended above), then Epsom salt can help relieve pain around your perineum and rectum. Another option is to put several tablespoons of Epsom salt into a warm bath and sit in it for 15 minutes.
Most stores sell Epsom salt. The Amazon Brand Solimo Epsom Salt is an excellent option, and it's lavender scented. The price is great too since you get three pounds in each bag.
12. Stool Softener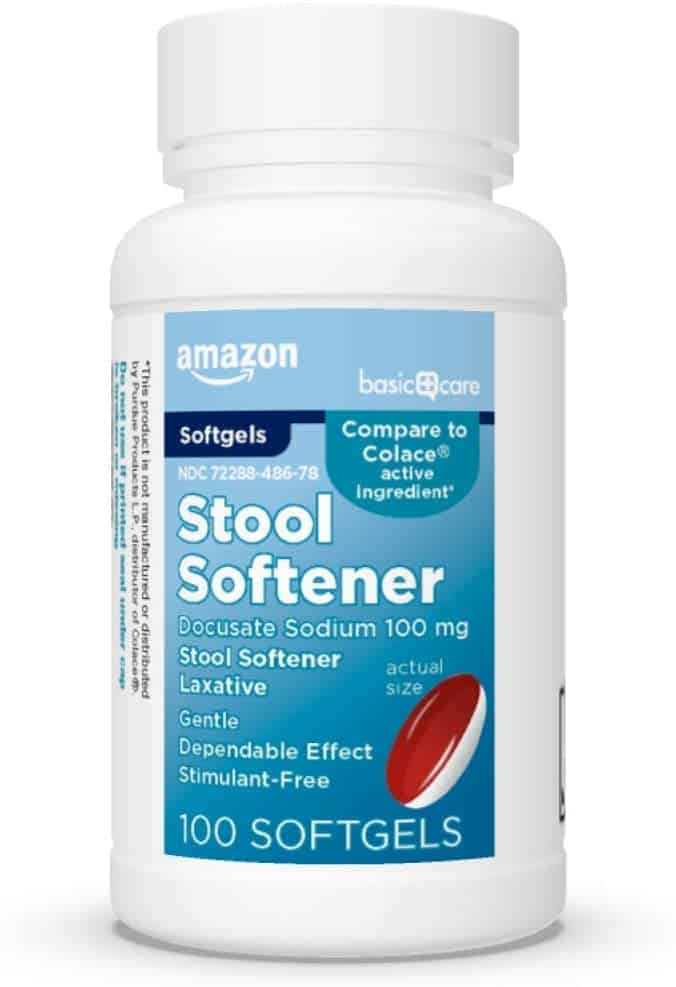 Here is another postpartum essential you want to be sure you stockpile – stool softeners.
Start taking a stool softener after you have a baby because that first bowel movement, no matter if you had a vaginal birth or a c-section, is rough. Take them regularly to reduce any straining. The last thing you need to do is strain and make your hemorrhoids worse!
13. Nursing Pads
If you decide breastfeeding is for you, you will want to have some nursing pads to protect your clothing and bras from frequent milk leaks. Leaking happens for several weeks, even months, after you have your baby.
Most mothers leak the most during the first six weeks after giving birth. You'll want to have some nursing pads on hand.
You can try disposable nursing pads, but some women say those are a bit more uncomfortable. Medela sells ultra-thin disposable nursing pads that mothers love.
Cloth nursing pads are comfortable but often show through clothing. Try the Bamboobies Women's Nursing Pads that use bamboo to make soft, ultra-absorbent pads.
14. Nipple Butter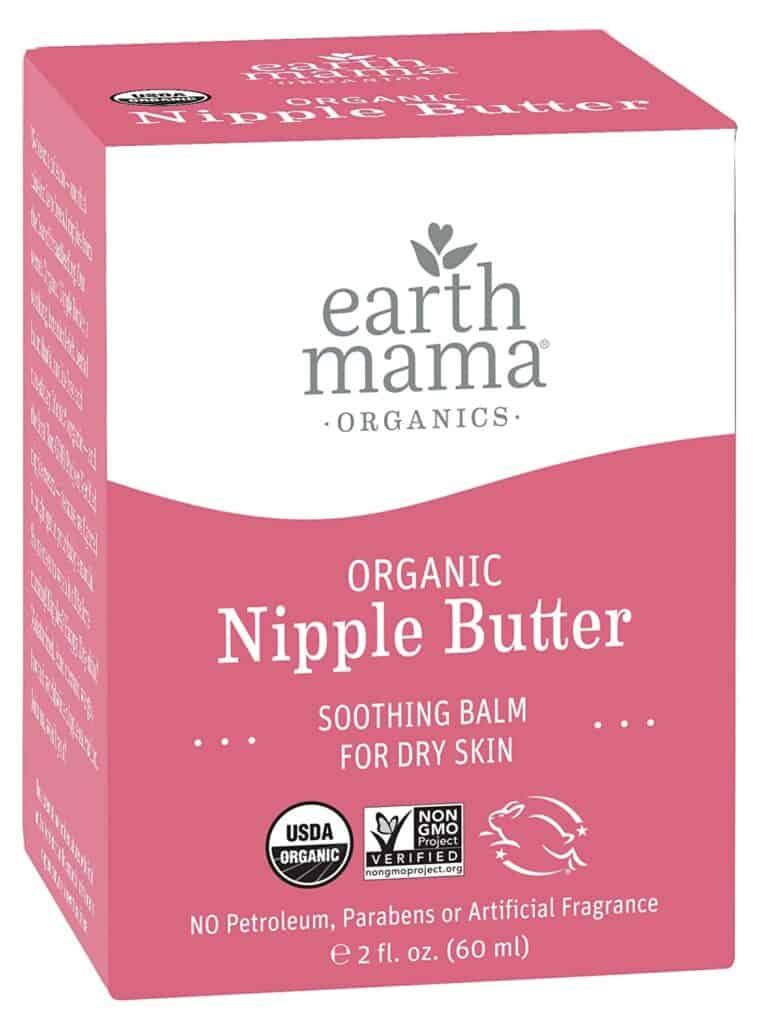 Make sure you have some nipple butter on hand before your baby arrives because cracked and sore nipples happen fast. I packed it in my hospital bag because I knew I would need it.
One of my favorites is the Earth Mama Nipple Butter. It smells delicious, and it's organic, so it's safe for both you and your baby. Also, you don't need to wipe it off before nursing like some other brands.
15. Nursing Bras
Another breastfeeding must-have during the postpartum period is nursing bras, especially comfortable ones. You want to make sure you have the support you need because you'll spend a lot of the first few weeks of your life nursing your baby.
I suggest having at least three nursing bras or more!
16. Comfortable Clothing
The last thing you want is to wear uncomfortable clothes after you have a baby. I lived in my matching pajama sets, leggings, and oversized shirts.
Who are you trying to impress? No one!
---
These are my favorite postpartum essentials I think all women need to have at home. Did I miss any? Leave them in the comments!