Disney World is a dream destination for kids and cater to families, but not all resorts are meant for toddlers. Some cater to more of an adult clientele, so if you are bringing your little kids with you, you'll want to pick one of the best resorts in Disney World for toddlers.
We love going to Disney World. It's one of our family's favorite vacation spots, but going to Disney is more of like a marathon than a simple journey. You need to plan ahead and think about what your week will be like before you make reservations.
Adequate planning is truly the secret to a successful Disney World vacation, and your amazing time starts with picking the right resort in Disney World for toddlers.
Pin this blog for later! ↓
Related: The 11 Best Family Resorts in North Carolina
How to Pick the Best Resort in Disney World for Toddlers
Picking the right resort is more than just selecting a hotel room that looks nice for a week; the wrong resort could ruin your trip. Disney World resorts are more than a hotel; this is where you're going to spend a lot of your time.
Have an Itinerary
If you've never gone to Disney World, you might not realize just how large it really, but it's nearly impossible to check out everything when you visit one time.
So, developing and itinerary is a necessary part of your selection process, and you should start that first. You need to decide which parks and attractions you want to see the most.
There are four parks with Magic Kingdom being the most popular, but no matter where you say, you'll only be in close proximity to one or two parks. Disney offers complimentary transportation – boats, the monorail, buses, and the Disney Skyliner.
You should decide what parks are most important for you to visit and pick a resort location close to that one to make getting back and forth with your toddler easier.
Have a Budget
We can't beat around the bush – Disney World is expensive. You can do Disney on most budgets, but you need to have a budget set before you pick a resort. Once you add in the cost of the parks and everything else, it's easy to go over budget.
Decide your budget ahead of time.
Disney has value, moderate, and deluxe resorts. If you have a bigger budget to spend, deluxe and moderate resorts are for you, and those on a budget or prefer to spend less on where they stay should stick to the value resorts.
Don't worry; even though they're value resorts, they still have all the amenities your could want!
Think about Your Child's Interests
You should also consider if your toddler is interested in any specific characters or movies. Your little boy may be love animals, making the Animal Kingdom Lodge the perfect choice.
If your toddler loves the Little Mermaid, Lion King, or Finding Nemo, check out the Art of Animation Resort. This resort features four themed areas that kids of all ages love.
Best Resorts in Disney World for Toddlers
1. Animal Kingdom Lodge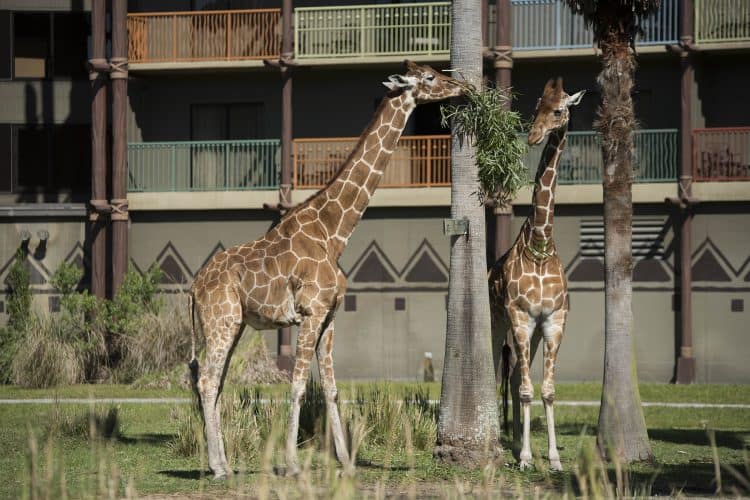 Most people recognize the Animal Kingdom Lodge. This is a deluxe resort located near Disney's Animal Kingdom, but you still need transportation to the park – weird, right?
When booking the Animal Kingdom Lodge, you have all sorts of different options, including ones with savanna views because you can check out the animals wherever you're in the room.
Toddlers will get a serious kick out of that.
While the animals are sure to be a big hit, a few other features make Animal Kingdom Lodge one of the best resorts in Disney World for toddlers. First, there are two pool areas, a huge arcade, campfire activities, and regular activities for your toddler to enjoy.
Staying here feels like you are in a separate resort from Disney. The feel is totally different, but it is pricey. However, many families feel it's a splurge well worth it.
2. The Art of Animation Resort
Disney's Art of Animation Resort is a newer resort at Disney World, and it's listed as a value resort with family suites for larger families. If you're on more of a budget, this could be an excellent option for you.
Their family suites hold up to six people and include one separation bedroom with a queen bed, a pullout sofa, a double bed, two bathrooms, and a kitchen area.
Not too bad!
The Art of Animation Resort features different sections with character decor, such as a Finding Nemo area and a Lion King section. Toddlers will love checking all of the sights out.
This resort has the Big Blue Pool – the largest resort pool at Disney – and two smaller pools. They offer bike rentals and a large arcade.
3. Disney Campsites at Fort Wilderness
Got an RV? Love to tent camp? You can combine camping and Disney World fo the ultimate vacation, and yes, toddlers love camping as well.
Disney has 780 campsites, and some of them even have cable TV. Most come with electrical hook-ups, grills, and nice picnic tables. This resort area is designed so each campsite has some privacy, and they fit up to 10 people per campsites.
Disney camping is awesome. The kids can enjoy the playground, and there are bikes to rent. They have archery, horseback riding, and a waterpark area, so not only will toddlers enjoy this resort, but your older kids and teens will as well.
Plus, this is one of the most budget-friendly option for staying at Disney World! Campsites range from $100 to $200 a night, depending on the spot and season, so it can save you a bundle!
4. Bay Lake Tower
The Bay Lake Tower is conveniently located on Disney's monorail system and close to the Magic Kingdom. You can easily walk to the Magic Kingdom from this resort, so if location matters to you, this one has the ideal proximity.
Bay Lake Tower differs from other resorts because it offers three bedroom villas with kitchenettes, holding up to nine people. So, it's a great option for large families visiting this theme park.
This resort has plenty of amenities for families to enjoy. The large pool has a water slide, perfect for all ages, bicycle rentals, an arcade, a large playground and more.
One of the reasons that toddlers love the Bay Lake Tower Resort is that you can have a fantasy dinner with your family. It's a beloved memory for many families, so make sure to book yours!
5. Pop Century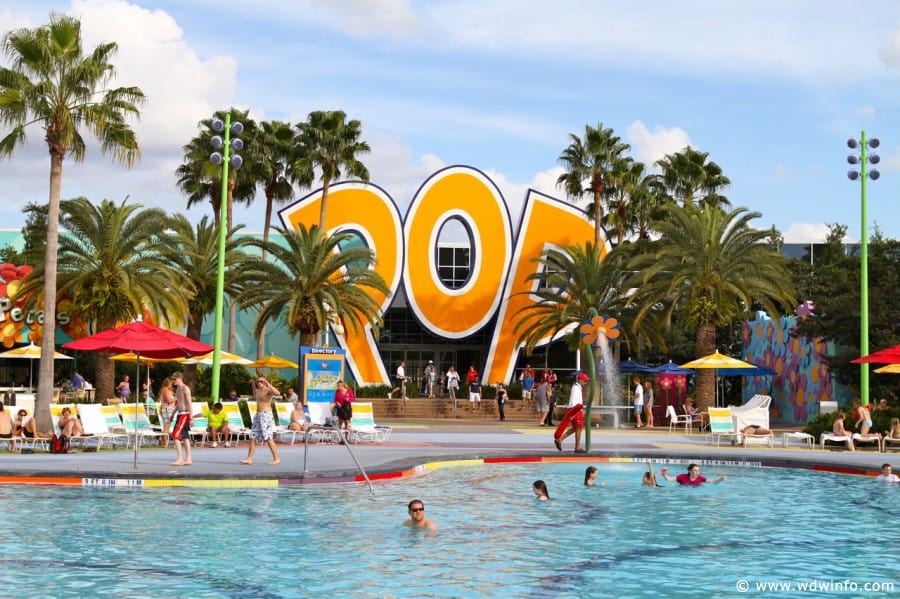 Another awesome value resort at Disney is the Pop Century; Disney features several value resorts like All-Star Movies, All-Star Sports, and All-Star Music. While these are all great, the Pop Century seems to be the second biggest hit for toddlers.
This resort is close to the Art of Animation, and while it is a larger resort, it is easily walkable with a toddler. Parents love the proximity to the Skyliner to take you to different parts of the park.
The theme of this resort is pop culture from the 50s to the 90s with tons of bright colors. All the bright colors are appealing to toddlers.
Pop Century features a large food court, three – yes really! – pools, a large arcade, and a huge playground. This resort is proof that you don't have to break the bank to stay at Disney World.
6. Port Orleans French Quarter Resort
If you're looking for a resort that has a kid-theme feel, the Port Orleans isn't your jam, but if you want a resort that is in the moderate budget friend and not too large, you'll love it.
Some of the resorts at Disney are HUGE, and then you add in the huge parks – it feels overwhelming. Port Orleans is easy to navigate and easy to handle with a toddler in tow.
This resort has two separate sections – the French Quarter and Riverside. Riverside has more amenities, but the French Quarter is smaller and quiet. Some parents prefer that when you have a toddler in tow who gets tired quickly.
Just because it's smaller doesn't mean you'll be missing out!
This resort has two food courts, bike rentals, some awesome fishing spots, playgrounds, two arcades, and several pools!
7. Polynesian Village Resort
Disney's Polynesian Village gives you perfect access to Magic Kingdom and Epcot because of its location near the monorail loop. If convenience matters to you, this location allows you to get a direct monorail to Epcot or take buses to Hollywood Studios and Animal Kingdom.
Polynesian Village is a deluxe resort that has plenty of amenities families want to see like on-site cafes and restaurants; toddlers will love the 'Ohana that features a Disney character breakfast. This resort has the Lava Pool and the Oasis Pool, boat rentals, fishing, and volleyball.
Since it's a deluxe resort, the rooms cost more, but if you pick a standard view room, you can stay there for cheaper.
8. Beach Club Resort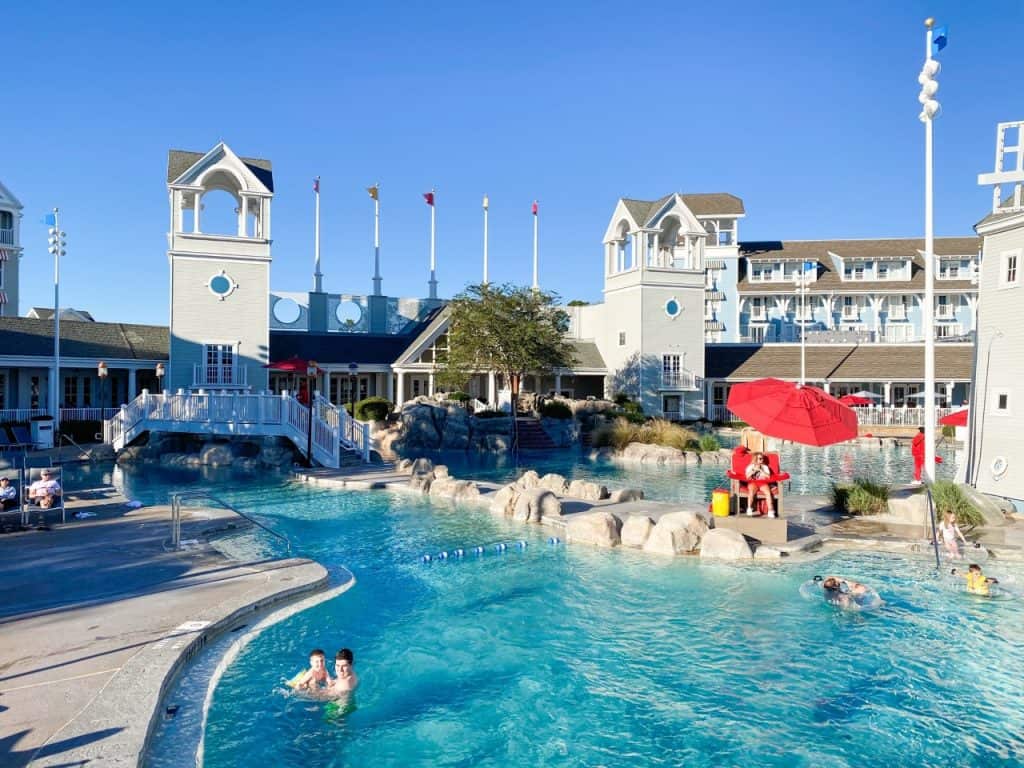 Here's another Disney World deluxe resort that toddlers will love – the Beach Club Resort. It has a casual theme that reminds you of staying at a beach on the ocean without the ocean.
One of the biggest pros to the Beach Club Resort is its proximity to Epcot World Showcase. It's located at the back entrance of Epcot, but it also puts you close to the monorail and the Disney Skyliner.
Since this is a Beach Club, you get all the amenities you'd expect. Toddlers love the Stormalong Bay, which is a huge pool area with water slides, a lazy river, a sandy-bottom pool, and more. It has shallow and deep areas.
Beach Club Resort also has restaurants, an ice cream shop, cafes, and close proximity to the Boardwalk.
9. Disney Contemporary Resort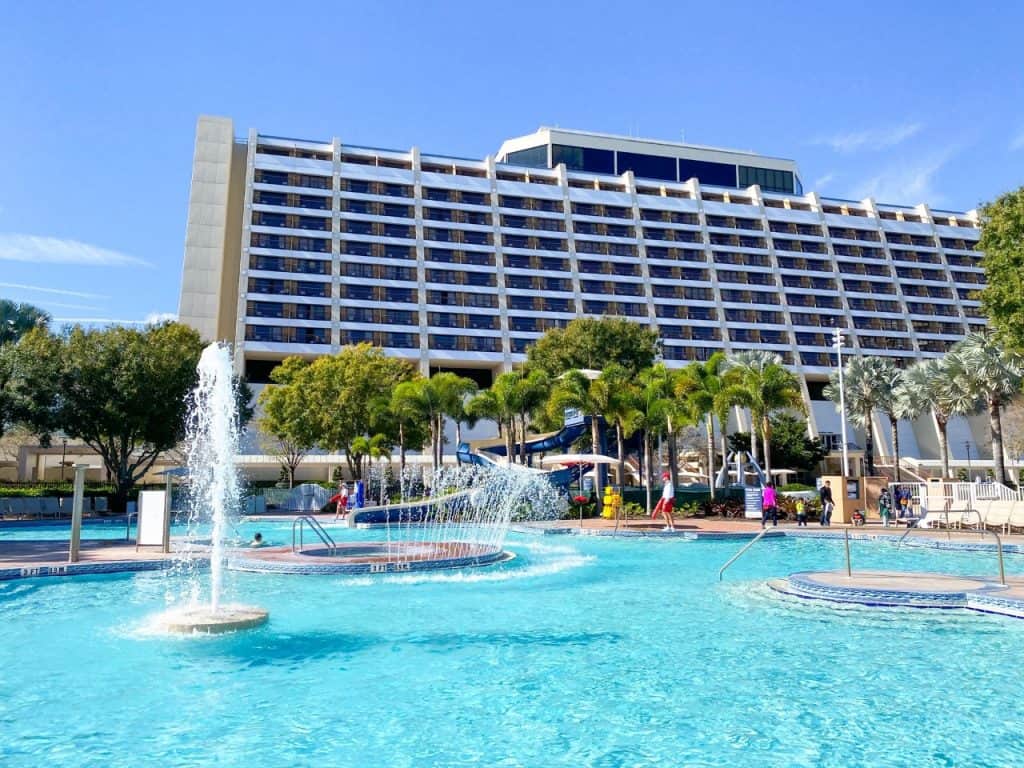 One of Disney World's most well-known resorts is the Contemporary Resort since the monorail runs right through it. It's known as a landmark, and parents with toddlers love this because you can get to the Magic Kingdom without taking any other transportation. Plus, the bus and monorail take you quickly to the other parks.
The Contemporary Resort features Chef Mickey, one of the most popular restaurants, along with several other options. A few other amenities you'll enjoy here include a large arcade, boat rentals, volleyball, basketball courts, and pools.
10. The BoardWalk Inn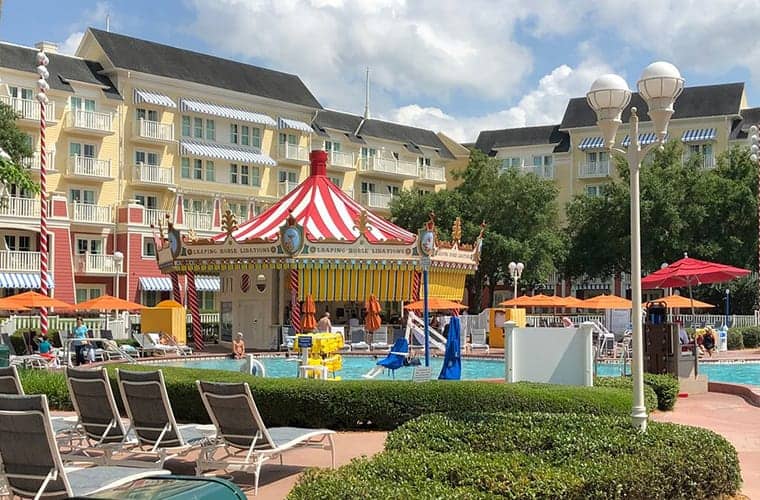 The atmosphere of the Boardwalk Inn makes it a fantastic Disney World resort for toddlers. As you might suggest, it has an atmosphere like a boardwalk, something everyone loves, and it's located own Crescent Lake
You'll find so many things to do. The boardwalk area has carnival games for kids and adults of all ages, and you can rent bikes for the family to enjoy. You'll find shops and restaurants, plus a large pool with waterslides.
The Boardwalk Inn features comfortable rooms large enough to fit up to six people.
If Hollywood Studios is a must-do on your Disney World bucket list, this is a great option because it's within walking distance.
---
When you're picking the ideal Disney World resorts for toddlers, make sure you consider your plans, where you want to go, and your budget. Those considerations will help you find the ideal resort to stay while having a magical vacation!