There is no denying that a vacation at Walt Disney World is expensive. Families can spend a lot of money at the resorts and parks, but if you're on a budget, you'll want to check out as many of the free activities at Disney as possible.
Disney is more than just going to ride some rides and checking out Magic Kingdom. The resorts and the entire park is a destination full of activities at all price ranges. There are over 90 full-service restaurants and over 200 places to get a bite to eat.
You'll find free activities and plenty of budget-friendly options as well, so you don't have to fill your itinerary with things that cost an arm and a leg. This allows you to extend your vacation without increasing your budget.
However, some of the free activities at Disney aren't for little kids; adults vacation here as well! So, I picked some of my kids' favorite things to do when we go to Disney World.
Pin this blog for later! ↓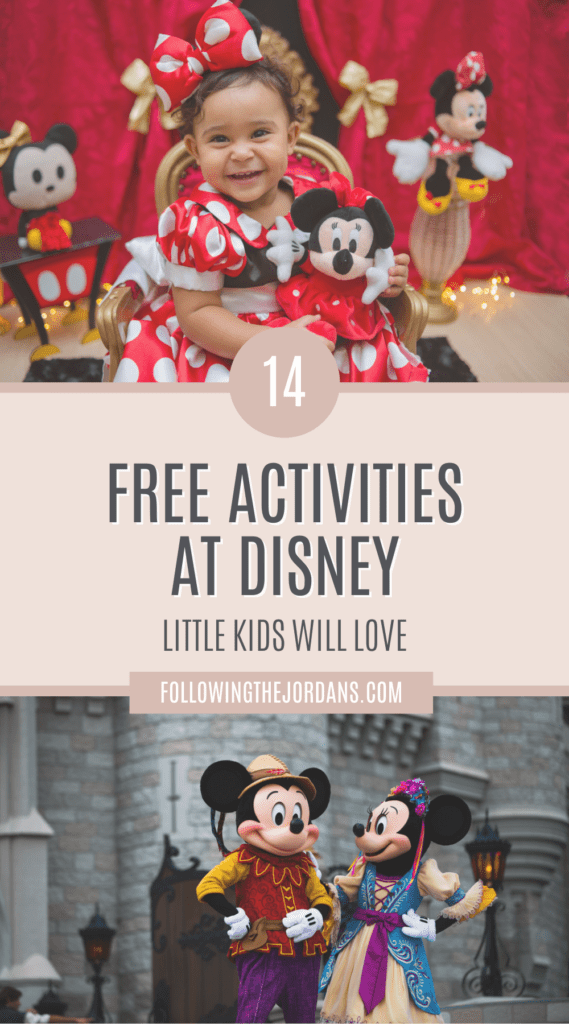 14 Free Activities at Disney for Little Kids
1. Park Hop on Transportation
Did you know that you can visit over 25 Disney Resorts for free? You can resort hop and see all of the sights and sounds.
Take the bus around the area to see what there is to do, and you can ride the monorail free between hotels. My kids think the monorail is so cool. It even goes around Epcot!
The Disney Skyliner is one of the other free transports around the resort, and it's a gondola system that takes guests throughout different parts of the park.
2. Go to Disney Springs
Disney Springs is one of the most popular free activities at Disney; even the parking is free! You can check out all the amazing stores, take awesome photos, listen to live music, and eat some good food.
Make sure you a free square of chocolate from Ghirardelli!
The atmosphere at Disney Springs is perfect for all ages. It's fun and entertaining, even if you are there to see what is happening rather than to spend money. If you have teens, they are sure to love this area at Disney World.
3. Take a Boat Ride
Did you know you can take a boat ride around Disney World?
The Friendship Boats travel between Epcot and Hollywood Studios; it's a relaxing trip, perfect for when your kids need to calm down a bit.
This boat also stops at the Boardwalk, the Beach Club, and the Swan & Dolphin. You can cruise between Disney Springs and Port Orleans.
4. Check Out the Animals
Obviously, you have to pay to enter the Animal Kingdom to see all the animals, but you can see other animals around Disney World without paying, including zebras and giraffes.
If you go to the Animal Kingdom Lodge, they have a free animal viewing area for your kids to check out some of their favorite animals. Another option is to go to the Tri-Circle-D Ranch located at the Campsites and see the horses for free. The ranch also offers carriage rides, horseback riding, and a sleigh ride for a fee.
5. See The Butterflies
In recent years, Disney became more committed to nature preservation, and one of their goals is to preserve the butterfly population. You'll find several butterfly gardens throughout Disney World along with a few seasonal ones.
Two year-long butterfly gardens are located at the Contemporary Resort and Fort Wilderness Resort and Campground. These gardens attract over 70 butterfly species, and it's fascinating to watch, even for toddlers.
6. Make LEGO Creations
Head over to the Disney Springs and check out the LEGO store. Your kids may want everything – mine always do – you can find tons of hands-on activities to do with your kids.
The most popular activity is to make your own LEGO car and race them against others. This is located outside of the store, so your kids are sure to want to spend time there.
7. Walk Along Disney's Boardwalk
Everyone loves a good boardwalk, and the Disney's Boardwalk is awesome. Most people think of Disney Springs as the free Disney area, but the Boardwalk is a lesser known but just as kid-friendly option.
The Boardwalk is located on Crescent Lake, so you'll see beautiful sunsets. You can walk along the promenade and enjoy all the sights and sounds.
Of course, there are tons of games and food to buy there as well, but if you want to simply stroll, that's always fun as well.
8. Watch the Fireworks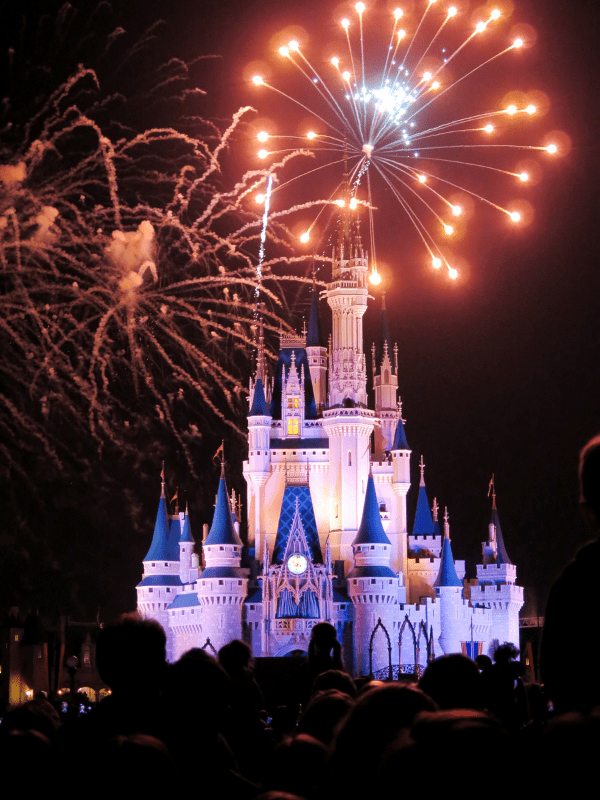 Everyone knows that Disney features fireworks at the end of the day, but you don't have to be in Magic Kingdom to see them.
These are easy to spot at the Polynesian Village Resort or the Grand Floridian. You also can see them at the Ticket and Transportation Center.
Epcot also has fireworks at night, and one of the best viewing spots of those are at the Disney Boardwalk. Try combining a night at the Boardwalk with firework viewing for a fun evening.
9. Listen to Some Free Concerts
If your family loves live music – who doesn't? – visiting Walt Disney World is going to be a huge hit for everyone.
Musical performers and live concerts are throughout the entire park, including Disney Springs, Disney Boardwalk, and different lounges throughout the resort. Sometimes, you just stumble along a band and stop for some free music and dance time for the kids.
10. Sing-a-Long at the Campfire
One of the free activities at Disney happens every night at the Fort Wilderness Resort. They host a campfire, and you can sing along with your favorite songs while enjoying. campfire.
Bring stuff to make s'mores, but they also have kits available for sale. Another bonus of going to the campfires is that Chip and Dale always stop by for this event at night.
11. Watch Free Disney Movies
It should come as no surprise at one of the free activities at Disney involves movies, considering this is how Disney became such a huge hit in the first place.
You can find free screenings of Disney movies all over the place. These are often called "Movies Under the Stars", happening at most resort hotels and the campfires. You'll have so many options, you won't know which one to watch!
My kids love scavenger hunts, and one of the best in the entire world is the hidden Mickey scavenger hunt at Disney World.
There are many different hidden Mickey shapes through the entire park. You can get a free hidden Mickey hunt from the front desk at the Wilderness Lodge.
If it ends up raining when you are there, this activity is perfect because many of the hidden Mickeys at indoors.
13. Watch a Geyser Explode
While you are visiting the Fort Wilderness Lodge, you can check out the replica of Old Faithful outside erupting. This happens every hour on the hour from 7 AM to 10 PM.
14. Take a Free Drawing Class
Disney's Art of Animation resort offers free animation and drawing classes for kids to take. It's one of our favorite free activities at Disney, especially if you have a little artist like I do.
These are free, 30 minute classes offered every day from 9 AM to 4 PM. The teachers show your children how to draw any Disney character! Get there early because these classes fill up fast.
---
Don't break the bank when you go to Disney World. Make sure you include a few of these free activities at Disney your kids will love. Making memories doesn't have to cost more money!