Holden Beach is one of our favorite beach vacations; we put visiting Holden Beach on our yearly calendar at least once per year. If you're looking for a family-friendly beach destination, I can't rave about this small beach town enough.
Never heard of Holden Beach?
I have to tell you – a lot of people never have heard of this town. It's small with fewer than 1,000 permanent residents, but when you visit as a tourist, they have tons of beach houses for you to rent and enjoy. Holden Beach offers the quaint, seaside village feel that you want to have while still offering plenty of things to do and love about this area.
We typically visit this beach in the summer, around the Fourth of July, and we try to go a second time throughout the summer months, if possible. I know that sometimes people wonder why they'd want to visit Holden Beach rather than a bigger destination, like Myrtle Beach.
So, I wanted to share with you why I absolutely love visiting Holden Beach every year.
11 Reasons We Love Visiting Holden Beach
1. It's Close to Us
We pick to go to Holden Beach because, for our family, it's a close destination. We only have to drive about three hours to reach the beach. That means that we can easily go there for weekend trips without spending too much time in the car or having wasted days traveling without any fun.
2. Family Memories
Another reason for visiting Holden Beach is that my husband grew up going there every year with his cousins. We love to continue this tradition and cherish the memories that our kids are making with their families.
You never can replace memories and time with family. It's so precious, and we look forward to this every year!
3. Relaxed Atmosphere
Holden Beach is different than other vacation beaches in North Carolina. When we visit, we feel relaxed and don't feel rushed to go to the next thing to do. We spend most of our time on the beach, swimming and building sandcastles, and our beach house has a pool, so the kids swim a lot in the pool.
Sometimes, I feel like our life is a lot of rushing around and doing things, and most of the time, we like that. We like to do different things, travel places, and have fun as a family. Other times, it's nice to put the brakes on and appreciate all the small moments together.
I feel like Holden Beach gives your family that time together. Trust me, you won't feel rushed to do anything but enjoy the waves and sun.
4. The Houses are Right on the Beach
I've gone to some destinations where the houses aren't right on the beach, and I can say that, for our families, that's not what we are looking for when we go to the beach. We love renting family beach houses and walking off the porch onto the beach and water.
When you go to Holden Beach, there are tons of houses that sit right on the water. Now, these might be a bit more pricey, but they also have some that are the next street over with good views as well.
5. The Beaches aren't Crowded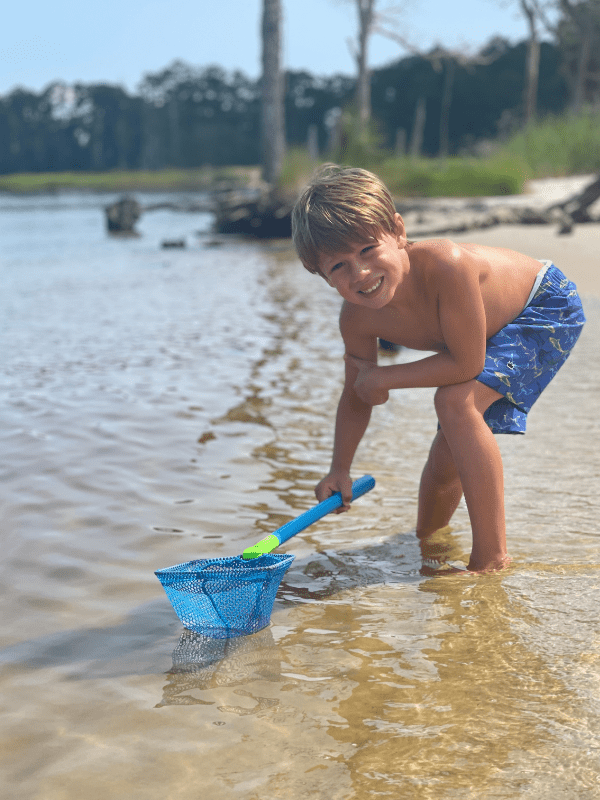 Okay, so this might be the top reason that we love visiting Holden Beach – the beaches aren't crowded at all. You never have to worry that your kids won't have time to spread out and play in the sand.
You'll have all kinds of space to play in the sand, play football in the sand, lay in the sun, or ride the waves.
Some places, like Myrtle Beach, make you feel like you're sitting on top of people, and I'm not a fan. I like to feel like the beach is my own, even if it's not.
6. Plenty of Beach Activities
When visiting Holden Beach, you'll find plenty of beach activities that your family enjoys.
This beach is full of seashells, sand dollars, and sharks' teeth; our kids collect tons of them. They can spend hours searching for treasures in the morning. Our kids also enjoy using boogie boards and riding the waves. These aren't huge surfing waves, but they have fun.
Who am I kidding? I love this too!
In the evening, you'll find a lot of people fishing on the beach. A visitor's fishing license is cheap, and if you don't want to bring your gear, you'll find several fishing rental shops in Holden Beach.
Our kids love to build sandcastles and fly kites. Kite flying is big at Holden Beach; several Causeway shops sell affordable kites. Your kids are bound to see other people flying kites, so be ready to buy them.
7. Yummy Restaurants
I love to eat; good restaurants are my jam. When we went to Holden Beach, I was skeptical that a small beach town would have good restaurants, but I was pleasantly surprised.
When you're visiting Holden Beach, you'll find plenty of good places to eat. Along the Intracoastal Waterway, you'll find the Provision Company; they have great food. We also like Patronies Pizza for an easy dinner.
8. Fresh Seafood is Everywhere
Some nights, we stay home and cook fresh seafood together as a family. Holden Beach has so many local seafood markets; I love it!
You can stop it and see what the fishermen caught that day. If I had this local to my house, I would be there all the time.
9. Plenty to Do within a Close Drive
While Holden Beach most definitely has a relaxed atmosphere, it's within a close driving distance to other bigger locations. It's about one hour south of Wilmington and an hour north of Myrtle Beach, SC. So, if you want to visit attractions like Broadway at the Beach or Ripley's Aquarium (our kids love this), you still can fit into your vacation without spending an entire day driving.
You don't even have to go to those destinations unless you want to go there. Our family finds plenty of things to do together at Holden Beach without needing to go to Myrtle Beach.
10. The Fishing Rocks
If you like to fish, Holden Beach has great fishing. The pier is one of our favorite spots to fish; we've caught all kinds of fish and even some baby sharks!
You don't have to go to the pier to fish though. Fishing on the beach in the evening is a great way to relax and spend the evening as the sun goes down. This year, we also tried a fishing charter, and I have to say – it was an amazing time!
11. It's a Family-Friendly Destination!
We love visiting Holden Beach because it's a family-friendly destination that everyone loves. It's safe and not as busy as other beach destinations that you might visit throughout the east coast.
That's not what everyone is looking for when they pick a vacation spot. Some want a location with all kinds of things to do and enjoy with their families. If you're interested in the never-ending, action packed vacation, I can promise that Holden Beach won't do it for you, but if you're ready to kick back and cherish the slow moments, you need to grab a vacation rental here for a few days.
You won't regret it!