It's no secret that our family loves to travel; we go on new adventures as much as possible. Our home base is in North Carolina, and I think our state has some of the best destinations around. Whether you want a beach vacation or a mountain adventure, you'll find tons of different North Carolina vacations.
That's because of the geography of North Carolina. To the east, we have the Atlantic Ocean and some of the best family beaches in the United States. Millions flock here each year.
Then, to the west, we have the Blue Ridge Mountains and the perfect place to escape for an outdoor adventure with thousands of acres of national forests.
Let's not forget that we have large cities as well, so if you prefer metropolitan vacations, North Carolina has you covered there as well.
If you're ready to explore my favorite state, I put together a list of a few of my favorite North Carolina vacations.
8 Best North Carolina Vacations for Families
1. Pisgah National Forest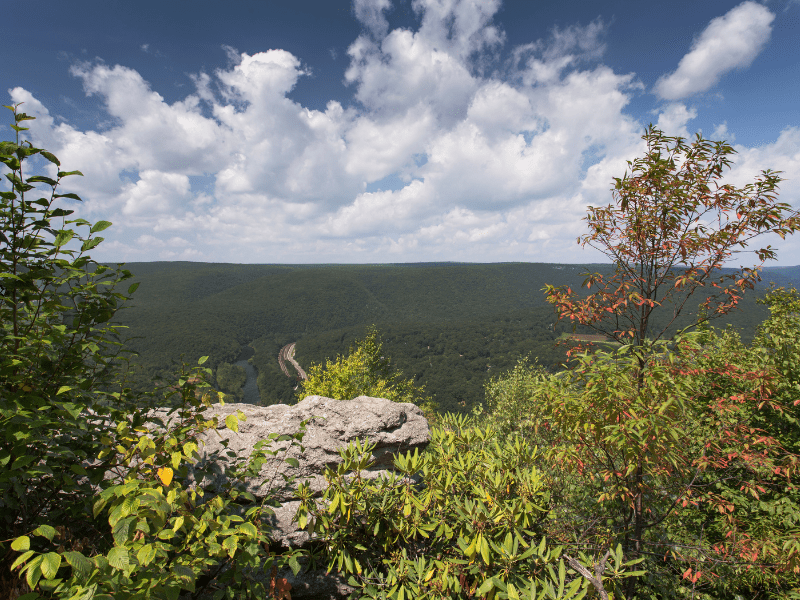 Never heard of the Pisgah National Forest? It's located about one hour from Asheville, and they offer different family compounds so you don't have to travel back and forth. Whether you want to give glamping a try or want a luxurious hotel, you'll find it near and around the Pisgah National Forest.
If you're an outdoorsy family, this is the perfect family vacation in North Carolina.
Take a hike with your family to the Looking Glass Falls; it's one of the most beautiful hikes and destinations in North Carolina. The sliding rock is somewhere you HAVE to go; it's a massive rock that you slide down into a natural pool.
If you're looking for North Carolina vacations that give you an outdoor family adventure, I think the Pisgah National Forest belongs at the top of your list.
2. Myrtle Beach, North Carolina
I have to toss Myrtle Beach into my list of North Carolina vacations, but part of this area is in South Carolina as well.
Myrtle Beach is one of the most popular destinations for families on the east coast. It's full of thousands of things for families to do, and that's not an exaggeration. You'll find tons of activities like a Ripley's Aquarium, ziplining, amusement parks, hundreds of restaurants, and a massive beach.
Families flock to Myrtle Beach each year. It's definitely a must-do for all families at some point, so make sure you include this on your list of best family beaches.
3. The Omni Grove Park Inn
The Omni Grove Park Inn is a family resort in North Carolina that is famous because it has luxury facilities with tons for families to do together. If you're looking for a beach vacation, the Omni isn't what you want. Instead, families head to the Omni Grove when they want a luxurious retreat that feels like you're in the middle of the wilderness.
You escape when you go to the Omni.
This resort has plenty of things for families to do together. There are several pools for families to enjoy, a playground, a large golf course, and more. The resort offers a babysitting service as well, so parents can slip away to enjoy the on-site spa without any worries.
4. Asheville, NC
It's no secret that I love visiting Asheville, located a few hours from me. This city is packed with things to do with kids and adults alike. Whether you want to check out the historic Biltmore or take in nature, Asheville offers something for everyone.
When we visited the Biltmore Estate, I was surprised to see that they have things for kids to do there. They have a nice playground, horseback riding, a children's maze, and an adorable petting farm.
I know families with young kids are often hesitant to make a city their vacation spot; we tend to pick the beach or someplace that seems more kid-friendly. However, Asheville really is a kid-friendly town. You'll be surprised by the sheer number of things available for families to enjoy together.
Definitely add Asheville to your list of North Carolina vacations.
5. Holden Beach
We go to Holden Beach every year, so it's without a doubt one of our favorite North Carolina vacations. Each year, our family rents a house on the beach and spends a few days splashing in the waves and soaking up the rays.
Holden Beach is about 40 miles north of Myrtle Beach, and it's a small, seaside town. There is plenty to do here, but if you want to veg out and spend a few days in the surf, this is the perfect destination for you.
6. Charlotte, North Carolina
Looking for a city vacation with your family? Charlotte is one of the most family friendly cities in the United States. They have a wonderful theme park, family-friendly attractions, and so much fun for your kids to enjoy.
If you're heading to Charlotte, make sure you include Carowinds on your list of things to do in Charlotte. This is a theme park that is known for its high-speed rollercoasters and tons of kid-friendly rides.
Trust me; your kids will have a blast at Carowinds!
Another popular family destination in Charlotte is the ImaginOn, an educational library that's one of a kind. It has a theater, recording studio, multimedia workstations, and so much more.
It's not your traditional, boring library!
Charlotte offers a lot for families to do, and compared to other large cities in the United States, visiting Charlotte is budget-friendly. You won't break the bank spending a few days here.
7. Grandover Resort & Spa
If you're looking for another option for a luxurious vacation, check out the Grandover Resort and Spa. This place has so many different amenities and accommodations; you'll never want to leave.
They have all kinds of things that families can do together. From game rooms to different sports equipment, the Grandover has plenty for families to enjoy. It's located close to the Wet 'n Wild Emerald Water Park and Greensboro, so there is plenty to do in the area as well.
8. Wilmington, NC
Wilmington is a fun city to visit with your family. It's located right near the ocean, so your family can spend time at the beach or kayak in the Intracoastal waterways. Tourists love the Masonboro Island; you can arrange a boat tour.
If you like historic vacations, Wilmington offers locations to visit like Fort Fisher State Historic Site and an awesome railroad museum.
One of the reasons why Wilmington is definitely one of the best North Carolina vacations is that it blends together a beach vacation and a city vacation. You can enjoy all kinds of things that city life has to offer tourists while still getting that beach vacation your family craves.
Visit North Carolina This Year
Without a doubt, there are endless North Carolina vacations that your family can enjoy this year. Pick one or two this year and start exploring this amazing state; you won't regret it!