Are you headed out on a family vacation or a weekend getaway with your family? You need to make sure you have a packing list for kids so that you bring everything your family needs when you're away from your home.
Sometimes, I find packing stressful. We have everything we need at home, but when you go away, you need to bring all of the important items with you. Yes, there are stores everywhere, but I know I don't want to spend money on things that I already have at home.
Packing for one person is easy, but packing for an entire family is more complicated and leaves more room for forgetting things. If you want to avoid forgetting things and having to buy them when you reach your destination, create lists for each of your kids ahead of time. Staying organized makes traveling with kids a lot easier.
Packing Lists for Kids Based on Ages
The easiest way to determine what your child might need to bring with them is to take a look at packing lists based on ages.
Packing List for Babies and Toddlers
Packing for babies and toddlers is a little more complicated because you end up having more baby travel accessories and baby gear that needs to come with you. There are a lot of things that you need to bring, so let's run through the basics for both babies and toddlers.
Diapers or pull-ups
Wipes
Diaper cream
Changing pad
Pacifiers
Bottles or sippy cups
Formula
Juice
Baby Food
Bibs
Spoons
Stroller
Baby Carrier
Toilet seat – if potty training
Portable high chair
Pack 'n Play
Sheets
Blankets
2+ pairs of clothes per day
Pajamas
Weather-appropriate footwear
Weather-appropriate jacket
Mittens, hat, scarf (winter)
Bathing suits – 2/3+
Bathing suit cover-up
Toys
Baby soap
Toothpaste
Toothbrush
Hairbrush
Taking baby gear along with you is hard at this age. You have a car seat in your vehicle, and a stroller (or collapsible wagon) is a necessity. Babies and toddlers need a safe place to sleep, so a pack 'n play is a great option.
I suggest you bring a portable high chair or a hook-on high chair for babies eating solid foods. Some parents want to bring a portable swing or bouncy seat, but it's best not to bring both. Pick one, and if you're flying, don't bring any of them.
Packing List for Preschool-Aged Kids
Making a packing list for preschool-aged kids involves a bit more items because you need to think about their entertainment. Kids at this age are easily bored, so consider your mode of transportation and how the kids will stay entertained.
A preschool-aged child is one that is between three and five years old; these kids are BUSY! On that note, now is NOT the time to stop packing extra clothes for your kids. Since this age is so busy, they're more likely to find a mud puddle, trip into the water, or drop ice cream down their shirt.
Here's what you should bring.
2+ outfits per day
Pajamas
2+ pairs of socks and underwear per day
Hoodie
Weather-appropriate shoes (bring more than one pair!)
Weather-appropriate jackets
Mittens, hats, etc
Stroller
Sunhat
2/3+ bathing suits
Bathing suit cover-up
Books
Small toys – cars, dolls, blocks, etc
Beach toys
Tablets or other technology that your child enjoys
Chargers for the tablets
Coloring books and crayons
Snacks
Toothbrush
Toothpaste
Soap
Nighttime pull-ups (if they still need them)
Packing List for Kids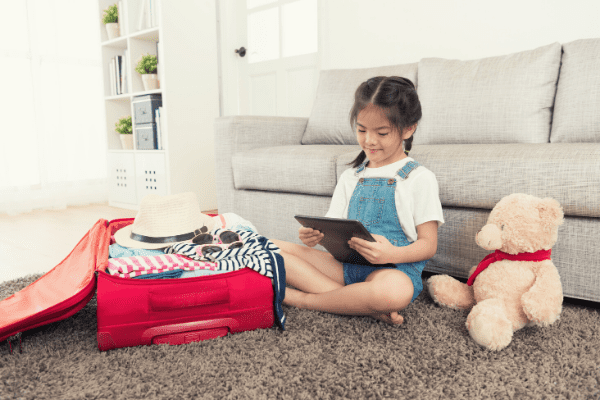 Older kids have a variety of things that they might want to bring with them on a trip that's individual. Your daughter might cringe at the idea of leaving behind her art supplies, or your son might need to take along his action figures.
I suggest you set a limit or give them one bag that is for their personal items that they want to bring for entertainment purposes. Remind them that chargers, tablets, cameras, and any other electronic device belongs in that bag as well.
Here are things to put on your packing list for kids five and older.
1-2 outfits per day
Pajamas
1-2 pairs of underwear and socks per day
Hoodie
Weather-appropriate shoes (more than one pair per day)
Weather-appropriate jacket
Mittens, hats, etc
Sunglasses
2/3+ bathing suits
Bathing suit cover-up
Shampoo and body wash
Toothpaste
Toothbrush
Hairbrush
This list is a little easier; kids get to decide what toys they want to bring!
Family Packing List
No matter whether you're going on a family vacation or a weekend getaway, there are some things that you need to bring that don't fit into the above lists, but still, matter for your kids.
Here are some things you don't want to forget to bring.
Medications for colds, fevers, allergies, tummy aches, and more. Vacations are the perfect time for kids to get sick!
A small first-aid kit with band-aids, gauze, tape, triple antibiotic cream, tweezers, and more. Once you have a walking toddler, accidents are waiting to happen around every corner.
Anti-itch cream
Bug spray
Lotion
Sunscreen
Aloe Vera or similar (sunburns, unfortunately, happen so be prepared)
Beach toys
Beach Tent
Reusable Water Bottles
Make sure you check out my full list of beach items you need for your baby!
Other Things You Might Want to Bring
There are tons of things that you might want to bring with you. Here are some examples of items that I might bring on a vacation with little kids.
Outlet covers
Doorknob covers
Beach towels
Beach tent
Baby powder to get sand off of your hands
Blow-up pool toys
Final Thoughts
Before you take a trip, make sure you put together a packing list for kids; a list helps to ensure you don't forget anything at home. It's the easiest way to start your vacation off on the right foot.