Are you struggling to keep your home neat every day? You aren't alone! That's why you need a stay at home mom cleaning schedule.
I know the mess makes me feel overwhelmed sometimes. If you let the cleaning go even for a day or two, the mess builds up, and it feels like it suffocates you at times.
Then, you face the crazy expectations from society, leading you to feel guilty that you aren't able to keep your house looking like an HGTV magazine all the time with babies and toddlers.
Plus, all those gorgeous, neat homes you see on Instagram doesn't help, does it?
The reality is that kids make a mess, and if you have kids, pets, and a spouse, your home is going to get dirty. Sometimes, it gets really dirty while you're in the middle of doing life with your family.
Keeping a basic stay at home moms cleaning schedule helps you keep your house tidy, leaving you time to get other things done you enjoy throughout the week. Here's how to put together a simple yet efficient cleaning schedule.
Why Make a Stay at Home Mom Cleaning Schedule?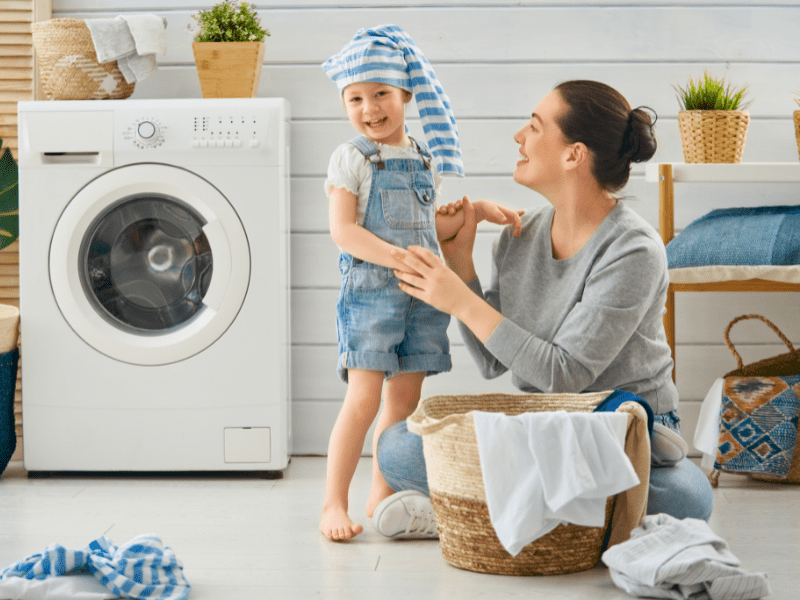 I tried for years to find the perfect stay at home mom cleaning schedule, but I have a problem with most of them – these people REALLY love to clean.
Now, if I don't have kids hanging on my legs and a tornado toddler following behind me messing up what I just cleaned, cleaning can be soothing and enjoyable at times. However, typically, I have at least one kid with me, and it's not as fun.
I don't have three to four hours to clean a day – that's not our reality, and I bet it's not yours either!
Using a SAHM cleaning schedule helps you use your time wisely since we all get the same 24 hours each day. We all have things going on in our lives, and we're responsible for so many things, like:
Bringing kids to school or homeschooling!
Going to practices and lessons
Tending to babies
Taking care of pets
Paying bills
Running errands
Doctors appointments
Grocery shopping
And so many other things. Plus, it's vital for mothers to make time for themselves to do things they like and pursue hobbies they love. Having a schedule helps with all of that and more.
Related: 25 Hobbies for Stay at Home Moms You Need to Try
A Simple Stay at Home Mom Cleaning Schedule
Let me tell you how I figured out my favorite simple stay at home mom cleaning schedule – I read Little House in the Big Woods.
Seriously!
Laura talked about how Ma had a task for each day, and while our tasks look a bit different than their did years ago, it made sense for me as well. It turns out that many mothers use this same idea – we assign cleaning duties to specific days of the week or months of the year.
It's quite simple – let me show you!
Daily Cleaning Tasks
First, some cleaning tasks need to be completed each day. Examples of daily tasks include:
Load dishwasher
Make beds
Wipe down kitchen counters
Wipe down bathroom counters
Vacuum
Pick up toys
These are the daily SAHM cleaning tasks that don't take up tons of time but make the biggest difference. Many of these can be incorporated in your morning or nighttime routine.
Related: 9 Tricks to Get Things Done with a Baby That Work
Weekly Stay at Home Mom Cleaning Schedule
Here's what made the biggest difference and how Ma Ingalls inspired me – weekly tasks based on the day.
If you read the book, you'll see that Ma mentions her weekly tasks that includes washing on Mondays, ironing on Tuesdays, mending on Wednesday, and more.
Our tasks look different than they had back in the pioneer days, but we can adopt the same ideas. Here's my weekly tasks
Monday: Clean the bathrooms and wash towels
Tuesday: Clean the bedrooms and wash sheets
Wednesday: Clean the living room and dining room and wash adult clothing
Thursday: Clean the kitchen and wash kids' clothing
Friday: Clean the family room and wash blankets
Saturday: Outside clean up
Sunday: Rest and plan ahead
You have one "big" cleaning chore a day, but I've learned that if you keep up with it each week, it only takes 30 minutes or so to finish these tasks. I also pair laundry for that area of the day to go with it.
For example, I wash towels when I clean the bathrooms. When I clean the bedrooms, I wash sheets and beddings.
Monthly SAHM Cleaning Tasks
Some tasks don't need to be completed daily or weekly; these are monthly tasks. Make a list and stick it to your fridge on the first of the month, and cross off the tasks as you finish them.
Change air filters
Dust ceiling fans and baseboards
Clean garbage cans
Clean out your car
Tidy up closets, entryways, etc
Deep clean the kitchen and bathrooms
Then, you'll have tasks that don't need to be completed all the time. These are quarterly tasks that you do semi-regularly as needed throughout the year.
Here are a few of those tasks.
Cleaning out the garage
Reorganizing the pantry
Deep cleaning carpets and upholstery
Washing exterior windows
Pressure washing your home and sidewalks
Cleaning outdoor furniture
How to Stick to a Stay at Home Mom Cleaning Schedule
Once you have your stay at home mom cleaning schedule created, you have to stick to it – that's the biggest leap forward. You can create the most amazing, thorough cleaning schedule in the world, but if you won't stick to it, then it doesn't matter.
Your house will never get clean!
However, let's be honest – it's not always that easy. So, here are some tips to follow a cleaning schedule.
1. Be Realistic
If you're setting up a cleaning schedule, you want your goal to be a clean home, but what does that mean to you?
In reality, we all have a different definition of clean. For some people, that means CLEAN and TIDY without toys laying around, but for other people, that means toys might be out but the surfaces are cleaned and regularly wiped or swept.
We all have different definitions of clean, and you have to adapt your definition to fit with your current life.
Sometimes, we have seasons when we have a lot on our plate, and keeping your house totally spotless isn't a realistic goal.
2. Include Cleaning in Your Daily Schedule
I suggest that all SAHMs have a regular daily schedule or routine they follow. Not only do little kids thrive with a schedule, but it also makes it easier for you to keep a cleaning schedule AND ensure you have time to do things you enjoy for yourself.
Make a schedule and put it somewhere you can see everyday.
Related: How to Make Your Stay at Home Mom Schedule
3. Create Morning and Nighttime Routines
Something else that really helps me stick to a cleaning schedule is to make morning and nighttime routines. This helps you maximize your day and spreads out the cleaning throughout the day.
For example, part of your nighttime routine may be to load up any final dishes after dinner and evening snacks, and turn on the dishwasher before bed. Then, part of your morning routine could be to unload the dishwasher.
Another example is to put a load of clothes into the washing machine right before you go to bed as part of your nighttime routine. Then, you switch the load as part of your morning routine. Some smart washer and dryers allow you to delay start times!
4. Spread the Duties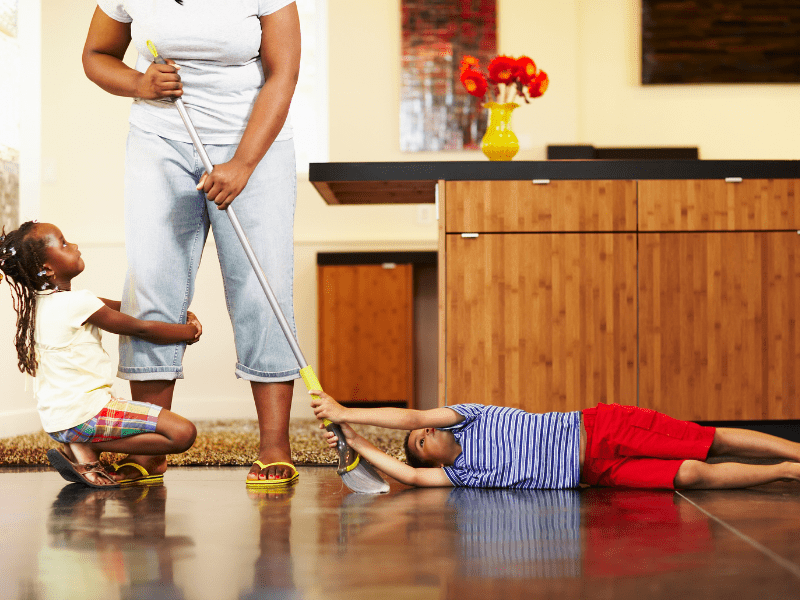 You have a family with other members who are capable of sharing the load with you, even your working spouse. Mom shouldn't be the only person doing all the work!
Kids as young as two or three years old should start helping with daily and weekly duties, as long as they are age appropriate. This helps teach your children valuable life skills.
Young kids can help wipe down countertops, dust, pick up toys, sort laundry, sort recycling, and more. As they get older, your children can be responsible for washing their own clothes – yes really!
These are great skills for when they inevitably one day get ready and leave your house to live independently.
So, the truth is you don't have to do this all alone!
5. Get Help When Needed
If you hit a rough patch, I want to be the first to tell you there is NO shame in getting help. I've used cleaning services at different times throughout my stay at home mom journey.
Sometimes, even having someone come in every two to three weeks helps a ton. You can hire services to give you quarterly deep cleans or whatever it is that you need.
There is no shame in this, and as long as you make it work in your budget, it often takes off quite a load from your shoulders.
6. Make Sure You Have The Right Supplies
Something else that makes a huge difference when it comes to keeping your house tidy is having the right supplies. You might grab stuff like Lysol and Pine-Sol at the store, but I found that the right supplies makes the job a whole lot easier.
Here are a few of my favorites!
---
One of the best tricks to keeping your house tidy is to create and stick to a stay at home mom cleaning schedule. This helps you stay organized with your cleaning tasks with the minimalist amount of time needed.

Pin this blog for later! ↓