Adjusting to your postpartum body takes time, and finding the perfect postpartum bathing suit is hard. You want to feel good about yourself as you enjoy the beach and pool this summer.
I know I always had a hard time finding the right bathing suit after a new baby. I wanted to bring my kids to the pool with my other mom friends, and we frequently went to the beach since we only live a few hours away.
My belly was the part of my body that made me feel most self-conscious. While no one else ever made me feel bad about my body, I felt like everyone looked at my imperfections.
However, mama, we deserve the memories and time playing in the water with our kids and family. We grew tiny humans, and no one should make you feel bad about your body, including yourself!
I put together a list of some of my favorite postpartum swimsuits that will make you love your body!
Pin this blog for later! ↓
Related: 11 Postpartum Capsule Wardrobe Pieces You Need to Have
How to Pick the Best Postpartum Bathing Suit
You want to feel good about your body in a swimsuit, so the first thing I suggest is to order more than one bathing suit to try. It's easier to try on swimsuits in the comfort of your own home before going to the pool.
The truth is, even if you don't have a postpartum body, not all swimsuits fit your body the same. I've tried on several suits that looked great on my friends but didn't work so well on my body.
Here are a few more tips to find the best postpartum bathing suit for your body.
1. Flowy Materials Rock
Many bathing suits nowadays have flowy material that drapes over your belly, hiding the parts you want to disappear. When the fabric doesn't cling to your belly, it's easy to hide the rolls or the extra skin you don't want others to see.
2. Go with Tummy Control
High-waisted tummy control bottoms are so good for postpartum swimsuits. Not only are they totally in fashion right now, but they cover and control everything from the belly button down.
Isn't that what you want to hide anyway?
3. One-Pieces Can Be Slimming
If you're not ready for a two-piece, don't feel bad. Many one-piece swim suits are slimming and provide tons of coverage while looking utterly adorable.
When picking a one-piece, go for one that accents your collar bones or breasts and hide your middle with ruching or a unique design.
4. Go with The Prints!
If you have a lot of lumps and bumps in your belly (don't we all?), prints are your friends. They hide everything while solid colors show everything. You might think that prints will draw more attention to you, but really, it's the opposite.
5. Comfort of the Swimsuit 
Think about what you plan to do while wearing your bathing suit. When you run around and play with your kids, you need a comfortable bathing suit that stays in place. The last thing you want is to have to hold up your top or adjust the fabric all the time. 
Are you nursing a baby?
If so, a postpartum bathing suit that pulls down easily gives you the access you need. 
6. Adjustable Straps are Awesome 
Most bathing suits are built to fit one size, so if you don't fit in that exact size, it may not fit as well for you. Adjustable straps are your best friend, since they give you the flexibility to fit your bathing suit as needed. 
Ties are another great option for bathing suits. It allows you tie them super tight or loosely, depending on your personal preference. 
7. Ruching Creates Illusions 
Many bathing suits for postpartum bodies offer interesting ruching across the torso. Not only is ruching pretty, but they often create the illusion of a smaller waist. It hides the mom pooch that may make you feel self-conscious 
6 Postpartum Bathing Suit Options You'll Love!
The top of my list of best postpartum bathing suits is the SouqFone Two Piece Bathing Suit. This tankini has all the features you need to hide a mama belly while feeling confident and looking amazing!
Let's look at what makes this bathing suit awesome for postpartum bodies.
The tankini top has a flounce, flown design that is adorable but it also drapes down and covers any of your belly that might make you feel less confident about your body. It also has removable soft padding to give your breasts shape.
I like the wide, adjustable straps that keep the girls in place without digging into your skin.
The bottom is high waisted, perfect for tummy control. It gives you a slimmer look. Combined with the top, you'll feel confident and look gorgeous. Plus, SouqFone sells this bathing suit in many different patterns and sizes from small to XXXL!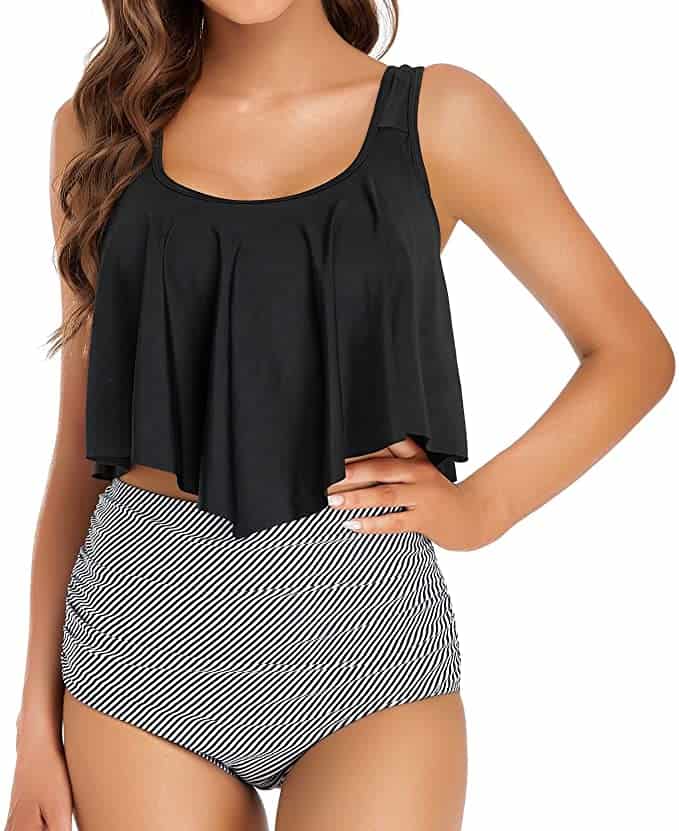 The Edelqual Tankini is similar in design to the SouqFone bathing suit with some small differences.
It has a ruffled tankini top that gives you excellent belly coverage with the flowy design, and the removable pads ensure your girls look good. One of the differences I like with this tankini is that the straps are much wider and larger, so if you have larger breasts, these will work great and give you all the support you need.
The bottoms are high waisted and give you excellent tummy control, giving you those curves you want to have.
There are 45 – yes really – designs to pick from; some of the patterns are utterly adorable! It comes in five sizes from small to XX-Large.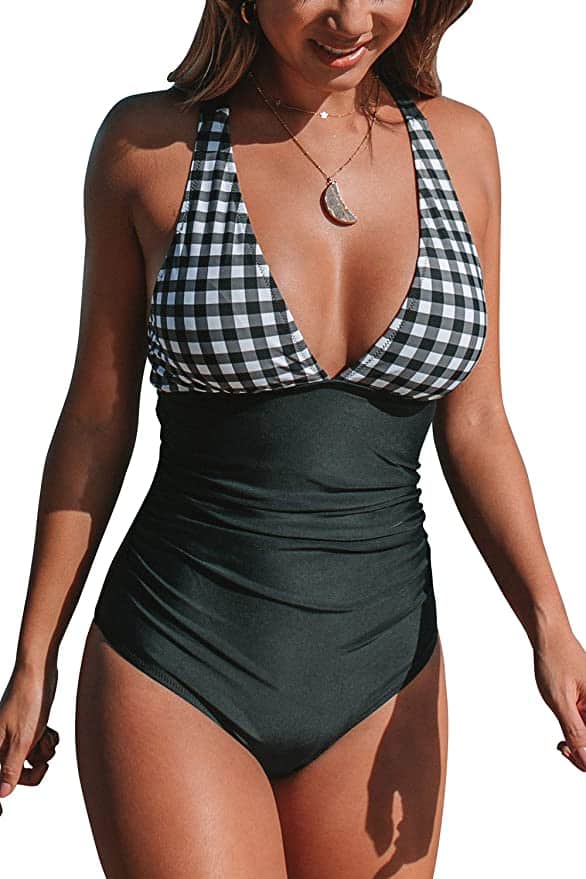 If you prefer a one-piece postpartum bathing suit, you'll love this option by Cupshe.
It has a deep v-neck that helps give you that cleavage and boost you want from your breasts. The straps are wide and cross in the back, which helps to lift your breasts and give you support within too much strain on your back.
The reason why I list this as one of the best postpartum bathing suits is the ruched front with tummy control. This fit and design hides that belly you might still have after childbirth.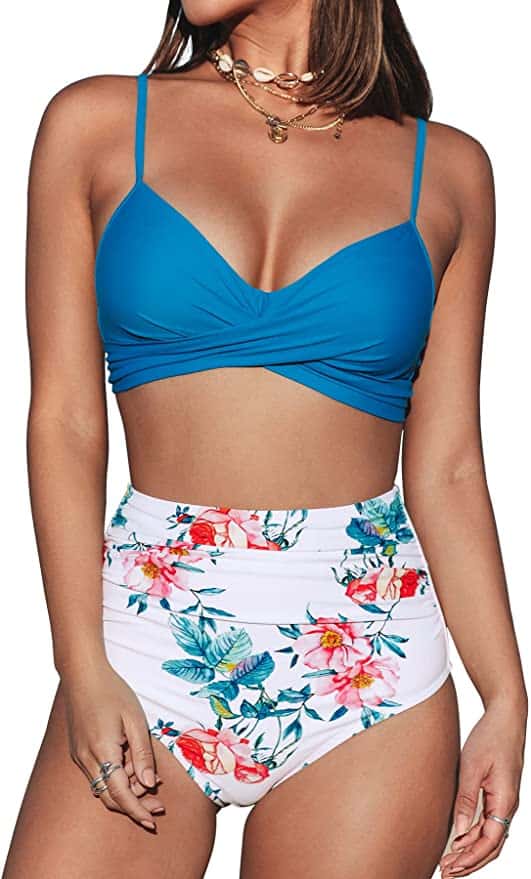 If you want a bikini, this fit is perfect for postpartum moms. The bikini top is adorable and has a crossed look in the front with adjustable should straps and moulded cups.
The part that makes this excellent for postpartum moms is the high waisted, tummy control bottoms. It will set above your belly button, hiding some parts of your body you might not like right now. It also sits a bit lower on your hips, so it's not cut too high, which some moms find uncomfortable.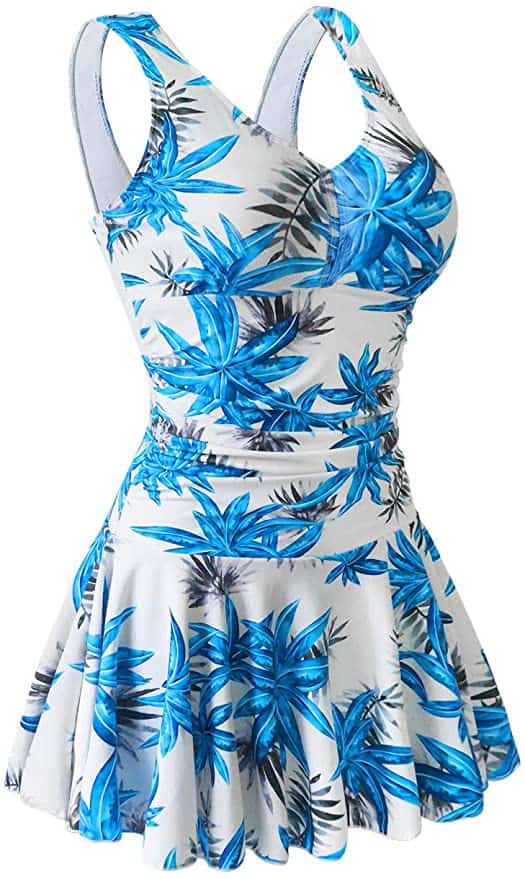 Some women feel uncomfortable with their upper thighs after having a baby. It's not uncommon for your belly and thighs to have stretch marks, and while we know these are simply stripes of honor, many women feel self-conscious.
This one piece swimsuit by Aontus is an excellent option; let's look at this.
First, it's a modest swim dress – different than any other option on this list. It has details that help to define your waist and give your body a slimming effect.
Next, it has a built-in bottom for full coverage, and the cut of the bottom stops the fabric from creeping and riding up on your body. Then, the skirt helps to cover up the upper parts of your thighs.
So, if you want a modest postpartum bathing suit swimsuit with coverage yet an adorable design, you'll love this!
I love this modest postpartum bathing suit; it's adorable and fits many different body types. It's lightweight, soft, and comfortable, and the design is flattering over postpartum bellies.
Let's start with the top since this is what really makes this swimsuit shine.
The top is loose and has a built-in sports bra with removable cups that gives you plenty of support. The straps are wide, and the fabric is flowy and drapes over your body well.
Then, the triangle briefs fit well over your hips and stay in place rather than constantly moving up. It's made with smooth material that is comfortable to wear, and it's perfect for chasing toddlers on the beach or at the family pool.
---
Don't let yourself feel ashamed of your new body; your body rocks! It gave life!
one or two of these postpartum bathing suits and get out there in the water with your kids and family. Make the memories; you won't regret it!