Being a stay at home mom is no joke. Some people think that a stay at home mom does nothing but sit and watch TV all day, but that's far from the truth. If you feel like you're drowning, you need to make a stay at home mom daily routine.
I tried to live my life as a SAHM without a routine for a long time. I'm home with my kids – do I really need to have a schedule?
Yes, you do.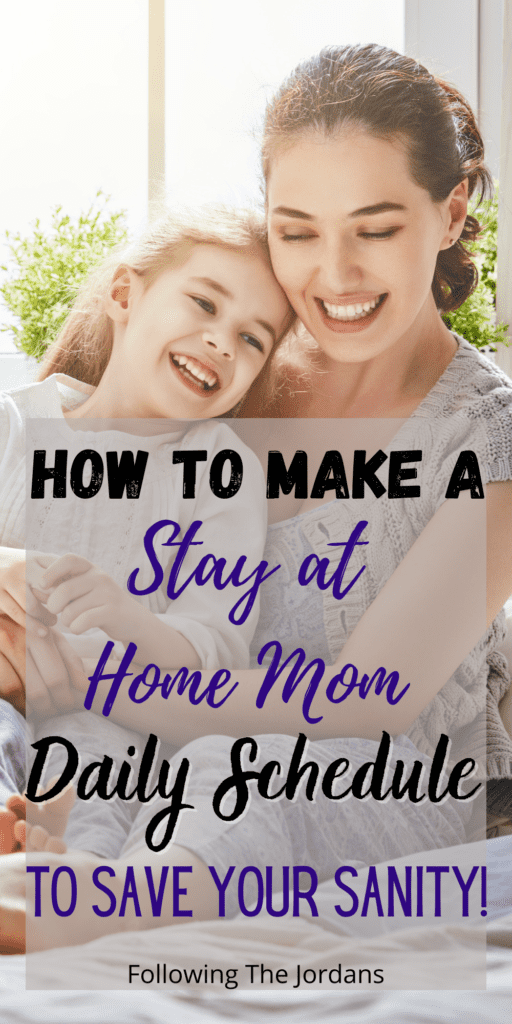 If you find yourself wondering how to be a successful stay-at-home mom and keep your sanity, the answer is to create a daily schedule. You don't need a rigid schedule that tells you what to do each minute of the day, but a routine guides your day. It allows you to be productive, take care of all of your responsibility, and ensure you have time for self-care and sleep.
Children operate best on a schedule; that's why experts tell parents to have a bedtime routine. Babies and children understand and fall into a sense of comfort when they know what is coming next. Adults are the same way, but we have more happening in our lives.
After I gave a routine a try, I realized that it's a godsend. Here is how to make the perfect routine.
Stay at Home Moms Have A Lot Going On
Before I had kids, I used to wonder – what do stay at home moms do all day – but now I know.
We have so many little jobs that require juggling to keep all the balls rolling in our family. It's not always fun and games. Being a stay at home mom often feels isolating and overwhelming; we end up with so many things on our plate at one time.
One of the keys to making my day run smoother is to create a stay at home mom schedule.
Now, this isn't a schedule for your kids; when you make a routine for a SAHM, those are things for you to do.
You need to consider your current phase in life and understand that everything needs adjusting. When you have a newborn, you won't want to wake up early. That can come later!
How to Make a Stay at Home Mom Schedule for Your Sanity
I remember wondering how do I schedule my day as a stay-at-home mom. I talked to a few of my friends and reviewed other schedules, and I came up with these tips. Trust me; they'll keep you sane.
1. Consider the Necessities
When creating your schedule, first consider the necessities and the non-negotiable tasks. For example, if you're a stay-at-home mom to school-age kids, then school drop-off and pick-up are necessities. Structure your schedule around those times.
Make sure to include your kids' general nap times, bedtime, and dinner. Those are the guiding structures of your routine. Here's an example.
8:00 AM: drop off the kids at school
11:30 AM: lunch
12:00 PM: nap time for toddler
3:00 PM: pick up the kids at school
5:30 PM: dinner time
8:00 PM: bedtime
2. Wake Up Before Your Kids
I know; no one WANTS to wake up before their kids, but if you want to be a successful stay-at-home mom, it makes a huge difference. Waking up and having a few moments to yourself starts your day off on the right foot.
Here's what I do.
Have a HOT cup of coffee or protein shake
Look at my planner for upcoming plans
Scroll through emails and social media
Start a load of laundry and unload the dishwasher
A quick 10-minute workout routine
Finding the right time to wake up is key to your stay at home mom schedule. I found that if I woke up TOO early, then I felt mad when the kids woke up. I ended up finding something that I wanted to get finished, and when they woke up in the middle of it, I felt resentment.
That's not what I want.
In general, waking up one hour to an hour and a half before your kids is prime. That gives you enough time to get the basic tasks done and give yourself a few minutes of peace but not too much time that you end up in the middle of work or a project.
3. Be an Organized Stay at Home Mom with a List
I highly suggest that you have your routine printed as a list or a checklist on your refrigerator. It helps you stay organized and on-task. The list needs to include all of your regular daily tasks, weekly appointments, and the necessary tasks of each day.
TIP: Laminate the list so that you can use a dry erase marker to cross off the tasks each day.
4. Include Self-Care for You
Make sure you include self-care in your routine, but this differs for every person. For some women, this means having a regular meet-up with their friends. Other women like to have a cup of hot tea in the evening while watching an episode of their favorite shows. Figure out what you love and include it.
It's also important to include regular date nights with your spouse. Dates don't mean you need to leave the house. Try having scheduled movie nights or pick-up dinner after the kids go to bed.
5. Make Sure You Get Plenty of Sleep
Sleep is also a non-negotiable part of your routine. You need 7-8 hours of sleep, and children need between 8-12 hours of sleep, depending on their ages. Make sure your routine reflects this. Lack of sleep leads increases the risk of health problems, such as depression.
To be honest, there is no way around this one – we all need good sleep. Being a zombie happens from time to time, like one of our kids are sick, but missing sleep consistently is a problem.
I think that lack of sleep contributed to my PPD and all the rage I felt. Lack of sleep makes people go from happy to angry quickly.
Here are a few tips to making sure you prioritize sleep:
Keep a standard bedtime for your kids, adjusting as they age but always ensuring they have adequate sleep each day.
Have a rest time for preschoolers who dropped naps or a quiet time after school for older kids.
Create wind down routines for the day.
6. Create a Morning Routine for Kids
Kids thrive on routines, so develop one in the routine that your kids understand. As they get older, kids will understand and follow the routine themselves; make sure to include things such as eating breakfast, brushing teeth, and making their bed.
7. Include Downtime in Your Schedule
If you try to schedule every hour of your day, you'll go crazy. You need to have space for downtime throughout your stay at home mom schedule.
I've tried it, and it makes things worse. You end up feeling stressed all the time trying to complete the endless list of tasks, and then you feel guilty. I couldn't make my schedule work, and I consistently failed to cross everything off my to-do list.
That made me feel like a failure.
Instead, make sure you have pockets of down time without anything scheduled. These are times when you might fill with an activity or simply rest.
Here are some tips to make sure downtime happens in your house.
Stick to your stay at home mom routine. I know that sounds silly since this whole article is about the schedule, but the more you stick to a schedule, the less you feel guilty. You know things get done, giving your brain time to relax.
Require nap time or rest times for your little kids. This is often a quite time for resting. Your older kids might read a book, and the little kids could take a nap.
Teach your kids how to play independently. You don't want to entertain them all the time.
Don't save all your work for the evenings. This time should be for relaxing, at least some of the time!
4 Tips for Time Management for Stay at Home Moms
Are you feeling like time management as a SAHM is hard? Here are some tricks to stay organized.
1. Have a Stay at Home Mom Cleaning Schedule
Part of being a stay at home mom is cleaning, unfortunately. Kids seem to make a never-ending amount of messes, so how do you keep a house clean with kids?
Designate one part of your house for each day and have a list of daily tasks. Daily tasks include things such as:
Washing dishes
Sweeping the floor
Wiping kitchen counters
Picking toys up
Then, pick a task for each day. Here is my schedule.
Monday: Bathrooms
Tuesday: Kids' Bedrooms
Wednesday: Master Bedroom
Thursday: Deep Clean the Kitchen and Dining Room
Friday: Deep Clean the Living Room
Saturday: Outside Chores
2. Keep a Family Calendar
Put a calendar on the refrigerator or highly visible area and write down meetings, practices, doctor's appointments, lessons, and anything else you need to remember. A family calendar keeps everything organized and in-the-know. Your spouse wants to stay connected as well, and it helps alert everyone to upcoming commitments.
It's important for me to keep a balanced family schedule. I never want to feel like we are always running around and never home together.
Related: How to Keep a Balanced Family Schedule
3. Have Set Meal Times and Bed Times
Sometimes, life goes crazy, and dinner time might be later than usual. However, keeping regular mealtimes and bedtimes provide more structure to your day. It makes it easier for everyone to stay on schedule when they know dinner is at 5:30 pm every evening and bedtime starts at 7:30 pm.
4. Create a Productive Morning Routine for You
If you want to make your days organized and productive, create a morning routine for you as well. Part of that is starting your day before the kids wake up, but it's more than that. Having a productive morning makes you feel GOOD; you start your day off with a bang rather than lounging on the couch for two hours before moving.
5. Come Up with Daily Home Routines
Part of being a SAHM is maintaining your home, and that is often the biggest challenge. Coming up with daily home routines ensures you keep the house moving at all times.
What do I mean by daily home routines?
For example, the dishwasher needs to be loaded in the evening and emptied in the morning. These things are non-negoitable; they have to happen every day.
Here are a few more daily home routines to include when creating your stay at home mom schedule.
Have your older kids make their beds when they wake up in the morning
Chores need to be completed after breakfast.
Add a tidy-up time after lunch.
Make sure your kids pick up all of their toys before bedtime.
Go through and sweep after the kids go to bed.
Wash at least one load of clothes per day and put them away (the worse part, right?).
A Sample of a Daily Stay at Home Mom Daily Routine
Let's put this all together and look at a sample of a daily SAHM routine.
6:00 AM: Wake up before the kids, make coffee, unload the dishwasher, start the load, and BREATHE!
7:00 AM: Kids wake up and start breakfast
8:00 AM: Drop off the school-aged kids
9:00 AM: Playtime for younger kids and clean the designated daily area
9:30 AM: Snack time and laundry
11:30 AM: Lunchtime and clean kitchen
12:00 PM: Nap time for your toddler. Take time to clean if you don't have a baby.
2:00 PM: Wake up from the nap
3:00 PM: Pick up kids from school
3:30 PM: Snack time
4:00 PM Clean up and start dinner prep
5:30 PM: Dinner is served and clean up the kitchen.
7:00 PM: Begin your bedtime routine
8:00 PM: Bedtime for all kids (earlier if they're younger)
10:30 PM: Bedtime for you
How Can a Stay at Home Mom Get It All Done?
Let's be honest; they don't get it all done. A SAHM to-do list never ends. When you stay at home with kids, you have to understand that you can plan all you want, but at the end of the day, much of your day depends on your kids.
Don't try running your home like a drill sergeant in pursuit of getting it all done. Try your best every day; that's all that you can expect.
How Can a Stay at Home Mom Be More Efficient?
It's tempting to not do much throughout the day; I've gotten into those funks and struggled to pull out f them. The key to being efficient as a stay at home mom is to prioritize and come up with a routine.
Your goal is to decide what you want your days to look like and create routines and schedules to create that for your family. I highly suggest a morning and evening routine, along with creating a stay at home mom cleaning schedule that works for your family.
Stay Sane as a SAHM with a Schedule
If you feel as if your world is spinning out of control as a SAHM, then you need to create a stay at home mom daily routine. A routine helps create a general flow for your day, creating the structure your family needs, and ensuring you stay up on all of the needed tasks. Use these tips to create the perfect routine for you.