Enjoying winter sports is a surefire way to chase away those winter blues. Kids and adults alike enjoy zipping down a snowy slope on a snow tubing adventure. If you live near or visit Asheville, North Carolina, your next snow tubing adventure is only a short distance away.
You may not realize that Asheville has snow tubing. I live in North Carolina, and until a few years ago, I had no idea our family could enjoy the slope regularly. It may become your new family tradition!
Skiing and snowboarding take skill, and if you are dedicated to taking lessons and learning, they are fun ways to spend your winter. Snow tubing is something all ages enjoy and require no lessons.
All you have to do is make plans and head out. Let's look at some of the best places to go around Asheville for tubing with your family.
Related: 12 Things to Do in Asheville with Kids
Can You Snow Tube in Asheville, NC?
Yes, you can! The North Carolina mountains hold something for everyone to do in each season. Winter is a magical time to visit the mountains since the crowds are smaller and rates are cheaper.
You'll find a variety of snow tubing parks throughout the mountains of North Carolina. These resorts offer snow skiing, snowboarding, and snow tubing, so you can get your fill of winter sports.
While mountains often have natural snow, these snow tubing resorts have snow-making capabilities. So, if mother nature doesn't produce the snow, you still have all the fun.
6 Best Places to Go Snow Tubing in Asheville, NC
Moonshine Mountain Snow Tubing Park is one of the best-rated places to snow tube in Asheville, NC. The park features a 500-foot plunge with man-made snow.
Visitors can access the whole hill; feel free to link up your individual tubes. The park provides tubes and cleans them between riders. Then, ride the tuber's life back to the top.
Unlike other snow tubing in Asheville, Moonshine Mountain doesn't take reservations. This is a first-come-first-serve park, so be prepared if you head over on the weekends for larger crowds.
Each session is two hours. You can tube as much as you like within the two-hour frame.
They also have a height requirement of 36 inches for all riders; be sure to check that your young kids meet this requirement. Also, the tuber's lift has a 250 weight limit – you'll have to walk back to the top if you are over this limit – and a 300lb weight limit for the tubes.
After you are finished riding, they have an on-site German restaurant, so you can enjoy foods like bratwurst. T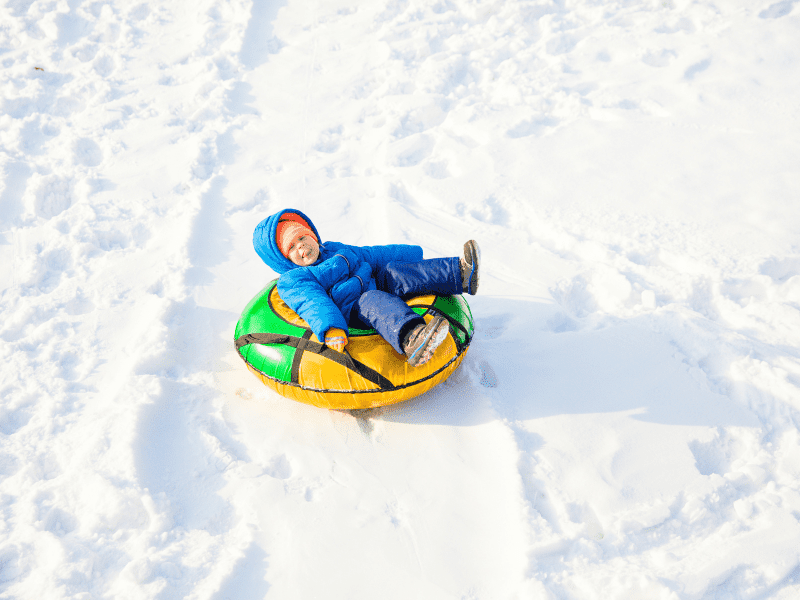 Head to Zip N Slip Snow Tubing Park, located in Mars Hill, NC, to enjoy the snow tubing season.
The park features six to ten tubing lanes, and they create their own snow. So, you never have to worry that winter didn't deliver the good stuff.
After each run down the hill, take the magic carpet back up to the top of the hill. If you get tired, they have a solarium with a fireplace to warm you up, all with a killer view.
One thing to note with Zip N Slip is that you should make reservations ahead of time. Each snow tubing session is two hours long, and they also offer nighttime tubing.
Zip N Slip even offers snow tubing in the summer! They increase their tubing lanes from four to ten; people love tubing in the warm weather!
The only downside is that they don't offer lodging on-site. They have hotels and cabin rentals in the vicinity, but nothing right there.
Black Bear is one of the favorite places to go snow tubing in Asheville. This is located about 30 minutes away from the city. It features a 500-foot run, so adults and kids alike have a blast.
You don't have to walk to the top; they have tube-tugging equipment to take you back to the top after each run.
This tubing park features a state of the art snow-making equipment. Unlike other parks, this is REAL Snow, not a synthetic chemical created to look like snow.
When you get tired, head over to the head lodge and enjoy some of their award-winning BBQ. They have some delicious dinners, and your kids will enjoy the concession stand with hot drinks and hot dogs.
Wolf Ridge is located in Mars Hill, North Carolina, only a short drive from Asheville. It's known for its 350-foot slope, which is 100 feet wide at the bottom and 60 feet wide at the top.
One of the features our family likes is the magic carpet that brings tubers back to the top. No one likes to climb the hill, and you don't have to do so here.
Wolf Ridge has lights for nighttime snow tubing as well. The park produces its own snow, so you always have fresh powder to enjoy.
I also like that they don't have lanes, so you can link your family's snow tubes together and go down together. That makes it easier when you have more kids than adults to snow tube together.
Their snow tubing park is part of their larger Wolf Ridge Ski Resort. They offer skiing and snowboarding, and if you are new to winter sports, they offer lessons at the Snow Sports School.
Your family can hit the snow tube hills here from December until mid-April. However, depending on the weather, the dates are always tentative, so check their website or give them a call!
You have to take a bit of a drive outside of Asheville, about 60 miles, to reach Frozen Falls Tube Park. The drive is worth the excitement this park offers!
Frozen Falls features a 500-foot-long run with a 60-foot vertical drop. Adventurers love that. Then, ride the moving sidewalk with your tube to get to the top and tube over and over again.
You should make reservations ahead of time.
If you want to stay nearby, Frozen Falls offers on-site or pick one of the nearby cabin rentals.
This park has no age, weight, or height restrictions, so everyone can enjoy a family day together. However, you must fill out a release form when purchasing tickets.
Head 40 miles outside of Asheville, and you'll find Cataloochee Ski Area's Tube World. This ski area features four miles of ski slopes and a dozen tubing lanes. You'll be able to slide for hours.
Cataloochee offers its own designed inner tubes for the groomed slopes, so you can use the moving carpet to get back to the top.
It's a good idea to reserve tickets online before heading. These tickets sell out weeks in advance, so make plans. Each tubing session is two hours long, and they have a minimum height requirement of 42″. However, there are no weight limits, as long as you can get off your tube without assistance.
Then, you can combine your day with the ski area at the Cat Cage Terrain Park and zoom down the 5,000-foot slopes. It's one of the southernmost ski areas in the Eastern United States.
Make sure you know that Tube World is four miles from the ski area in Maggie Valley. If you want to do both, you'll need to drive in between each area.
---
There are plenty of places to go snow tubing in Asheville! Head outside of the city, and you'll find resorts catering to winter sports and fun all season long.