Taking long car rides is rarely enjoyable for kids. Kids get bored easily and feel trapped in a vehicle with nothing to do. That's why a kids travel tray is beneficial; it gives them something to keep their little brains occupied.
Plus, it means road trips become more enjoyable for parents as well.
Keeping your children entertained is the key to happen road trips, but that's easier said than done. Even with all the toys in the world, you'll still hear "are we there yet?" a few dozen times.
Let's look at a few of the best kids travel trays that will give your kids the perfect platform to enjoy their toys and other items while on the go with your family.
Related: 10 Safety Items for Traveling I Always Have
What is a Kids Travel Tray?
A travel tray works with your child's car seat without interfering with its safety. The main purpose is to provide your child with a flat surface for activities or eating. Their main design is to be used in a vehicle or airplane, but many work as a stand-alone tray.
Each tray has a unique feature. Some close and zip up for easy storage when not in use, and others have extra pockets for more toys. Make sure to read all the features before deciding.
Types of Car Seat Travel Trays for Kids
All car seat travel trays have similar designs and functions, but several types of trays are worth considering. Here are the three most common.
Secured Travel Trays
A secured travel tray attaches around the back of your child's car seat without interfering with the safety of the seat. It keeps the tray within arm's reach and keeps your child safe. These are ideal for young children who may have trouble keeping a tray in place without help.
The only negative is that they tend to be hard to reconfigure while driving.
Hybrid Travel Tray
These trays are excellent choices because they allow kids to use them differently. The top portion detaches from the lap portion, so you can use it by hanging it from the car seat in front of your child.
So, if your main goal is to have a way for your child to view their iPad while road-tripping, a hybrid travel tray is ideal. However, they typically involve more set up since the parts detach.
Lap Desk Travel Tray
A lap desk doesn't attach to the back seat of the seat in front of them, and they are usable outside of the car. However, it also means these are a bit harder for young kids to use. If you have an elementary-aged child, these are great. Toddlers knock them off easily.
How to Pick the Best Kids Travel Tray
Here are a few things to consider when picking the best kid's travel tray for your child.
Activities Your Child Enjoys
Think about how your kids will use the travel tray. Will your child spend the road trip coloring and creating pictures? Does your child prefer toys and may have other little items?
Make sure the tray is large enough to hold whatever they enjoy doing.
For example, if your child doesn't use tablets, you have no use a tablet sleeve. If your kids don't enjoy coloring or tend to draw on things they shouldn't, an attached dry-erase board may not be the best idea.
Age of Your Child
Most travel car seat trays work for a wide range of ages, so you will get several years out of each tray in most cases. However, some features are preferable for older kids rather than younger kids.
The Size of the Travel Tray
Take a look at the width of your child's car seat. It must go over the sides, especially if you want it to sit above your child's lap.
Will You Use It Outside the Vehicle?
Do you want to use the travel tray outside the vehicle, or will its permanent home be your vehicle? Some travel trays are more portable than others, so that is a feature to consider.
8 Best Kids Travel Tray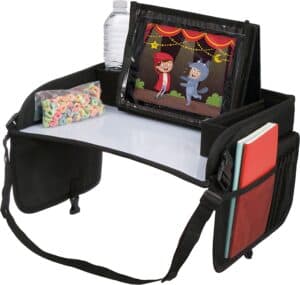 Are you headed out on a road trip? The Lusso Gear Travel Tray is an excellent choice with thousands of positive ratings. This all-purpose tray is great for flying or long driving trips.
Lusso includes all the features parents want to see. It has an iPad viewing stand, a cup holder, plenty of storage pockets for toys and small items, and a safety strap to keep the tray secured to the car seat.
Kids use this tray for everything from watching their favorite TV show on their tablet to coloring pictures or setting up an army man battleground. It comes with an attached dry-erase board that doubles as an eating tray, so lunches on the go are even easier. Wipe the board down with a cloth to clean up afterward.
The only downside is that some parents comment about how heavy this tray is if it sits on your child's lap. Since it's not a universal fit tray, some car seats may cause it to sit on your lap.
One of the top-rated kid's travel trays on the market is the Kenley Tray. It is an all-in-one travel station that folds into a case and closes with a zipper. When not in use, fold the travel tray up, and it has extra space inside to store toys and books.
That makes it easier to prevent losing toys in the car.
Kenley included a carrying strap that makes it easier to take this tray on the go with you. Parents also like the dedicated viewing pocket that fits an iPad and plenty of other pockets to keep their kid's items within reach. The pockets are still accessible when you fold the tray closed for travel.
You can secure the tray to the car seat in front of them, but that is the only attachment point. The tray rests on the user's lap but doesn't have a strap to keep it on your child's lap.
If you want a simple, sturdy travel tray that has plenty of features, the EcoZen Travel Tray is an excellent choice. It comes with durable, extra-long straps that fit with any car seat. It's made from waterproof nylon fabric, perfect for messy kids in the car.
EcoZen includes a built-in cup holder and plenty of side pockets for toy storage. The fabric is waterproof and easy to wipe clean. The front barrier and sidewalls have extra padding for extra sturdiness.
When you're done using the tray, it folds flat for transportation and easy storage. It comes in pink and blue; those are the only two colors available.
Kids who love coloring and doodling will love this car seat tray by Tomser Kids. It offers a transparent dry-erase top for drawing fun and even comes with its own set of dry-erase markers. The surface is easy to wipe clean.
Parents remark on how sturdy this tray feels. It won't bend or collapse with use and offers upgraded stability for the base and sides.
Tomser offered plenty of storage for kids. There are 14 mesh pockets and two zippered pockets for toys and other small items. Some parents remark that the pockets are pretty small, so they won't fit larger toys. When your child isn't using the tray, it folds flat for storage and transportation.
The Beloved Belongings Tray works great if you primarily need a tray for media viewing. It has a sleeve that fully encloses an iPad, protecting it from any drinks that many spill. So, this is a great selection if your child is too young to hold their tablet. Plus, it has a tall back support for the sleeve that stops it from tipping over when it is in use.
Aside from using the tray for watching movies and YouTube, the Beloved Car Seat Tray is great for coloring and holding small items. The sides hold several mesh pockets for crayons and other toys your kids want to keep with them.
One of the pouches is meant to hold any sized cup, and when you reach your destination, the tray folds for easy storage. It attaches to any seat with straps and a plastic buckle, making it a versatile choice.
Kids Bright Travel Tray gives you the peace and sanity you need during a long car ride. The kids may use the tray for playing with toys, drawing, watching videos, and other activities. It comes with two zippered pockets for small items like pencils. It also has a slot for parents to place a tablet to keep it in a comfortable viewing position.
This is a sturdy tray with velcro straps to keep it upright and on your lap. It has a soft pillow for keeping your child's lap comfortable.
When the tray isn't in use, you can fold it down, use the adjustable straps, and carry it as a bag.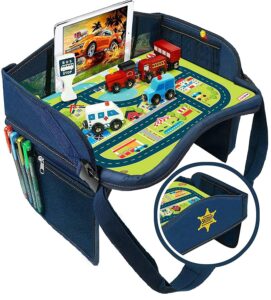 Less is more in many situations, and the Coolmum tray is great for your older kids. It works well for air travel since it has a compact design with plenty of storage.
Coolmum includes several storage pockets, including a cupholder. The tray has raised edges to stop snacks and toy spills, and the entire surface is covered with waterproof plastic.
The only design flaw is that, while it folds flat and compactly, it is too wide to fit into a child's backpack.
If you want a hanging travel tray, My Specialty is a top choice. It has an over-the-seat design with adjustable straps to find the perfect height for your child.
The overall design is simple and functional. It gives your child a surface for drawing or playing, and it also works to hold their tablet. There is an iPad holder on the back of the case and storage pockets for art supplies and other toys.
My Specialty offers a compact design with adjustable shoulder straps for easy carrying. However, the compact design limits the things your child can do with this tray while traveling.