Traveling is mostly all fun and games, but as parents, we have the added responsibility of keeping everyone in our family safe. Ensuring personal safety is even more essential than making memories together. Traveling makes your family more vulnerable since vacation spots tend to have more crime. That's why I always keep safety items with me.
More people than ever realize that traveling brings some dangers with it. Hotels are not infallible; rooms get robbed regularly.
Plus, you have to think about injuries and sicknesses as well. This year, we went to the beach, and my daughter got sick on the way there. We assumed it was motion sickness, and I was armed with all the Dramamine, but it turned out to be a virus. Luckily, my medicine bag and first aid kit were stocked and ready to go.
Here are some of my favorite safety items for traveling that I always have on hand.
Related: Family Travel First Aid Kit: What You Need to Pack
10 Safety Items for Traveling I Always Have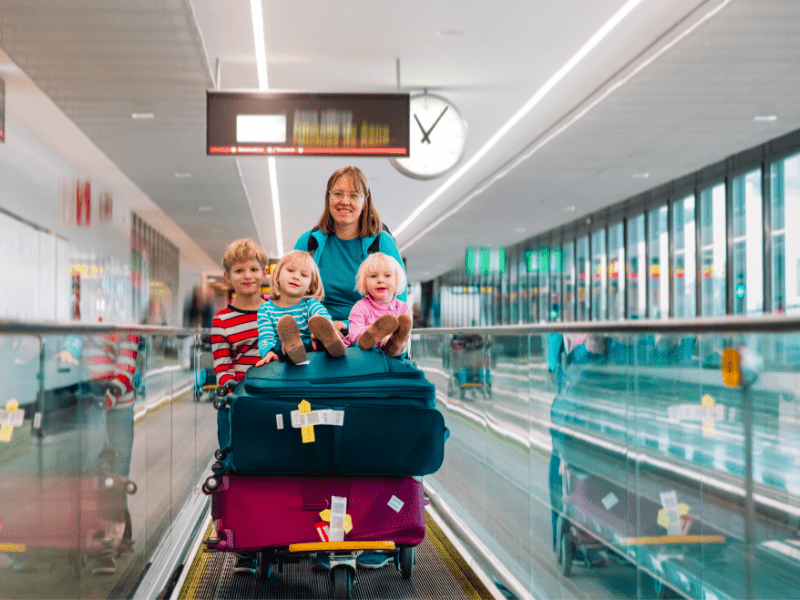 First Aid Kit
One of the most important safety items for traveling I have is a first aid kit. Whether traveling alone or with kids, a first aid kit comes in handy more times than you anticipate. Kids end up with small injuries, or someone comes down with a cold.
Or worse, nausea during the car ride.
That's why having a fully stocked first aid kit is a non-negotiable item for my traveling bags. Here are a few things I always keep on hand.
Band-Aids
Bandages & Gauze
Medical Tape
Thermometer
Tweezers
Antibiotic Cream
Pain Reliever
Allergy Medication
Eye Wash
Bug Bite Cream
Car Emergency Safety Bag
Traveling by vehicle means there is always a possibility something goes wrong, and the worse is when it happens far from home. Growing up, I'll never forget the vacation when my parents had two flat tires while driving home.
The 8-hour drive ended up taking 20 hours; it was a disaster we still laugh about today.
That's why having a car emergency kit is essential. This car kit by First Secure Store has so many things you could need if your car breaks down, such as:
Air Compressor
Tow Ropes
Tire Repair Kit
Tire Pressure Gauge
Bungee Cords
Electrical Tape
Jumper Cables
Face Masks for Everyone
Things have changed since 2020, and masks are part of our lives, even if we prefer not to wear them regularly. When you travel, you never know what buildings and locations will have different masking requirements, so it's smart to have face masks for everyone in your family.
Grab a pack of KN95 face masks; this is a great set with 50 masks. You'll have plenty available, and this is a great mask to wear in an airplane if you pick to do so.
Anti-Theft Backpacks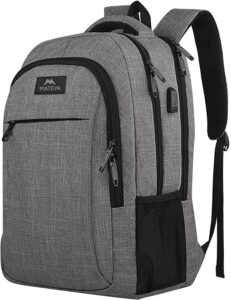 Some anti-theft backpacks are ugly, but this travel backpack is budget-friendly and has all the features you want. It has a USB charging port, and it has hidden anti-theft pockets. So, you don't have to worry about your important items getting taken out of your bag during transit.
The material is thick, and while it isn't entirely slash-proof, it is durable and safe. The bag also has built-in luggage straps and a suitcase sleeve.
I use these backpacks when traveling for all the important items we don't want to lose. When you travel, you always have some things that aren't easily replaceable if you lose them. These can be paperwork, like passports, and money, but a good backpack carries things like contacts, glasses, and medication.
Apple AirTag
You will be surprised by the ways you can use the Apple AirTags.
An Apple AirTag is a compact tracker that easily tosses in your suitcase or handbag. You can track your suitcases to ensure you don't lose them while in transit. If you lose your luggage, you can pinpoint where it is, which helps the airline crew get your items to you.
AirTags also work for humans. You can also put one in your child's pockets or backpack. Ideally, you never have to use it, but kids wander away, and it's an added layer of protection.
Door Alarms
If you've ever had a toddler who knows how to escape, you understand why door alarms are essential.
Escaping has dire consequences. If your toddler escapes when you stay at your vacation home, they may wander away or end up at the water's edge. They may end up lost or worse, so having door alarms when you travel definitely is an essential item to me.
These alarms by Lewis N Clark are easy to attach to the door and work for a bedroom, apartments, and hotel rooms. Plus, they're affordable, so grab more than one since vacation homes often have more than one exit.
Door Stops
You may think being in a hotel means you are safe, and many times, you are. However, a hotel room can be robbed, so a rubber door stop is an excellent safety item for traveling. It brings an extra layer of protection to your room.
Keeping your kids safe is essential when traveling!
These door stops have alarms as well to alert you that someone is trying to enter your room.
Travel Door Lock
Another option for room safety when traveling is a travel door lock for hotel rooms. These are pretty affordable, adding another layer of security to your hotel room.
A travel door lock is a safe alternative if you prefer not to have an alarm trigger when someone enters your room. Sometimes, you sleep late, and the hotel staff tries to enter to clean the room.
An alarm may be too much, so this portable door lock attaches to the hole in the door jam. It's easy to use and install, and you can remove it easily in the dark if there is an emergency. However, some reviews say it doesn't fit well on doors with weatherproofing, but I have yet to have that experience.
You never know what type of furniture is at a hotel or an AirBNB, so a few corner protectors are cheap safety items. They protect your toddler from head bumps and bruises while toddling throughout the vacation rental.
Plus, you can take them off and use them at home as well.
If you have a crawling infant or busy toddler, bring a pack of outlet covers with you. Hotels and rental homes rarely have the outlets covered, and these are a safety hazard for a baby.
Luckily, a large pack is cheap, so if you forget them there, it's no big deal!
---
Traveling with safety items keeps everyone in your family safe and happy, which are the biggest goals of your trip. Hopefully, you don't have to use these things, but you have the peace of mind of knowing they are available if you do need them.