Not everyone has a large traveling budget, but if you want to see new places and take your kids on some getaways, don't let the prices stop you. There are so many great budget-friendly places to visit as a family! The key to keeping your budget low is skipping as many of the super tourist-y areas, and I suggest you stay in the United States. Traveling out of the country naturally increases your cost. Look for destinations with a focus on being outdoors. National parks tend to be the most cost-friendly choices, but you have to enjoy that. Also, destinations with fewer things to do – yes, that may not be your desire – will naturally be cheaper than places with all of the things to do with your family. Let's take a look at some of my favorite budget-friendly places to visit. Checking off these boxes will surely help your family see the country and have a great time.
16 Budget-Friendly Places to Visit as a Family in 2023
1. Yosemite
Yosemite National Park is located in California, and honestly, I think it may be one of the only budget-friendly places to visit in Cali that won't break your budget. That's okay, because Yosemite is gorgeous. The park features numerous hiking trails, waterfalls, and giant sequoias. It's breathtaking to visit, which is why families flock here for an outdoorsy vacation. From May to September, families can purchase a three day pass for a decent price, and the park sells seven day passes in the off season. Summer is the busiest, but if you go in the offseason, you still typically experience decent weather. Camping here is quite popular, so be sure to book in advance. Most people assume you don't have to book campsites far out in advance, but that isn't accurate for Yosemite!
Baby Travel Essentials Checklist
2. Yellowstone
Yellowstone is one of the top destinations for families. Everyone wants to see the famous geysers; young and old find them fascinating. Families enjoy the park while hiking, biking, kayaking, and horseback riding. It's hard to believe how large the park really is! It spans Wyoming, Montana, and Idaho, and while the park has entry fees, they're minimal. Yellowstone Park hosts workshops and narrated boat tours for free for families. Make sure to stop at the lake for some fishing! Hotel rates are highest during the summer time, but if you have a camper or don't mind tent camping, the campsites available are cheap. Plus, kids love to camp. Our kids love pitching a tent, even if I miss some amenities.
3. Washington, D.C.
Most assume that Washington, D.C. is expensive, and that CAN be true. If you visit at certain times or during festivals, the prices rise, but our nation's capital has many free activities for families. Did you know the Smithsonian museums are free to visit when in D.C.? My kids love the space museum, but there are 12 totally free museums for you to check out while at the capital. Yes, 12! Kids also love the Smithsonian's National Zoo, and don't forget all of the popular monuments. The kids need to see the Washington Monument, Lincoln Memorial, and Tidal Basins. Tours of the White House and Capitol are free, but they require planning ahead.
4. Outer Banks
Do you want to head to the beach and not spend a fortune? Typically, that means you need to stay away from the super touristy areas – even though I do have a suggestion for touristy + budget friendly below! North Carolina is my home state, and it features gorgeous beaches, all of which are free to visit. The Outer Banks has many places to stay; renting a home is fairly affordable, especially if you plan to cook at home and relax. It's a great place to unwind and relax, as well as a place to check out some local historical sites.
Related: 8 Best Things to Do at Holden Beach with Kids
5. Grand Canyon
Despite being on my bucket list, I have yet to make it to see the Grand Canyon. It's listed as one of the most beautiful sights to see, and despite being well-known, it's also affordable. Take time to hike some of the famous trails, like the Rim Trail. However, always look at the difficulty listed before heading out. My research shows that some trails are not kid and beginner friendly. The nearest large city is Flagstaff, which is 75 miles away. There are hotels and campsites nearby, but be sure to book well in advance. They book up fast in the summer and spring. You won't find too much else to do in the area; people come here to enjoy the beauty that is the Grand Canyon.
6. Gatlinburg, TN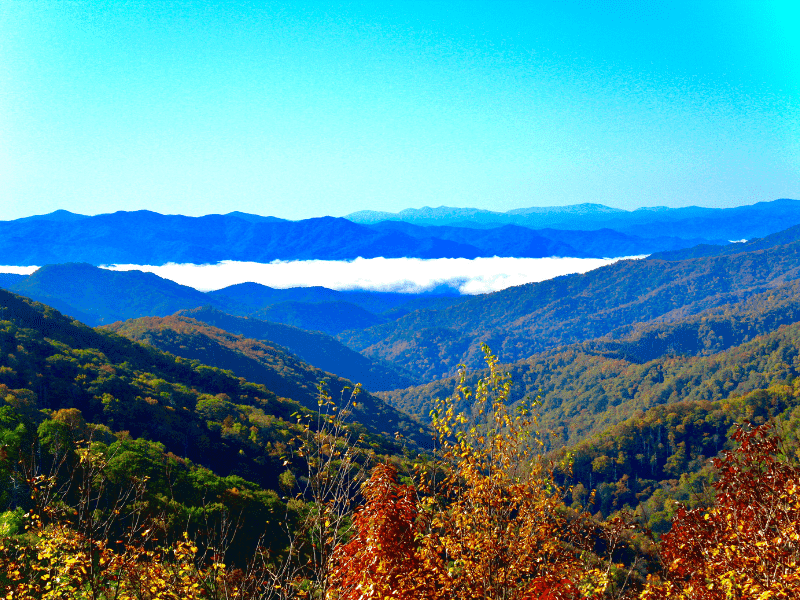 Most people won't put Gatlinburg into the list of budget-friendly places to visit as a family, but if you skip a lot of the touristy parts, it's a great place to visit. Gatlinburg is the gateway to the Great Smoky Mountains, and this national park is free to enter – for now. There is talk of an entrance fee coming in the next year or so; be sure to research ahead of time. The area offers plenty for families to enjoy. Drive Cades Cove and view the wildlife and great beauty of the area. Take hike or go biking with your family. If you head into the town of Gatlinburg or drive to Pigeon Forge, you'll find all sorts of activities. However, some do get pricey. I suggest picking one of the more "pricey" visits, such a Anakeesta, then sticking to more low-cost attractions like the Gatlinburg Space Needle.
Don't Forget these items on a family road trip!
7. Myrtle Beach, SC
If you want a destination that has tons of things to do, Myrtle Beach is the place to go. It's huge, and you'll find hotels that fit every budget range possible. The beach is free for all, and you have decent weather most of the time. I went to Myrtle Beach in November with my kids, and while it was too chilly to swim in the ocean, our hotel cost less than $70 a day. Plus, it had a small waterpark inside of the hotel; my kids loved that. The area boosts tons for families to enjoy including water parks, rides, shopping, restaurants, arcades, mini-golfing, and way more. If you plan your stay right and spend the money where you want the most, it can be a budget-friendly choice.
8. Niagara Falls, NY
Niagara Falls are a must-see for all families, and this is actually a budget-friendly place – for the most part. You have the option to stay on the Canadian side or the New York side. Years ago, you didn't need a passport to walk over, but you do nowadays, so plan ahead. This area offers reasonable hotels, including a Great Wolf Lodge, and plenty of attractions. The cheapest times to travel here are in the late spring and early fall when the crowds are much smaller. Kids love visiting Niagara Falls! The Maid of the Mist is a boat ride to the falls – you get wet – it's so fun! There are trails to walk, and one goes behind the falls. You'll find all sorts of activities, or you can simply enjoy the beauty that is Niagara Falls
9. Acadia National Park
Did you know Maine is home to one of the best national parks in the United States? Acadia National Park often gets passed over for bigger destinations like Yellowstone, but this national park has a lot to offer. Acadia National Park covers more than 47,000 acres, and it's perfect for adventurous families. You'll find all the classic activities you would expect to see like hiking, swimming, fishing, and more. The rangers at Acadia National Park offers programs and hands-on nature exhibits. It's an easy to access park with a 27-mile park loop road, and the passes are cheap and valid for seven days. The only downside is there is no traditional lodging in the park, so campsites are your only option. For us, that isn't really a downside, but it may be for your family.
10. Ocean City, MD
Another popular beach that won't blow your bank is Ocean City, Maryland. It's a great family beach, a place where you can spend time lounging and playing in the waves. In the evenings, hit up their long boardwalk with affordable eats and activities for kids like arcades, amusement rides, and mini-golf. So fun! While the most popular time to visit is in the summer, try to go after schools start. The crowds get smaller, but the water is a good temperature at the end of August and early September.
11. Williamsburg, VA
Do you want to tie in together educational fun and a vacation together? Williamsburg, Virginia is an excellent choice. This historic town is full of affordable activities to enjoy with your kids. Colonial Williamsburg is a big hit for families. You'll meet period actors, reenacting life in the 18th century. The Yorktown Battlefield is home to the last major battle in the Revolutionary War. What a learning experience for your family! If you are looking for something else to do,
Busch Gardens
isn't far away! It's a massive amusement park that all ages will enjoy. The best time to travel to Williamsburg is in the early fall and spring. This time is when the prices are cheapest, and the crowds are the smallest.
12. Adirondacks
Another outdoorsy place that goes into the top budget-friendly places to visit as a family is the Adirondacks, located in New York State. This is a great place for families who enjoy the outdoors, and all it has to offer. Families visiting the Adirondacks enjoy activities like skiing, snowshoeing, and dog-sledding in the winter. In the other months of the year, the Adirondacks offers hiking, biking, fishing, whitewater rafting, and camping. Plus, this area is home to some Olympic training complexes! Lake Placid is one of the most popular towns in the area – yes, like the movie! – but if you want to save money, stay outside of that town.
13. South Padre Island, TX
Texas is an amazing state for traveling, and it's hard to pick the top destinations. South Padre Island is located on the Gulf of Mexico, and despite being a beach destination, it's still a budget-friendly place to visit. This island features plenty of kid-friendly activities like swimming at the beaches or visiting the Dolphin Research & Sealife Nature Center. Here, you can touch animals and even feed turtle feedings. The area is great for bird watching and spotting alligators – yes, there are alligators there. The Birding, Nature Center, and Alligator Sanctuary is a must-see for families. However, this is a big destination in the spring for spring break, so I suggest picking other times to visit with your little kids.
14. Destin, Florida
I'll be honest and say that I think Florida, overall as a state, is quite expensive for vacationing. I traveled to St. Thomas, USVI, for the same price as Florida two years ago. However, if you want to visit Florida, one of the more budget-friendly places to visit in the state would be Destin. A bonus is I think Destin is one of the prettiest places to go. Destin is known for its white sand beaches and clear, blue water. Kids have a blast on the beaches, and there is some great fishing as well. Boat and fishing tours are abundant in the area, as well as snorkeling. In the evening or days you don't want to beach, hit up the Destin Harbor Boardwalk. Destin is near 30A, a strip of highway in Florida with tons of awesome beach towns. You won't lack things to do in this area, but watch your budget since some things are pricey. Remember, you are here for the beach!
Related: 21 Awesome Things to Do with Kids in 30A
15. Denver, Colorado
Most cities are expensive to visit; everything costs more in the city. However, Denver doesn't belong on that list. It's a fairly affordable town with something for everyone to do together. Art lovers enjoy the plethora of art festivals, concerts, and museums available here. They also have plenty of walking tours. Denver is a heaven for food lovers and offers plenty of affordable eateries. Who doesn't love trying some good bites? Kids love the Denver Zoo, one of the best in the nation. It has over 4,000 animals for your kids to enjoy, and they also love the carousel and train rides.
16. Branson, Missouri
If you are like me, at first, you're like what in the world could be located in Missouri that is a vacation? Branson! Branson is an amazing place to visit with your family. It has all sorts of kid-friendly attractions with entertainment districts, the World's Largest Toy Museum, a Titanic Museum, the Aquarium at the Boardwalk, go-kart tracks, and more Seriously, that's only a few of the things here. Outside of the town is Silver Dollar City, a large theme that is part living museum and part festival. Visitors have a great time here. You'll also like visiting Table Rock Lake and Shepherd of the Hills Fish Hatchery. Plus, this town is one of the top Christmas destinations in the United States!
Related: 16 Best Christmas Vacations for Families in the US
---
Don't think you can't find budget-friendly places to visit as a family! Many parts of the United States are affordable for families to visit and enjoy the sites and attractions. Remember, traveling can be done YOUR way!