Atlantis Resort is one of our family's favorite vacation spots. From swimming with dolphins to splashing at the waterpark, we have found so many activities to add to our Atlantis bucket list. Spending time at Atlantis is always an adventure to remember.
Our most recent visit to Atlantis was in April 2021, and we had such a great time. One thing we added to our Atlantis bucket list was a sea lion encounter at Dolphin Cay. Our kids had the best experience; it's a memory we will cherish forever.
We ate tons of dole whips, spent time at the Casino, enjoyed the beach, and splashed at the Splashers waterpark playground. If you're thinking about taking kids to Atlantis, I say – GO FOR IT!
If you're wondering what are the best things to do at Atlantis, here are my favorite bucket list activities at Atlantis that I suggest everyone experiences.
Atlantis Bucket List: 18 Family Activities
1. Go on an Experience at Dolphin Cay
When I share my tips for visiting Atlantis with kids, I mentioned that going to Dolphin Cay is a must-do activity. If you're trying to plan things to do in Atlantis, you have to make this stop, if it hits into your budget.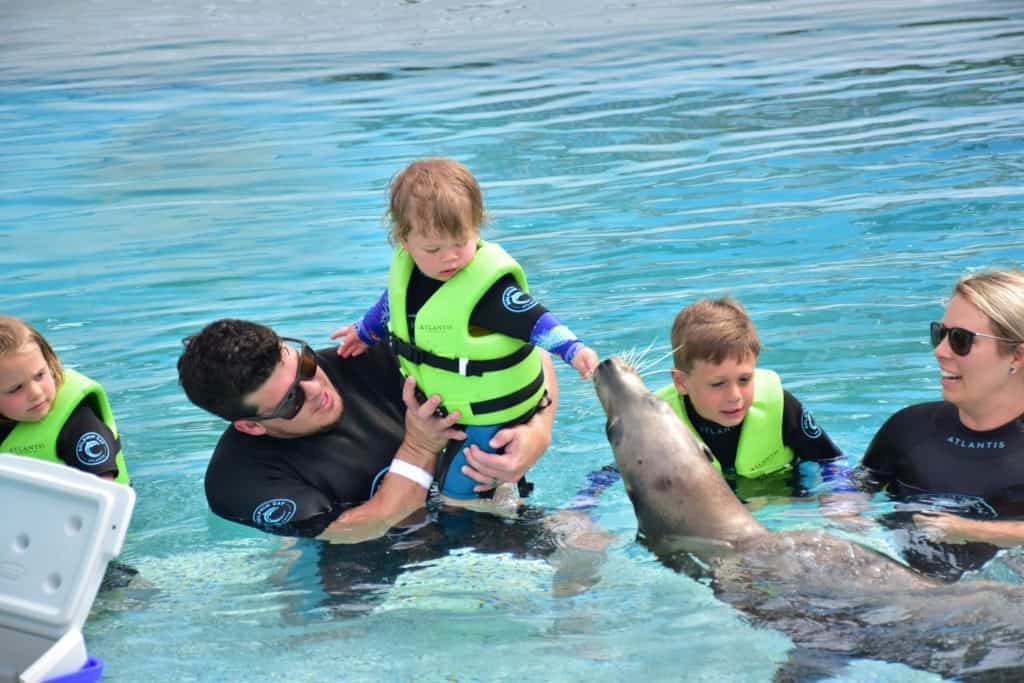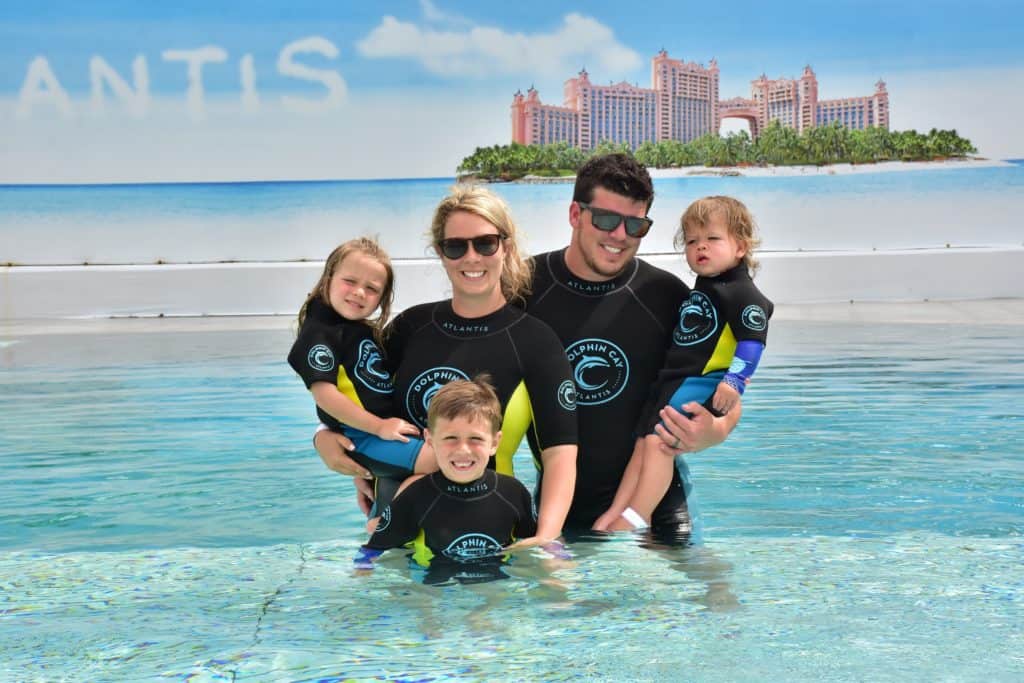 Dolphin Cay is one of the largest marine habitats in the world. It offers a range of marine life encounters. Our kids had the best time here; it was worth the money, and we recommend a visit to every family.
A few years ago, we swam with dolphins, and recently, we picked a sea lion encounter that our kids talk about to this day. They loved it so much. Swimming with dolphins and, this year, sea lions are truly magical experiences that you cannot find in most places.
Atlantis offers several different experiences for families, including kayaking and paddle boarding with dolphins. You should find something that interests your family.
2. Take a Morning Walk on the Beach
Cove Beach, Atlantis Beach, and Paradise Lagoon offers white sand and beautiful beaches to enjoy. I like to take a morning walk on the beach with or without the kids.
Walking on the beach alone in the morning before the day begins is a great way to start the day, but I don't always wake up before the kids. Have breakfast, take a walk, and decide what you're going to do that day.
The beach is really my happy place. There is something about the water, sand, and the sound of the crashing waves that I adore. Atlantis has 5 miles of beaches, so you can catch the perfect views.
3. Enjoy The Dig with Your Kids
The Dig is where kids can explore dozens of marine life exhibits, sunken ruins, and touch tank aquariums at Atlantis. They have scavenger hunt maps for kids to check out.
My kids loved The Dig; we checked it out several times while there. This activity is included in the cost of your Atlantis tickets, so it should absolutely be on your Atlantis bucket list.
We saw caves, coral formations, piranha, eels, and alligators. There are tons marine life to see; your kids will be there for hours.
4. Check Out Animal Feedings
The focus on marine life is something that makes Atlantis stand out from other resorts. Many animal feedings are available for viewing each day. You can ask a staff member or read the Daily Atlantean to find out the times.
Atlantis Adventures lets you book feedings for your family as well. The Stingray Experience is for kids 5 and up; they can feed, touch, and snorkel with all kinds of sea creatures. Sea Squirts for kids 3-6 years old, and it's a one-hour program to teach little kids about fish, sharks, and stingrays.
5. Sign Up for the Altantis Kids Adventure Club
To be honest, I thought the Atlantis Kids Adventure Club was a gimmick at first.
We all see advertisements for these types of kid clubs at resorts, but the kids never feel like they have enough to do. It ends up feeling like a glorified babysitting service, leaving the kids bored while the parents are having fun.
Not Atlantis.
Atlantis stepped up their game; the Adventure Kid Club has endless activities to keep your kids entertained. They can try culinary lessons, theater, playgrounds, arts and crafts, electronic art, and so much more.
I couldn't believe all of the things they offer for kids to do. It's worth checking out. It's designed for kids 3-12; kids have to be potty-trained and pull-up free.
Our kids loved the play areas. They had an interactive grocery store, Legos, construction building areas, a huge dollhouse, board games, and more.
They also off Kids Night Out programs so parents can go out without the kids. It's totally safe and gives you time to be away from your kids while they're having fun.
6. Check Out Stingray Lagoon
You have to add checking out Stingray Lagoon to your Atlantis bucket list.
This is a beautiful marine life habitat that gives you and your family an up-close look at stingrays. Kids love to watch them swim back and forth, plus you also have the opportunity to feed and pet them.
7. Snorkel at Cove Beach or Pay for a Snorkeling Trip
Atlantis offers awesome snorkeling for its visitors. You can rent snorkeling gear there, but I suggest you bring your own – it's one of my tips for saving money at Atlantis.
Cove Beach and Paradise Lagoon offer fantastic snorkeling opportunities. if you have the gear, you can snorkel whenever you want. For those who want an adventure, think about going on a snorkeling boat trip or an outing.
You can reserve snorkeling through the Ruins Lagoon, which is a 2.7 million gallon tank inspired by ancient Atlantis. You can see fish, stingrays, sharks, lobsters, and so much more.
8. Go on Every Water Slide You Can!
If you love waterslides, then you need to visit Atlantis. There are 18 water slides.
Make it a goal to go on all of the slides that you can. Kids are limited based on their height, but there are still plenty of options for everyone to enjoy.
If you've seen pictures of Atlantis, you'll recognize the famous Mayan Temple waterslide. It sends riders down from the top of the pyramid through a tunnel full of sharks. It's thrilling and amazing at the same time.
The Mayan Temple actually has four slides, two of which go through the shark tank. Then, the Power Tower is nearby with four slides. I like how they added aquariums throughout the waterpark.
9. Spend the Day at Aquaventure
When you're planning your Atlantis bucket list, make sure you mark down that you're spending at least one whole day at Aquaventure. This is Atlantis Resort's 141-acre water park that is the largest water park in the Caribbean islands.
Aquaventure has high-speed waterslides, river rides, kiddie areas, and 11 pools. Your whole family will spend time here and love every second of it.
Here are a few of my tips for visiting Aquaventure with your family.
Make sure you have all of your toddler beach essentials like goggles ahead of time since they cost a small fortune at the resort.
You can find life jackets there free of charge.
Wear water shoes or sandals – the cement is super hot!
You can rent lockers to secure items if you want.
Take advantage of the poolside restaurants. The kid meals are a great price and size – they're almost the same size as adults!
Our little kids love the Splashers, which is a huge waterpark playground. There are tons of lifeguards, which helped me feel safe. The kids can go down slides, climb nets, and cross rope bridges. There are water cannons and a huge water bucket that dumps on kids.
10. Float on the Lazy River Ride
The Lazy River Ride is a scenic, relaxing water ride that is perfect for families. it brings you through the tropical landscape, perfect for kids and adults to float together.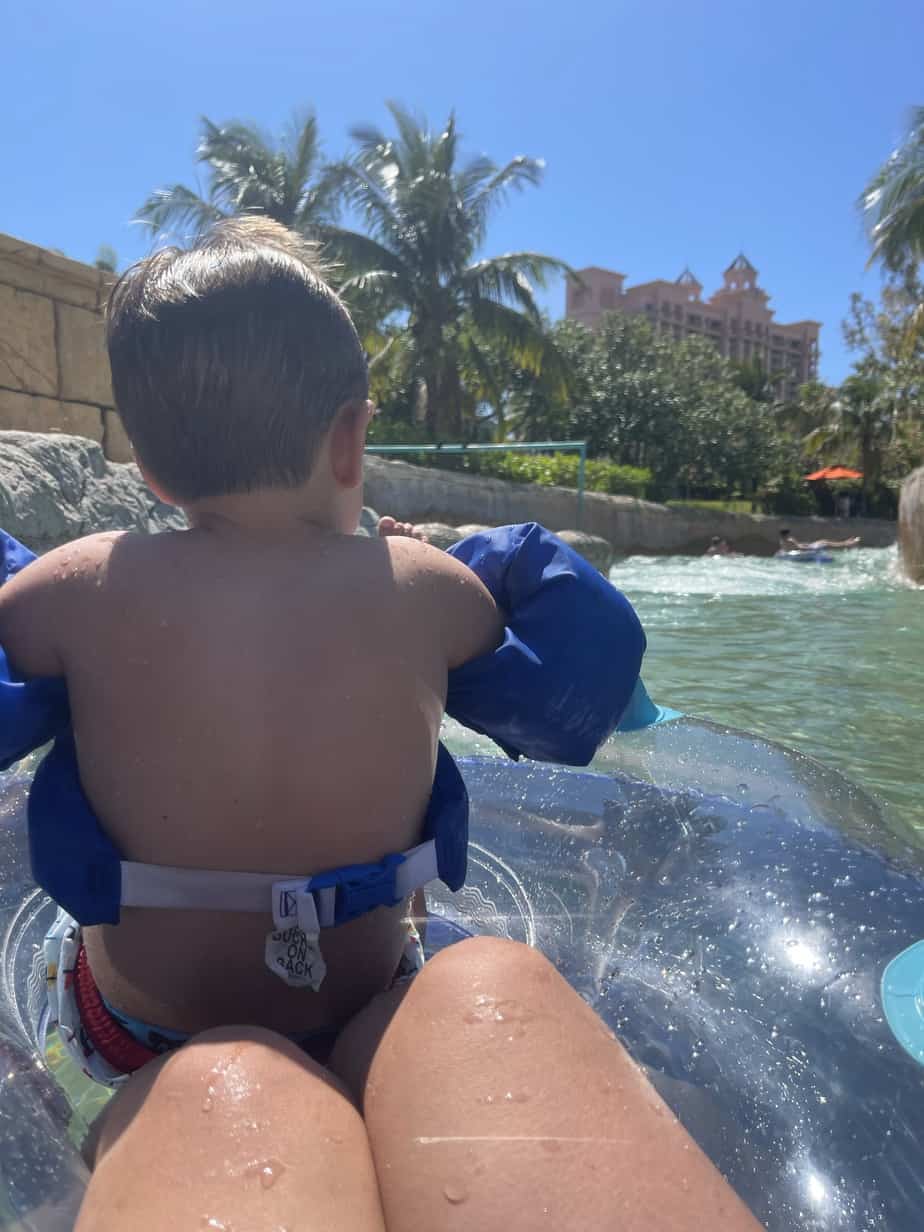 If you're traveling without kids, check out The Current that moves you along on water escalators, rolling waters, and extreme rapids. It's not kid-friendly, but it's so fun!
11. Enjoy the Casinos
If you watched my stories on Instagram, you probably saw that I headed to the casinos a few times after my kids went to bed. The Atlantis Casino is the Caribbean's largest casino with over 75 gaming tables.
Atlantis even offers complimentary gaming lessons for newbies.
It's a great way to spend an evening; I definitely think this is a must-do on my Atlantis bucket list.
12. Grab a Dole Whip
They are SO GOOD! Seriously, I think I had one every single day. Pineapple flavor is my favorite!
You can find dole whips at most poolside restaurants. Chances are you'll spend so much time at the pool that you'll be able to have one or two each day.
The price is totally affordable!
13. Watch a Complimentary Movie
Atlantis Resort offers Hollywood blockbuster movies and family-favorites all the time. These movies are free for everyone, and it's the perfect activity when your family needs to chill out after a busy afternoon.
Sometimes, on vacation, you need to take a time-out to sit down and relax. Grab a seat, a snack, and watch a good movie together.
14. Shop at Marina Village
Marina Village offer shops and restaurants for you to enjoy. Take a stroll and check out the different jewelry and clothing stores. It's the perfect place to get some souvenirs for your family, while enjoying some local entertainers and beautiful scenery.
Our Favorites:
Breakfast- Murray's Deli
Dinner- Seafire Steakhouse
Marina Pizza has the best pizza around!
15. Get Stuffed Animals at Atlantis Pals
If your kids are bored on a rainy day, a fun activity is to visit Atlantis pals. It's like Build-A-Bear but an Atlantis version. They offer stuffed bears, dogs, cats, unicorns and other animals, along with outfits and accessories for the stuffed animals.
Kids love these as souvenirs.
Lexi Loves her pink unicorn that she was able to stuff and name herself–Meet Bahama Mama.
16. Walk with Sharks
This is something our family has yet to do but we saw families enjoying it. It looks amazing!
Atlantis gives guests the chance to walk around inside the Mayan Temple Shark Lagoon. You wear a scuba helmet with a tour guide; it's called Snuba because it's a cross between snorkeling and scuba diving.
This experience is for ages 8 years old and above. You can see what it's like to walk underwater while breathing, as you watch nurse and reef sharks swim above you.
17. Have a Mom Spa Time at the Mandara Spa
Taking kids to Atlantis is a joy, but if you have the chance to slip away for some alone time, head to the Mandara Spa. This award-winning spa offers warm and cold plunge pools, steam and sauna rooms, and every spa service you can imagine.
I spend most of my time with my kids at the pools and on the beach, but getting massage is one of my favorite me-time activities.
Moms have to focus on ourselves as well!
18. Grab the Atlantis Scavenger Hunt
When you're taking kids to Atlantis, consider grabbing the free Atlantis Scavenger Hunt that you can get from the Kids Concierge. Kids win a prize if they complete the adventure, and it helps your family get to know the property.
You take all kinds of pictures along the way, and it shows you fun little locations or spots you might not have found otherwise.