Hands down, our family loves going to Atlantis with kids. We spent our spring break there this year, and the kids had a fantastic time. If you're planning a trip there, you need to know all of the tips for visiting Atlantis with kids.
Atlantis is a mega-resort located in the Bahamas, complete with huge waterparks, marine life encounters, kids' clubs, casinos, and everything that you can imagine for your family. Since it's in the Bahamas, you need your passport to visit, including your kids. This resort earned the nickname "Vegas by the Sea," so you might wonder how kid-friendly it truly is.
Trust me, your kids will be dying to go back as soon as you leave. It's a fun-filled vacation for everyone in the family.
Pin this blog for later! ↓
Related: What to Pack for Atlantis Bahamas: 20+ Essentials You Need
18 Tips for Visiting Atlantis with Kids
Atlantis offers something for everyone, and that's not an exaggeration, especially if your kids love swimming. They have a total of 11 swimming pools, three beaches, 18 waterslides, and two river rides. They have a seven-acre snorkeling lagoon as well.
Here are tips for visiting Atlantis with kids – there is so much for your family to do.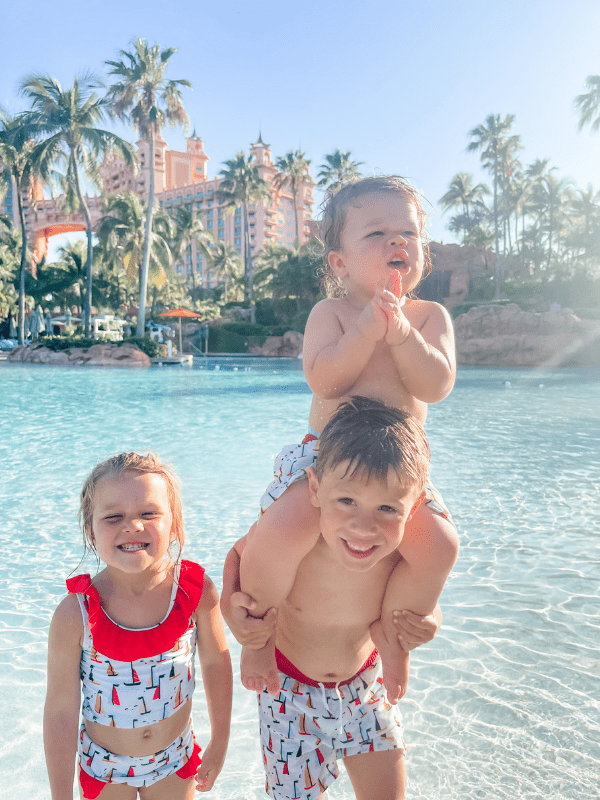 1. Get Your Passport Sooner Rather Than Later
All family members, even infants, need to have a passport to enter the Bahamas. The typical processing time for passports is six to eight weeks, but due to Covid, the processing time is much slower. I suggest you get your passports three to four months before you need to leave. This is something you need to think about when traveling with babies – they still need passports!
2. Make Sure You Get a Property Map
Atlantis resort is HUGE – it's a mega resort after all. You need a property map, and bring comfortable shoes. Try to familiarize yourself with the map the best that you can before you go, but the map isn't well-made. You'll end up asking for help a lot.
3. Bring Masks and Lanyards
Covid has to be a consideration when visiting Atlantis. The resort has taken a lot of precautions to ensure families can safely enjoy the resort, but masks are a requirement for everyone two years old and above in public areas. Your kids won't need them while swimming, but they need them when walking around.
One easy solution is to bring your own masks and lanyards. We attach our masks to lanyards so our kids don't lose them. It makes it easier for kids to keep them handy when they need to wear them. While you can buy extra masks at the resort, you know they cost more than what you'd pay for them at home!
4. Stay at The Royals
This year, we stayed at the Reef, which is one of the many fantastic hotels located at Atlantis. The Reef is beautiful, but I suggest staying at The Royals if possible. This location is closer to the pools and kid-friendly activities, so you don't have to walk as far.
5. Bring Goggles and Pool Toys
Bringing goggles and pool toys is a must if you're visiting Atlantis with kids. The toys cost a small fortune at the gift stores on site, and honestly, pool toys tend to break anyway. Goggles at the resort cost triple what you'll pay at your local Walmart, so slip some in your suitcases and bring a mesh bag to keep them in while walking back and forth to your room.
6. Have a Stroller
Did I mention that Atlantis is HUGE? While the resort has a lot of steps that make strollers a bit difficult, it's still easier than trying to carry your kids everywhere or making them walk. This is one of the tips for visiting Atlantis with kids that all parents need to know.
Atlantis also has strollers that you can rent, but since we use a stroller through the airport, we have it at the resort as well.
7. Enjoy the Open Air Marine Habitat
Part of Atlantis is the marine habitat. They have 14 lagoons full of over 50,000 aquatic animals – seriously. Spend time with your kids watching the animals. It's part of the resort. They see giant rays, sharks, sawfish, tropical fish, and more.
They have daily fish feeding that kids love. You can check the daily schedule to find out when they feed them each day.
8. Snatch Pool Chairs ASAP
I think this goes for a lot of resorts; poolside chairs are hard to find if you wait for lunchtime. Place towels or shoes on your chairs as soon as the pools open at 9 AM – let's be honest, you'll be awake and the kids will be ready to go anyway by then.
They do have cabanas, but they're expensive to rent. I would suggest you spend the money on an adventure or two than a private tent. Plus, if you go from pool to pool, you can't move the cabana with you.
9. Bring Favorite Snacks from Home
Food is expensive, so I recommend bringing snacks from home. Some of my friends even bring an entire suitcase full of snacks. If you don't want to bring snacks with you, there is a shopping center near the Coral Towers, but snacks are cheaper at home still.
This is a great way to save money when visiting Atlantis plus a way to keep your kids happy.
10. Check the Daily Events Page
Atlantis truly caters to kids, so make sure you check out the Atlantis Kids Adventure events page. Every day, they have something different for kids. Lexi loved the mermaid adventure, but that's just one thing that they had.
The Kids Adventure is a space for kids to have fun. They have dollhouses, Legos, evening programs, and space for kids to play and relax. It's a great space for families to unwind.
11. Spend Time at the Splashers Pool
We loved the Splashers Pool; we spent the most time here. This pool has a huge water playground with multiple water slides and a huge bucket that dumps water on the kids. They have a blast at the Splashers Pool.
I think that the kids really enjoy that this pool is right next to Splashers Sacks that has peanut butter and jelly sandwiches – that's Vin's favorite – along with the best dole whips ever. They're seriously addictive, so make sure you grab some.
12. Check Out the Mayan Temple Pool
Another pool favorite of ours was the Mayan Temple; it's very kid-friendly. It has a walk-in beach pool access and a small slide, perfect for your little kids. It's right beside the larger Mayan Temple that has slides that go through the shark tank.
The larger Mayan Temple is perfect if you have older kids. Plus, everyone wants to see the sharks, so make sure you stop by.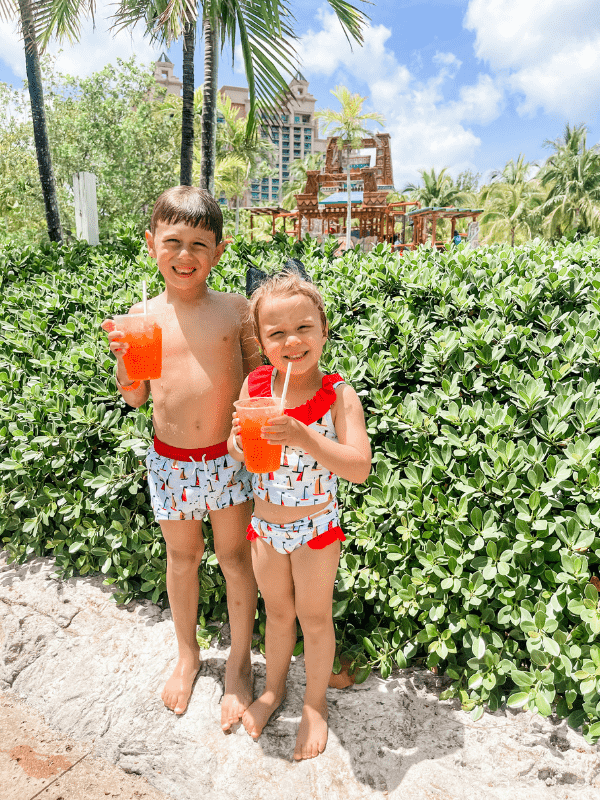 13. Hit Up Favorite Activities Early
Some things are more popular at Atlantis than others; the water slides are a huge crowd-drawer at this resort, and the lines can get long for the big slides. For little kids, this doesn't matter as much, but if you or your older kids want to try some of the bigger ones, hit these up early when it opens at 10 AM.
The most popular slide is the Leap of Faith. That's the one at the Mayan Temple that goes through the shark tank. It's a near vertical drop into an enclosed tube surrounded by sharks. They also have the Serpent Slide and Jungle Slides, popular for elementary-aged kids.
14. Get Life Jackets There
Water safety is a must when you're anywhere near a pool with kids. If you have preferred life jackets, feel free to bring your own, but don't think it's required. No one wants to take up that space in their suitcases unless necessary. Atlantis has complimentary life jackets for everyone.
15. Book an Adventure at Dolphin Cay
When you see pictures and videos of Atlantis, chances are you'll see images of families swimming with dolphins. Since this resort isn't all-inclusive, these adventures come with a cost, and I understand everyone has to pick what is most important for their family.
I highly suggest that you book an adventure at Dolphin Cay. It's absolutely worth the money and time; you'll make amazing memories with your kids.
We chose the Playtime with Sea Lions, and the kids talk about it all the time. They fed sea lions, gave her high fives, and swam with her in the water.
They have other options like swimming with Dolphins, spending a morning with dolphins, or even snorkeling. Swim in Wonder is an hour-long encounter for kids 6 and older, and Dip 'N Discover is for kids three and older.
16. Book Dining Reservation Before Your Trip
Believe it or not, there are 21 restaurants located at Atlantis, so you have plenty to consider, but not all are kid friendly. Some are better suited for adults, and if your kids are like mine, they get fairly grumpy and hungry after they play and splash all day. Some of the popular restaurants, like Chop Stix and Seagrapes, book up weeks in advance.
So, a month or two before you visit, take time to consider what restaurants you really want to visit while there and make reservations ahead of time. Plan your activities around those time slots, and if you're hungry later, grab a pizza and take it back to your room while your kids snooze.
17. Use the Kids' Program for Babysitting
Atlantis has several different kids programs available. They offer babysitting, as well as drop-off kid camp-style programs. Kids between 3-12 can pick an adventure, like cooking lessons, outdoor play, and other fun things.
If you have a baby or toddler, Atlantis has CPR-certified babysitters that can come to your room for $25 per hour. If you have it in your budget, this is a great way to get that adult-free dinner time after playing in the kids' pool all day.
18. Check Out the Arcades
Our kids love the arcades, and it's the perfect evening activity after a long day of swimming. They have so much fun playing all the different games available, so make sure you plan to spend money in the arcade.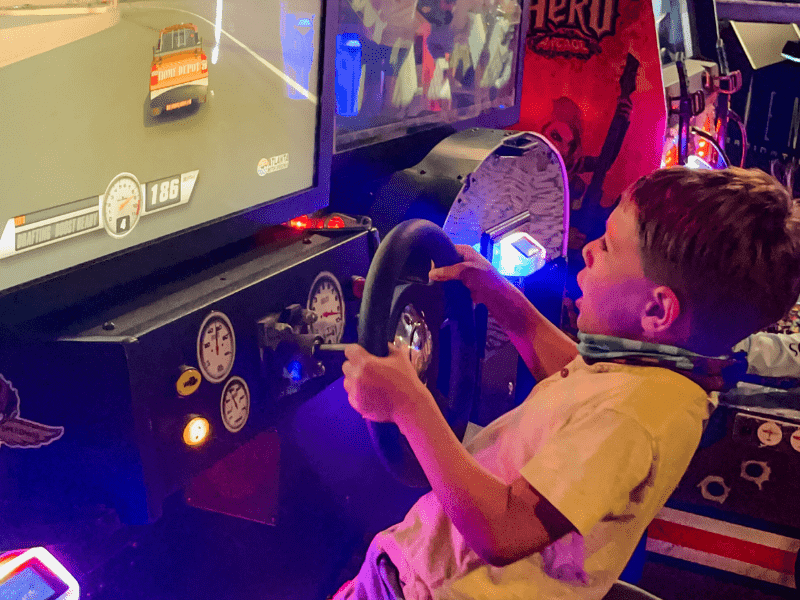 Enjoy Visiting Atlantis
I hope you enjoy these tips for visiting Atlantis with kids. This is hands-down one of the best places we have taken our kids, and they have an amazing time. With the right planning, this is an amazing vacation for families to enjoy together.