Atlantis is one of our favorite vacation spots, but there is no getting around the fact that it's an expensive vacation. Our family has a great time visiting and enjoying all that the resort has to offer, but if you want to go on a budget, here are some of my best tips for saving money at Atlantis.
It's no secret that we've visited this spot a few times, with and without kids. I enjoy going to the Bahamas, and Atlantis offers a great location. It's in Nassau, a city where cruise ships dock, so there is tons to do on and off site. You can stay on the resort all day, never leaving the property – sometimes, that's what you want in a vacation – or you can head out and make your own adventures.
Before we headed to Atlantis for the first time, my friends told me how expensive it was, so I started researching how to save money at Atlantis.
We have three kids – we had to make it affordable!
After a few trips, we found a bunch of tips that actually do work to save money at Atlantis!
I don't believe a trip to Atlantis has to be out of your reach. If you want to know how to save money at Atlantis, here are some of my best tips.
Pin this blog for later! ↓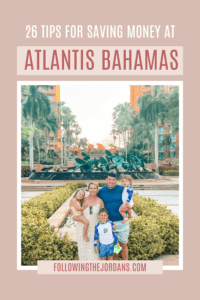 Related: 18 Awesome Tips for Visiting Atlantis with Kids
26 Tips for Saving Money at Atlantis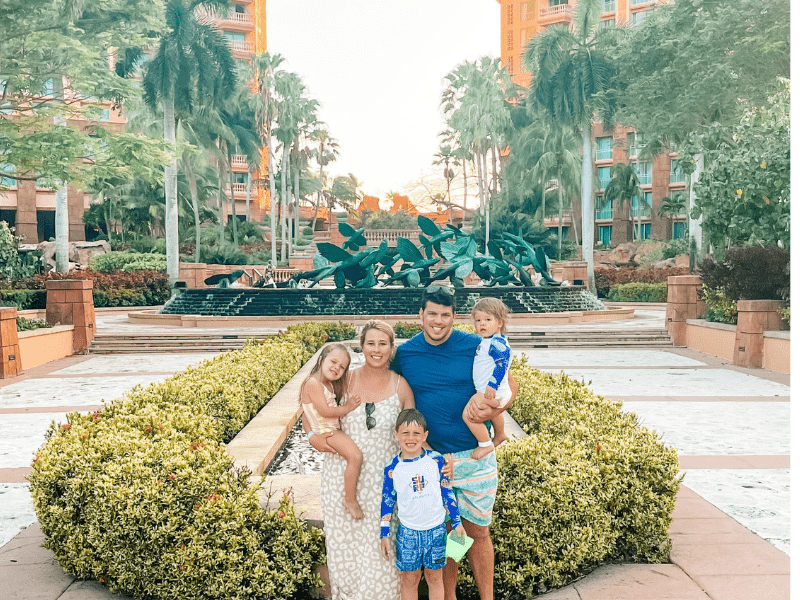 1. Don't Go During Peak Season
Let's start with the most obvious – going during peak season will cost you the most money. That's when all resorts jack up their prices and charge more.
The best time to visit Atlantis is from mid-December to mid-April. This is considered their peak season because the daytime temperatures are warm, but they don't have a risk of a hurricane at this time. Hurricanes are a big deal in the Caribbean islands, so you need to be cautious of that.
However, the cheapest time to go to The Bahamas in general is in August. Essentially, if you go anytime outside of the peak season, you'll pay less per day.
2. Have Flexible Days
I know it's not always easy because of vacation days and work, but if you have flexible dates, you'll find savings on your room rates. Typically, resorts charge more on the weekends than they do during the week. If you can schedule your vacation Monday-Friday, you'll save more money compared to stay Saturday-Thursday.
I'm serious!
If you want to know how to save money at Atlantis, look at your vacation dates.
The price can vary by over $150 month, even with just a few days difference. When you're staying for several days, that adds up!
3. Pick a Cheaper Tower
When you book an Atlantis vacation, you'll see that there are several towers available, and they vary in luxury and price. The middle of the road is the Royal.
Understand that the Royal is still essentially a basic motel room, but it has great views and it's close to the pools.
We don't spend a lot of time in our hotel room; the kids want to be out at the beach or pool, enjoying their time. No matter where you stay, it's going to be clean and provide you with the basic essentials, so I say don't overspend on the towers unless luxury really matters for you.
On the flip side, if you want to cook more often (saves money for your family as well) consider stay at The Reef. These small studios offer a fridge, microwave, two-burner cook-top, and everything you need to cook meals for your family.
4. Stay at the Comfort Suites Nearby
If you really want to save money and still enjoy Atlantis, check out the Comfort Suites Paradise Island that is nearby. Atlantis won't tell you this, but travelers who stay at this Comfort Suites receive free access to Atlantis features like the water parks, pools, and beaches. You also can eat at all of the restaurants as well.
This Comfort Suites is within walking distance and their rates include daily breakfast and wi-Fi. It's a fantastic way to get a similar vacation without breaking the bank.
How much can you save by staying at the Comfort Suites?
I compared the prices for the same days, and the Comfort Suites averaged around $120 cheaper per night than Atlantis. If you stay for a week, that's over $700 in savings.
5. Get Email Promos
Make sure you sign up for Atlantis emails and watch for lodging promos. You also want to follow the resort on social media because they often post promos.
For example, one of the promos that I saw was a $400 resort credit if you stayed 5 or more nights and up to $300 in dining credits.
That might not seem like a huge deal, but $300 in dining credits might be two or three dinners for your family. Money saved is a big deal when you want to go to Atlantis Resort on a budget.
6. Know that Fees are Included
Something I didn't realize is that Atlantis charges a nightly gratuity fee of $12. That is for the housekeeping.
Now, I firmly believe these hardworking people deserve their gratuity! However, Atlantis often doesn't tell you when fees are tacked on – it's your responsibility to check and know.
So, always double check and don't double up on tipping unless the service truly calls for it, and sometimes, it does!
7. Bring Sunscreen from Home
Sunscreen is another one of those necessary items that you have to bring with you to Atlantis, but it's going to cost an arm and a leg if you buy it there. The $8 bottle of sunscreen at your local Walmart will cost nearly $20 there.
You need a lot of sunscreen. I recommend putting a time on to remind yourself to apply sunscreen when you visit Atlantis; the sun is strong there!
Related: What to Pack for Atlantis Bahamas: 20+ Essentials You Need
8. Pack Snacks at Home
One of my friends who went to Atlantis packed an entire checked bag with snacks from home. Airlines allow you to pack certain foods, so make sure you check with the one you're traveling before doing this.
However, even if you buy snacks at a local grocery store in Nassau, it's still more expensive than you'll pay at home. That's the reality of buying groceries on an island at a popular vacation spot.
If you really want to save money on food at Atlantis, this is a smart idea.
9. Do Laundry at Atlantis
If you stay at the Reef, the use of the washer and dryers is free!
So, you might wonder why in the world you would want to do laundry on vacation, but it's easy to forget the checked baggage fees are real. Some fees are upward of $60 per bag.
When you have a family, those fees add up real quickly. If we stay longer than a few days, I plan to wash clothes on location to avoid those baggage fees.
10. Visit a Local Grocery Store Near Atlantis
No one at Atlantis is going to tell you that there is a nearby grocery store across the street, but if you want to save money at Atlantis, this is a good tip. You can walk to it if you want; they won't tell you because they want you to buy all of the expensive food at their resort.
Only the pricier rooms at Atlantis come with a small kitchenette or refrigerator – another way they convince you to buy food at the resort – but it's still possible to stock up on non-perishable snacks and breakfast foods.
Grab some bagels, donuts, cereal bars, granola bars, chips, and other favorites.
11. Buy Alcohol Elsewhere
It's no secret; alcohol costs a small fortune when you head to a resort or vacation destination. That applies to most places not just Atlantis. If you plan to enjoy more than one or two adult beverages, here's one of the best saving money tips for Atlantis.
Buy your alcohol at the airport.
Yes, seriously! It's duty-free and inexpensive when compared to the drinks sold at the resort. You'll pay $20-30 per bottle, but most drinks are $12-20, so it's quite a savings!
12. Have Insulated Cups 
So, if you buy your alcohol elsewhere, get some nice insulated cups to take with you. We grab soda and juice at the local grocery store, then make some drinks in our cups to take with us to the pool. 
Even if you aren't an alcohol drinker, having large insulated cups on hand helps. It gives you a way to keep your drinks cool from your room. 
13. Try Off-Site Restaurants
Atlantis is located in Nassau, Bahamas, home to plenty amazing restaurants, cafes, and pubs. You're free to eat meals off the property, and I suggest that you do so often.
You'll find more affordable choices when you leave Atlantis, and the food is just as good (or better).
When I researched how to save money at Atlantis, I learned that there are several close restaurants around Atlantis, such as Jimmy Buffet's Margaritaville. You could walk over the bridge and grab some seafood at MacKenzies.
14. Go for the Buffets
When I'm at home, I rarely pick buffets because they're expensive, and the same goes for the buffets at Atlantis. However, if you plan it right, this is one of the best tips for saving money at Atlantis on food.
If you visit a buffet in the middle of the day, it's cheaper than dinner time. They increase the price for dinner and offer nearly the same foods.
That should be a food crime – seriously.
So, head over to the buffet in the afternoon and eat as much as you can. If you time it right, it'll be right before your typical dinner, so you might only need a few snacks or a poolside meal to hold you over until breakfast the next day.
15. Get Some Pizza!
Our kids love pizza – I think it's a given for all little kids. So, when I heard that there is a pizza place on property, I KNEW we had to give it a try.
This pizza place is called Marina Pizza, and it's close to the Royal and Coral towers. You can't sit inside, but there are tables outdoors. However, we opted to take the pizza back to our room to give our kids time to wind down out of the heat and sun.
You'll need your own beverages, so make sure you stop at that grocery store and grab some different drinks your kids like!
16. Go to Murray's Deli
Another one of our favorite meals at Atlantis is Murray's Deli. Their portions are huge, perfect for taking back to your hotel for lunch the next day. You also can share sandwiches to save money, but we often bring them back and serve leftovers the next day. 
Yes, their subs cost around $18, but a dinner and a lunch means each is only $9 – not bad! The kids cost around $10.
I like that they also offer take out, since some of the resort restaurants and eateries don't. If your kids are tired for the day, grab some subs and chill in your room. 
17. Eat Kid Meals from Poolside Restaurants
Don't head to a restaurant for lunch. Instead, eat at the poolside snack bars. They offer tons of food that are cheaper than the restaurants, especially if you order the kids' meals. Plus, the poolside restaurants have yummy dole whips!
Our kids love the PB&J sandwiches. Yes, they're more expensive than you'd spend at home to make the same thing, but it's better than $15 per kids' meal at a restaurant.
We order one of the kids' cheeseburger meals and it was the same size as an adult meal. I paid under $10 for it, so order kids' meals at the poolside bars.
18. Fill Your Sodas at Poolside Eateries
Another trick that I like to save money at Atlantis Bahamas is to grab one of the "fill your own" sodas at the poolside eateries. I already mentioned that these little stands are great for lunches – even for adults! – but you also can refill their soda cups before heading back to your room. 
Since a water bottle costs upwards of $7 a bottle at this resort, take advantage of any drinks you can get. 
19. Look at the Sundries Shops
Each tower at Atlantis has a Sundries shop that sells some limited grocery items. I was surprised to realize that the prices aren't terrible; the prices at the local grocery store are still better.
However, it's still cheaper to go to the Sundries shop and grab snacks than it is to get food at a restaurant. So, while this isn't my favorite way to save money at Atlantis, I was surprised by the fairly decent prices.
Basically, the grocery store is by far the cheapest way to feed your family at Atlantis, but if you need a quick item, Sundries is still cheaper than the pizza shop or included restaurants. It's your in between option.
20. Restaurants Include Gratuity
Remember when I told you that Atlantis charges a housekeeping fee?
Well, every restaurant on the resort site is going to automatically add a 15% gratuity charge to your bill along with a 12% VAT (tax). This quickly adds up – that's a 27% increase on every restaurant bill.
Now, at home, we are strict 20% tippers, but it's really easy to not realize they added the gratuity at these restaurants and double tip. If you did that every single meal, it would add up and take away money from other activities you might want to enjoy.
21. Use a Water Ferry Not a Taxi
If you travel to downtown Nassau or off-site excursions, try using a water ferry rather than a taxi. Taxis cost a great deal more, and a water ferry is an experience. Our kids thought they were part of the adventure, when they were just a simple form of transportation from one area to another.
Taxis are a great option if you don't want to use public transportation, but if you don't have an issue with that, there is no reason not to use a ferry.
22. Don't Try to Do Everything
The rush to do everything will leave you exhausted and broke. There is a never-ending amount of activities and excursions, but most of them cost money. That leaves little time for relaxing at the beach or pool; you'll spend all day running around, and your budget will continue to increase exponentially.
Pick a few bucket list activities that you want to accomplish while visiting Atlantis and make that your goals. Ideally, you'll only have one activity per day.
Related: Atlantis Bucket List: 18 Amazing Activities for Your Family
23. Skip the Souvenirs
Souvenirs from Atlantis are expensive – this trend seems to cover everything there. I know that kids love to get souvenirs from vacation locations, so instead, go downtown Nassau and find some shirts or stuffed animals that your kids love.
Some of the same souvenirs at Atlantis are half the price when you shop downtown.
Downtown Nassau is full of shops. Cruise ships stop at these locations, so you'll find everything from small souvenir shops to brand name designers like Gucci. You'll get more for your money at these shops.
24. Check Out The Daily Feedings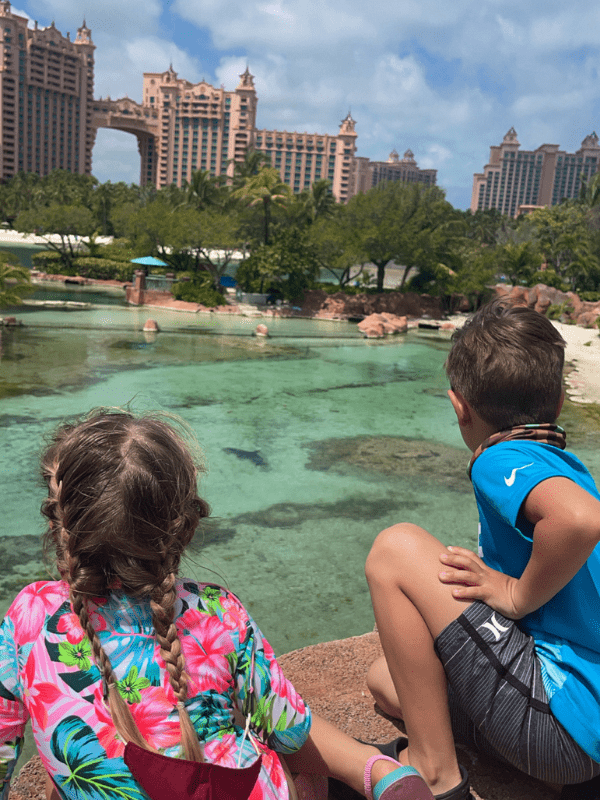 Our kids love the daily sea life feedings. These are complimentary activities. You watch the staff feed the marine life that lives on the resort property, and some of the feedings are kid-friendly. They might allow your kids to toss food to the animals, so make sure you check them out. Our kids thought the feedings were the best.
25. Do The Daily Arts & Crafts
Always take advantage of the complimentary activities offered by Atlantis. These are included in the cost that you pay when you book a room, so take advantage of them or you're wasting money.
Some of the free activities you can enjoy include:
Movies
The Dig
Predator Lagoon
Character parades
Gym access
Casino lessons
26. Bring Beach Pools and Goggles
If you have space in your luggage to fit snorkels, water toys, and other beach essentials, I highly suggest that you bring them from home. These items are bulky, so they take up more space than you might like. However, Atlantis charges around $12 to rent a snorkel set.
That doesn't even cover the cost of goggles. A pair of goggles is around $15, and you can buy the same pair at Walmart for $7. It's a serious saving if your kids use them while swimming.
How to Save Money at Atlantis
Most importantly, one of the best tips for saving money at Atlantis is to set a budget and stick to it. Your vacation is in the Bahamas, and the beach is free.
You can enjoy the trip no matter how much you budget for your vacation. Whether you have an unlimited budget or need to pinch pennies, these tips for a budget-friendly Bahamas trip will help you reach your goal and save money while visiting Atlantis.