Legoland is a dream land for little kids, especially LEGO lovers who want to zip around on rides and trade mini figures all day. This theme park, located in Florida, hosts a range of restaurants and places to eat with your family. Whether you want to grab a snack or munch on a whole turkey leg, you need to know the best places to eat at Legoland Florida.
I'm a self-proclaimed foodie; I love food. I love hitting up all the local places to get a bite to eat when we travel and trying the must-have dishes for areas. Whether we are in New Orleans or Florida, I'm always on the lookout for new places to chow down with my family.
However, they have to be places my kids like too, and Legoland theme park caters to the kids. Every restaurant offers foods that the kids will like at a price that won't give you a heart attack, while still giving adults other options than just chicken tenders and fries.
We can only eat so much of those!
Let's take a look at some great places to get a bite to eat while visiting Legoland.
Pin this blog for later! ↓
Related: 13 Awesome Things at Legoland You Have to Do
7 Best Places to Eat at Legoland Florida
1. Granny's Apple Fries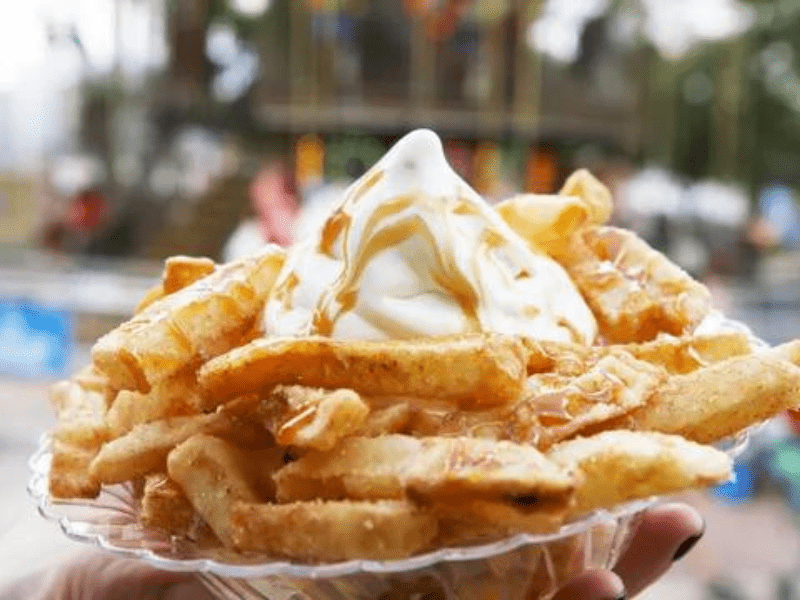 The most iconic food at Legoland is the Granny's Apple Fries. These are French fry-shaped sticks, made from Granny Smith apples, served with whipped cream or vanilla soft serve ice cream and caramel drizzle.
Yum!
When you look for places to eat at Legoland, do NOT leave the park without having at least one order of these divine apple fries.
2. Dragon's Den
This restaurant serves all sorts of wonderful dishes. We loved the "Loaded Tots" covered with cheese. You'll find craft beer for the adults, turkey legs, mini corndogs, bratwurst, and more here.
Dragon's Den is located near the rollercoasters in Lego Kingdoms.
It's not every day that you find a smoked turkey leg, but it's a common snack at Legoland Florida. You can make a bit of a mess and eat a big hunk of meat without anyone giving you a strange look.
3. Taco Everyday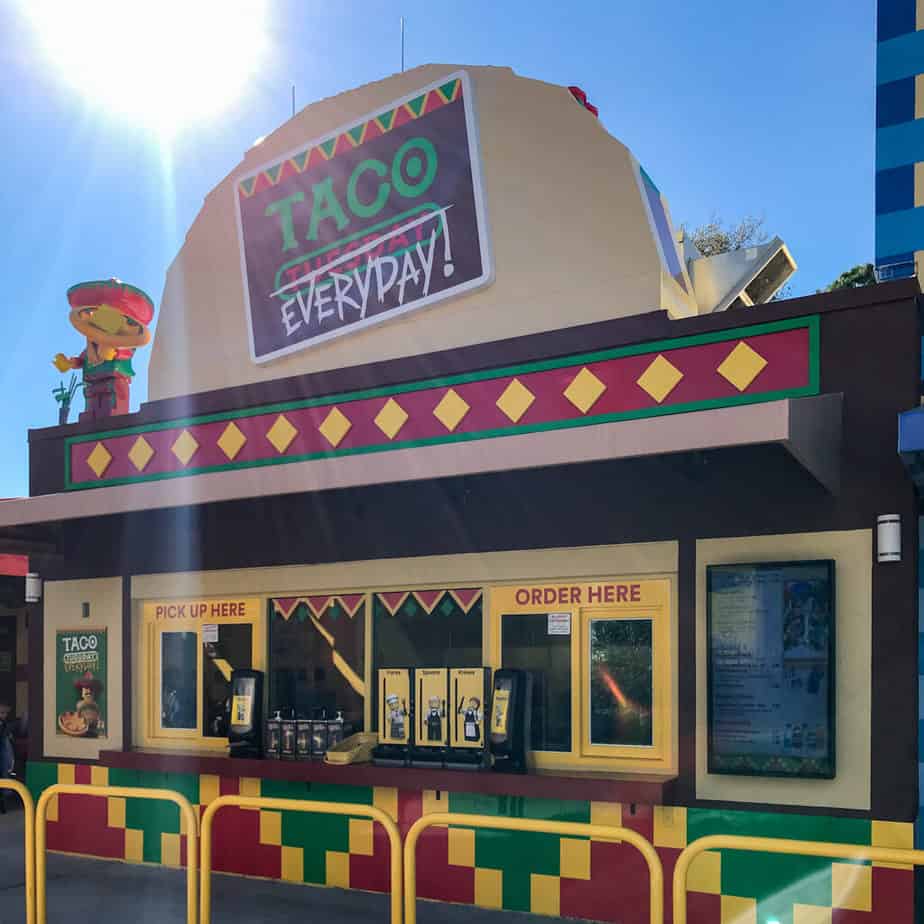 You don't have to skip your Taco Tuesdays while at Legoland – give Taco Everyday a try. This is a kid-friendly restaurant that caters to the younger folk. They have adult size tacos with all the toppings you want, but they also sell tacos for kids, served in pink or blue shells for the under 12 year old crowd.
So fun!
4. Shipwreck Restaurant
We stayed at the Legoland Pirate Hotel, located right towards the entrance of the theme park. The Shipwreck Restaurant is a family-style restaurant with three courses, all themed for pirate fun.
The courses include a salad, three skillet meals, and a delicious dessert, and they have plant based options as well. The price is affordable considering it's a three course meal, and it's right in the hotel, so you can go upstairs and crash with full bellies after.
5. Pepper & Roni's Pizza Stop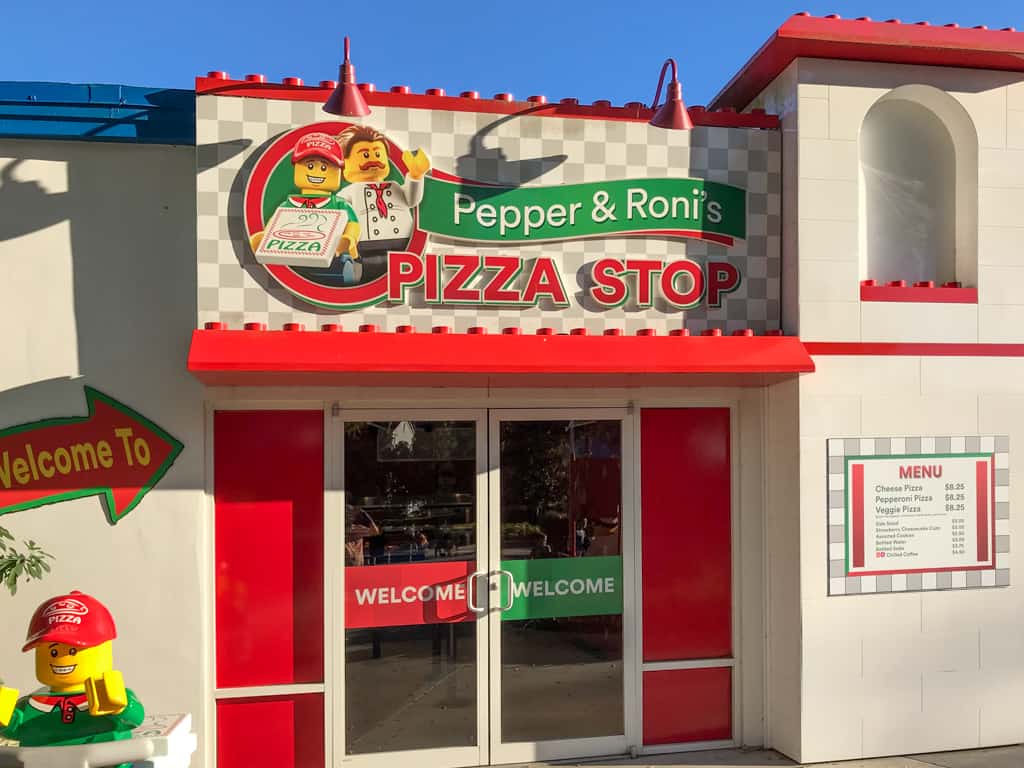 Sometimes, finding foods that my kids WANT to eat is the biggest problem. Pepper & Roni's Pizza Stop is the perfect answer because I've never met kids who don't love a good slice of pizza.
This restaurant is located right near the entrance of the park, and it's a family favorite. Food comes out fast, and the prices are great, especially considering this is theme park food. It won't cost you an arm and a leg.
6. Kick 'n Chicken Co
Here is another dish that you might not find anywhere else besides Legoland Florida – Cinnamon Waffle & Chicken BLT.
This is a delicious twist on the classic chicken and waffles, and it's quite delicious. Kick 'n Chicken Co combined everything Americans love of all things sweet along with the love of savory dishes – bacon & syrup – and tossed in some more spices with a dash of veggies too.
This is different one of the best places to eat at Legoland, and they offer plenty of other dishes as well. They have salads, wraps, chicken tenders, and even chicken-less chicken for those who prefer not to eat meat.
7. Funnel Cake Factory
I love a good funnel cake; I hit up local carnivals in search of funnel cakes sometimes. It's a classic American sweet treat, and the Funnel Cake Factory at Legoland Florida lets you customize your own funnel cake.
They have all sorts of amazing toppings to put on top of yours. You could drizzle chocolate or strawberry syrup over the top, or maybe you want some strawberry topping and powdered sugar.
Don't forget a big scoop of soft-serve ice cream as well.
---
Don't miss out on these amazing places to eat at Legoland Florida. Grab an order of Granny's Apple Fries, a big turkey leg, and down a few funnel cakes while enjoying this amazing theme park.