Legoland Florida is a massive 150-acre interactive theme park that families love. It's less than an hour from Walt Disney World and features more than 50 rides with plenty of attractions and shows. Everyone should enjoy this fun theme park, and with these money-saving tips and secrets, you can have plenty of fun here.
Our kids had the best time when we went to Legoland Florida recently.
This theme park is full of creativity and unique experiences to enjoy with your children. It's the perfect place to let your lego-loving kids be crazy, and there are so many things to do when visiting this park. That also means it's easy to spend more than you originally planned to spend.
Saving money at this theme park is possible, so let's take a look at some good money-saving tips for Legoland.
Pin this blog for later! ↓
Related: 13 Awesome Things at Legoland You Have to Do
10 Legoland Florida Money-Saving Tips & Secrets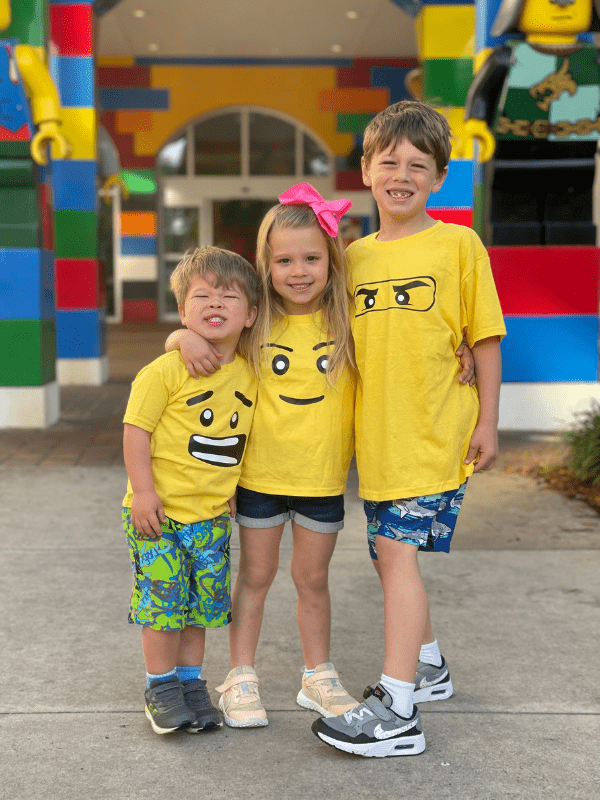 1. Get Package Deals Online
One of the biggest expenses for any major theme park is the tickets themselves. Legoland tickets are well over $100 per person, and if you have a large family, that cost will add up quickly.
Save some dollars but looking for package deals online. Legoland often offers bundle tickets with hotels together, such as their Kids Stay & Play for Free package. Sign up for their emails to keep track of the packages offered.
2. Use Coupons for Entrance Tickets
You may not realize how many coupons are available for Legoland Florida tickets. Some of the coupons you'll find give you significant savings, like some "buy one adult ticket, get one child ticket for free" deals!
The McDonald's located close to Legoland always has coupons as do many grocery stores and hotels near the theme park. The free LEGO magazine often has coupons including BOGO deals that are great for large families.
If you're a Costco member, they sell single-day admission tickets at quite a discount price. Those tickets are delivered via email. Getting discounted Legoland tickets isn't difficult at all!
3. Or Buy the Tickets Online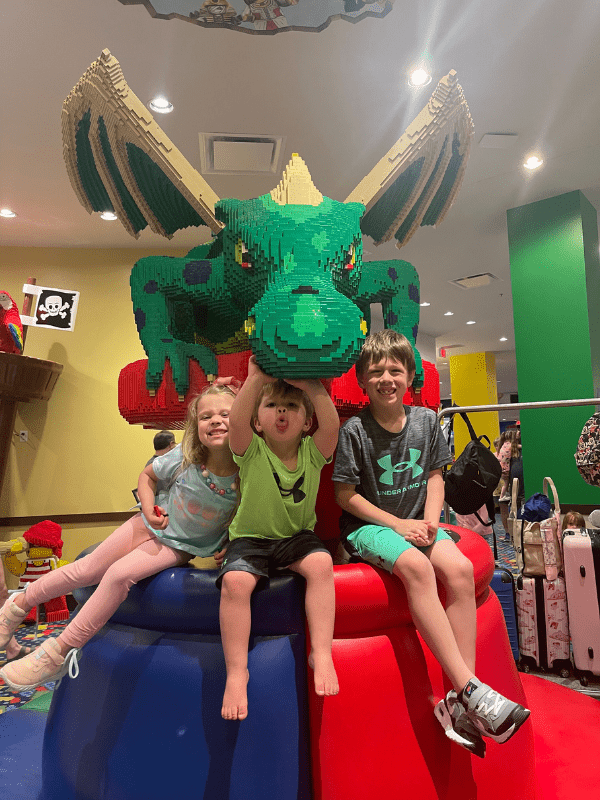 Another money-saving tip for Legoland is to buy the tickets online from the actual Legoland website. If you buy them at least seven days in advance, you'll get the most savings, and this is always available.
Buying on the website saves up to $15 per ticket. The ticket price online is $84.9 rather than $99.99 for Florida tickets.
4. Get a Parking Space Online
If you don't stay at a Legoland hotel, then you will need to park at the car. You can book parking online, saving $2 per car. This isn't a lot, but every penny saved can be spent elsewhere.
5. Create a Budget and Stick to It
It seems like one of the obvious money-saving tips, but you need to create a budget and stick to it. It's easy to overindulge when you visit a them park as you have fun. Create a time to lay out a budget before you go for souvenirs and food.
You won't have the buyer's remorse when your visit is done, and you head home.
6. Stay at a Legoland Hotel
Many people assume that staying at a Legoland hotel will cost more money, but I really think it's one of the best money-saving tips for this theme park.
Hotels offer great ticket deals, like including the cost of your entrance ticket with the room rate or giving you two-day tickets for the price of a one-day ticket.
Another perk of staying at these hotels is you receive a FREE basket, all serve family-style. Guests receive complimentary parking, exclusive playtime, early access to the parks, and plenty other perks that make staying there well worth it.
Let's not forget that these hotels are steps away from the entrance rather than having to gather all your kids into the car, driving there, and walking to the entrance from the parking lots.
7. Bring Snacks for the Day
One of my favorite money-saving secrets is that you can bring food into this theme park without any sneaking. They don't want you bringing entire meals into the park, but their website says visitors may bring small square coolers, bottles water, snacks, and other foods that don't require refrigeration.
Visitors may bring any items needed for medical, religious, or dietary purposes.
All of this helps decrease the overall cost that you'll spend at the park. Bring some snacks for your kids to munch on and bottled water. The bottles are quite a price increase from the bottles at your local Walmart.
Our family has visited plenty of theme parks, but I always felt like the size of the meals weren't worth the price they charged. Legoland is different though; I felt pleased by the size of the meals offered here.
Don't be afraid to share meals with your kid. We grab adult meals and split them amongst our kids, especially since they tend to eat like little birds anyway. It saves money rather than wasting it and the food.
9. Get Souvenirs Ahead of Time
It's hard to keep LEGO loving kids out of the gift shops here; there are so many toys and great gifts for kids. However, the reality is that these gifts cost more than other places, even if the selection is great.
I suggest buying small LEGO sets ahead of time and storing them until you go to the theme park. Let your kids buy small things, but you can even get LEGO-themed shirts made ahead of time rather than buying them at the park.
10. Trade Your Minifigures at the Theme Park
One of the best things to do at Legoland Theme Park is trade your minifigures with the park staff. It's easy to find these figures before you go to the park; thrift stores often have them. It doesn't have to be new or fancy – they'll trade as long as the figure is whole.
---
We can't wait to head back to Legoland Florida again, using these money-saving tips to make it an affordable short getaway together. Your kids will talk about this theme park for weeks after!