If you're looking for something awesome to do with your kids in Florida, make a stop at Legoland. This theme park is built for kids with over 50 rides and tons of attractions to do. You'll have to make a list of the best things at Legoland you have to do.
Many families visit Legoland when they head to Disney World since it is only 45 minutes away from Orlando. It's an interactive 150-acre theme park, home to a huge botanical garden and a water park.
There is so much to do!
You'll find multiple dining options, places to build legos with your kids, interactive shows, and more options. We visited Legoland recently, and our kids had a blast. We found so many things to do, and the kids can't stop asking when we will go back.
I put together a list of things at Legoland you have to do, and don't forget to get the apple fries – seriously. They are one of the best things I've ever eaten!
Pin this blog for later! ↓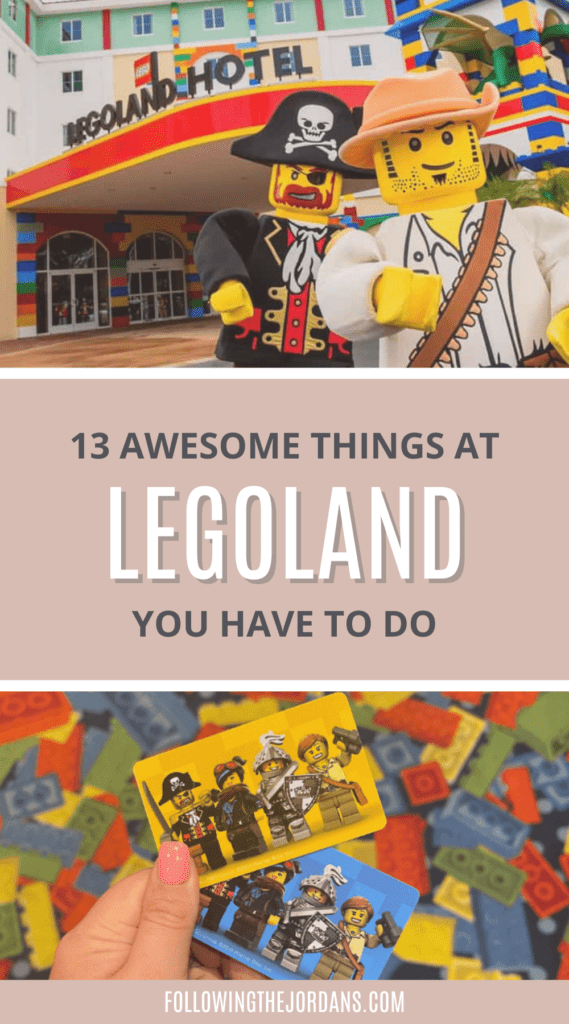 Related: How to Afford Disney World: 14 Money-Saving Tips
13 Things at Legoland You Have to Do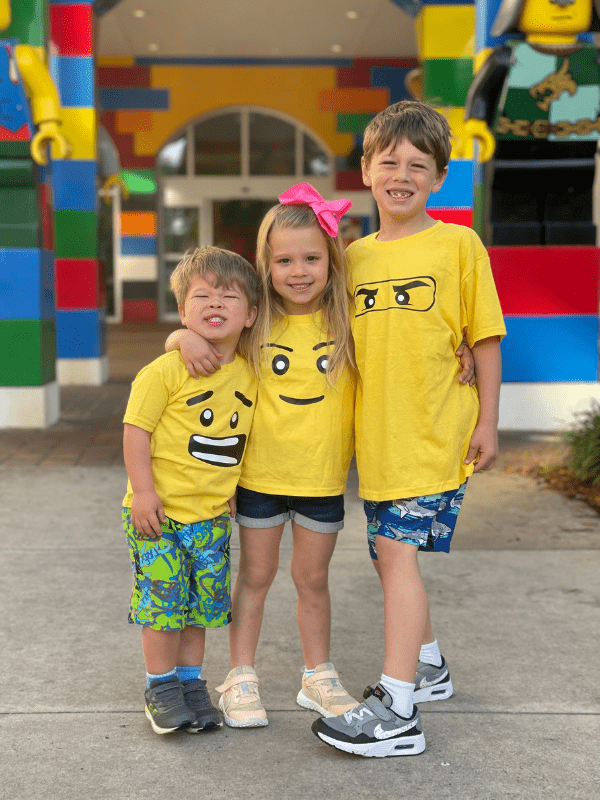 1. Go to Lego Movie World
Here is one of the newest additions to Legoland Florida, and you want to add it to your must-do list when visiting. This space has a taco kiosk, a space-themed playground, and three new attractions.
One of the most popular rides is the triple-decker flying coach on the Lego Movie Masters of Flight, and others rave about the Battle of Bricksburg. You get to fight off aliens – sounds like fun, right?
2. Try Granny's Apple Fries
When you visit Legoland, you HAVE to order a cup – or several – of the original Granny Smith apple fries, complete with sweet whipped cream for dipping. These apple fries are dusted with plenty of cinnamon and sugar – they are addictive.
Granny's Apple Fries were created at Legoland, so it's the only place in the world you'll find them just like this. They're served warm, and you also can pick to get a serving of ice cream or warm caramel dipping sauce as well.
Seriously, try them with all the options – you won't regret it.
3. Check Out the Battle for Brickbeard's Bounty Ski Show
Legoland has plenty of rides you can enjoy throughout the park, but it also is a host of different shows. These shows take place in the Ski Stadium in Pirate's Cove, and the Battle of Brickbeard's Bounty Ski Show lasts about 20 minutes.
It's such a fun story about the famous pirate ship Brickbeard's Bounty that is now guarded safety in Pirates Cove. You have to protect it from a bad gang of pirates in an action-packed performance.
Trust me, the show is hilarious, complete with water skins, boats, and plenty of buccaneers.
4. Get Thrills from Project X Rollercoaster
Older kids will enjoy the need for speed and exhilarating ride on the life-size Lego Technic vehicle on Project X rollercoaster. This coaster has twists, turns, drops, and accelerating routes with an immediate drop right at the beginning.
This rollercoaster is also known as Test Track; it wastes no time. If you're a thrill seeker, you will want to take time to do this at Legoland!
5. Go to Legoland Water Park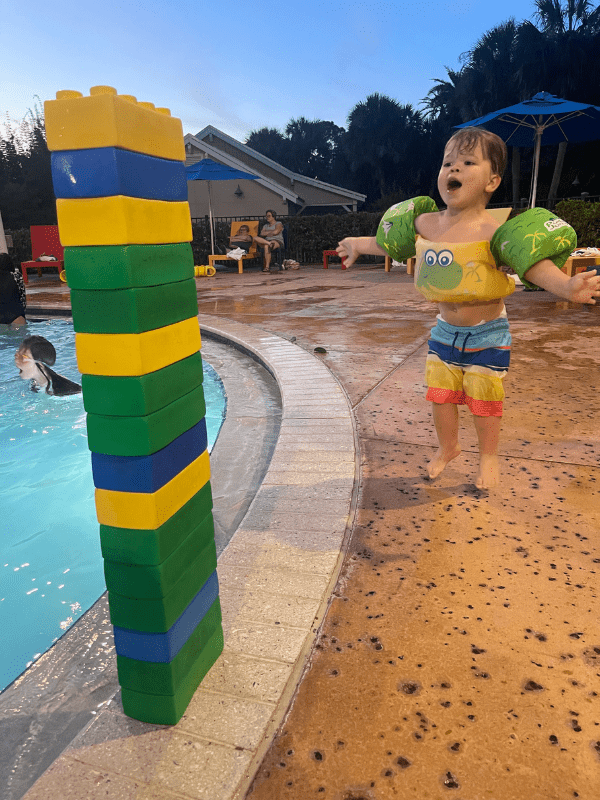 If you're spending time in Florida, you know that the temperatures get high in the middle of the day, especially in the summer. Legoland has a water park that is a must-do activity to stay cool throughout the day.
This waterpark is perfect for little kids. You can splash and take a dip in the wave pool or float along the lazy river. Kids can ride down the tube slides; one has a massive 60 foot drop! Little kids will love the climbing areas, complete with slides, wading pools, water spouts, and more.
6. Enjoy Heartlake City
Heartlake City is all about the friendship of five young girls, emphasizing girl power. Here you can take a spin on Mia's Riding Adventure, a horse-themed carousel. You'll also get to watch the "Friends to the Rescue" show, an interactive building area, and a mini mall to buy all sorts of Lego Friends Sets!
7. Peppa Pig Theme Park
Little kids can't get enough of Peppa Pig, and Legoland has the world's first Peppa Pig Theme Park. It's perfect for little preschool-aged children who want to immerse themselves into their favorite show.
Your child can dig for buried treasures at Grandad Dog's Pirate island or take a ride in Peppa's red car. It's something you can't miss!
This theme park has a separate gate and requires a separate admission. Since it's only four acres, this park is much smaller than the main Legoland, so you have time to go to both areas.
8. Go to the Ford Driving School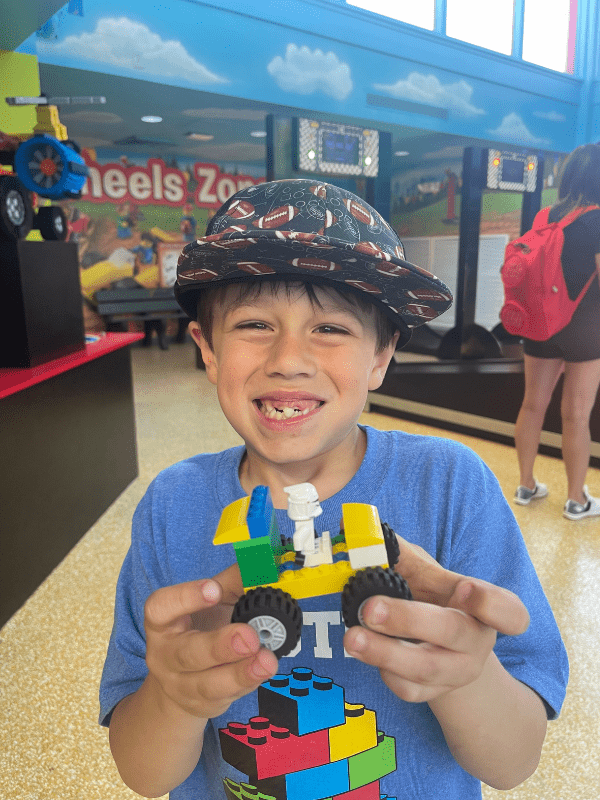 Your kids will love this attraction if they are between the ages of 6 and 13 years old. The Ford Driving School is a place kids learn the rules of the road and get their driver's license.
Your child takes control of their own mini vehicle while learning about traffic safety; they even have to stop at the red lights. If you have a child between the ages of 3 and 5 years old, they can attend the Junior Driving School, an area designed for their ages.
9. Check Out the Duplo Valley
If you're going to Legoland with toddlers and preschoolers, you'll find that the rides may be too advanced for them to enjoy. The Duplo Valley is ideal for young visitors.
Toddlers love the train and drivable tractor rides, and children under two years old love the Tot Spot, a space with slides, a playhouse, and blocks. This space is also great for new parents; the Baby Care Center has a changing and nursing area, along with a place to warm baby bottles.
10. Unleash Power at the Quest of Chi
Unleash the power of Chi in a battle to defeat the Crocodile King. This ride is an interactive boat ride with multiple water cannons that you use to hit targets along the path. You won't be able to stay dry on this ride, so plan ahead of time and bring dry clothes.
You will spray at more than targets and attack nearby boats when they pass. The entire goal is to get soaked and have fun with your family.
11. Trade Minifigures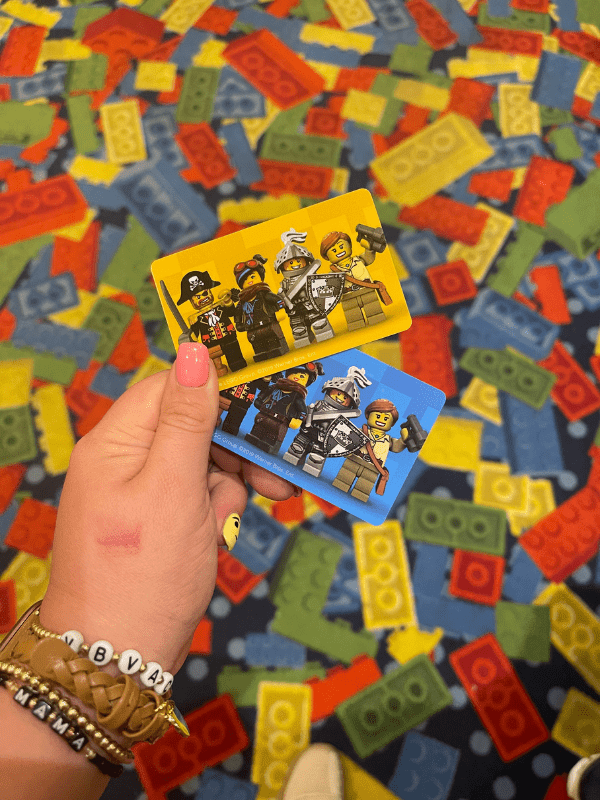 Do your kids collect minifigures like mine do? if so, Legoland is the perfect place for trading and hunting for a specific figure that your kids really want.
When you visit, bring a complete Lego Minifigure with its legs, body, head, hair or hat, and swap with any model citizen (employee) walking around. All your kids have to do is ask to trade and their minifigure becomes yours – and you can keep trading.
Kids find the trading process super fun!
12. Go to Miniland USA
Kids love Mainland USA, a unique area with over 32 million Lego bricks. It features amazing recreations of cities from all over the United States, such as Las Vegas, New York City, the White House, the Statute of Liberty, and more.
This area is another area that Star Wars fans will want to check out since there are reactions of famous scenes. Take photos with life-size models of Darth Maul, Chewbacca, and Darth Vader.
13. Train like a Ninja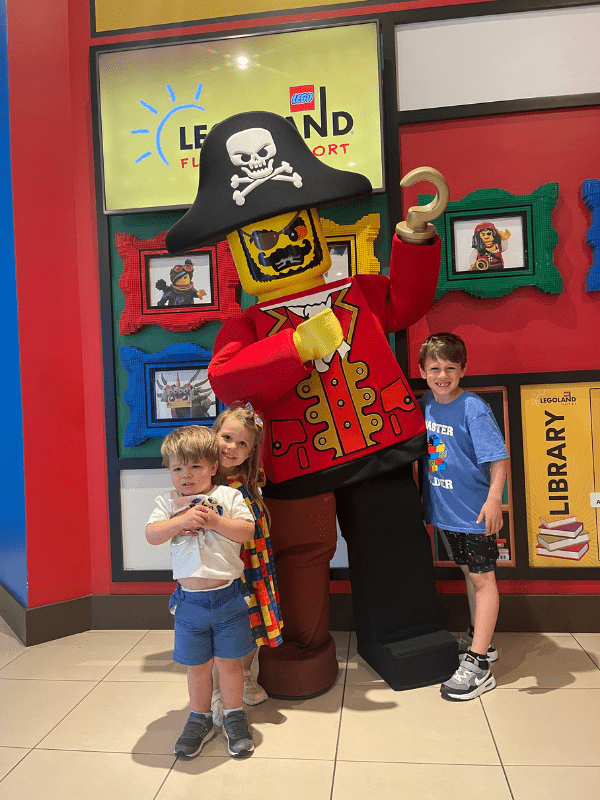 A newer addition to Legoland is the magical martial arts kingdom called Ninjago World. Kids will practice their ninja skills and train for the ultimate showdown.
You can ride the Lego Ninjago that combines 3D computer animation with 4D special effects like heat, fog, and more. It's an immersive experience where you have to blast animated fireballs, hit enemies, and practice your quick reflexes.
The ride is based on Lego's Ninjago line of toys, and it's one of the most innovative attractions. Make sure you also check out the climbing walls and other attractions in that part of the park.
---
If you're looking for someplace to go with your children, consider visiting Legoland in Florida. This park is full of interactive attractions, rides, and delicious food. It's worth a visit for at least a day here.