Vacationing with toddlers comes with plenty of challenges, like keeping your eyes on them all the time and figuring out what you need to pack. Going on a trip with a newly potty-trained toddler has another set of problems – always needing a bathroom. That's why I suggest keeping a portable potty for traveling with you at all times.
Let's be honest; finding a bathroom quickly isn't always possible. Rest stops may be an hour apart if you're on a road trip with your toddlers. You don't always want to stop at the sketchy gas station.
A traveling potty seat is a convenient thing for parents to have. You never have to worry that you won't find a bathroom on the trip to the beach.
So, I put together a list of portable potty seats that are actually good for traveling families. Some potty seats aren't as useful and don't make your life easier.
All of these do.
Keep reading to see my top picks!
Related: 11 Simple Tips for Traveling with a Potty Training Toddler
What is a Portable Potty?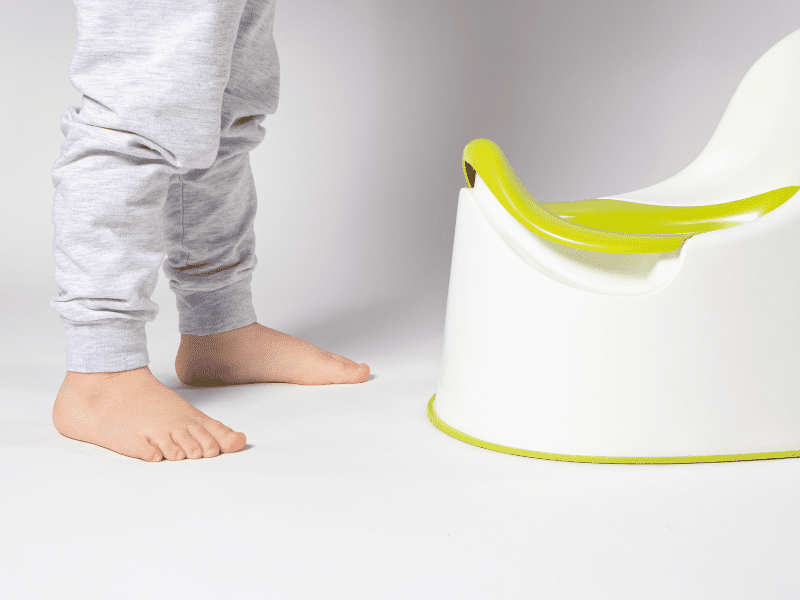 A portable potty is just what it sounds like – a potty chair you can use on the go. Parents often keep a portable potty in their vehicle for their potty-training toddler, who may not be able to hold it until they reach their destination.
The same goes for traveling since you never know where the nearest – and cleanest – public restroom may be.
Another advantage of a traveling potty seat is some designs fit over regular toilets. Toilets aren't designed for small kids, so it's easy for kids to fall into the toilet. Not only is that dirty, but it's scary for kids. When your child learns to use the toilet, you want them to feel comfortable enough to do so.
Types of Portable Potty for Kids
Portable potty chairs come in three main varieties. Each has pros and cons to consider before purchasing.
Travel Potty Chair
A travel potty chair is what you think it is; it's like a potty seat you use at home, but it's foldable. It's easy to collapse and store in your vehicle or diaper bag.
These are standalone seats, so you don't have to find a bathroom to use. You'll need to have liners or disposable bags, and that's an added expense and something else to remember. However, they are easy for kids to use and familiar with.
The only real downside, besides needing to have the liners and bags, is they are larger to pack. These aren't nearly as compact.
Folding Portable Potty Seat
Another option is a folding portable potty seat. These sit on top of a regular toilet, making a smaller hole and easier for your toddler to sit without falling into the toilet.
Many parents prefer a foldable potty seat because they are small and fit right into their diaper bag. You don't need liners or anything; they have no extra expenses or waste.
There are two downsides.
You need a toilet! So, if you have an emergency situation on the side of the road, this won't do you much good.
Putting the folding toddler potty seat isn't very stable. Your child may slide around on the seat, so you may have to help hold your child in place.
Portable Urinal
The last type of portable potty is a toddler travel urinal, which is a large cup with a lid your child urinates into. Some designs work for both girls and boys.
Portable urinals are easy to pack and travel with. They work in an emergency situation without a toilet nearby, as long as your child doesn't have to go poop.
However, your toddler may overflow the cup if he pees a lot, and standing up to pee takes practice for most kids to master.
How to Pick the Best Portable Potty for Kids
Here are a few features that you may want to consider when picking a portable potty for traveling.
Ease of Portability
This potty chair is for traveling, so portability is essential. Some training seats are ideal for home use, but you need one that travels with you easily.
It's best to look for something that folds easily. A folding, standalone potty only works if you want something for your car. Many parents keep a potty in their car since you never know when you'll need it.
If you want something to take with you while out, you need something that folds to a size that fits in a diaper bag. A folding travel potty seat that fits on a public toilet may be your ideal choice.
Stability
You don't want your toddler to feel scared while using the toilet. Not only can that lead to regression, but it also could lead to a mess. Public restrooms already have loud flushing toilets; they don't need their potty sliding around or collapsing.
Make sure the potty you pick is stable. Rubber feet stop it from sliding, and check out the weight limits.
Ease of Cleaning
Parents have enough things to deal with when they travel. You need a portable potty that is easy to clean, and you also want to ensure it won't spill all over the place.
A spill in your vehicle sounds like a nightmare, right?
8 Best Portable Potty for Traveling for Kids
Are you worrying that the travel potty seat will slip and slide all over the toilet? Jool Baby Folding Travel Potty Seat has suction cups that stay in place while your child uses the bathroom.
The overall design is simple in either pink or light blue, appealing to boys and girls. It is lightweight and compact, coming with a carrying bag. So, you can keep it in your vehicle or diaper bag with ease.
Now, the only downside is some don't want to take the suction cups off the toilet seat. It takes extra effort, but after watching my kids slide around toilets – especially public toilets – I think the extra effort is worth it.
The OXO Tot 2-in-1 Potty is a top-rated travel potty. You can use it anywhere as a standalone potty; this is one of my favorite features of this. So, if it's an emergency and no public restroom is closed, flip the legs down, attach a disposable bag, and have a toilet!
Yes, you need disposable bags, and those are sold separately. However, a plastic grocery bag works too.
One unique feature of the OXO Tot is that its liner covers the entire potty seat. That may not seem like a big deal, but most potty seats have a liner, and then you put the seat on top of it. If the seat messes up the liner, you may have a mess on your hand.
OXO designed this portable potty to work as a training seat because it also fits a regular toilet. That makes this a versatile, light option; it folds and fits right into your diaper bag.
The only problem I see with this potty is it's shorter when using it as a potty chair; it's close to the ground. It has a pee guard, but it's lower and less effective than others.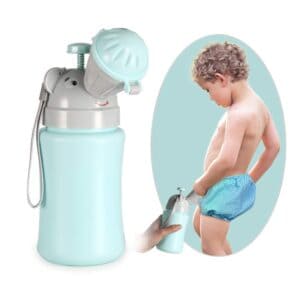 If you have a potty emergency, the ONEDONE Portable Urinal is great for long road trips and camping. It's small and easy to carry; they also make a design for girls too!
The reviews are great for this potty urinal! It's a lifesaver when you need to pull over in the middle of a trip. ONEDONE designed this urinal to prevent any leaks.
However, your toddler has to use it while standing up, and older kids may overflow it. It's not a big potty, so I would only use it for toddlers and outside. You don't want it overflowing in your van.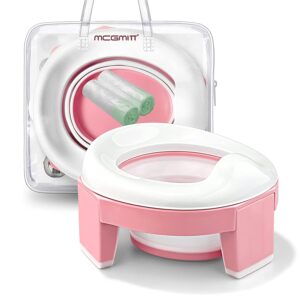 The MCGMITT travel portable potty is similar to a regular training potty because it has a potty bowl. So, even though you can use disposable bags for easy cleaning, this doubles as a training toilet you can keep in your bathroom.
Another feature of this portable potty is that you can take it apart and use it as a seat on a regular toilet. Plus, it's compact and easy to store.
One feature I like is that this one comes with a convenient carrying bag; that's more sanitary than only tossing the seat in your diaper bag.
Overall, it is a basic design that comes in only blue or pink. It sits lower to the ground, so if your child is taller, this may not be as comfortable as others. However, it is sturdy and versatile; I prefer options with multiple functions rather than needing to purchase more than one seat.
Like the OXO Tot Potty, Kalencom is a 2-in-1 seat, so it works as a standalone potty chair and a potty seat for toddlers. It comes in various color combinations, making it more appealing for little kids.
Kalencom has folding legs that fold flat, perfect for storage. It fits into a diaper bag, so carrying it around is easy. It comes with disposable bags to use when it's a standalone potty, but standard plastic grocery bags fit too.
The legs have rubberized feet to make this a sturdy, safe potty for your toddler. It also has a splash guard that extends down into the toilet to stop pee from escaping.
The only downside to this potty is the lower pee guard, and the legs don't fold as easily. Some parents say the legs of the potty don't fold as easily as they should.
One look at the Spark Moments Portable Potty, and you'll quickly see how different it looks from other portable potty chairs. It's a different style, ideal for traveling, camping, and road-tripping.
This chair is a standalone potty for kids and toddlers. It folds up and down; you twist left to open and twist right to store.
Spark Moment includes a roll of disposable liners to get started with. You'll definitely need the liners, and the twisting mechanism, in my mind, means the clean-up could be bad without the bags.
This portable travel potty folds flat and stores easily in your car. It might not feel compact enough for your diaper bag, though!
The Jool Baby Portable Potty Chair is great for traveling or camping with your toddler. The chair may be used as a standalone potty, but it is compact for traveling. It's easy to fold out for emergencies or use it as a training seat in your vacation home.
Like the other potty chairs on the list, this uses disposable bags. It has non-slip grips on the feet of the chair to keep it sturdy and in place. Your toddler has to feel confident using it and not worried it will move under them.
Jool Baby includes 30 disposable liners and a travel bag for sanitary and easy traveling. It has a splash guard to reduce messes.
This chair has a maximum weight of 50 lbs, so it works for parents who also want an emergency toilet for kids as well. Sometimes, during road trips, older kids need a potty chair!
This potty training seat is similar to the above Jool Baby training potty seat. It can only be used as a standalone potty, folding down compactly. Parents set it up fast, which is handy when your child is crying they have to use the bathroom.
Honboom features a non-slip grip on the feet and a splash guard with the portable potty seat for safety and ease of cleaning.
This travel toilet works for kids up to 50 lbs and has 30 disposable bags. You can use it as soon as you receive it in the mail.
Finding the best portable potty chair helps parents and toddlers when traveling. No one wants a mess, nor do you want to make your child hold their urine. Grab one of these potty seats; it will be more useful than you imagine!