Florida may be the Sunshine state, but the weather isn't always sunny and perfect. May through September brings plenty of afternoon rain, and the hurricane season lasts until December. So, whether you visit the area or live here, finding some indoor activities in Orlando keeps your family busy.
The area offers quite a lot to do when raining.
Disney World stays open during rainstorms. Grab a poncho or an umbrella and check out the attractions. Since rain doesn't typically last forever, you'll undoubtedly have a good time with your family.
If you aren't interested in heading to Disney World, Orlando offers plenty of indoor activities for families. Let's look at a few you may enjoy together!
Related: 17 Smart Tips for Traveling to Disney on a Budget
16 Indoor Activities in Orlando for Kids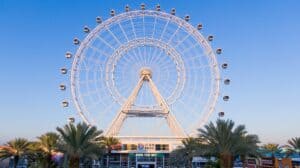 ICON offers plenty for families to do, but the most popular is its Ferris wheel. Take a ride 400 feet in the air and enjoy panoramic views. You will see perfect views overlooking Orlando and further.
Even with cloud cover, you still have good views if it's raining. Clear days offer a view of the Kennedy Space Center!
2. SeaLife Orlando
Everyone enjoys visiting SeaLife, featuring nine detailed exhibits. You will see Florida's only 360-degree ocean tunnel, where more than 5,000 sea creatures will surround you. Kids enjoy seeing sharks, stingrays, octopuses, and turtles.
Another favorite is the Rockpool, where kids touch and learn about animals up close and personal.
If you are looking for indoor activities in Orlando, be sure to check out Dezarland Park. This is Florida's largest indoor attraction; it's over 800,000 square feet of fun.
Families enjoy all sorts of activities, such as go-karting, bowling, pinball, arcades, bumper cars, axe throwing, and more. It's the ultimate family experience; your kids will have fun for hours, if not the entire day. Attractions are sold a la carte or on play cards, where you load a specific amount of money for your kids or family to use on activities.
Another favorite indoor entertainment center is Andretti Indoor Karting & Games. Andretti offers plenty for families and kids to enjoy on rainy or chilly days.
This center offers a large arcade, a suspended rope course with a zip line, racing simulators, laser tag, and electric karting. These are just a few of the activities to enjoy with your family; they have even more. That's why it's a beloved location for families.
Head over to Sunset Walk at Margaritaville, Orlando, and check out GameTime, a massive 24,000 square feet mega arcade. If your kids love arcades as much as mine, this is equal to their heaven.
GameTime is home to plenty of indoor activities. You'll find over 100 arcade games; some are retro, while others are brand new. If you want to catch a game while the kids play, there are over 60 TVs and a full-service restaurant and bar.
Another place to head for family entertainment is Main Event, located at Pointe Orlando on International Drive. Whether you need something else to do or want to stay busy on a rainy day, Main Event has plenty to offer families.
Spend time bowling; they offer beginner and advanced-level lanes along with lane-side food service. If your kids prefer gaming, Main Event has classic and modern VR games and arcade games for all ages. Kids also love the gravity ropes; there are obstacles, beams, and ropes.
After your kids are tired from playing, head over to the restaurant with a full bar!
If you need to wear out your younger kids, Monkey Joe's is a soft play area, perfect for little kids to climb, slide, and bounce. They host inflatables and arcade games.
Kids up to 12 years old may play on the inflatables. The Mini Monkey Zone is great for toddlers 3 years old and under. It keeps your child safe.
Are your kids dying for some go-cart time, but it's pouring outside? Grand Prix Orlando is the answer to your problems.
This center offers a 70,000-square-foot, air-conditioned, go-cart arena. The arena fits both experienced and beginner drivers; you'll find plenty to do. All junior racers must be 4 feet tall, so be sure to consider that before stopping by.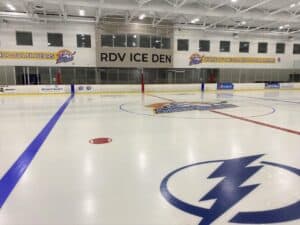 Ice skating and Florida – really?
Yes! RDV Den hosts events, competitions, and ice skating lessons but also has public ice skating times available. Before heading here, be sure to check their schedule on the website to determine their open times.
Never heard of WonderWorks? They have locations all throughout the United States, including Orlando. Their goal in this 28,000 square feet indoor amusement park is "edu-tainment." They want visitors to combine education and entertainment together.
WonderWorks has over 100 hands-on exhibits for kids to explore. Kids love the Wonder Zones, like the extreme weather and space discovery zones.
You'll spend hours here together!
Everyone recognizes the name Crayola, and Orlando is home to the Crayola Experience. It is a one-of-a-kind family attraction with dozens of hands-on, creative activities.
Families explore art and technology, taking their creativity to new levels. The whole place is colorful, including the large playground. Visitors get to name their own crayons and make wax hands.
You'll have a blast!
Children love going to local science centers, and the Orlando Science Center is top-notch! It offers plenty of fun for kids to enjoy; they may not even realize they are learning.
The Orlando Science Center contains close-up interactions, displays, live demonstrations, and plenty of hands-on exhibits. Kids love the largest public refractor telescope, located at the Crosby Observatory.
Don't miss out on the exhibit halls as well. They include NatureWorks, DinoDigs, Our Planet, KidsTown, and more.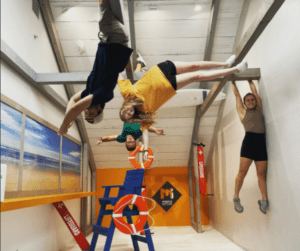 Museums don't have to be boring for kids. The Museum of Illusions has over 50 awesome, reality-bending, interactive exhibits. Kids become immersed in the exhibits; most are hands-on and immersive.
One of the favorites is the upside-down living room, but my kids also liked the swirling vortex tunnel. I felt like I might puke, but that comes with age – right? It makes your senses swirl and your stomach drop.
This is one of the coolest museums our family has visited. It has optical illusions, interactive turntables, anti-gravity rooms, and more.
14. Presidents Hall of Fame
Looking for educational indoor activities in Orlando for your family? Visit the President's Hall of Fame; it's a fascinating exhibition located in Clermont. Trust me, that's not too far from Orlando
The President's Hall of Fame is full of artifacts and memorabilia from U.S. Presidents. Visitors love the replicas! Some of the favorites include a replica of Mount Rushmore and the Lincoln Memorial. However, their most detailed replica is the White House, which is massive and allows you to look into individual rooms.
The details are amazing! Believe it or not, this White House replica toured the world and spent time on display at the Smithsonian Museums!
Few kids will pass up the opportunity for chocolate. Chocolate Kingdom offers interactive tours at designated times, typically between noon and 4 PM daily. They show visitors how chocolate starts as a bean and ends as one of our favorite snacks.
Kids have the opportunity to create a unique chocolate bar for an added fee as well. The tour also includes samples, so everyone leaves after enjoying some tasty treats.
Do your kids love M&Ms? Everyone does, and Orlando is home to M&M's World Store. This is a candy-filled paradise with over 7,000 products for you to enjoy and taste.
---
Finding indoor activities in Orlando to enjoy with your friends and family is so easy. This town is full of fascinating activities for families, whether you want to hit up an arcade or see local marine life, try some of these fun things to enjoy together.