Spring is a great time to travel with your kids. Most people think of spring break as a time for college kids and high school seniors to get away and have fun. However, having a getaway at this time welcomes a break from winter and helps your entire family relax. Luckily, there are tons of family friend spring break destinations to consider.
I personally love traveling in spring!
In some areas, spring is the off-season, so if you stay away from tourist areas, then you will save money. Heading to warm destinations in the spring means you won't have to suffer through insane temperatures; spring is more mild.
Let's take a look at some of my top spring break destinations for families.
Related: 16 Budget-Friendly Places to Visit as a Family in 2023
Top 15 Family Friendly Spring Break Destinations
1. Yosemite
If you are looking for outdoorsy spring break destinations, Yosemite National Park is just where you want to go. The park is home to millennia-old sequoia trees, waterfalls, and rock formations.
Yosemite is a destination that all ages enjoy, especially when visiting in the spring months. Spring is a time when crowds are smaller, so you can take your time enjoying the sites.
Hiking trails are abundant in the park; Lower Yosemite Fall Trail is awesome for families. Make sure you drive up to the Glacier Point for breath taking views of Yosemite Falls and Yosemite Valley.
2. San Diego, California
San Diego has plenty to offer as one of the top family friendly spring break destinations. You'll find beaches, museums, and SeaWorld, all kid-friendly options. If you visit the city in March and April, you'll be able to catch whale-watching season.
The weather during the spring is great with temperatures between 60 and 70 degrees. It makes visiting all the tourist attractions pleasant.
Make sure you check out the San Diego Zoo and it's affiliated safari park. You should also check out Balboa Park with 17 museums and gorgeous gardens. This 1,200 acre park has places to eat and shop as well, so it has something for everyone.
Get my Free Family Road Trip Checklist Here
3. Orlando, Florida
Disney World, located in Orlando, Florida, is one of the top spring break destinations for families. Kids enjoy Mickey and Minnie, enjoying Hogwarts Express, and the glorious water parks at hotels.
Disney World is a great choice for families since Florida is warm and dry during the spring. Plus, there are plenty of events happening during this time
However, Disney is a popular pick for spring break for families, so expect more crowds and pricier lodging. It isn't the cheapest time to visit Walt Disney World Resort!
Related: 9 Tips for Traveling to Disney During Spring Break
4. Washington, D.C.
Our nation's capital is a great choice for family friendly spring break destinations. It's full of free activities that kids enjoy with 12 free – yes totally free – museums for families to explore together.
Older kids and younger kids alike have fun whether you want to check out the Smithsonian National Air and Space Museum or the Natural History Museum. Make sure you check out the 2,000 animals at the Smithsonian's National Zoo and Conservation Institute.
Visiting in March or April means you may be there during the National Cherry Blossom Festival; the stunning blooms are breath-taking!
5. Grand Cayman, Caribbean
The Caribbean is full of amazing spring break destinations, but one of my favorites is Grand Cayman. The first time I visited this island was a port during a cruise, and I fell in love with this quaint little area.
Navigating the island is easy, but they drive on the left-hand side; that takes a bit of getting used to. You'll find familiar chains of hotels and restaurants, which is often helpful with kids who don't like to try new foods.
If you want to enjoy the beach, one of the most popular is the Seven Mile Beach with white sand and clear, blue water. Visitors often enjoy glass bottom boat tours, and if you head to the famous Stingray City Sandbar, you can snorkel and swim with stingrays!
6. Hilton Head, South Carolina
Head to South Carolina offers plenty of family destinations for spring break. Hilton Head has swimmable beaches, walking trails, and other ways to explore nature. Kids enjoy horseback riding, biking, kayaking, and more.
Make sure you stop at The Sandbox, an interactive Children's Museum with all sorts of hands-on exhibit. If you like golfing, you'll find several highly rated golf courses, and several offer family golf lessons.
The area boosts several family-friendly resorts, and springtime offers great rates when compared to the summertime.
7. Myrtle Beach, South Carolina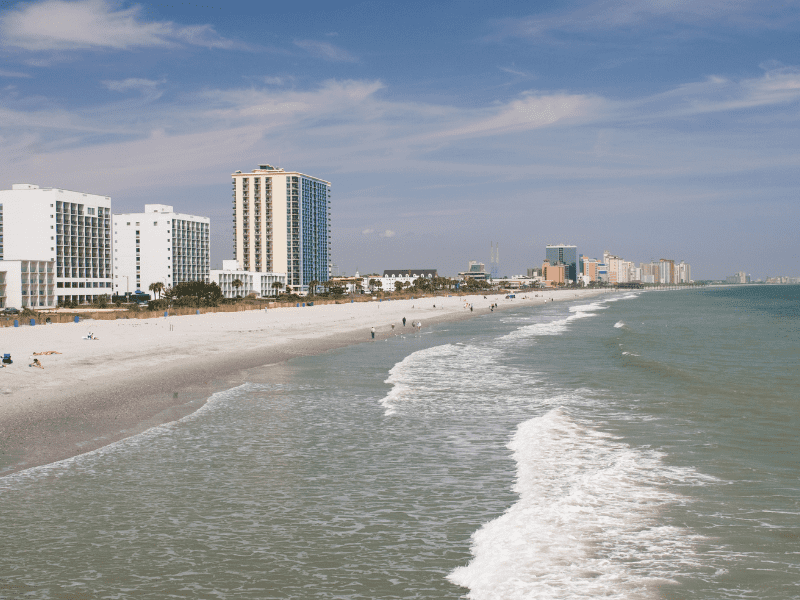 Another one of the most popular family friendly spring break destinations is Myrtle Beach. It's a hot spot for spring breakers and families alike with miles of beaches and hundreds of activities to enjoy together.
Myrtle Beach features Ripley's Aquarium, amusement parks, parasailing, and shopping. The area has more resorts and hotels than countable since Myrtle Beach is over 20 miles long.
When you aren't spending the day at the beach, head to Boardwalk for shopping and restaurants. You'll find so much to do in this area, making it a favorite for all ages.
8. Wisconsin Dells, Wisconsin
You don't have to leave the midwest for spring break destinations; Wisconsin Dells is a great place for families to go!
Located in south-central Wisconsin, Wisconsin Dells is known for its natural water parks. There are plenty of activities for families to enjoy like amusement rides, arcades, golfing, shopping, and plenty of restaurants.
Believe it or not, this area has some of the best water parks in the country. You'll find Kalahari, Noah's ark, and more. Make sure you try Riding the Ducks when visiting Wisconsin Cells, vintage World War II amphibious vehicles that tour the river and streets of the city.
Then, check out Deer Park, which is home to a large herd of deer. Visitors get to walk and check them out, even feeding them. Kids and adults alike enjoy being so close to the animals.
9. Maui, Hawaii
If you are looking for go to Hawaii as one of your top family friendly spring break destinations, consider Maui. It has warm weather, gorgeous beaches, and so many activities families enjoy. The area has zip-lining, snorkeling, and beaches for swimming.
One of the area's top attractions is Haleakala National Park, which is known for its Mount Haleakala, located 10,023 above sea level. The National Park features kid-friendly hiking trails, picnic areas, and places to watch the sunrise or sunset.
Chances are you'll want to hit up the beach while visiting Maui, and the most popular beach for families is Wailea Beach. It has white, powder-like sand and snorkeling near the shore. Your kids will spot tropical fish without needing to wade out far.
Another stop to make is the Maui Ocean Center, a kid-friendly aquarium with shark tanks and tide pools full of marine life. Most kids love the Sea Jellies exhibit; they get to touch some fun marine creatures!
10. Titusville, Florida
Most people don't put Titusville in their list of spring break destinations for families, but it has gorgeous beaches with plenty of attractions nearby.
The most famous of the attractions is the Kennedy Space Center, where families explore exhibits about the history of space exploration. Families also enjoy the planetarium located on site where kids enjoy watching shows about space.
Port Canaveral is only minutes from the Kennedy space Center, which is also home to plenty of family-friendly activities. Enjoy fishing, boating, shopping, and more. Make sure you stop at Cape Canaveral National Seashore, a park with miles of beaches and opportunities for exploration.
Titusville has other outdoorsy activities to enjoy like bird watching, and you'll find many nature trails in the area. Pack a lunch and go explore. Make sure to stop and go fishing in the Indian River, which is home to many types of fish.
11. St. Thomas, USVI
When I went to St. Thomas, located in the US Virgin Islands, I couldn't believe I was still in the United States. It has something for everyone, no matter what you want.
There are gorgeous beaches all around the island. Check out Coki Beach some kid-friendly snorkeling or Magens Bay. In both areas, the water is shallow and offers the best place to splash and cool off with great views.
Head over to St. John, which is only a short ferry ride over, and check out Trunk Bay Beach.
Kids also love Coral World Ocean Park, located right by Coki Beach. It is home to different marine life, such as dolphins, sea lions, and turtles. If you like to hike, St. Thomas has all sorts of hiking trails for breathtaking views.
If it rains, go to the Virgin Island's Children's Museum, which is full of interactive exhibits for kids of all ages. There is an even a life-size pirate ship replica for kids to play.
Related: 10 Amazing Things You Need to Do in St. Thomas, USVI
12. Savannah, Georgia
Savannah is warm and sunny during spring break, so if you are look for a nice family getaway, head to Georgia.
Kids get to enjoy areas like the historic squares and many parks in the area, while going to the beach and swimming in the waves. Adults enjoy the walking district, looking at all the museums and historic sites.
One attraction kids love in Savannah is the Savannah Zoo! It's home to many animals, and it features areas where kids can run and explore. If you want to wear out your kiddos, this is a great stop!
13. Key West, Florida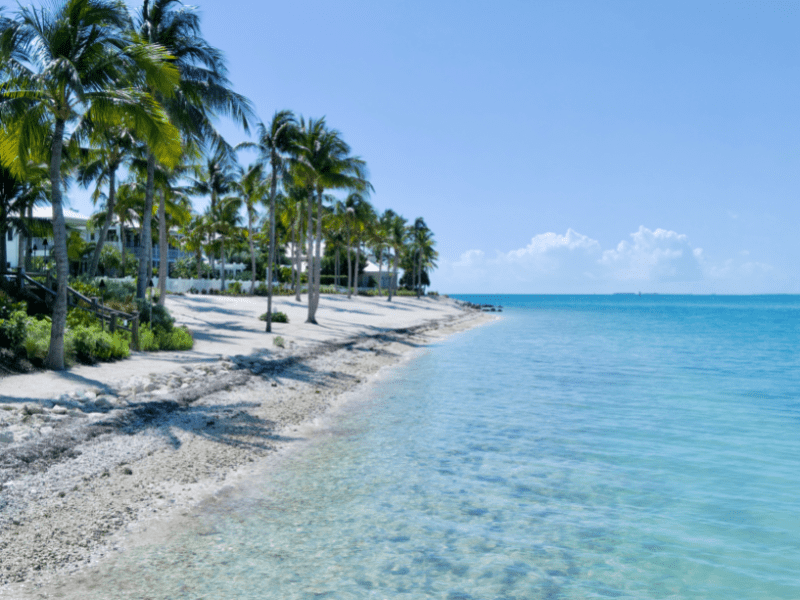 Another Florida destination families love for spring break is the Florida Keys. The area has many beautiful beaches, and families enjoy time snorkeling or enjoying diving trips.
Make sure you take the time to go fishing; the waters around Key West hold all sorts of marine life.
One of top beaches in the Florida Keys is Sombrero Beach. It's a gorgeous, sandy beach, where families enjoy swimming, building sandcastles, and relaxing all day.
Most people assume Key West is the only destination in the Florida Keys, but there is more to this area. Check out areas like Key Largo, Marathon Key, and Islamorada.
14. Cincinnati, Ohio
Most people wouldn't think of Ohio having any spring break destinations – even though the state sits on Lake Erie! – but Cincinnati is a fun destination.
When visiting Cincinnati, make sure you stop the Cincinnati Zoo and Botanical Garden. This zoo is home to over 4,000 animals from all around the world, and the botanical garden has areas for the kids to explore.
Another favorite for families is the Cincinnati Museum Center, which is home to several museums. You'll find the Cincinnati History Museum, the Natural History and Science Museum, and the Cincinnati's Children's Museum Plus, the center has a planetarium and IMAX theater.
That's just a few things you can find in the area!
15. Dominica, Caribbean
If you want to head to the Caribbeans during your family spring break, Dominica is a great choice. For the most part, Dominica isn't a huge destination for tourists, so you can enjoy fewer crowds and more relaxation.
Nature Island is the perfect place to disconnect from life and enjoy being in the moment with your family. This island is a volcanic island between Martinique and Guadeloupe island, so it takes a bit of a journey to get here.
One of the popular beaches in the area is Batibou Beach, or take a trek into the rainforests throughout the island.
It's truly a dream destination for many families!
27 Baby Travel Essentials you Need to Pack
---
Enjoying a getaway with your family during the spring breaks you out of the winter blues and helps your family relax and rejuvenate. These family friend spring break destinations are some of my favorite options!