I just returned from our weekend in New Orleans for a friend's wedding, and my husband and I had an amazing weekend. We found some of the best things to do in New Orleans, and I wanted to share what we loved with you.
Whenever I go to a new city, I spend time reading to see what other people recommend. Reviews tend to be honest – is it really worth the money, or should you skip it? – that's what I want to know.
I picked a few of the top things that we did together on our kid-free weekend getaway – yes, we left our kids at home and took some guilt-free time away without our kids. Until I spent time in New Orleans, I assumed all there was to do was visit Bourbon Street – wrong! NOLA has a rich history, and while it might be best known for Mardi Gras, visiting this beautiful city at any time of year is a great idea, especially if you love history.
New Orleans has a historic vibe that I love while still feeling modern and fun. If you haven't put this city on your must-visit places in the United States, fix that now! Then, add these best things to do in New Orleans to your list.
10 Best Things to Do in New Orleans
1. World War II Museum
Even if you aren't a history buff, the World War II Museum is an absolute must-do activity in New Orleans. We spent half of a day visiting this museum, and I would say it's one of the best museums we have visited – EVER!
The National WWII Museum offers award-winning exhibits that show the stories of those who served in the war and the homefront. You'll see actual planes, jeeps, and Higgins Boats. They have musical performances from the WWII era and a delicious restaurant.
2. Take a Riverboat Ride
If you have a beautiful evening out, take a riverboat ride. Steamboats are one of the most popular things to do in New Orleans. Taking a ride on the Mississippi River is on most people's bucket list, and it gives you a beautiful view of the city.
There are different types of riverboat rides.
In the daytime, they offer rides that tell you the history of New Orleans. We opted for an evening cruise and watched a jazz band. We had a fantastic evening out.
3. Stop at Cafe du Monde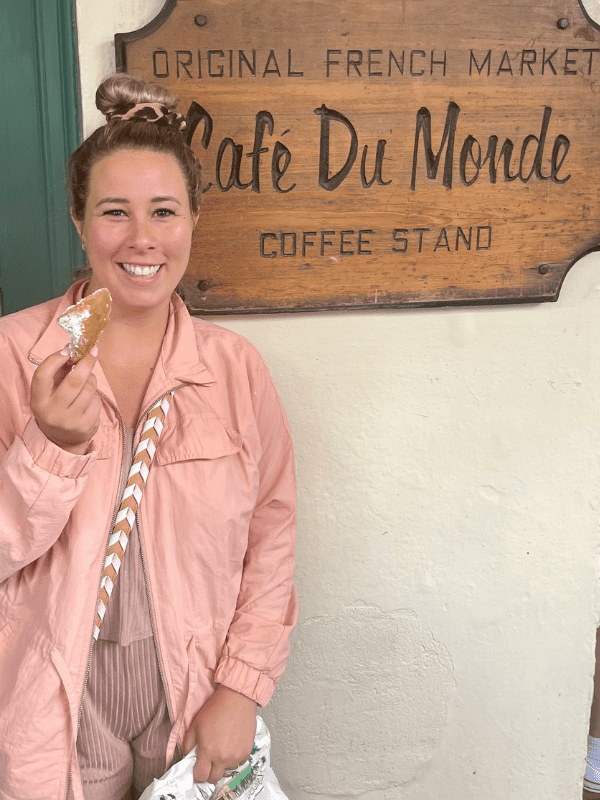 When I posted on Instagram that we were visiting New Orleans, everyone told us to stop at Cafe du Monde.
Wow! It deserves all the hype that it receives.
Cafe du Monde is a fixture in the French Quarter, opening in 1862. It's one of the best cafes you will ever visit, and the hot, fresh beignets are something from a dream.
You can watch through the windows and then order your set of three beignets. They are absolutely worth a stop – or four.
4. Take a Streetcar Ride
If you need to get around the city, take a streetcar ride. A pass only costs $3 – a bargain! – and it takes you anywhere that you need to go all day.
Plus, you get to see a lot of the city.
By the way, we learned never to call these things a trolley. Apparently, a trolley is in San Francisco – NOLA has streetcars. They look the same to me, but streetcars they are!
5. Spend Time Exploring the Garden District
The Garden District is a beautiful part of the city with old homes and trees. You can take a walking tour of this area; it might not be as exciting as the French Quarter, but it's peaceful and beautiful.
You can take a walk yourself or pay for a guided tour. While there, you also can take a stroll through the Lafayette Cemetery, a beautiful old cemetery with tons of history.
If Bourbon Street or the French Quarter isn't your cup of tea, I guarantee that the Garden District is.
6. Stop at the City Park
City Park is this huge 1,300-acre green space. I had to stop here because I wanted to see the moss-covered oak trees and take a walk. We didn't have time to rent a swan boat on the Big Lake, but the next time we are there, we want to spend more time here.
City Park looks like a fantastic place to take your kids when in New Orleans. there is the Storyland and the Carousel Gardens Amusement Park. We plan to take our kids to NOLA soon, and when we do, we're coming back here.
7. Go to the French Quarter
Some people avoid Bourbon Street (which has a totally different feel during the daytime), but you HAVE to visit the French Quarter. This is one of the city's oldest neighborhoods, and it is full of history, shopping, restaurants, music, and tons to see.
When you walk through the French Quarter, you'll see street performers and smell the amazing scents of the local restaurants. We stopped at the Cup Tea Shop and went to the bottom, along with the Square.
8. Jump Over to Frenchman Street
When you're visiting the French Quarter, hop over to Frenchmen Street, the adjacent neighborhood. There, you'll find Marigny, which is one of the city's best areas for music.
Seriously, if you love music, a stop on this street is a must. We saw several brass bands performing on the corners; I thought this was so cool! The restaurants have a pub feel with sandwiches and pizza, along with music everywhere.
9. Explore Bourbon Street
Everyone wants to see Bourbon Street; I had to make a stop here. I found the atmosphere different when visiting during the day instead of the nighttime.
It's definitely a party area during the evening. You'll find music, booze, and people having a great time. It's more subdued during the day, but you still can find plenty of alcohol and fun there.
Now that I'm a bit older, Bourbon Street definitely has a different vibe than I typically enjoy. We don't enjoy drinking too much, and at night, the crowd can be a lot. However, I felt like we had to stop and check out what this was all about.
10. Have Brunch at Breenan's
Make sure you start Breenan's for brunch. It came highly recommended to us, and I had to try the banana foster.
Oh. My. Word. It's delicious.
Make sure you stop here for a delicious meal. You won't regret it.
NOLA is a Blast!
I can say that there is a never-ending list of things to do in New Orleans. I wrote down several things that we want to do with our kids when we bring them, and we made an even longer bucket list for ourselves the next time we visit.
If you're looking for a city with a lot of different vibes and things to explore, New Orleans needs to be at the top of your list.