Are you looking for a trip to paradise but want to stay in the United States? St. Thomas is the perfect place to visit, and you'll find tons of things to do in St. Thomas.
I visited St. Thomas not too long ago and discovered a beautiful island with stunning, breathtaking views and the clearest water I've ever seen in my lifetime. My best friend and I spent a few days visiting as many sights and beaches as possible, and we found our favorite things to do in St. Thomas.
If you're looking for a getaway without kids, I highly suggest you hop a plane and visit St. Thomas.
Now that we are home, I want to share with you our favorite things to do. If you only have a few days in St. Thomas, these are the things you really need to make time to do when visiting the USVI.
10 Things You Need to Do in St. Thomas, USVI
1. Rent a Car!
Before I went to St. Thomas, I read all about the different things we needed to do (like you are doing now), but I can tell you one thing none of the lists told me…
Rent a car.
Seriously!
Driving in St. Thomas is a bit intimidating at first. They drive on the opposite side of the road, and the roads are narrow. The island is mountainous, and they place speed bumps UP the hill. We later learned that this is due to hurricanes and flooding, but it was intimidating, nonetheless.
One of the locals told us that we were one of the few that come and rent a car, but I am so glad we did.
Not only did renting a car stop us from having to depend (and pay) for taxis and shuttles, but we got a firsthand view of the island. We went everywhere and saw as much as we could, whenever we wanted. Driving in St. Thomas is an adventure!
2. Visit Magen's Beach
When you look at lists of things to do in St. Thomas, every list has Magen's Beach as the best beach on St. Thomas. We set out to determine whether or not we felt like that was true.
Magen's Beach rocks!
Not only is it gorgeous, but it's huge. You don't feel like you're on top of each other. They had a bar, restaurant, and shop on the beach, and you can rent umbrellas and beach chairs. It's cheap to enter – $5 per car – so it's worth coming. You can spend an entire day here.
Make sure you bring your snorkel gear!
3. Go to Drake's Point for a Beautiful View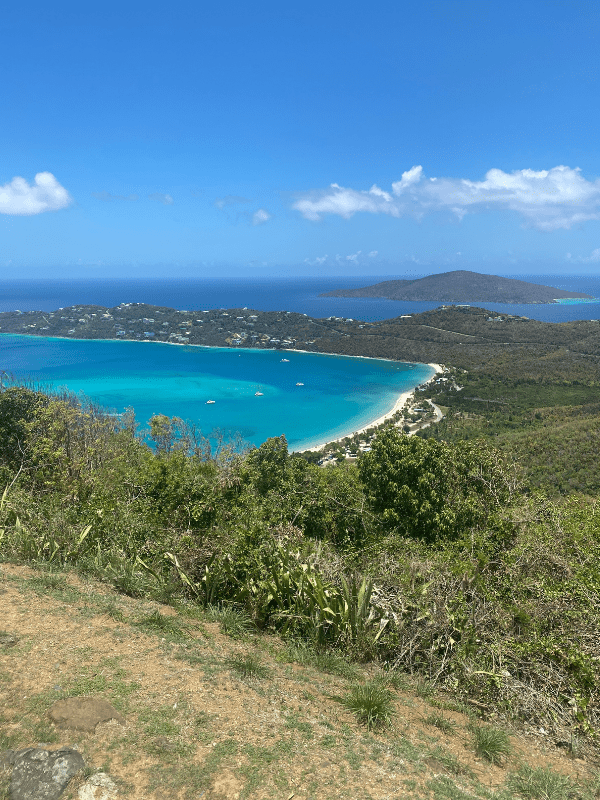 You'll be thankful that you have a car when you reach Drake's Point. It feels like a bit of a treacherous drive, but the view is nothing short of breathtaking.
You feel like you're in a movie when you step out there! This is only a 10-15 minute stop. Then, continue on your way to the next best thing to do in St. Thomas.
4. Then to Mountain Top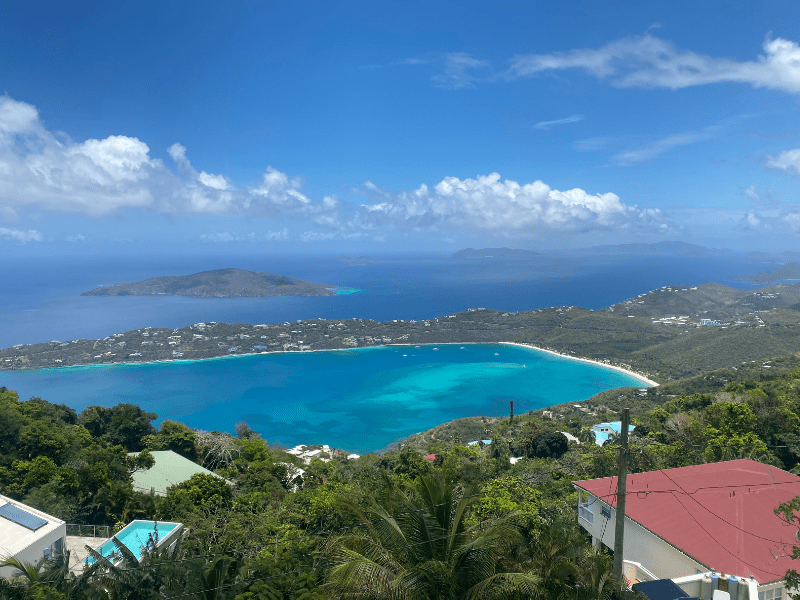 Mountain Top is exactly what it is sounds – the top of the mountain. They have an amazing balcony where you can see all of the surrounding islands. There are maps that help you identify all of the islands. It's a view that I'll never forget.
5. Take the Car Ferry to St. John
You don't have to have a car to go to St. John; there is a regular ferry, but then you need to find transportation to wherever you want to go there. I suggest getting a car, but you really need a Jeep.
Trust me; a Jeep is best.
I have to say that a car ferry is an adventure as well. They pack the cars onto that boat with such precision that it's fascinating, and we had the best talk with some of the workers. Chatting with the locals is something that I try to do wherever we go!
6. Spend an Entire Day at Trunk Bay Beach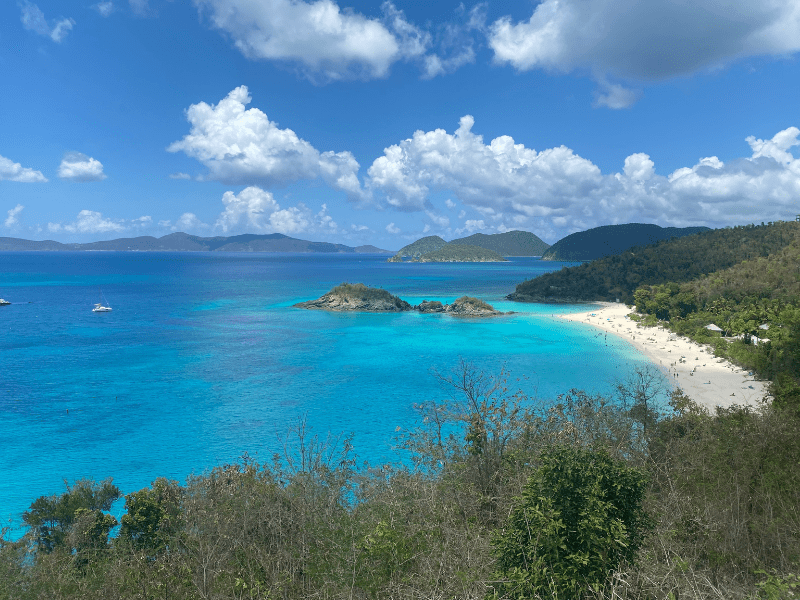 Now, I have something controversial to say.
Not a single beach on St. Thomas compares to Trunk Bay Beach on St. John.
Yes, I'm serious.
When you're driving along the road, you'll be able to pull off before you get there to take pictures. It's nothing short of amazing, but you need to get there early. Trunk Bay Beach is hugely popular, and the parking spots fill up fast.
7. Snorkel at Trunk Bay
I suggest bringing snorkel gear from home because they charge an arm and a leg for the gear on the island. If you happen to forget it, don't panic. There is a shop at Trunk Bay where you can rent all the gear you need.
You have to snorkel at Trunk Bay. There is a marked trail, and you follow it. Tons of people are always out there, snorkeling, and you'll see so many different fish and amazing sights. They have markers to tell you some of the things that you'll see.
8. Check Out Coki Beach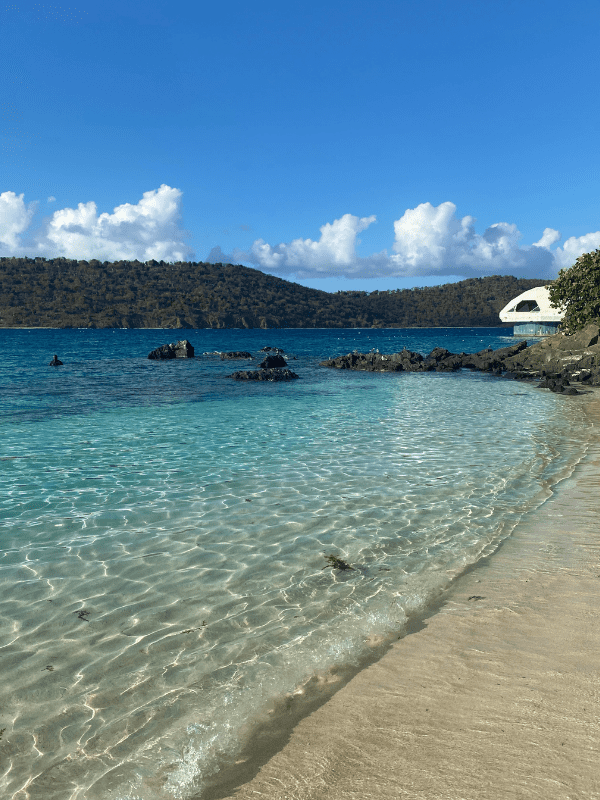 When you're back on St. Thomas, make sure you check out Coki Beach. The vibe at Coki is much different than other beaches on the island.
It feels like a party beach with amazing snorkeling and hilarious island chickens. The restaurants pump out music in the evening, and everyone is having a great time.
The snorkeling is great at Coki Beach; we stayed at Margaritaville, so it's an easy walk there. They have places to get food, drinks, and souvenirs on the beach. You also can rent chairs and umbrellas.
Hit up Coki Beach before you head out for a late-night dinner!
Make sure you grab ice cream while at Coki Beach. They make the waffle cones fresh, and they are divine. Plus, you spend less than $5 per cone – it's a great deal for the best ice cream I've had in years!
9. Visit Brewer's Bay Beach and the Sea Turtles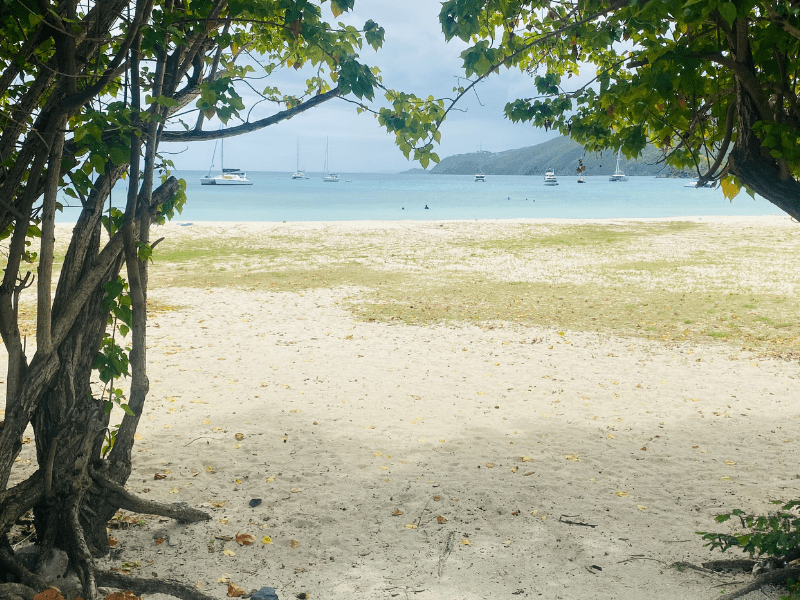 Here's another tip that I didn't see on many lists of things to do in St. Thomas.
Check out Brewer's Bay Beach.
This beach is different than other ones. You won't find shops, restaurants, music, or anything there. All you'll find is a bathroom. Brewer's Bay Beach is the first beach you'll see as you land on the island. When you're swimming, you can watch the planes land.
We came to this beach hours before we left, and I decided it needs to be one of the first places we go when we go back next year.
Guys, there are sea turtles everywhere! It has some of the best snorkeling; we talked to some locals who said that this beach is never busy, but if you want to see the sea life, Brewer's Bay Beach is where to go.
10. Have Breakfast on the Beach at Margaritaville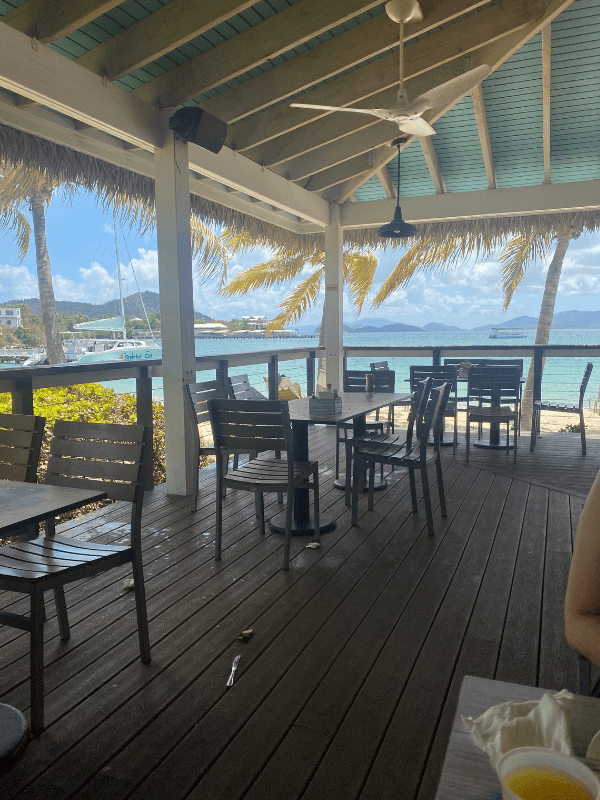 One of the last things I think you need to do is have breakfast on the beach at Margaritaville. Margaritaville is a beach-front resort with a restaurant, and they have delicious food, including breakfast.
You look out at the beautiful water and plan the day to come. You'll feel the ocean breeze on your face and stare out at the Caribbean waters. It's the best way to start your day.
Visit St. Thomas!
If you're considering a trip to Florida, go a bit more south and enjoy the US Virgin Islands. St. Thomas is a beautiful location that doesn't require a passport to visit and offers stunning views. You'll find a never-ending amount of things to do there, and you'll feel like you're in paradise – because you are!