My husband and I recently traveled alone to New Orleans – this was our first time visiting this amazing city. We quickly decided that we have to bring our kids back for a visit because there are many things to do with kids in New Orleans.
Me being me, I made a big list of things that I saw and knew our kids would enjoy exploring. We're already planning the trip for some time in the next year, so we'll know exactly what we want to do with our kids in New Orleans when the time comes.
I wanted to share with you some of the awesome things to do with kids in New Orleans that we discovered on our getaway.
13 Things to Do with Kids in New Orleans
1. Visit the French Quarter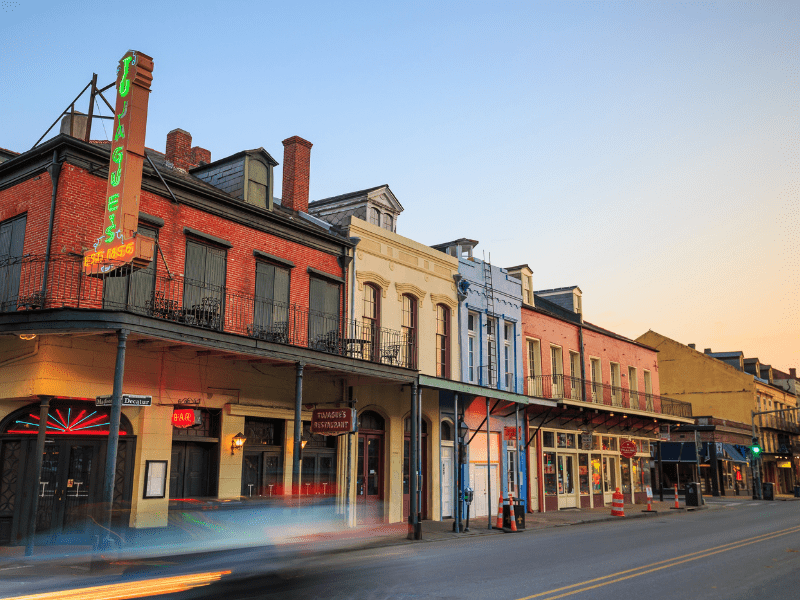 Most people assume that the French Quarter is for adults, but kids have a lot to see and do here. Kids appreciate visiting a vibrant area as much as adults; people-watching is a thing for kids too!
The French Quarter offers some of the best family-friendly shopping in the area and tons of places to grab a delicious bite to eat. We stopped into the Little Toy Shop located on Decatur Street; this shop has all kinds of toys.
That's not all!
If your kids want masks as they see during Mardi Gras, you can buy those from stores in the French Quarter. One of the stores we stopped into was called Rocket Fizz, and they have so many different types of sodas.
I may have tried the bacon soda – YOLO.
Definitely add spending a few hours in the French Quarter to your list of things to do with kids in New Orleans; your kids will have a blast.
2. Check Out the Children's Museum in City Park
Make sure you visit City Park when you're visiting New Orleans with your kids. This is where the Louisiana Children's Museum is located, and it's hands-down amazing.
Take a look at their website to see all that they offer.
One of the most popular parts of the museum is their Move with The River display that teaches kids all about the Mississippi River. It's a 100-foot water table that lets kids explore water flow with boats and levees.
The museum encompasses 8.5 acres of exhibits, so dedicate several hours to this location.
3. Storyland in City Park Rocks
We saw Storyland when my husband and I visited NOLA, and it looks like such a great place to bring your kids. Storyland is a themed playground with 20 HUGE sculptures of famous characters from storybooks.
They have a train ride that is kind of long, but it gives you a great opportunity to see a lot of the park.
4. Swing Over to Carousel Gardens
Also located in the City Park, Carousel Gardens has 16 rides for families to enjoy, including a beautiful, antique wooden carousel. Your kids will love the Lady But Rollercoaster that goes through the oak trees. It's so fun.
Carousel Gardens offers something for everyone.
You'll enjoy the Ferris wheel, bumper cars, a ride-on-train, and plenty of other enjoyable rides for kids and families.
5. Listen to Music
New Orleans feels alive with music; I know that sounds like a cliche, but it's true. As a result, you'll find many street performers throughout the city, especially in the French Quarter and Frenchman Street.
Stop with your kids and watch some of these street performers. Jackson Square has some entertainers; make sure you leave a tip!
6. Visit Cafe du Monde
I can't help but include Cafe du Monde in all of my lists of things to do in New Orleans. Not only is this cafe over one hundred years old and full of history, but it's an institution in NOLA. This isn't a tourist trap; Cafe du Monde has some of the best beignets worldwide, and they won't break your bank.
Close to the cafe, you'll find a playground. Grab some hot beignets and head over to the playground to let your kids run off the sugar.
7. Go to a Bonabel Boat Launch
The Bonabel boat launch is in Metairie, so you need a car or a way to get there. This is such a fun yet calming thing to do with kids in New Orleans. Not only can you go to a boat launch, but this location lets you walk along the water. They have a playground nearby to help your kids run off some of their energy.
8. Picnic on the Lakefront
The lakefront is such a pretty area in New Orleans, and when we walked through the area, I saw all kinds of families having picnics and enjoying the sights. Our kids would love to get some food and eat outside.
9. Visit the Audubon Insectorium
Make sure you visit the Audubon Insectarium in the Central Business District with your kids to see all the creepy crawly things and other bugs. You'll get to see butterflies up close and personal, and they even have a Louisiana Swamp exhibit where you see alligators.
They even have an exhibit where they have bugs on the menu. Brave kids and adults can eat cricket cookies and spiced bugs snacks.
Your kids might surprise you!
10. Visit the Audubon Aquarium of the Americas
If you have time to kill, make sure you visit the amazing Audubon Aquarium of the Americas, located along the Mississippi River. This aquarium has around 10,000 animals for a total of 530 species.
Kids love the Audubon Aquarium, and honestly, adults do as well.
They have so many animals that you can see, like sharks, sea otters, jellyfish, penguins, and a white alligator.
11. Ride on a Steamboat
One of our favorite experiences, when we visited NOLA, was riding a steamboat. It was an amazing experience, and I saw that they offer different experiences throughout the week.
Steamboats are historic, and we love to teach our kids about the history of a city. Plus, it gives you beautiful views of the city and the river while you listen to music and eat good food.
You really can't beat that, and it's something kids and families of all sizes can enjoy together.
12. Take an Airboat Swamp Tour
Our kids are probably a bit too young for this experience, but if you have older kids, you totally need to add a swamp tour to your list of things to do with kids in New Orleans.
You get to venture out of the city and see what the swamp looks like. Airboats move fast, and you'll get to glide through the swamps, stopping to see alligators in their natural habitat.
There are tons of different swamp tours, so I suggest doing your research to find one that works for your budget and family's needs.
13. Visit the National World War II Museum
My husband and I checked out the National World War II Museum when we visited, and it was one of the best things that we have done together in a long time.
This museum has so many information. I'm not sure if young kids will enjoy this as much as older ones, but if you have older kids or teenagers, the WWII Museum is full of artifacts, personal stories, and so many amazing things to see.
Enjoy Your NOLA Trip
You might be surprised to learn that New Orleans is an amazing city to visit with kids. There are so many things to do with kids in New Orleans; this city is somewhere that you can spend tons of time with your family having fun.