WordPress is one of the top blogging platform, giving you plenty of options to start your blogging journey. It comes with an abundance of themes and plugins, but not all WordPress plugins for bloggers are the same.
Bloggers need tools to help with their business, and there are plugins for nearly everything. These tools help you maximize your potential and optimize your content, but you want to pick the right plugins because they're not all created equally.
Plugins improve all sorts of elements for your blog like your design, site speed, traffic, monetization, and more. However, remember it's best to keep it only essential plugins because having too many plugins will negatively impact your site speed.
Here are some of the best WordPress plugs you can have!
Pin this blog for later! ↓
Related: 6 Ways To Grow Your Blog Easily
What Are WordPress Plugins?
WordPress plugins are small software apps that integrate onto your WordPress software. You can use these for any websites, not just plugs, and they help you do all sorts of things.
These plugins register into your database, and you can activate or deactivate them at any time. Many of them are free, or they offer different tiers with different pricing scales.
It is important to note that too many plugins will slow down your website, so don't overload too many of them. Grab the ones you need the most and get rid of ones that aren't helping your website.
10 Best WordPress Plugins for Bloggers

It's essential for you to learn and start with SEO – search engine optimization – as quickly as possible. SEO is how google and readers will find your content.
Yeast SEO is a little tool that helps you optimize your content and focus on keywords. It will populate meta descriptions, provides you readability analysis, and good suggestions to improve your overall SEO.
Grab the free version and skip the premium version, which costs around $89 year. Instead, invest that money into a course that teaches you all about SEO. You'll get the most bang for your buck that way!
Related: How to Blog Regularly: 10 Tips Bloggers Need

Blogs are targets for spammers, which is why I always suggest having approval required for comments. Askimet is a free WordPress plug that protects your website from scammers, going through your comments and filtering them out.
It also looks for contact form submissions that may be spam related. You can get more advanced protection for $10 per month, but the free version is fantastic!
Site speed is one of the most important factors when it comes to your traffic. A slow website is a surefire way to discourage readers to stay, so you need to use a caching plugin.
WP Rocket creates cached copies of your website, so your server – that helps with your speed – doesn't have to do all the work. It preloads the cache so search engines can index your site immediately.
WP Rocket does even more like facilitating the lazy loading of images, increasing your page speed and compressing static files. However, this is a premium WordPress plugins, costing $49 per year.
Images are an essential part of your blog; Google has stated that it wants images on all of your blog posts. However, the more images you have, the longer it takes for your page to load. Images affect page speed, and we know having good page speed matters.
Studies show that pages that take longer than 3 seconds to load force 25% of users away. It's part of search engine optimization; it's one of the ranking factors for Google's search index.
Smush is a plugin that helps compress images without affecting the image quality. It compresses and optimizes while resizing images and offering lazy load. Smush has a free version as well as Pro version depending on your needs.
I suggest that all bloggers integrate with Google Analytics as soon as they get started. It's the best way to monitor your traffic and where your audience comes from.
MonsterInsights is a WordPress plugin that integrates your website with Google Analytics without having to do much on your end. If you plan to get any sort of ad company, then you'll want to have analytics and several months of reports.
MonsterInsights is a free plugin, but you can upgrade to the advanced plugin for more features for $99 per year.
Social media plays an active role in your blog; most bloggers are active on at least one social media platform. Smash Balloon embeds your social media feeds on your WordPress site, making it more visually appealing. It's a great way increase your follower count.
This WordPress plugin allows you to connect Instagram accounts – even more than 1 – and combine them into one feed. You can customize the feeds, and it allows you to integrate Facebook, Twitter, and YouTube.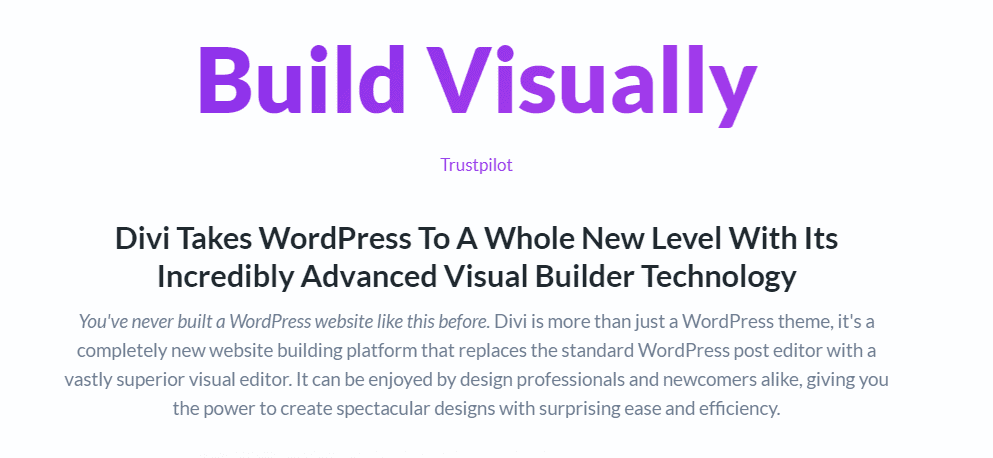 Divi Builder is a plugin and a theme that gives you access to more tools and lets you make changes on your blog and posts from the view point of a visitor. It has pre-built modules that let you customize your needs or create custom blog post templates.
It has a lot of nice features like you can see how the website looks for desktop or mobile visitors. You can sort through different templates or integrate your website with email marketing services.
This plugin begins access at $89!
If you want to build an online community to your WordPress site, then you'll love PeerBoard. This plugin lets you embed modern communities for both individuals and companies. It's designed to help creators have a branded community with only a few clicks.
PeerBoard is pretty much unrivaled by other community forums, so it's worth trying out.
Redirection is a popular redirect plugin for WordPress. It allows you to manage 301 redirections and keep track of 404 errors, along with tidying up loose ends. This reduces error and improves your site's overall ranking.
This plugin sets up 301 redirects, one of its most useful function. A 301 redirect is a permanent and safe way to redirect your blog when you want to pass as much link authority as possible from one old URL to a new URL.
This plugin is worth its weight for sure!
Social media is a powerful source of traffic for your blog, but reshaping old content takes up too much time. It's easy to get caught up with all of your other tasks, but Revive Old Posts is a great way to share posts automatically to Facebook.
I definitely think this is one of the best WordPress plugins! I love that it goes through the articles in your archive and reposts them so you can maximize your traffic and reach. The plugin also lets you set a schedule for publications and add hashtags.
Revive Old Posts is a free plugin, but they have a premium version that starts at $75 per year. Their premium version lets you share posts to Instagram, Tumblr, and LinkedIn.
---
Using the right WordPress plugins will help your blog grow and succeed, but remember to stay away from unnecessary ones! You don't want to slow your speed down with plugins you never use.