You finally booked your dream Atlantis vacation, but now you have to figure out what to pack for Atlantis Bahamas.
After visiting this lovely resort several times, with and without kids, I know what you need. What you should know is that, between all the stores on and off resort, you can find whatever you forgot. However, the resort stores are heavily overpriced. Going to an off-resort store is generally the best idea, especially for food and drinks.
If you forget things like sunscreen or beach toys, somewhere nearby will have the items you want for sale. You'll pay more for them, and if you're like me, I would rather pay for meals we want or excursions than things we can get much cheaper at home.
So, I put together a list of what you have to pack when you go to Atlantis in the Bahamas.
Pin this blog for later! ↓
Related: 23 Tips for Saving Money at Atlantis Bahamas
What to Pack for Atlantis Bahamas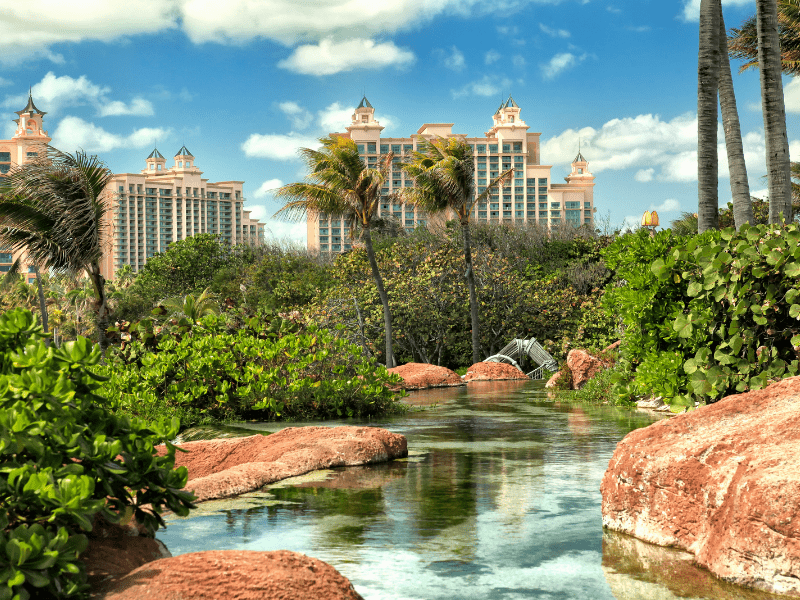 1. Goggles for Kids
You'll definitely want to pack goggles for your kids to use while swimming, going down the water slides, and the fast-moving "lazy" river for kids. The stores will sell goggles, but the reality is you'll pay double or triple what they cost you at home.
Why pay more when goggles slip into a suitcase easily?
2. Snorkeling Gear
Not only do I suggest bringing goggles, you should also bring your own snorkeling gear. If you opt for excursions, these are often included in the piece, but my kids enjoy using them at the beach and pool. You won't need fins though.
My kids could play for hours in the sand at Atlantis; it's so soft and white. Instead of buying sand toys there, I love these collapsible buckets, and they'll last for years. You might want to grab some beach toys at the resort, but these buckets are one of the most used items our kids bring with them.
4. Water Shoes
I always have water shoes for my kids when we visit Atlantis or the beach. Your family has to do a lot of walking within Atlantis, and even if you're going to the pool, the pavement is hot. So, wear some water shoes. Then, your kids can keep them on and won't lose them.
Related: Atlantis Bucket List: 18 Amazing Activities for Your Family
5. Beach Hats for All
Sun protection is vital, and another way to protect your head, face, and eyes from the sun is to use beach hats. Everyone can wear a beach hat; they protect your eyes while also reducing sun burns to your face. Grab a few for your kids and get a big straw hat for yourself! Who doesn't want to lounge at the beach with a gorgeous straw hat?
6. Beach Bag
You definitely want to bring a beach bag with you when visiting the resort at Atlantis Bahamas. I prefer to use one big bag to carry our sunscreen, beach towels, room key, and other essentials.
The beach bags I prefer are the mesh bags; they allow sand to fall through instead of having to shake them out all the time.
7. Lanyards
Before we left for Atlantis on our last trip, I read the suggestion to bring lanyards for your hotel room key – no one wants to lose it.
8. Insulated Cups
When you pack for Atlantis Bahamas, you want to put some insulated eggs to keep your drinks cold for hours while you chill by the pool. Once again, this is something you can purchase while there, but they will cost you an arm and a leg.
When you bring these with you, consider stuffing them with socks or other small items so they don't take up useful space in your luggage.
9. Soft Cooler
I'm sure you will spend hours of time outside while at Atlantis Bahamas, splashing at the beach or the water park. A soft cooler folds flat, so it won't take up much space in your suitcase.
When you go to Atlantis, I suggest going to the grocery store across the street and stock up on drinks and snacks. Then, use your soft cooler to bring stuff with you to stay hydrated while at the beach.
Related: 18 Awesome Tips for Visiting Atlantis with Kids
10. Sunscreen – Lots of It!
If there is one thing I don't want you to forget when you pack for Atlantis Bahamas, it's sunscreen. The bottles are at least double the price there, and you will need plenty of it. Pack more than you think you need since you don't want to pay the bucks at the resort for it.
However, sunscreen is a true necessity.
11. Aloe – After Sun Care
The reality is you are more than likely to end up getting too much sun while visiting Atlantis Bahamas. The sun is quite strong in this area, and it's easy to forget to reapply sunscreen when you should.
Make sure you have some aloe vera gel with you for after sun care. I prefer the spray; it makes it much easier to apply.
12. Swim Suit Cover Up
I suggest having swimsuit cover ups for everyone in your family. You'll be walking through public spaces as you go from your room to the pool and beach, but cover ups also protect your skin. Put it on when you feel like you've been out in the sun for awhile and want to give your skin a break.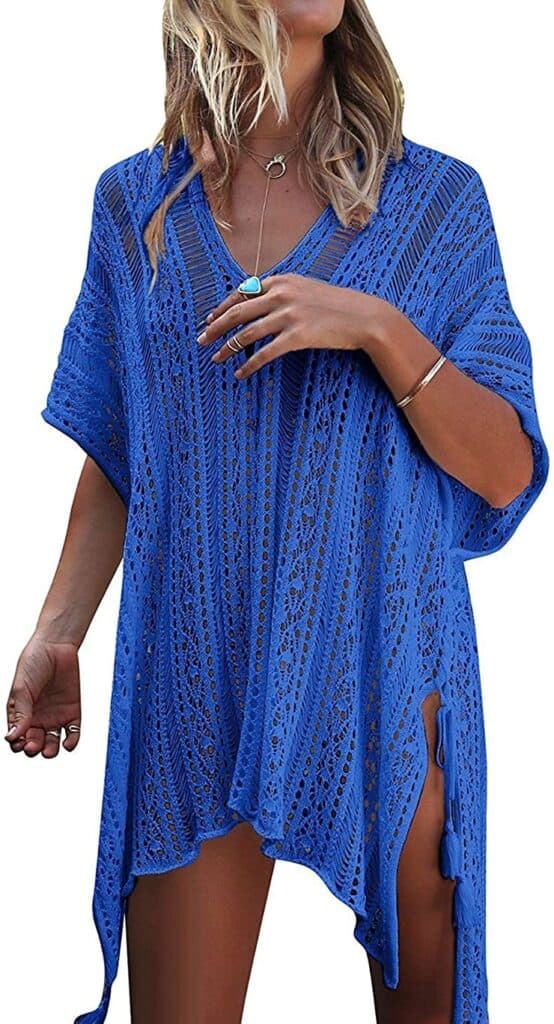 I love this coverup for women; it's oversized and looks great at the same time. The material allows it to dry fast as well.
This adorable girls swim cover up is another favorite with the pom-pom trim. Your little daughter will look adorable!
13. Rash Guards
Some kids don't like to wear rash guards, but it reduces how much sunscreen you have to use and it will give their bodies an extra layer of protection. It's important to remember that the Bahamas is closer to the equator, so the sun is strong here.
Rash guards will help prevent those dreaded sunburns!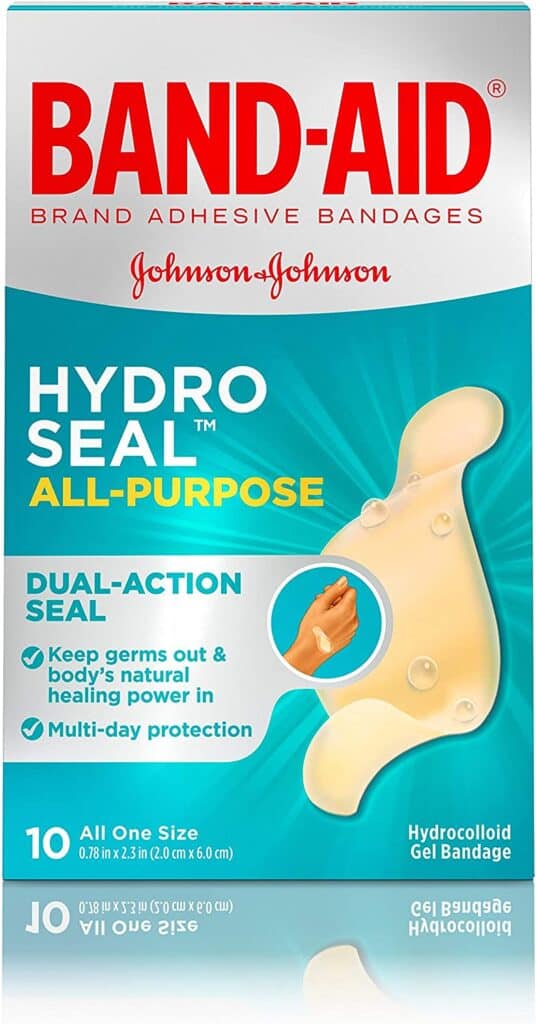 I know my kids always get boo-boos wherever they go. These waterproof band aids are one of my favorite add-ons for my traveling first aid kit!
15. Travel First Aid Kit
No matter where we travel, I always have a travel first aid kit with me. The first aid kit always has things like medical tape, gauze, band-aids, cotton swabs, antibiotic cream, and other helpful items.
You never know, when traveling with kids, what will happen.
Related: Family Travel First Aid Kit: What You Need to Pack
16. Deep Conditioner
You'll spend a lot of time in the pool water, salt water, and sunshine, which will do a number on your hair, even if you hope it doesn't. You want your hair to be healthy and tangle-free, so I suggest bringing a deep conditioner with you.
17. Wet Brushes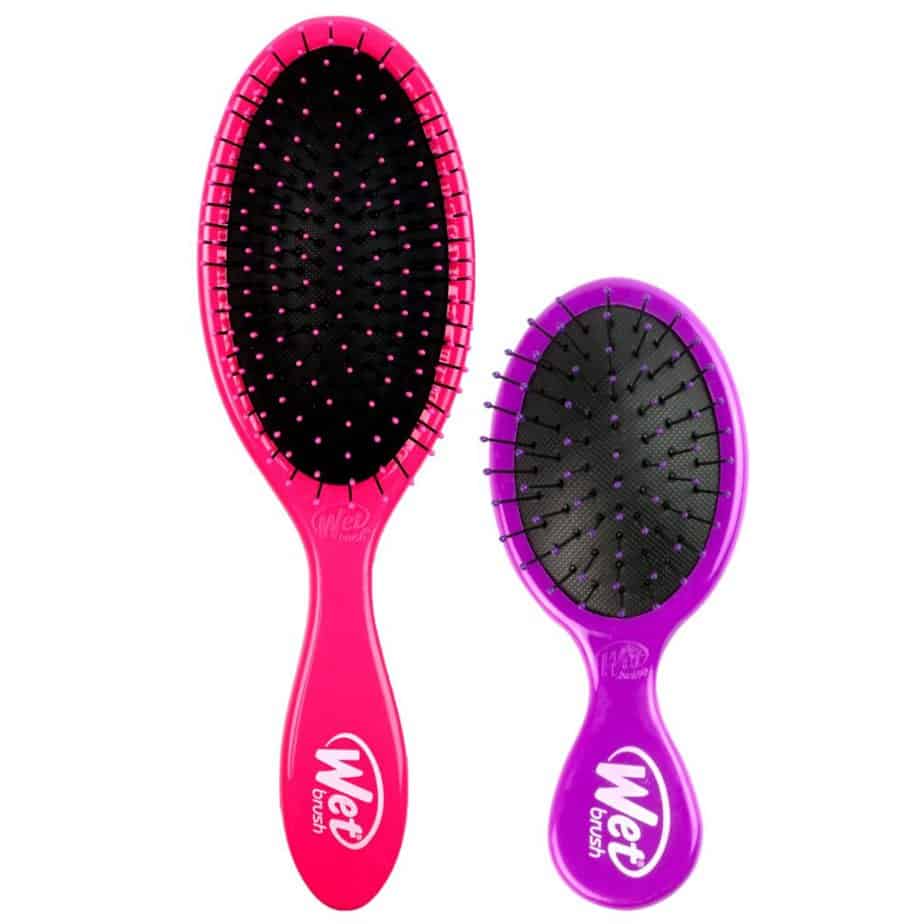 I have to say, as a mom with a little girl, wet brushes are one of my favorite must-have items in general, but especially when swimming or going to the beach. These brushes get the tangles out without hurting her head.
18. Portable Chargers
You'll be taking all the pictures while you're visiting Atlantis Bahamas, so when you decide what to pack, make sure you include at least one or two portable chargers. When your battery runs low, you'll be able to charge while on the go.
19. Portable Bluetooth Speaker
We love playing music when we visit the beach, so I always bring a small, portable Bluetooth speaker. These tuck right into your luggage; size doesn't mean it won't be loud.
20. Waterproof Phone Case
While it's not a true necessity, having a waterproof phone case is a great idea. You'll want to take pictures of your kids splashing in the water, and these cases allow you to use the touchscreen while the phone is inside. You can even use them to take pictures underwater!
What Clothing to Pack for Atlantis Bahamas
Next, you want to bring clothing with you. The weather is typically around 80 degrees Fahrenheit during the daytime – year round – so consider that when packing. The nighttime temperatures average between 65-70 degrees.
Here is what you should consider packing for clothes.
Bathing suits – 2 or 3
Shorts
Shirts
Underwear and Bras
Dinner attire – some Atlantis resorts have specific dress codes.
Shoes & socks
Flip Flops, sandals & water shoes
---
Going to Atlantis resort in the Bahamas is undoubtedly one of our family's favorite vacation spots. Make sure you know what to pack for Atlantis Bahamas so you don't have to purchase the items at the resort location to save money.