Heading on a babymoon before your new baby arrives is a dream for many couples, but budgets may not permit that. However, there are budget friendly babymoon destinations to consider.
Taking a babymoon is something that all parents should be able to enjoy, in my opinion. That doesn't mean you have to splurge; all you have to do is get away together and enjoy the previous time anticipating the arrival of your new baby.
So, if you are dreaming of a babymoon getaway, here are some of my favorite destinations!
What is a Babymoon?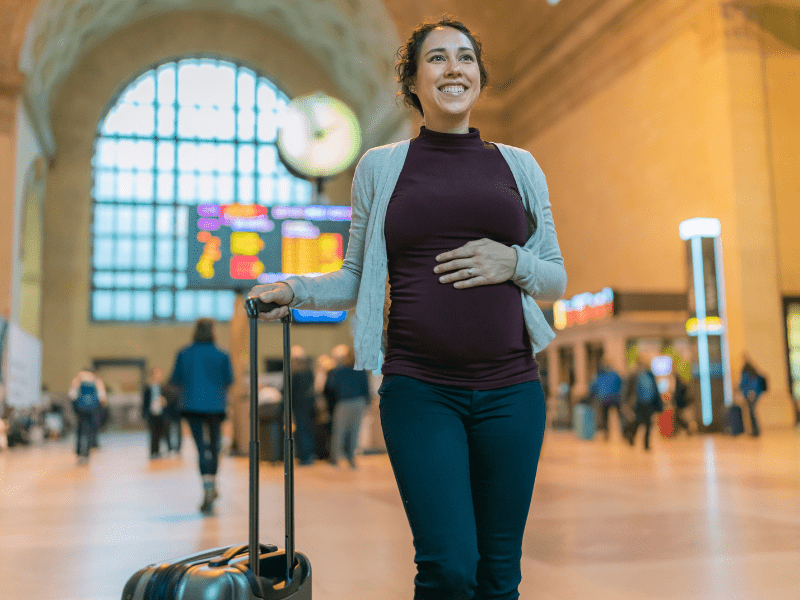 Babymoons are a fairly new term, so you might not know what this is. They are similar to a honeymoon because they are a celebratory trip, but instead of celebrating your marriage, you celebrate the upcoming birth of your new baby.
Taking a babymoon gives you and your spouse time alone, enjoying each other's company before you bring a new little human into your family.
Most couples plan a babymoon before their first baby, but there are no rules. You can take a trip before the birth of all of your kids, assuming you have a sitter for everyone.
However, you can take a trip with your spouse and all of your kids! It's whatever you want, whether you travel to a new destination or your favorite place.
When is the Best Time to Take a Babymoon?
The most important thing is to pick the right timing for your babymoon. While there are no hard rules, good timing makes a big difference in your trip.
Doctors typically avoid traveling during your third trimester, but you are safe to fly and travel up to 36 weeks. Some airlines and cruises may require a doctor's note, so be prepared to offer that. It all depends on your pregnancy, but most low-risk pregnant women can travel for the first few weeks of their third trimester.
However, do you want to do so?
During your third trimester, you may have more body pains and aches, plus you are nesting and preparing your house for the new arrival. You have doctor's appointments every two weeks; you are busy!
The best time to take a babymoon, in my opinion, is toward the end of your second trimester.
10 Best Budget Friendly Babymoon Destinations
1. Nantucket, Massachusetts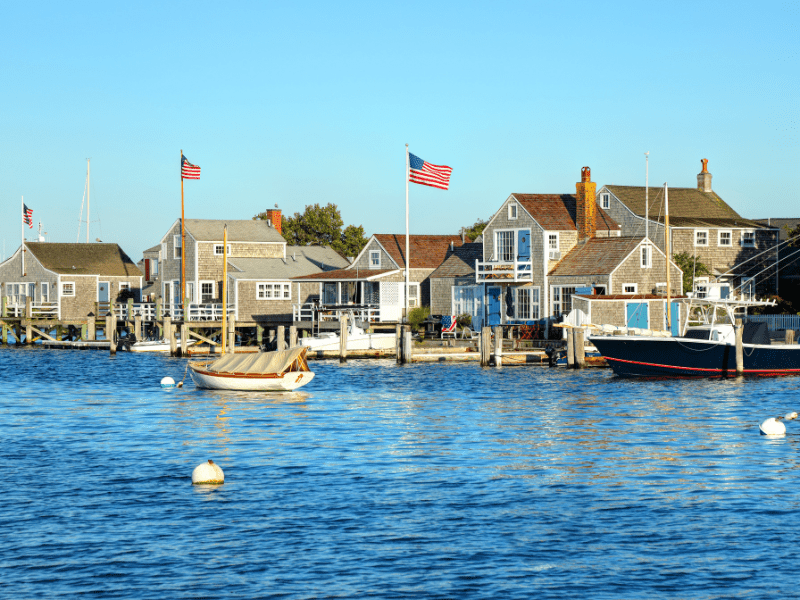 I bet you have heard of Nantucket, but never consider going there for a getaway. Don't miss this time to check out the area!
Nantucket is an island off of the coast of Massachusetts, and this quaint, seaside town offers local shopping, yummy restaurants, and views for days.
Of course, the reason most people visit Nantucket is the beach, and you will love relaxing on the shores. Spread out a towel and an umbrella; you won't want to leave all day if you're taking a getaway during the summer.
Not all hotels and stays here are budget-friendly since Nantucket attracts some of the wealthy in Boston, but White Elephant Hotel offers a babymoon package you should consider.
2. Wisconsin Dells, Wisconsin
Wisconsin Dells is an impressive area to visit, and most people have no idea that it exists.
This area offers plenty for outdoorsy couples, such as hiking, fishing, and biking. But, don't just get lost outside. You would be shocked at how many waterparks are in the area; go hit one up and cool off in a wave pool.
Since Wisconsin Dells continue to grow in popularity, the food scene is growing as well. You'll find utterly delicious restaurants, along with spas and hotels that cater to baby mooning parents.
Related: 16 Budget-Friendly Places to Visit as a Family in 2023
3. New Orleans, Louisiana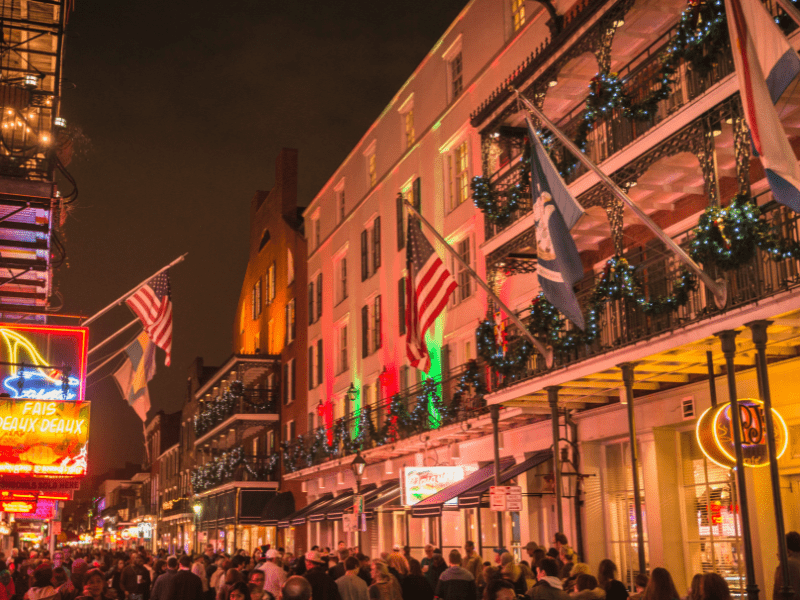 One of my favorite cities to visit is New Orleans. The city is full of history, and if you go during Mardi Gras, the city is one big party.
But, there is more than just Mardi Gras. New Orleans is full of rich history, and you can take in the history – some of it haunted – while touring the city. Make sure you enjoy the flavors of the city as well; the food here is world-famous.
There are tons of things to do here. Explore the French Quarter, check out the live music venues, eat some beignets at Cafe du Monde, and take a river tour.
Related: 14 Tips You Need to Know for Visiting New Orleans
4. Bend, Oregon
If you're looking for budget friendly babymoon destinations on the west coast, consider visiting Bend, Oregon. It's a gorgeous, outdoor oasis for those who want a secluded getaway. This is where you go when you want to be alone.
Bend is a great place to rent a cabin, which tends to be more affordable, especially if you want to be alone. However, Hillside Inn Bed and Breakfast, located in town, is affordable and is within walking distance to many of the hip cafes and shops.
5. Scottsdale, Arizona
Scottsdale might not immediately pop into your head as one of the budget friendly babymoon destinations, but this sunny location has a lot to offer. This city offers plenty of relaxation and rest, while also being close enough to nature to offer outdoorsy activities.
If you enjoy trail walking and spending time outdoors, Scottsdale will be a joy for you.
At the same time, you have over 50 spas at your service and dozens of luxury hotels that won't break the bank. Plus, Scottsdale is slowly joining the foodie movement with better dining and shopping experiences.
6. Hudson Valley, New York
Too many people skip over the Hudson Valley, located in New York State, but it's an awesome summer getaway, especially if you're looking for budget friendly babymoon destinations. You can rent a cabin in the area with kitchen and enjoy slow mornings with your spouse.
Hudson Valley is full of historical sites and museums, along with easy hiking trails. The area is gorgeous, so make sure to give yourself time to take in nature.
If you want to add a bit of luxury without breaking the bank, check out Buttermilk Falls Inn & Spa. They offer a babymoon package with a two-night stay, a spa package, and a lovely pool to enjoy with your spouse.
Sounds like heaven, right?
7. Charleston, South Carolina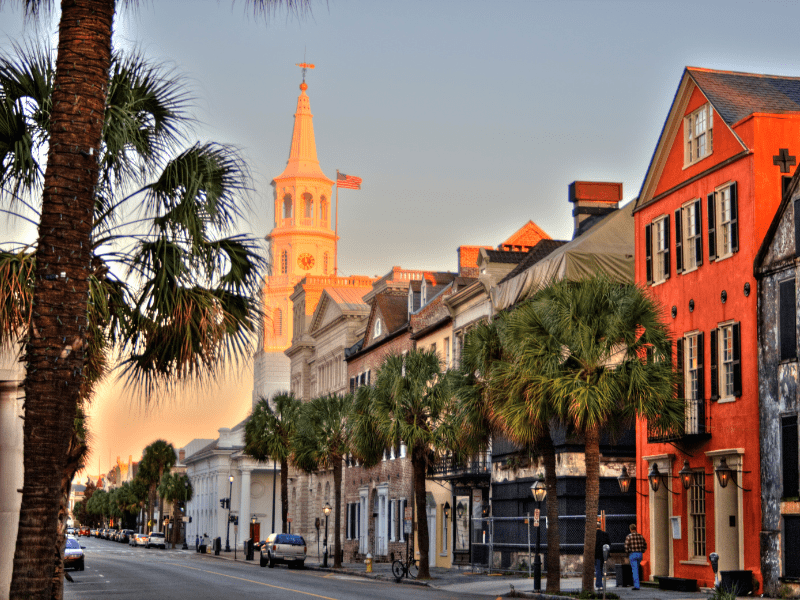 I love Charleston, South Carolina. This historic city screams quaint and adorable with cobblestone streets and markets.
Walking downtown Charleston is easy, even when pregnant, because everything is in decent distance. You can walk away without swelling up your feet. The city also has bike rentals and horse-drawn carriages – how romantic! – nearly everywhere in the city.
Charleston is full of history, as well as the surrounding areas, so you can check out plantations and learn their history or visit Fort Sumter.
Since the area has such a rich history, you can bet they have nice hotels and delicious restaurants.
8. Savannah, Georgia
Staying in the south, another destination to consider is Savannah, Georgia. The city offers riverfront views, bike rentals, delicious, world-famous restaurants, and plenty of shopping
When visiting Savannah, enjoy some trolley tours around the city and stroll the waterfront. You can walk through the Savannah Museum of Art and Design, while checking out local shops for goodies.
9. San Diego, California
California is expensive; there really is no way around that if you are coming in from anywhere else in the United States. However, San Diego is an excellent west coast Babymoon destination.
The city offers the beach with plenty of shoreline for rest and relaxation. Everyone should dip their toes into the Pacific Ocean at least once in their life!
The city has more charm than others throughout the state, and it's easy to miss the hustle and bustle. It has more of an old-world feel, and you can spend time checking out the restaurants, shops, and museums throughout the city.
10. Las Vegas, NV
Ok, I know you're thinking I'm insane for putting Las Vegas on a list of budget friendly babymoon destinations – but hear me out!
Yes, Las Vegas might be the place to go before getting married, and the dream destination for gamblers, but it's more than that. If you take a bit of planning, this is quite a budget-friendly city with more than you expect to do.
Visiting the city midweek is the best time; people come in just for the weekend to gamble. Booking in advance also will give you time to find the best prices.
Going to see shows is more affordable than you expect. Pick one or two to see, and make sure you spend time strolling the Bellagio fountains and gardens. Those are free, along with Fremont Street.
Most hotels have pools, and renting a cabana for the day is an affordable luxury. Plus, you want to protect your sensitive skin. Also, there are spas everywhere, and many offer mommy-to-be packages!
---
Don't miss out on going on a babymoon with your significant other! Enjoy one of these budget friendly babymoon destinations and make memories before your bay arrives!