Christmas is the perfect time to take a trip with your family. We often think getaways are only for the summer time, but inexpensive family Christmas vacations are great Christmas gifts.
More families than ever are skipping tons of Christmas gifts, opting for non-toy gifts. Traveling is the perfect substitute; we love experience gifts, so why not see new parts of the United States instead. Even if you don't have a large budget, you can find plenty of inexpensive family Christmas vacations.
Pin this blog for later! ↓
Related: 40 Experiences as Gifts for Kids – Christmas Gift Ideas
6 Most Inexpensive Family Christmas Vacations
1. Sedona, Arizona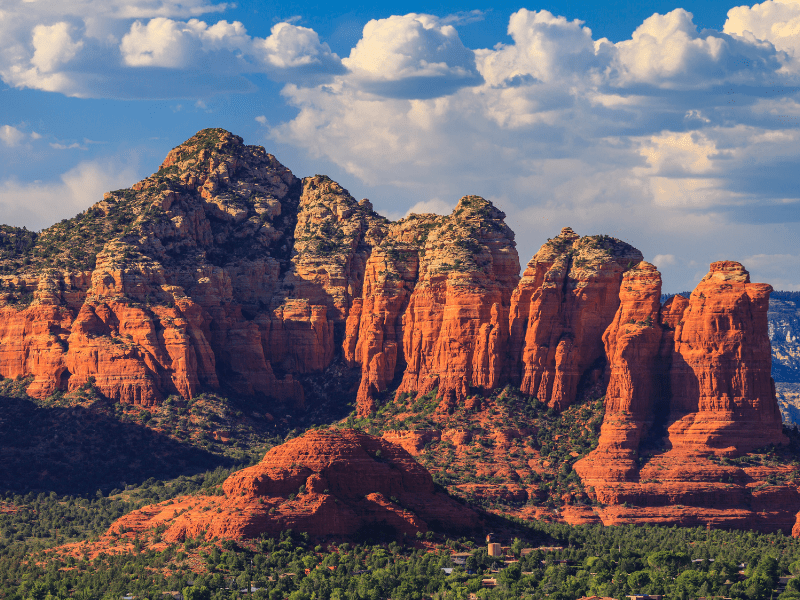 If you're looking for inexpensive family Christmas vacations, Sedona, Arizona is a fantastic cheap getaway. Sedona is located in a huge red sandstone crayon. It's gorgeous to visit any time of year, and if you avoid the busy tourist season in the summer, try staying during the off season.
Typically, the temperatures rest between the 40s and 50s during the winter season, perfect for daytime activities with your family. Take time to explore local hiking trails or go on an adventure and take a hot air balloon ride together.
Sedona has all sorts of Christmas activities to enjoy like the Tlaquepaque Christmas Lights. The village sells hand-crafted goods and plenty of Christmas decor. A Christmas trolley takes you throughout the town, looking at holiday decor.
Related: 19 Budget-Friendly Christmas Traditions
2. Savannah, Georgia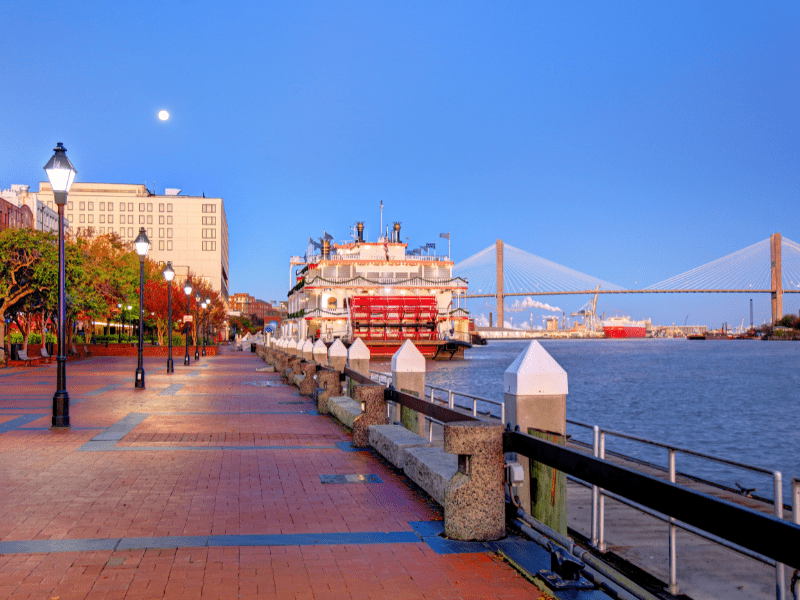 If you're trying to escape the col weather, winter in Savannah is mild, perfect for family Christmas vacations. The off-season rates at local hotels make this an inexpensive destination, especially if you want to stay in the historic district and riverfront area.
Savannah at Christmastime is magical. Take a trolley tour throughout the town, checking out all the magical light displays. Older kids and adults may enjoy a Christmas ghost walk tour, and make sure to check the Pirates' House, which was once a pirate hangout, to enjoy a delicious lunch.
Another destination you want to check out while visiting Savannah is the Savannah Wildlife Refuge. This place is great for all of the animal lovers in your family; kids enjoy seeing all the alligators and bobcats.
If you feel like checking out some beaches, go to Tybee Island, which is a short drive from Savannah. Not only can you take a dip in the water, even though it may be a bit chilly, but kids love boat rides through the back channels, searching for dolphins.
3. St. Pete's Beach, Florida
Florida is a great place to head during Christmas, and St. Pete's has high temperatures around 70 degrees in December. Beautiful beaches and plenty of fun activities in the area make this one of the best inexpensive family Christmas vacations.
You'll find gorgeous resorts along the central coast, the perfect place to build sandcastles while watching dolphins swim in the water. One of the best local resorts is the Sirata Beach Resort with two pools, a large splash zone for kids, and all the water sports you could desire.
You'll find all sorts of activities to enjoy in St. Pete's. From local farm-to-table restaurants, museums, and awesome playgrounds, you'll find plenty of things to do here with your kids.
Related: 12 Magical Things to Do with Kids in NYC for Christmas
4. Gatlinburg & Pigeon Forge, Tennessee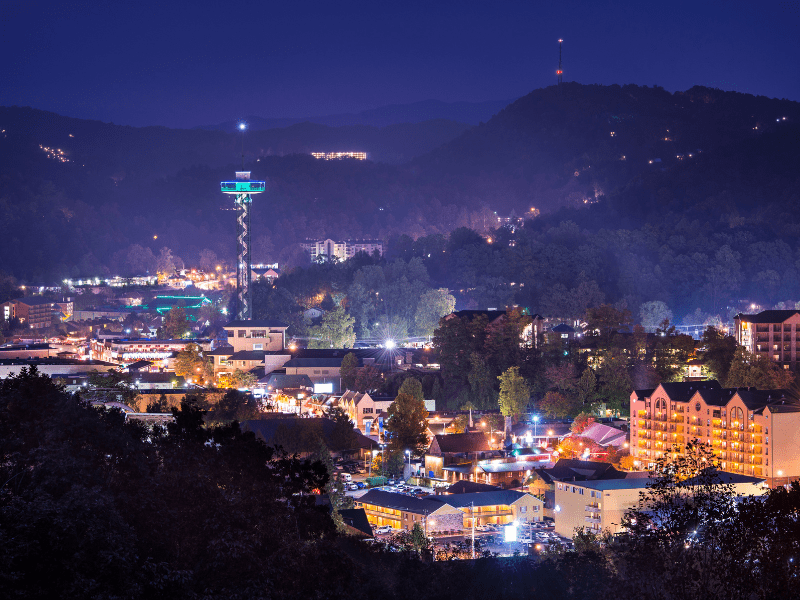 One of our favorite family destinations in Pigeon Forge and Gatlinburg, located beside each other in Tennessee. The holiday season is awesome in the mountains, kicking off in early November throughout February. You'll see gorgeous winter lighting displays throughout the city and a range of activities
Kids love a visit to Dollywood, checking out all the rights and over four million lights displayed throughout the park during the Christmas season. The park features stage versions of "It's a Wonderful Life" and other Christmas classics.
The Island in Pigeon Forge turns into a Christmas fantasyland with garland, ornaments, and over a half-million lights. Santa and Mrs. Claus are here for kids to visit.
5. Las Vegas, Nevada
I know; you might be surprised by the idea that Las Vegas is a family vacation, but more families than ever take their kids here. With fabulous shows, water parks, pools, thrill rides, and more, you'll find an endless amount of things that need to be done.
It's also thought that Las Vegas is expensive, but that's not truly the case anymore, especially as an option for Christmas Vacations. Package deals often include flights and large, spacious hotel rooms for families.
You'll find all sorts of Christmas activities to enjoy together. Interactive holiday light experiences throughout Las Vegas will enchant your kids. Glittering Lights at the Las Vegas Motor Speedway is a drive-through holiday light experience with over five million twinkling lights and 600 animated displays.
That's just a few of the things you can enjoy with your kids in Las Vegas, Nevada.
6. Branson, Missouri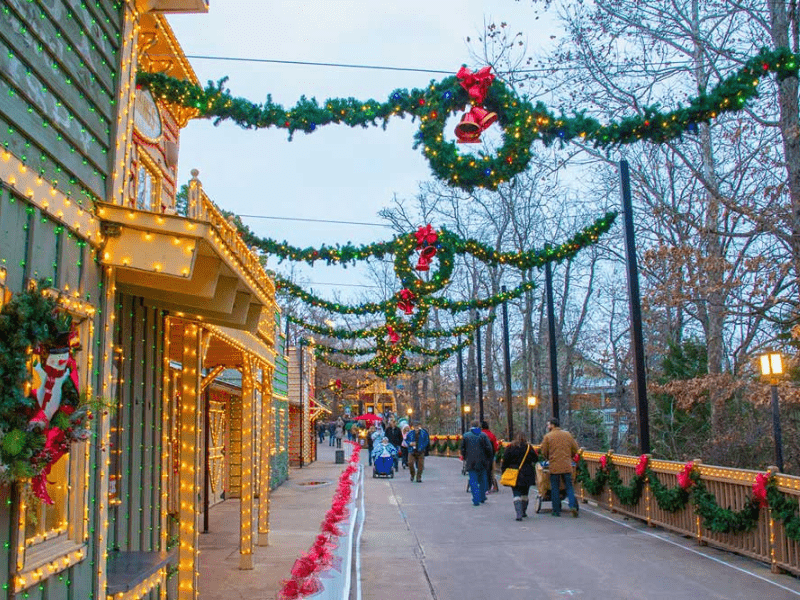 If you're looking for inexpensive family Christmas vacations, Branson, Missouri gives you a chance to surround yourself with gorgeous views of nature. You'll find resorts on the rivers in the foothills of the Ozark Mountains.
Historic Branson has locally-owned stores and general stores featuring old-fashioned candy and plenty of decor. The entire town is full of Christmas lights, and if you want some thrills, visit the Silver Dollar City theme park with rides, magical entertainment and light displays.
Plus a huge 8-story Christmas tree!
Branson has all sorts of Christmas events to enjoy like the Branson Scenic Railway's Polar Express ride. Families can take a tour through the town's Christmas lights. Check out the The World's Largest Toy Museum Complex with over a million toys and six museums.
---
Traveling is a great Christmas gift for families, so if you want to skip the toys and games this year, pick one of these inexpensive family Christmas vacations. Making memories is the best thing to do during the holiday season.