Taking a babymoon – a trip before your baby arrives – is on many couples' goals. Travel is a personal choice; some want an adventure, some way to see the cities, and others want luxury babymoon destinations.
When I don't have kids with me, I want all the luxury I can enjoy, and if this is your first baby, consider that your traveling may change for quite awhile. Traveling with a baby isn't as easy as traveling without kids, and what you can enjoy changes dramatically.
If you are looking for some luxury destinations to enjoy with your partner, here are some of my top picks!
Related: Traveling to NOLA: 10 Best Things to Do in New Orleans
How to Pick The Perfect Luxury Babymoon Destination
Picking your ideal luxury babymoon destination is hard! You have plenty of options from tropical destinations, luxury beach resorts, or a spa retreat. It's the perfect time to celebrate the upcoming birth of your new baby!
Here are some considerations when picking the perfect destination.
When You Want to Travel
The best time to travel during your pregnancy is during your second trimester or the very start of your third trimester. You should feel quite good at this time, but you aren't too close to labor to travel.
Take a look at what time of year that is, and use that to help you decide when you want to travel.
How Far Do You Want to Travel
This is a personal decision that only you can decide. In general, short traveling times are best for pregnant women; traveling can be uncomfortable at times!
No matter how far you travel, be sure you keep your legs moving and drink ample water. It's always wise to speak to your doctor ahead of time to determine if your travel plans are a good idea.
Potential Itinerary
Before you click the "book" button, take a look at some of the possible things you'll do at this destination. Everyone travels differently.
Some prefer to stay busy, seeing all the sites and sounds of the area. Others prefer to veg out in a state of quiet bliss.
Neither is wrong; it's a personal choice. However, you want to be sure wherever you travel has adventures or sites to add to your itinerary you would enjoy together.
13 Best Luxury Babymoon Destinations
1. Anguilla
Are you in the mood for white sand beaches and blue, clear water? Anguilla is a fantastic tropical luxury babymoon destination.
This location features different luxury resorts, hotels, and beach villas. You'll also find all-inclusive resorts to meet whatever budget you have in mind for your trip.
One of the top places to stay in Anguilla is Frangipani Beach Resort, a luxury property with 10 suites plus beachfront villas. Visitors enjoy access to prenatal massages, oceanfront property, and gorgeous pools.
2. Maui, Hawaii
Many people dream of going to Hawaii, and there is no better time than during your luxury babymoon. If you live on the West Coast, the flight isn't too bad in terms of total time.
Maui is Hawaii's second largest island, and you'll find plenty of relaxation at this destination. Check out the dream beaches, swim in the waterfalls in the Seven Sacred Pools, and enjoy local cuisine.
If you're up for a long walk, enjoy the Kapula Coastal Trail, located on a preservation on the island. You'll experience the true beauty that is Hawaii here.
3. Bahamas
The Bahamas is a dream destination for many people, and there are plenty of destinations. South Andros is a luxury destination and home to the world's third largest barrier reef plus 90 miles of gorgeous beaches.
If you want a relaxing vacation, South Andros is for you. It might be the largest of the Bahamas islands, but it is uncrowded and not overly developed.
You'll feel like you found your own private oasis. It's nicknamed "The Sleeping Giant" since it's perfect for pure relaxation.
Another option is always to hit up Atlantis in the Bahamas. They have more luxury accommodations available, but if you are looking for quiet and less people, this wouldn't be the destination for you.
Related: 26 Tips for Saving Money at Atlantis Bahamas
However, if you want to consider Atlantis, try staying at The Cove. Check out the peaceful pregnancy massage at the Mandara Spa and the adults-only pool on the resort. Plus, the dining is world-class.
4. Riviera Maya, Mexico
Riviera Maya is a dream destination for many in Mexico; it offers a little bit of everything for visitors. Go on adventurous tours of ancient ruins and waterfalls or spend time lounging on the pristine white sand beaches.
Check out the local art dealers and world-famous shopping. You really have something for everyone.
Perhaps best of all is the abundance of resorts in the area. Hard Rock Riviera Maya is an all-inclusive resort with everything you could imagine, but other resorts off private villas and luxury suites.
5. Big Sur, California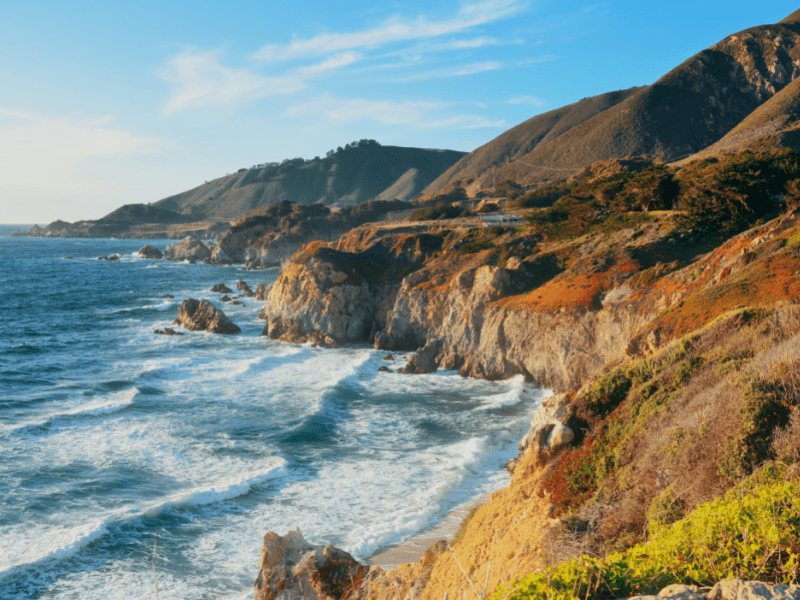 When people think of California, they envision beaches and big cities, like San Francisco or Los Angeles. Big Sur feels like a hidden treasure in the state; it's a destination for artist and writers who need a calm, relaxing retreat.
Spend time in the ancient forests and rugged shorelines that feel like something out of a movie. The area is great for exploring galleries, soaking in hot springs, getting massages at local spas, and driving up and down Highway 1.
6. Maldives
The Maldives is a dream trip for many families, so if you are looking for luxury babymoon destinations, the Maldives belongs on the list.
This location features pristine beaches, private islands, overwater bungalows, and dream views for days. Chances are you have seen videos of the overwater villas on social media; they are truly a dream come true!
7. Palm Beach, Florida
Florida might not be your first choice for luxury babymoon destinations, but Palm Beach offers R&R in style. You'll find delicious, five-star restaurants, gorgeous beaches, spa retreats, and championship golf courses.
Not to mention, the shopping is great down here. Check out Worth Avenue to find dozens of boutiques.
8. Montauk, New York
Never heard of Montauk? You are missing out! Montauk is located along a 12 mile strip of land on Long Island. Nature abounds undisturbed here with miles of area trails, including trails that overlook the bluffs.
You will watch epic sun rises and sunsets; it's worth waking up early to view!
Montauk is home to several bed and breakfasts, along with resorts that include beachside spas. What mommy-to-be doesn't want a beachside spa?
9. Blackberry Farm, Tennessee
Blackberry Farm is a hidden treasure in the the hills of Tennessee. This mountain escape give you a tranquil environment to unwind during your babymoon. Enjoy breathtaking scenery, dine at award-winning restaurants, and enjoy the various activities offered by Blackberry Farm.
This resort offers countless activities throughout the year to fulfill your itinerary. Pamper yourself in the spa, take a hike on the walking trails in the surrounding mountains, or chill for as long as you want.
10. Aruba
Aruba is known as the happy island because of its year-round sunshine, low humidity, and relaxing breezes. It's easily accessible with direct flights throughout the United States.
Many families bring their kids here because the beaches are known for calm, shallow water, perfect for toddlers and preschoolers.
Aruba is home to a multitude of waterfront properties, including the Hyatt Regency Aruba Resort Spa and Casino, a 12 acre luxury waterfront property. This resort includes an adults-only pool, private cabanas, luxury spa treatments, and meditation classes.
11. San Pedro, Belize
Belize is home to gorgeous beaches, busy beach towns, and private islands, so finding your perfect luxury babymoon destinations is not hard here.
San Pedro is one of the most popular destinations in Belize, but if you jet three miles off the coast, you'll find Cayo Espanto, a private island resort. Cayo Espanto is home to seven villas with private docks and butler services. You'll have a secluded, luxury vacation including breakfast delivered to your villa.
Heaven.
However, Belize is still home to a multitude of other destinations that may meet your criteria.
12. Cape Cod, Massachusetts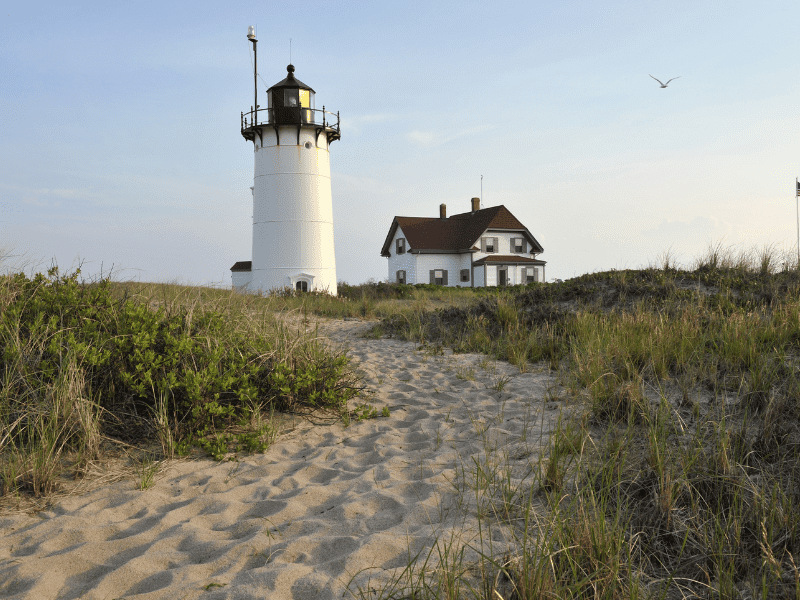 If you aren't feeling a tropical babymoon, Cape Cod could be the luxury destination of your dreams. Cape Cod features 500 miles of pristine coastline, white sand beaches, local shops, and nature abounds.
What more could you want?
You'll find plenty to enjoy when visiting Cape Cod. Nickerson State Park features nature trails and scenic areas to enjoy the beauty of the area.
Let's not forget; you can satisfy those cravings at the Cape Cod potato chip factory!
13. Puerto Vallarta
Another fantastic Mexico destination is Puerto Vallarta. Visitors who want to see Mexican culture, mountains, ocean, and a vibrant art scene should include this area in your top picks.
Couples have plenty to enjoy here. Sail to hidden beaches with your love, relax while whale watching, and shop the local arts and crafts areas.
---
Picking the perfect luxury babymoon destination is difficult because you have so many amazing options. From the New England coastline to tropical Caribbean destinations, one of these getaways will check off all your boxes.

Save this post to Pinterest! Follow us so that you never miss a thing.