Finding age-appropriate family-friendly movies is hard nowadays. You never know when a character might say something inappropriate or a scene might make you question whether or not your child should be watching that movie. I've spent a lot of time watching different shows with my kids to ensure they're appropriate and won't lead my kids to questions they shouldn't ask at their age.
More people than ever are questioning the how to pick movies for little kids. It's important to know that my kids are all under the age of eight years old, so while some movies I think are age appropriate for ten years old and up, my kids are still little.
For example, I love the Harry Potter movies, but I want my son to be a bit older before we watch them together because they are a bit scary at times. However, my kids love Jurassic Park movies; they don't find them scary.
These movies have no sexual scenes either, which is a big deal when I pick non-cartoon movies.
We also love National Geographic documentaries. For example, my son has enjoyed watching different movies about the Sahara Desert and amazing that live in these regions. I'm happy to put on these educational movies for my kids to learn.
So, I put together a list of some of my kids' favorite family-friendly movies they love to watch together. Many of these are available on Disney+ right now!
Pin this blog for later! ↓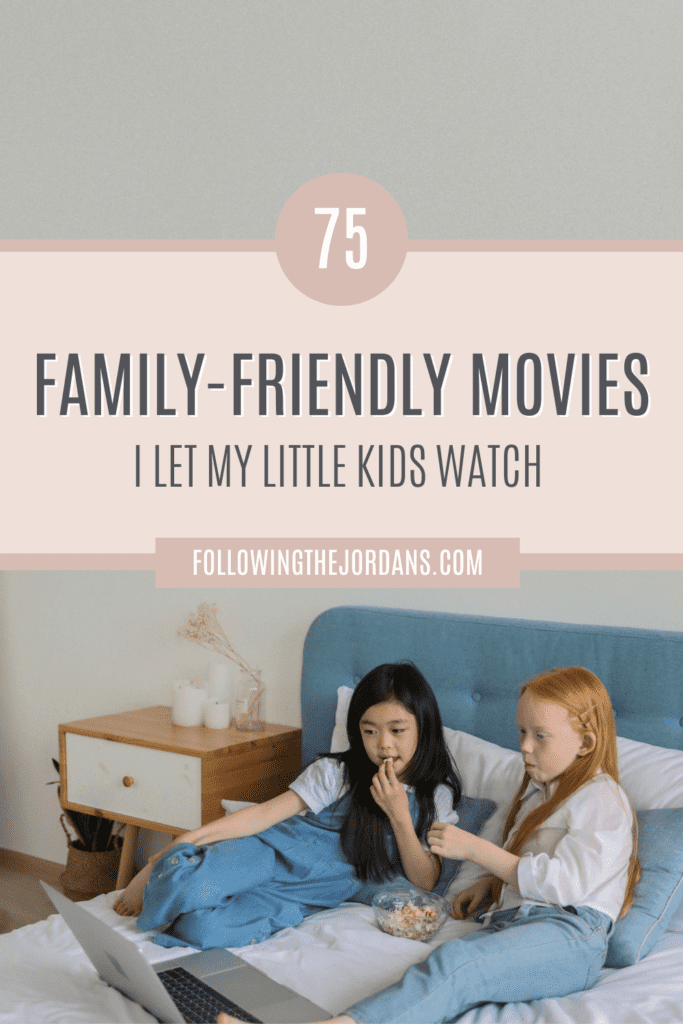 75 Family-Friendly Movies I Let My Little Kids Watch
101 Dalmatians
A Bug's Life
Abominable
Aladdin
Alice in Wonderland
Beauty and The Beast
Bee Movie
Boss Baby
Brave
Cars: The Movie
Charlotte's Web
Chicken Little
Chicken Run
Cinderella
Cloudy with a Chance of Meatballs
Coco
Despicable Me
Dumbo
Elf
Encanto
E.T.: The Extra-Terrestrial
Finding Dory
Finding Nemo
Frozen
Frozen 2
Good Dinosaur
Happy Feet
Hercules
How to Train Your Dragon
Homeward Bound
Horton Hears a Who
The Incredibles
Inside Out
Jumanji
Jurassic Park Movies (Some kids may find these too scary!)
Lady and the Tramp
Lilo and Stitch
Lion King
Little Mermaid
Little Rascals
Luca
March of the Penguins
Matilda
Minions
Moana
Monsters Inc
National Geographic Documentaries
Night at the Museum
Onward
Paddington 1 & 2
Ratatouille
Raya and The Last Dragon
Sandlot
Secret Life of Pets 1 & 2
Shaun the Sheep: The Movie
Shrek
Sing 1 & 2
Sleeping Beauty
Snow White
Spiderman: Into the Spider-Verse
Spirited Away
Stuart Little
Tangled
Tarzan
The Grinch
The Land Before Time
The Lego Movie
The Peanuts Movie
The Princess and The Frog
Thomas & Friends: The Adventure Begins
Toy Story
Trolls
WALL-E
Wreck-It Ralph
Zootopia
---
These are some of my kids' favorite family-friendly movies. We love to watch movies, especially as we travel back and forth to the beach or when we spend time in on RV. My kids regularly ask for many of these movies and enjoy watching them together as a family.
Do your kids have a few favorite movies they love to watch? Let me know in the comments!