Christmas is a magical time for children, and now that I'm an adult, I find this time even more amazing that I watch my kids experience all of our holiday traditions. Some of our Christmas traditions are ones we created together, but some traditions started when I was a child.
It's even more precious watching my children love the holiday traditions that I did as a child.
Christmas is more than just presents; it's time to make memories with your children that will last a lifetime. Spend as much time together as possible, watching movies, baking cookies, and counting down the days to Christmas Day.
If you're looking for a few new holiday traditions for families, here are some of my favorite ideas.
Pin this blog for later! ↓
24 Holiday Traditions for Families
Here are some of our favorite Christmas traditions; I hope they inspire you!
1. Elf on the Shelf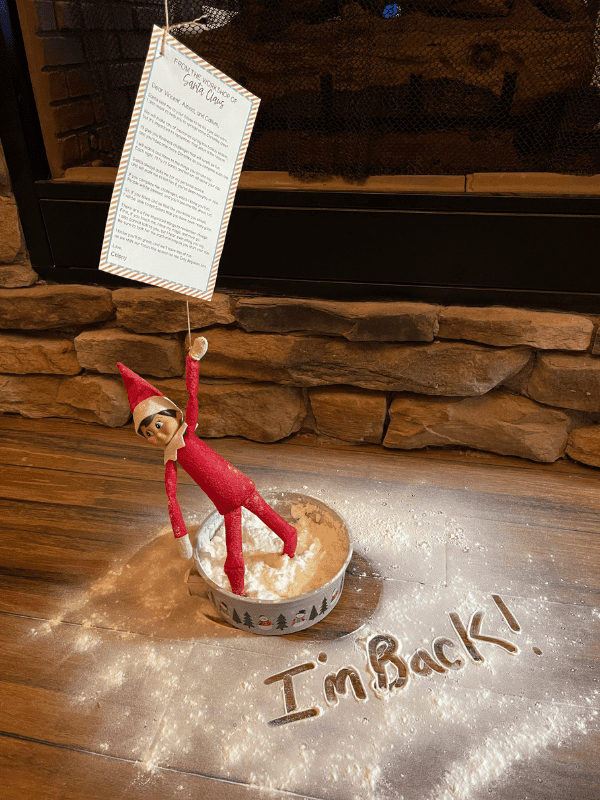 Our kids look forward to the arrival of our Elf on the Shelf every year. We started this holiday tradition years ago, and I can't imagine not doing this. Each morning, the kids look forward to finding our elf and seeing all of his crazy scenarios he finds himself in each night.
2. Advent Calendar
An advent calendar is one of the holiday traditions that my parents started with me when I was younger, and I continued with my kids. It's a fun and easy way to count down the days to Christmas, and there are so many ways to create an advent calendar.
You can have a calendar filled with different types of candy that your kids get to eat each day. Another idea I like is a basket of Christmas books that the kids unwrap each evening and read together as a family. If you have Lego-obsessed kids, grab a Lego Advent Calendar – they'll love it.
3. Attend a Local Lighting Ceremony
Our local town has a lighting ceremony the week after Thanksgiving, and it kicks off the holiday season in the perfect way. We all head down to the town square and watch the tree light up, and our town offers hayrides, musicians, and little shops to visit as well. It's typically a Friday or Saturday evening, so it's the perfect night out on the town for our family.
4. Cutting Down A Christmas Tree
I have some of my fondest memories as a child going to cut down a Christmas tree with my family, and we continue this tradition with my kids. We head into the mountains nearby and visit a Christmas tree farm to find the perfect tree for our family.
Something funny always happens, like my husband slipping on ice or one of the kids rolling down a hill. It ends up being a time full of laughing and memories being made.
5. Decorate Our Tree as a Family
After we bring the tree home, we order take-out food (another one of the little holiday traditions) and wait for the tree to defrost a bit. Then, we decorate together as a family. The kids place ornaments everywhere, but typically more on the bottom and I end up fixing it later that evening.
One of my favorite holiday traditions is when I get to sit in my living room after the kids go to sleep and simply look at the tree as I'm cozied under a blanket. There is something so beautiful yet relaxing about a lit Christmas tree.
6. Camp By the Christmas Tree
After we get the Christmas tree, we always have at least one night when we all sleep in the living room by the Christmas tree. I bring out some sleeping mattresses with tons of blankets, and we sleep by the tree. It's the only night I let the lights stay on all night, but the kids look forward to this.
Is there anything more magical than sleeping by a lit up Christmas tree?
7. Having a Polar Express Movie Night
Polar Express is hands-down our favorite Christmas movie, so every year, we have a Polar Express movie night.
I pop bags of popcorn, make loads of hot chocolate, and we settle down to watch the movie together. It's always a surprise, and I tell the kids by handing them golden tickets. We make sure to put on jammies before watching the movie because it's not the same otherwise!
8. Decorate Gingerbread Houses
Decorating gingerbread houses turns into a friendly family competition each year, and as our kids get older, they need less help from us. Making gingerbread houses from kits take patience and at least an hour of time. Then, we display them on the top of our mantle. Otherwise, the dogs or the kids will eat them before too long.
9. Read Christmas Books
We love Christmas books; every year, I grab more for the kids. We have a huge collection we read every year, and I display them on our bookshelf. It's one of our kids' favorite holiday traditions, and I hope they always look forward to reading together.
Here are some of our favorite Christmas books for kids.
10. Write Letters to Santa
Our kids love to write letters to Santa, and they give me some good ideas as to what to get them for Christmas each year. We take our time creating awesome letters for Santa, complete with stickers and sometimes clipped pictures from catalogs for the kiddos who can't write yet.
I save these each year, and one day, I hope to share them with my kids when they're adults. They'll get a kick out of what they wanted years ago for Christmas gifts.
11. Send Homemade Christmas Cards to Family
I've noticed over the years that fewer people send Christmas cards. We have our pictures taken for the holidays each year, but we started creating homemade Christmas cards instead.
It's a great project on a cold December day.
You need blank cards with envelopes, Christmas stencils, Christmas stickers, markers, and whatever else your kids want to use to create cards.
12. Make Salt Dough Christmas Ornaments
Salt dough is easy to make and non-toxic; it just doesn't taste delicious. We use Christmas cookie cutters to make different shapes with our salt dough, bake them, and paint them before putting them on the tree each year. You can save them year after year, but I suggest you save them somewhere special because they break easily.
I found that out the hard way.
I think a Christmas tree looks amazing with all sorts of homemade ornaments.
13. Leaving the Grinch on Replay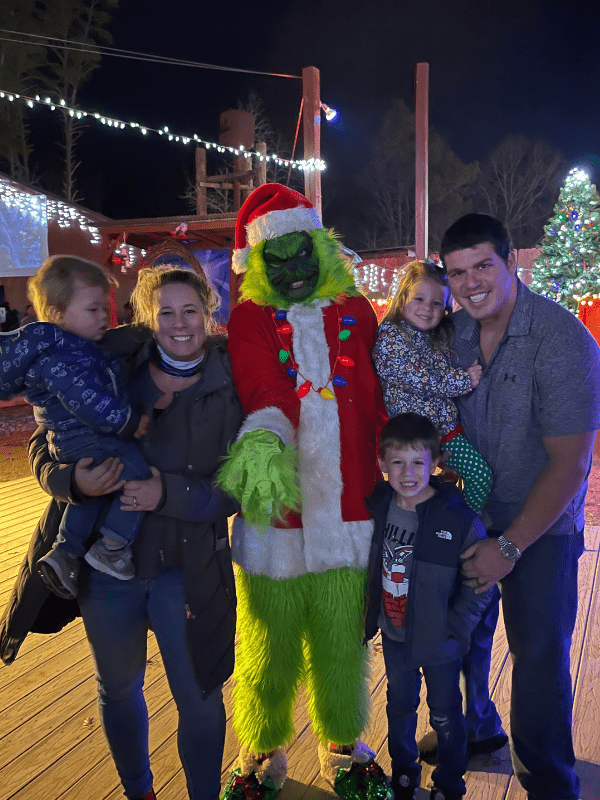 I don't know if I should consider this one of our holiday traditions but our family watches The Grinch so many times throughout the holiday season that I stop trying to count. Aside from The Polar Express, The Grinch is our favorite Christmas movie.
14. Look at Christmas Lights
Luckily, our town tends to have a lot of houses that decorate with lights, so we make sure to drive around and check out as many of the houses as possible. We also have a few profession light displays that we visit throughout the year and pay a small fee to see.
15. Making Tons of Christmas Cookies
We spend a lot of time making Christmas cookies together with the kids. Not only do we need cookies for Christmas Eve for Santa and Christmas for dessert, but we like to give cookies away as gifts. I have no shame in feeding my kids cookies all season long because this season only comes one time a year!
16. Bring Cookies to Neighbors
Cookies make excellent gifts to neighbors, so have your kids help package cookies up and deliver them to the people who live near your home. No one turns down homemade cookies, and it shows you thought about them. That matters the most.
17. Visit Santa
Each year, we visit Santa, typically at a holiday party. Most little kids end up crying – resulting in hilarious pictures for years to come – but my older kids look forward to the opportunity to tell Santa what they really want for Christmas that year.
18. Riding on the Polar Express
I mentioned that we love watching The Polar Express, but another one of our favorite holiday traditions is riding on the Polar Express. A local train station hosts a Polar Express night with singing, elves, and a whole production that the kids love. Everyone has to wear their jammies, drink hot chocolate, and watch the elves sing and dance.
It's truly a magical experience for all – we love it as adults.
19. Drink Tons of Hot Chocolate
Nothing tastes better when it's cold outside than a cup of hot chocolate. I set up a hot chocolate station with adorable Christmas mugs, marshmallows, and candy canes. The kids can use our Keurig to make hot chocolate with pods or mix it by hand.
I drink more cups of hot chocolate than I will ever admit publicly! I also grab the hot chocolate bombs whenever I see them on sale from vendors. Last year, I added a few to my kids' stockings, and they used them Christmas morning.
20. Track Santa All Christmas Eve
If you don't have the Norad Christmas Tracker downloaded on your phone as an app, are you even a parent?
My parents always used the Norad Tracker when I was young. Believe it or not, Norad started tracking Santa back in 1955, so it's one of the long standing holiday traditions for many families. My kids watch Santa closely to see when he is headed in our direction, and it gives us the perfect opening to get them ready for bed.
21. Wearing Matching Christmas Jammies
Matching Christmas jammies is a must-do Christmas tradition for our family. Every Christmas Eve, the kids receive jammies that they wear and match together as we prepare for Santa to arrive. It's one of the gifts they open on Christmas Eve, along with presents from their aunts and a few other family members.
22. Spending Family Time on Christmas Eve
Every Christmas Eve, we head to my parents' house to enjoy finger foods and other yummy snacks. It's the time when we hang together as a family, and my kids play with their cousins. The kids receive their matching jammies, and their family members give them presents if they won't see them on Christmas Day.
23. Leaving Carrots for The Reindeer and Cookies for Santa
After we spend time with family on Christmas Eve, we head home to leave our carrots for Santa's reindeer and cookies for Santa Claus. The reindeer truly appreciate the snack, and so does Santa.
The snacks are placed beside the Christmas tree on a special plate with a cup of milk and a bowl for the carrots. This adorable set is perfect for families who want something that their kids will love. Since it's special, it only comes out one day a year.
24. Read 'Twas The Night Before Christmas
The last of our favorite Christmas traditions is reading 'Twas the Night Before Christmas' with our kids. My husband reads this to our children on Christmas Eve, while I sit and watch them. Then, we take the kids to bed and get started on all things Santa to prepare for the next day.
---
These holiday traditions are ones that your kids will love without a doubt. They'll love all the time together and the memories you create as a family; those last longer than any gift you might buy.