Christmas is a magical time for families, but if you're on a budget, you might feel like you aren't able to come up with fun things to do with your kids. Don't worry; there are some amazing budget-friendly Christmas traditions everyone will enjoy in your family.
Growing up, our family didn't have tons of money, but what I remember the most was the memories we made together. I remember baking cookies with my mom, driving around looking at Christmas lights, putting up our tree, and binging on movies.
I don't remember too many gifts – even though I know my parents scrimped and saved to ensure I had some awesome gifts. The traditions are what stand out to me the most, and I want that for my kids. These family-focused budget-friendly Christmas traditions will create lasting memories.
Pin this blog for later! ↓
Related: 40 Experiences as Gifts for Kids – Christmas Gift Ideas
19 Budget-Friendly Christmas Traditions
1. Start an Advent Calendar
While an advent calendar might be fancy, you don't need to spend too much money on these. It can be homemade or a simple wall hanging calendar. You can fill each day with candies, but we often fill them with a slip of paper telling our kids the plans for the day.
It might be a silly scavenger hunt to find a brand new book, or a note telling them that we will bake cookies that day.
2. Have a Christmas Tree Decorating Day
Make decorating your Christmas tree one of your family's favorite Christmas traditions. We spend the entire day decorating the tree.
It starts with going to cut down the tree at a local Christmas tree farm. Then, we order pizza and bring the tree home. Setting it up takes time, and we let it rest as it settles into the warmer temperatures.
We put on The Grinch – one of our favorite Christmas movies ever – and decorate the tree. That leads to our next tradition.
3. Family Sleepover Around the Tree
The kids love to sleep around the tree with my husband. We put out air mattresses and blankets, and they have a camp out around the tree with popcorn and other yummy treats!
4. Schedule a Christmas Cookie Baking Day
One of my kids' favorite things to do during the holiday season is bake cookies – they could bake cookies every day if I let them! We schedule at least two or three baking days when we bake as many cookies as we can together. Some are saved for Christmas Eve and the Santa tray, but others we eat immediately.
5. Bring Cookies to Your Neighbors
If you're looking for a way to teach your kids to give back during the holiday, have your kids bring cookies to your neighbors after spending the day baking. We wrap them up in gift boxes and bring them to their doorsteps.
The neighbors look forward to this every year!
6. Check Out Local Light Displays
Many areas have local light displays – paid and free – and we love to check out as many as possible. Many of the paid ones are budget-friendly; one of the biggest locally costs only $20 for an entire season! You can visit as often as you'd like.
Our kids love checking out local light displays. We bring hot chocolate with us, blankets, and make a full experience out of viewing light displays.
7. Christmas Movie Nights – All The Time!
Is there anything better than watching Christmas movies? While my kids don't enjoy the Christmas Hallmark movies, we love all the classic Christmas movies like the Polar Express, Frosty the Snowman, Rudolph, the Grinch, and so many other amazing movies.
I stock up on plenty of popcorn so we can have movie nights whenever want, which is all the time.
8. Drink Hot Cocoa
Making and drinking hot cocoa on cold days is an affordable, easy Christmas tradition to start. The boxes are cheap to buy, and it's even tastier if you make your own hot chocolate at home.
9. Make Salt Dough Ornaments
Making homemade ornaments tops my list of budget-friendly Christmas traditions. Salt dough ornaments are incredibly easy to make and paint with your kids. I use the recipe from Wholefully – it's easy and only needs a few ingredients that you probably already have on hand.
10. String Popcorn and Cranberries
Another homemade decoration for Christmas trees is stringing popcorn and cranberries together. Little kids will need help with this project because the needle might hurt them, but it's simple and cost-effective. We already made a strand or two for our tree.
11. Read Christmas Books Together
I stock up on Christmas books so we always have new ones to read together as a family. We typically read at least one each night. Here are a few of our favorites.
12. Drive Around and Look at Lights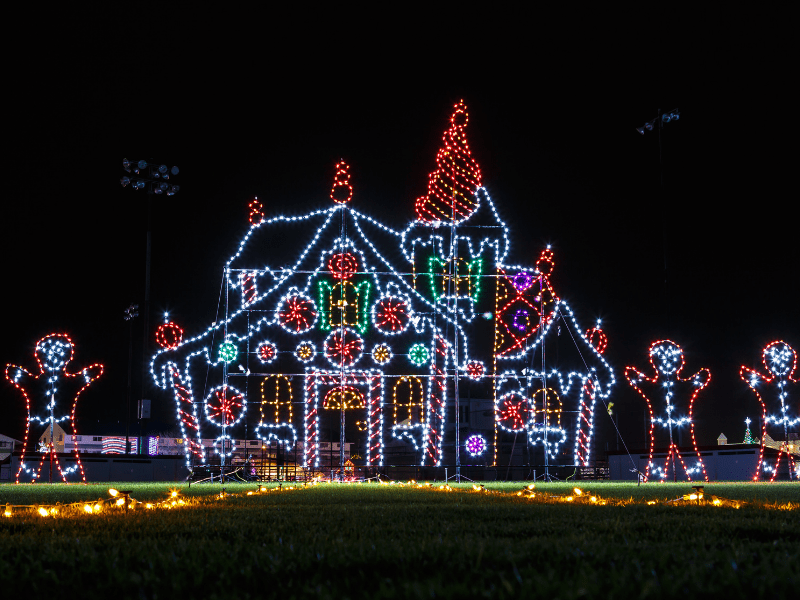 Sometimes, we put our kids in the car and drive around our area, looking at all the different light displays. Many families decorate their houses, and our kids love to see all the different houses. Put on a movie in the car to keep them happier for longer!
13. Write and Mail a Letter to Santa
A long-standing Christmas tradition is to write and mail letters to Santa. Mailing it is important – don't skip that step! The USPS makes sure that letters to Santa make it right where they need to go – the North Pole. Check out these mailing instructions from the USPS to make sure your kids' letters make it to Santa!
14. Sled and Build Snowmen
Depending on the weather, it might be possible for you to get outside and go sledding with your kids. We love to sled and make sure our kids have all the gear they need to sled down our backyard.
Don't forget about building snowmen!
We try to build at least a family of snowmen one time a year, but we can't control Mother Nature!
15. Sprinkle Reindeer Food Outside
Make some reindeer food to spread outside on Christmas Eve. All you have to do is mix some oatmeal and glitter together, and sprinkle it around your house. It makes it much easier for Santa's reindeer to spot your house!
16. Work on a Christmas Puzzle
My kids love a good Christmas puzzle. This adorable Christmas Winter Wonderland puzzle is only 300 pieces. We leave the puzzle on the table and work on it together as the kids want. If you have older kids, consider getting a larger puzzle to work on throughout the season. This Christmas Dogs 1000 piece puzzle is adorable – I want to work on it alone!
17. Track Santa on NORAD
When I was a kid, I remember tracking Santa on NORAD, and now we do that with our kids too. NORAD shows you where Santa is, so you know when he is headed your way. It's one of the easiest ways for me to convince our kids to head to bed on Christmas Eve – they're usually too excited to even think about sleep.
We typically leave the tracker up on the computer so we can watch it throughout Christmas Eve.
18. Put Out Santa's Cookies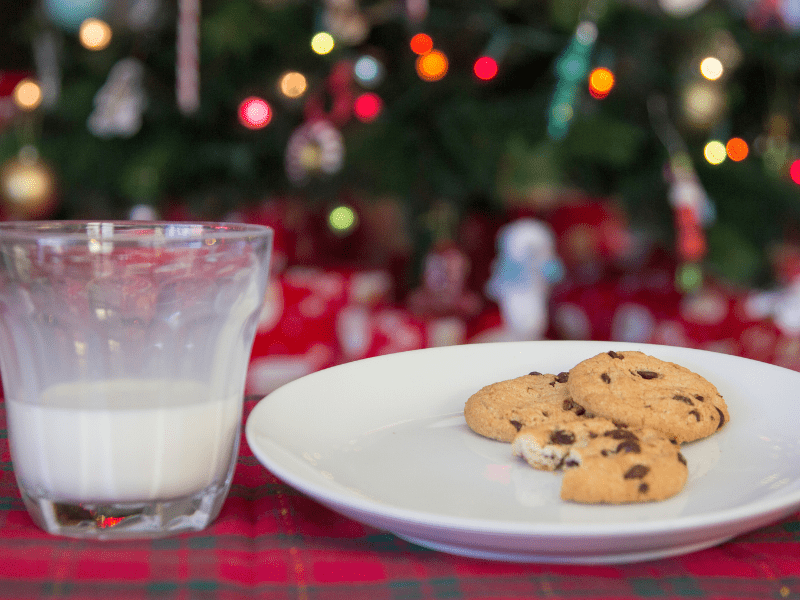 You HAVE to put on some cookies for Santa! We put out a plate of cookies, a glass of milk, and some carrots for the reindeer – they need some treats too!
19. Read 'Twas The Night Before Christmas
Before our kids go to bed, we read 'Twas the Night Before Christmas together; it's the only time each year we read the story together. It's a special time, and the kids run to bed after, anticipating Christmas morning.
---
Don't feel like having a small budget means your family can't enjoy the Christmas season – start some of these budget-friendly Christmas traditions to bring the holiday spirit into your house this year.