I have to be honest; I think fall is my favorite season. Not only do I love all the adorable decorations, but I love all the fun family fall activities we do. Every year, my family spends nearly every weekend on some awesome activity or visiting a new festival.
We stay busy in the fall, that's for sure!
If you're looking for some new family fall activities, here are a few of ours that we love and some of the recipes you have to make as the temperatures start to get cooler. You'll thank me for all these awesome ideas!
Outside Family Fall Activities
Getting outside is the best part of fall. The temperatures are cooling down, so you can slip on some leggings and a hoodie – the perfect fall mom uniform. The crisp feeling in the air is amazing.
One of the best things about fall is all of the fun family fall activities you can find and enjoy together.
Here are some of our family's favorite things to do.
1. Visit a Pumpkin Patch
Our family loves to visit pumpkin patches, and in our area, there are tons of options. We typically visit at least two because pumpkin patches have so much more than pumpkins. One of our favorites has hayrides, food trucks, pumpkin painting, corn mazes, and more.
It's a great day out for our family, and we typically get a few pumpkins. I realized that pumpkins at these patches are typically more expensive than the ones at Walmart, so I often get the ones I want to use for decoration at the patches and the ones to carve at a local store.
2. Visit a Corn Maze
When my husband and I were younger, we used to visit those HUGE corn mazes that take hours to get through to the end. Our kids definitely cannot hang for that, but I noticed more pumpkin patches and orchards offer corn mazes that are kid-friendly.
They are so fun. I can't wait to see how my kids love corn mazes when they're older.
3. Pick Apples at a Local Orchard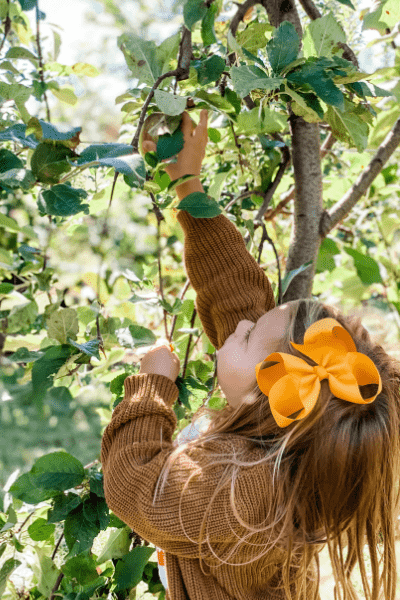 Visiting a local orchard is one of the first things we do in the fall; apples tend to ripen in our area before pumpkins. We head to local orchards, pick a few bags, and use them in some delicious fall recipes.
I found a local apple orchard that also sells homemade apple cider and hot apple cider donuts – yum! I'm driven by food, if you can't tell yet.
4. Jump on a Hayride
Hayrides are so much fun, and if you check out a few local festivals, I'm sure you can find a hayride or two to ride. They're cheap, fun, and something the kids enjoy.
A lake local to use offers haunted hayrides in the fall; I can't wait for my kids to get just a bit older so we can check that out.
5. Visit a Local Farm
Here's a fun learning experience in the fall – visiting a local farm. Some farms book tours in the fall for schools or families. A local dairy farm to us offers fall tours where kids see the cows, watch the milking process, and get an ice cream cone made with their milk.
6. Collect Fall Leaves & Dip in Beeswax
After checking out Instagram one night, I saw a mama dipping fall leaves in beeswax with her kids and hanging them in their dining room. It looked like an easy project, so I gave it a try.
Beeswax pellets are easy to melt on the stove, but I suggest using a pot you can toss out because getting out the beeswax feels impossible.
7. Take a Hike
My favorite time to take a hike is in the fall. The leaves are changing, and we won't sweat to death while walking. Check out local lakes near you to find marked trails that are family-friendly.
8. Shop at a Farmer's Market
Everyone assumes farmer's markets stop after the summer, but in our area, they continue into the fall. Farmers sell local apples, pumpkins, squash, and the final bits that come out of the garden. I always grab some pots of mums at the farmer's market.
9. Visit a Local State Park
We're lucky to have a few local state parks close to our home, and they're a treasure-trove of activities for families. They often have events for families, trails to hike, and other fun things for you to do, plus you get to enjoy the fall scenery!
10. Decorate Outside Your Home
I love decorating! All the fall decorations at the stores get me hyped up, and I always end up buyings tons of things for our home. Involve your kids as you decorate, and let them help you decide where things go.
11. Jump in a Pile of Leaves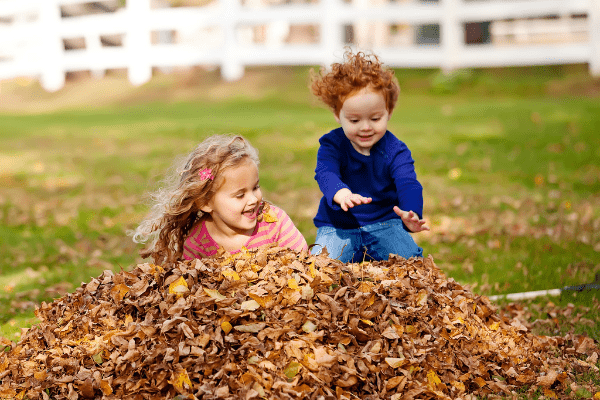 Is there anything that scares fall quite like raking leaves into a pile and jumping in them? My kids could jump in leaf piles all day long if I let them, but I don't have enough energy to rake leaves for hours.
Kids jumping into leaf piles or laying in a pile of leaves makes beautiful fall photos!
12. Go to a Local Football Game
If you watch my Instagram account, you know we live for local football games. On Friday nights, we head to our local stadium and cheer on the local schools. It's so much fun!
Then, on Saturday mornings, we watch our son play football and our daughter cheer; I can't wait to see them as they grow older and keep playing.
13. Check Out a Local Soccer or Rugby Match
We live close to a college that has soccer and rugby matches, and every year, we try to attend at least one of the matches. Rugby is so fun to watch, and our kids enjoy the fast-pace of soccer. We cheer on the local team and have a great time.
Make sure to check out your local universities to see what they have going on every fall!
14. Go Fishing
Another fun family fall activity is fishing; we love to fish, and with our new boat, I suspect we'll fish even more than before. Fishing is a great activity for kids; even our youngest child has a fishing pole! Granted, he mostly smacks the water with it and scares the fish away, but they learn as they get older.
Put on some hoodies, grab your poles, and head out to your local fishing hole.
15. Have a Campfire and Roast Marshmallows
Nothing is better than a weekend campfire with marshmallows and s'mores. Our kids love roasting marshmallows outside, and I love sitting by the fire relaxing with a drink in hand.
If you're having a fall party, make sure you have a campfire included. We always ask our friends to come over sometime in the fall for a get-together and have a campfire with it.
16. Get Fall Photos Taken
Fall is the perfect time to book a family photo session. The leaves are changing, and the scenery is perfect for moody, family pictures. Slip on some matching outfits and document your family for the year. You'll never regret those pictures.
17. Pick Sunflowers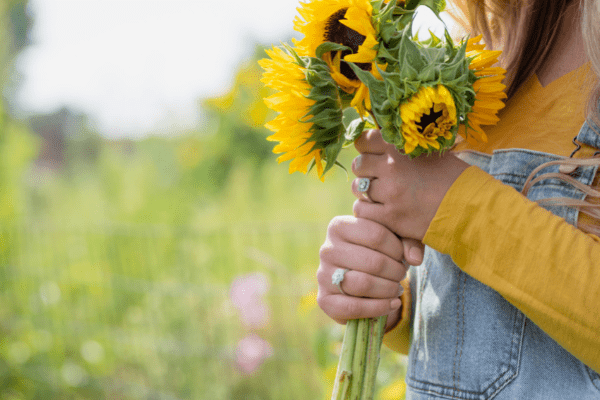 Depending on where you live, some sunflower fields are open in the fall. A local pumpkin patch has a u-pick sunflower field as well, and I love to pick a jar full of sunflowers to display in my kitchen. The kids think running through a sunflower field is so cool, and it makes for an awesome photo op!
18. Camp in The Backyard
Pitch your tent in your backyard and camp with your kids. Once the temperatures are too low, it'll be too late in the year to camp (for us, at least), so it's the last opportunity to enjoy some time in nature together.
19. Check Out Your Local Zoo
Many zoos throughout the country offer fall festivals or events for families to check out, and most have Halloween events as well where kids receive candy.
We love visiting the zoo, and I typically wait until the fall or spring to go. In the summer, it's way too hot to walk around for hours, and if you go when there is an event, you still see the animals, but also get to enjoy whatever else the zoo has to offer.
20. Go to Local Fall Festivals
One of my favorite fall family activities is attending as many fall festivals as possible. Trust me; I drag my husband and kids to as many as possible. We love "old-time" festivals, watching people demonstrate things like blacksmithing and weaving. An hour away, we visit a festival that celebrates the Native Americans who lived in our area.
Use Facebook and other social media platforms to search for events near you.
21. Think about Renting a Cabin in the Mountains
If you're looking for a weekend getaway with your kids, think about renting a cabin in the mountains. Use this time to soak up nature and enjoy the change of scenery.
This would make a perfect romantic getaway with your spouse as well or as an awesome girls' getaway for the weekend.
22. Go on a Family Bike Ride
Now is the perfect time to head out on a local bike trail and enjoy a bike ride with your family. Your kids will love it, but your thighs might scream afterward!
23. Drive Around and Look at the Scenery
Growing up, my parents loved to drive around and look at everything. Now, I love to do the same, and when the leaves start to change, it's the perfect time to take a drive to enjoy the scenery. Put the kids in the car with some snacks (you have to make them happy) and take a country road drive.
24. Visit a Haunted House
Not all haunted houses are appropriate for young kids, so you need to do your research. We've visited haunted houses that offer lights-on tours so the kids can see what is happening behind the scenes. Also, we have found some haunted houses geared towards the younger crowd.
When our kids are older, we will hit up all the awesome haunted houses, but until then, it's kid-friendly only.
Indoor Family Fall Activities
Sometimes, the weather doesn't always agree with the things you want to do, especially in the fall, but don't let a rainy, fall day ruin your weekend. You can find so many fun family fall activities to enjoy together!
25. Paint Pumpkins
The little pumpkins you find at the local store or pumpkin patch are perfect for decoration and painting. They're too small to carve, but if you grab some bottles of acrylic paint, kids love to paint pumpkins. It's an easy fall activity to keep your kids entertained.
26. Have a Halloween-Themed Movie Marathon
Most kids don't like scary movies, but there are so many awesome Halloween-themed, kid-friendly movies. Have a marathon on a rainy day, complete with tons of popcorn and other fall goodies.
27. Decorate Cookies
Try making a basic sugar cookie recipe and cutting out some fall shapes with cookie cutters, and let your kids decorate them. It's always a mess, but it's also always a fun time. Kids don't mind if their cookies are a mess, as long as they taste good!
28. Carve Pumpkins
As Halloween approaches, carving pumpkins is one of our favorite fall family activities. Kids love scooping out the pumpkin guts with their hands and playing with the innard, and we always grab some pumpkin carving kits to make unique designs. It's best not to carve them until closer to Halloween because they won't last too long carved.
Typically, we keep the pumpkins on our front porch for a few weeks before carving them. Pumpkins look awesome as decorations!
29. Roast Pumpkin Seeds
Once you carve the pumpkins, make sure you save the seeds and roast them. Roasted pumpkin seeds are a delicious, healthy snack for your kids to enjoy. They're addictive; I can eat a whole bowl in one sitting.
30. Make a Scarecrow
Making a scarecrow is something we've yet to try, but it's on my to-do list for this year. Scarecrows are something that is quintessentially fall, and they look awesome in your front yard.
Apparently, they serve a purpose to scare around different animals, but for us, it's fun fall decorations.
31. Make Bird Feeders
We always make pinecone bird feeders in the fall. I send the kids out to search for pinecones in our backyard since we have some pine trees on our property, and we slather peanut butter over them. Then, we roll the pinecones in bird seed.
It's an easy, fun project that even our toddlers does with us.
32. Have a Board Game Night
Having a family board game night is a great way to have fun with your family on a cold, rainy day. Kids of all ages can enjoy board games with their family from games like Chutes & Ladders up to Ticket to Ride and other strategy games.
33. Make and Dip Caramel Apples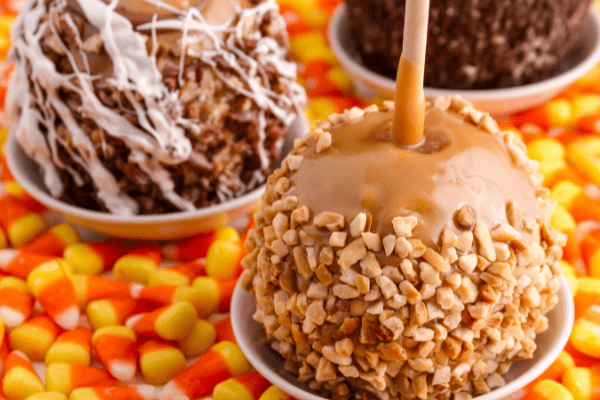 My kids love caramel apples! It's one of their favorite fall snacks, and every time we go to a carnival or fall festival, they ask for one. I buy little containers of caramel for them to dip apples, but they really enjoy the whole apple dipped and covered with toppings.
Try making homemade caramel apples with your kids and cover them with nuts, crumbled cookies, or other goodies.
34. Bake Apple Cider Donuts
If you love apple cider as much as I do, then apple cider donuts are a dream. Best of all, it's possible to make these donuts at home. After you visit an apple orchard, grab some apple cider and head home to make some donuts.
35. Make Fall-Scented Play-Dough
My kids love play-dough, and if I need to keep them entertained, I grab some tubs of Play-Doh at the store or make a DIY version at home. In the fall, we like making fall-scented play-dough. I found this recipe years ago, and we always make it. The kids use different play-dough accessories to cut out shapes.
36. Read Fall Inspired Books
Grab some fall-inspired books and read them to your kiddos. It's impossible to list all the amazing books, but some of our favorites include:
37. Create Leaf Rubbings
I bet you made leaf rubbings as a kid, and it's a great fall activity for your kids now.
Send them outside to find different leaves, and show them how to use a crayon to create the leaf rubbings. It's an easy activity that keeps my kids entertained for at least an hour. We always display the leaf rubbings as fall art.
38. Make Homemade Applesauce
After you visit an apple orchard, you'll have plenty of apples to make homemade applesauce; it's so much better than any store-bought applesauce. The key to making yummy applesauce is to let it cook for a long time so the flavors mix. I often use my slow cooker to make batches of applesauce overnight.
39. Bake an Apple Pie
Another way to use up all of those apples you picked at the orchard is to bake some homemade apple pies. Don't feel bad if you use store-bought crust; making homemade crust takes a long time and a lot of extra work, but if you have the time, try it out.
Apple pies with ice cream is the perfect way to end a fall day with your family.
40. Bake Pumpkin Cookies
It's time for pumpkin everything, and pumpkin cookies are one of my favorites. You have to try this recipe for Old-Fashioned Soft Pumpkin Cookies. This recipe is so good, and my kids love to help me make it. They love to drizzle the frosting over the cookies with me.
41. Make Soup and Homemade Bread
Fall screams soup and homemade bread, especially chili. One of our fall traditions is to make soup every weekend. We love chicken and dumplings, chicken and gnocchi soup, chili, wedding soup, and so much more.
Make some homemade bread, cornbread, or grab a loaf from a local bakery. Enjoying soup in the summer isn't so fun when it's hot outside, but as soon as the temperatures drop, break out the soup recipes.
43. Make Turkey Handprints
Kids in school often make turkey handprints, but you also can make them at home. It's a craft typically made closer to Thanksgiving, and your kids might write something they're thankful for on each finger. If you're not a crafty mom, trust me, making a turkey handprint is still possible.
44. Take Up Knitting or Crocheting
Everyone needs a cozy hobby in the fall, and knitting or crocheting are two great options. Younger kids can learn how to finger knit or how to use a loom to make pot holders. The idea is to make useful items that your family will enjoy.
45. Make Popcorn Balls
My grandmother used to make popcorn balls every fall, and I remember trick or treating, I always got a few popcorn balls along the way.
Neighbors rarely give out these homemade treats anymore (it's definitely frowned upon nowadays), but I still think that popcorn balls scream the fall. My kids are popcorn addicts, so we make a few batches every fall to enjoy as snacks.
46. Make a Gratitude Box
With Thanksgiving coming in at the end of fall, it's a great time to make a gratitude box. You might decide to make a gratitude tree on the wall instead, but the idea is the same – writing down things your family is thankful for. It's something I highly suggest you try with your kids – it helps them understand that even small things are blessings!
Looking for a checklist of all these activities?
Download it here and turn your Fall into a season of family fun!