Fall is one of the busiest times to visit North Carolina, even though you might assume the busiest time is in the summer. North Carolina offers tons of fall family activities in the mountains to enjoy, making it a destination nearly all year-round.
Since we live in the beautiful state of North Carolina, our family seeks out all of the enjoyable fall activities that we can find. The weather starts to get chilly towards the middle to end of October, but it's still far from being cold.
Grab a light jacket and check out some of these awesome fall family activities.
Pin this blog for later! ↓
Related: 40+ Fun Family Fall Activities Everyone Will Love
11 Fall Family Activities in the North Carolina Mountains
1. Tweetsie Railroad
One of our family's favorite fall family activities in North Carolina is visiting Tweestie. The kids love riding the different classic amusement rides like the carousel, Ferris wheel, tilt-a-whirl, and more.
Tweetsie has all sorts of themes, like a haunted railroad and Christmas trips. They feature two historic steam locomotives, and kids love to take a ride on them.
2. Blue Ridge Parkway
The Blue Ridge Parkway is over 400 miles, stretching through North Carolina and Virginia. Along this road, you'll find dozens, maybe hundreds, of things to do and see. It's truly one of the most gorgeous places in the United States – I'm convinced.
We like to take drives along the parkway and pull over to the different pull-off spots to enjoy the scenery. Our kids run around and have a good time. You also find little orchards along the route that are small and family owned. You never know what you'll find on the Blue Ridge Parkway.
3. Great Smoky Mountains Railroad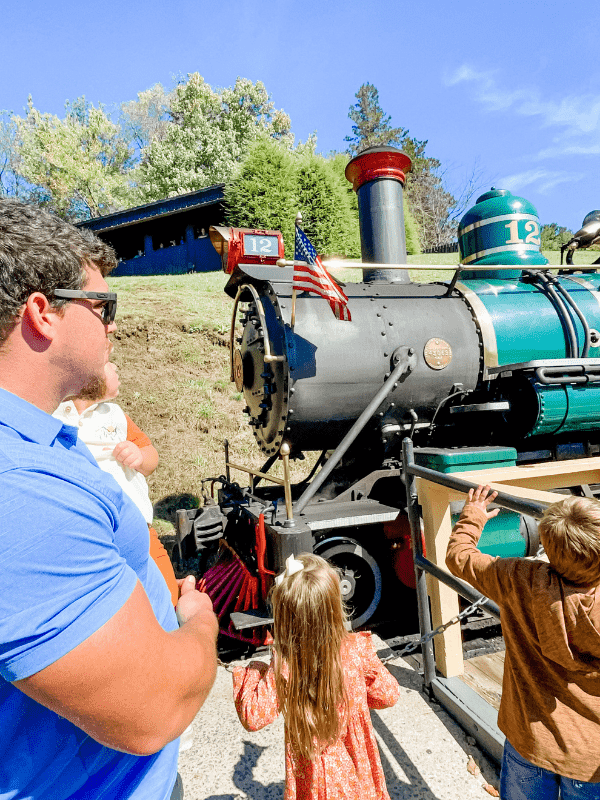 If your family wants to check out the fall foliage, take a ride on the Great Smoky Mountains Railroad, located in Bryson City, North Carolina. This five hour train ride takes your family through the mountains to see all the gorgeous foliage. You have a layover, so you can get out of the train, and it even offers lunch or dinner!
4. Biltmore Estates
The Biltmore Estates is gorgeous to visit in the fall with your kids. It's close to Asheville, NC, but you can ride down the Blue Ridge Parkway to visit the estates.
Not only is this one of the most beautiful places to visit, but it's also quite kid-friendly. They have a wildlife discovery encounter, a massive playground, biking, hiking, and an audio guide for kids as they explore the house.
They also frequently have activities for kids to enjoy so check their monthly activities!
Related: 12 Things to Do in Asheville with Kids
5. Grandfather Mountain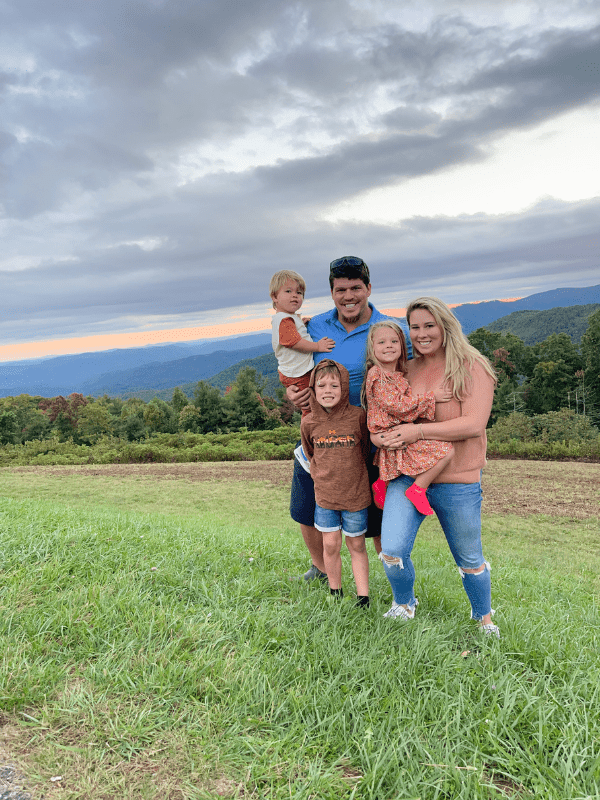 Grandfather Mountain offers a variety of things to do when you visit this nature park. Most of them are included in the cost of your entrance, and kids love them all.
You can cross the Mile High Swinging Bridge; it's America's highest suspension footbridge – not for those who are afraid of heights!
They offer dozens of walking and hiking trails. You can take gentle, kid-friendly walks through the forests or hike to the top of peaks. Grandfather Mountain has wildlife habitats to see cougars, bears, bald eagles, otters, elk, and more.
Then, stop n their nature museum and even grab lunch!
6. Blowing Rock
Tweetsie and Grandfather Mountain are all located near Blowing Rock, a small village in North Carolina. While there, consider checking out some of the many waterfalls nearby.
Chances are you had no idea that North Carolina has TONS of waterfalls, but it's true, and you can walk with your kids to spot many of them.
Always use caution when you hike to waterfalls. It's slippery, and you don't want to have a kid take a plunge. Many trails are easily accessible and only require some decent footwear to get started.
Check out this list of awesome waterfalls in Blowing Rock.
7. Go Hiking
The mountains offer plenty of fall hiking for families. No matter if you are located near Asheville or elsewhere, you'll find a bunch of trails.
Some of the best hiking trails are located right off the Blue Ridge Parkway!
8. Visit a Pumpkin Patch
We love a good pumpkin patch; I need a crazy amount of pumpkins for my front porch!
The North Carolina mountains offers tons of family-friendly pumpkin patches to visit. Most of these offer fun games, corn mazes, hayrides, and other fall family activities to enjoy with your kids.
Here are some of the best pumpkin patches in the NC mountains.
9. Carolina Balloonfest in October
If you want to take your kids to something totally amazing in the fall, you have to check out the Carolina BalloonFest. Believe it or not, this is the second oldest hot air balloon festival in world, and it's located in Statesville, North Carolina.
This festival takes place on the third weekend of October annually, so it's easy to mark on your calendar.
It's an event to remember, and you can even book a ride for your family. They offer RV camping, and the town has plenty of awesome hotels to stay in overnight.
10. Apple Picking
You definitely want to check out some of the local orchards. Hendersonville has a lot of apple orchards, so if you're looking for some, that's the best area.
Our family likes to visit apple orchards that also feature pumpkin patches and other activities. It makes for a crazy but fun day.
Here are some of the best ones!
11. Go Camping!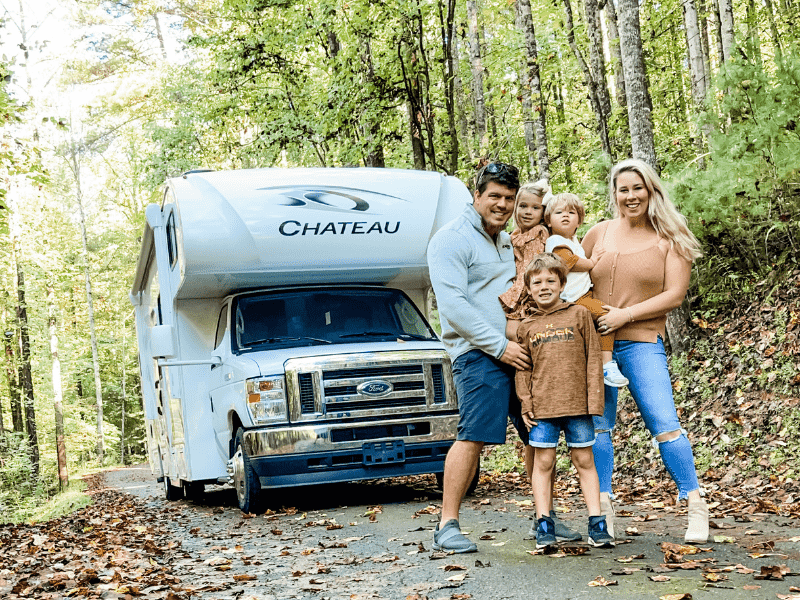 North Carolina offers dozens of camping locations throughout the mountains. Whether you like to tent camp or have an RV, grab your kids and go camping for the weekend. There is nothing like spending time out in the woods or at an RV park, cooking marshmallows and drinking coffee by the fire.
---
North Carolina is home to dozens of amazing fall family activities throughout the NC mountains. Whether you want to check out local apple orchards or take a train ride through the mountains, your family will love these activities.